5 Statcast facts for NLDS: D-backs vs. Dodgers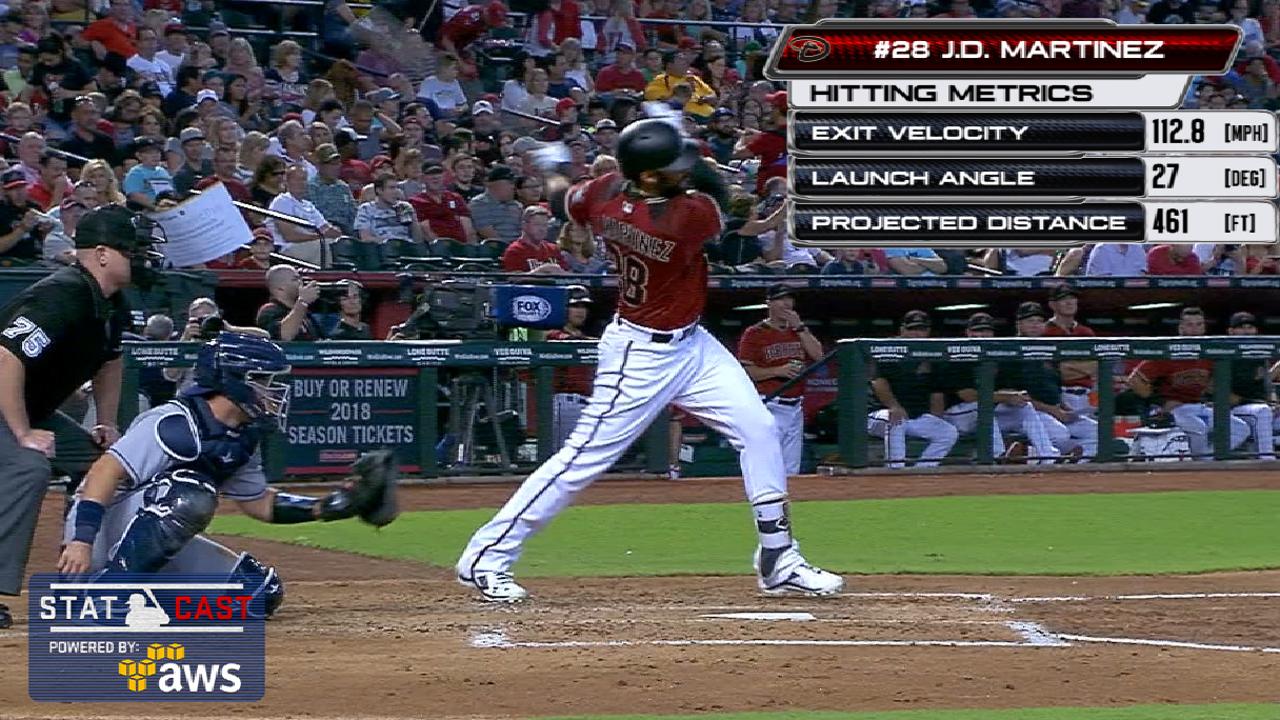 The Dodgers stormed to 104 victories and their fifth consecutive National League West title this season, but that dominance did not extend to their matchups against the D-backs. Arizona won the clubs' last six meetings to finish 11-8 against L.A., with a run differential of plus-28.
Following the D-backs' victory over the Rockies in Wednesday night's NL Wild Card Game, these two division foes now clash on a bigger stage, in the NL Division Series presented by T-Mobile. The best-of-five battle begins tonight at Dodger Stadium.
All season, Statcast™ followed every aspect of these teams' performance -- from established stars like Clayton Kershaw and Paul Goldschmidt to breakout performers like Robbie Ray and Chris Taylor. Here are five key Statcast™ facts to know about this NLDS matchup:
1. D-backs starters will try to get L.A. to go fish

It's no secret that the Dodgers' lineup struggled against Arizona starters, particularly Ray, down the stretch. As a unit, Los Angeles' lineup was the Majors' best at laying off pitches outside the Statcast™ strike zone, but they'll face a stiff test against the D-backs' rotation. The Majors' top five pitchers in swinging strikes accrued on breaking balls thrown below the bottom edge of the zone featured four Arizona starters: Ray, Zack Greinke, Zack Godley and Patrick Corbin. Subsequently, Arizona's rotation led all 30 clubs in whiff rate on those pitches by a wide margin.
The D-backs' ability to get Dodgers hitters to chase, or L.A.'s ability to show restraint, could be a difference-maker in this series.
Highest whiff/swing rate induced on non-borderline breaking balls below the zone, by team's starting rotation, in 2017:
1. D-backs: 65.6%
2. Nationals: 60.0%
3. Yankees: 58.8%
4. Pirates: 58.7%
5. Royals: 58.0%
Lowest swing rate on out-of zone pitches, by team offense, in 2017:
1. Dodgers: 24.2%
2. Indians: 25.2%
3-T. Athletics: 26.1%
3-T. Cardinals: 26.1%
5-T. D-backs: 26.4%
2. The long ball is the key against Kershaw

The D-backs will face the Dodgers' ace in Game 1 and quite possibly again later in the series. They know well how big a challenge that is, having scored one run off Kershaw in 15 1/3 innings this season. Notably, Arizona did not go deep against the left-hander, but both matchups also came before the club acquired J.D. Martinez and led the NL with 107 second-half homers.
On one hand, Kershaw remains a dominant force, as evidenced by his .204 expected batting average allowed, based on his strikeouts (202 in 175 innings) and the low quality of contact made against him. On the other hand, Kershaw dealt with a steep rise in homers (a career-high 23) that could suggest a vulnerability in October, allowing one on 5.2 percent of batted balls -- up from 2.2 percent in 2016. His opponents' rate of barrels -- balls with a combination of exit velocity and launch angle ideal for extra-base hits -- has climbed from 3.3 percent of batted balls to 4.5 percent to 6.3 percent since '15.
Lowest xBA allowed in 2017:
Min. 500 batters faced
1. Max Scherzer: .175
2. Chris Sale: .189
3. Corey Kluber: .201
4. Stephen Strasburg: .202
5. Kershaw: .204
3. Martinez could be the perfect antidote to the Dodgers' lefties

Martinez played in three series against the Dodgers in a D-backs uniform down the stretch, and immediately showed why Arizona went and got him: his ability to crush left-handed pitching. Los Angeles possesses three of the Majors' best lefty starters this year in Rich Hill, Kershaw and Alex Wood in terms of both average exit velocity allowed and lowest expected weighted on base average (xwOBA). But Martinez went 2-for-3 with a double against Wood and hit the first of his historic four home runs on Sept. 4 off Hill. The right fielder has put hard-hit balls in play on more than half his contact against left-handed pitching this year, and he led all right-handed batters in rate of barrels hit off southpaws.
Lowest average exit velocity allowed by left-handed starters in 2017:
Min. 300 batted balls
1. CC Sabathia: 83.9 mph
2. Hill: 84.3 mph
3. Dallas Keuchel: 84.5 mph
4-T. Kershaw: 84.6 mph
4-T. Kyle Freeland: 84.6 mph
6. Wood: 84.9 mph
Lowest xwOBA allowed by left-handed starters in 2017:
Min. 500 batters faced
1. Sale: .248
2. Kershaw: .253
3. James Paxton: .263
4. Hill: .273
5. Keuchel: .279
6. Wood: .283
Highest barrel-per-batted ball rate, RHB vs. LHP, in 2017:
Min. 50 balls in play vs. LHP
1. Martinez: 26.5%
2. Aaron Judge: 23.1%
3. Giancarlo Stanton: 19.2%
4. Mike Napoli: 19.1%
5. Nelson Cruz: 18.6%
4. The Dodgers have their own pair of southpaw slashers

Martinez isn't the only batter in this series who excels at hitting lefties. Dodgers sluggers Cody Bellinger and Corey Seager, as young as they are, have already proven to be exceptionally adept at seeing left-handed pitching, despite the fact that they themselves hit from the left side. Though injuries hampered both players down the stretch, each finished with a better batting average against lefties than righties and ranked among the game's very best left-handed hitters in regards to making hard contact against southpaws. Los Angeles figures to see Ray at least once (if not twice) in this series, and the D-backs could also prominently feature southpaw Corbin as either a starter or long reliever, along with lefties Andrew Chafin and Jorge De La Rosa out of the bullpen. Provided Bellinger and Seager are anywhere close to full health, the youngsters could be the Dodgers' biggest weapons against those pitchers.
Highest average exit velocity, LHB vs. LHP, in 2017:
Min. 50 balls in play vs. LHP
1. Joey Gallo: 92.4 mph
2. Seager: 90.5 mph
3. Bellinger: 89.9 mph
4. Lucas Duda: 89.1 mph
5. Christian Yelich: 89.0 mph
Highest rate of hard-hit balls (95+ mph exit velocity), LHB vs. LHP, in 2017:
Min. 50 balls in play vs. LHP
1. Gallo: 52.7%
2. Seager: 48.4%
3. Michael Conforto: 48.3%
4. Bellinger: 47.0%
5. Duda: 46.0%
5. With Kenley Jansen, opponents know what's coming -- but can't hit it

If the Dodgers can hand a lead to their All-Star closer at the end of the game, they'll feel good about their chances. Jansen dominated this year, which is evident in his obscene strikeout-to-walk ratio (109-to-7) and reflected in the fact that he threw just 2.9 percent of his total pitches in three-ball counts, leading the Majors. Like Mariano Rivera before him, there's no mystery to Jansen, but that doesn't make things any easier on hitters. Almost nobody throws any single pitch more often than Jansen does his cutter, and few attack within the zone more frequently. Despite that, Jansen allowed just a .177/.206/.270 line in 2017.
Highest usage percentage for any single pitch type in 2017:
Min. 750 total pitches
1. Scott Alexander: 92.2% (two-seamer/sinker)
2. Jansen: 88.4% (cutter)
3. Jake McGee: 87.4% (four-seamer)
4. Sean Doolittle: 87.2% (four-seamer)
5. Bryan Shaw: 86.5% (cutter)
Highest percentage of pitches in zone or on edges in 2017:
Min. 750 total pitches
1. McGee: 75.3%
2. Zach McAllister: 73.4%
3. Vince Velasquez: 73.3%
4. Danny Duffy: 73.2%
5. Jansen: 72.8%
Matt Kelly is a reporter for MLB.com based in New York. Follow him on Twitter at @mattkellyMLB. Andrew Simon is a research analyst for MLB.com. Follow him on Twitter at @AndrewSimonMLB This story was not subject to the approval of Major League Baseball or its clubs.