Oct. 4 Sonny Gray workout day interview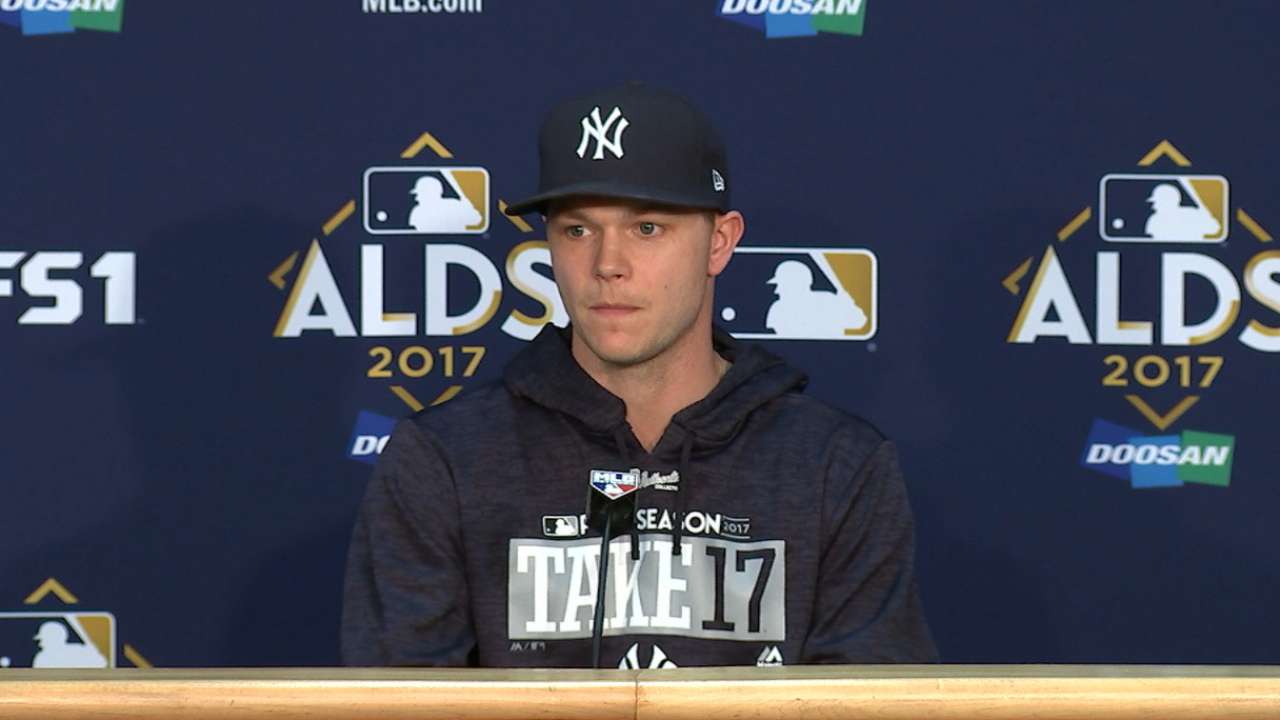 Q. Sonny, overall your thoughts on getting this assignment, Game 1 of the ALDS.
SONNY GRAY: It's an exciting time. It's going to be an exciting game. I'm really glad to take the ball, and I'm excited to get this series started.
Q. The couple games that you pitched against the Tigers, how has that experience -- with the time that's passed, how has that experience helped you?
SONNY GRAY: Those were -- you know, at the time, those were probably the biggest games that you could pitch as -- that you could play in as a baseball player. It's something that I really enjoyed. I love the -- you know, I love when the atmosphere is at its best and teams are playing at their best. It's a really -- it's a challenge, and it's something that I really enjoy, and I really look forward to being a part of.
Q. Sonny, the two series the Yankees played against the Indians in August, you were there for both of them. The Indians are playing their best ball. What impressions did you get, take away from their lineup, how balanced they are, how powerful they are?
SONNY GRAY: Top to bottom, they have a really good lineup. I've thrown against them a couple of times this year, and in the past I've thrown against them. They do. They have a really balanced lineup top to bottom. You come out and make pitches, and you see what happens.
I feel like right now we are playing as good as we've played, at least since I've been here. We feel really good about ourselves, and I think that showed last night, that we're very, very resilient, and we're very -- we're ready for any type of challenge that anyone can bring to us.
If we can stay within ourselves and do what we do really well, we feel like we can play with anyone.
Q. Sonny, when you got traded here, were you thinking these games were going to be part of your Yankee experience?
SONNY GRAY: Yeah, from the moment that I -- from the moment that I stepped foot in the clubhouse, it was -- it was something that I was hoping to -- that we would eventually get into the postseason and play an important role in the postseason. I don't think that's something we expected from ourselves. I got that vibe right away, right when I -- my first day in New York, I got that vibe. And now we're here, and we're ready to go.
Q. Just with the state of the bullpen after last night, how does that factor in to, I don't know, your mindset or your approach going into tomorrow?
SONNY GRAY: I think everyone saw what our guys did last night and the way that they came out and performed and the way that we battled back and kind of fought our way back in that game early. But for me, it's going out there and doing what I do well, knowing exactly what I need to do and let the cards fall where they may.
Like I said, it's not something -- I think we have a lot of guys down there in the bullpen. We have a lot of really talented guys. Hopefully, I can get us off to a good start and carry it throughout the game as long as possible.
Q. Sonny, when you were down there in the bullpen yesterday, did you think you were going to come into that game at some point?
SONNY GRAY: Yeah, they told me I was kind of an emergency type, going to be late in the game if something -- just depending how the game plays out. How the game started playing out, I didn't know. Me and CC were down there, just kind of ready for whatever. Neither one of us pitched, neither one of us got up, so we were both very ready to pitch.
It was different sitting down there, but now it's something -- this is what I feel comfortable doing is starting a game. I'm glad I get the opportunity to do that.
Q. Sonny, in your last start of the regular season, all the walks and giving up the lead, what went wrong in that one that you have to fix this time?
SONNY GRAY: I think you said it right there, just walks. I think throwing strikes, throwing quality strikes, especially early, getting ahead of the count is all things that play a big factor in a starting pitcher's game. You know, I feel good. I'm not looking back at one start over the course of however many you make. That's over with, and we'll move forward here.
Everyone says this is a new season. This is kind of why you play the game. So it's all about the next game, and the next game for us is tomorrow. I'm definitely ready for it.