Goldy goes deep to key D-backs' 3-run first
Arizona first baseman stakes club to early lead vs. Colorado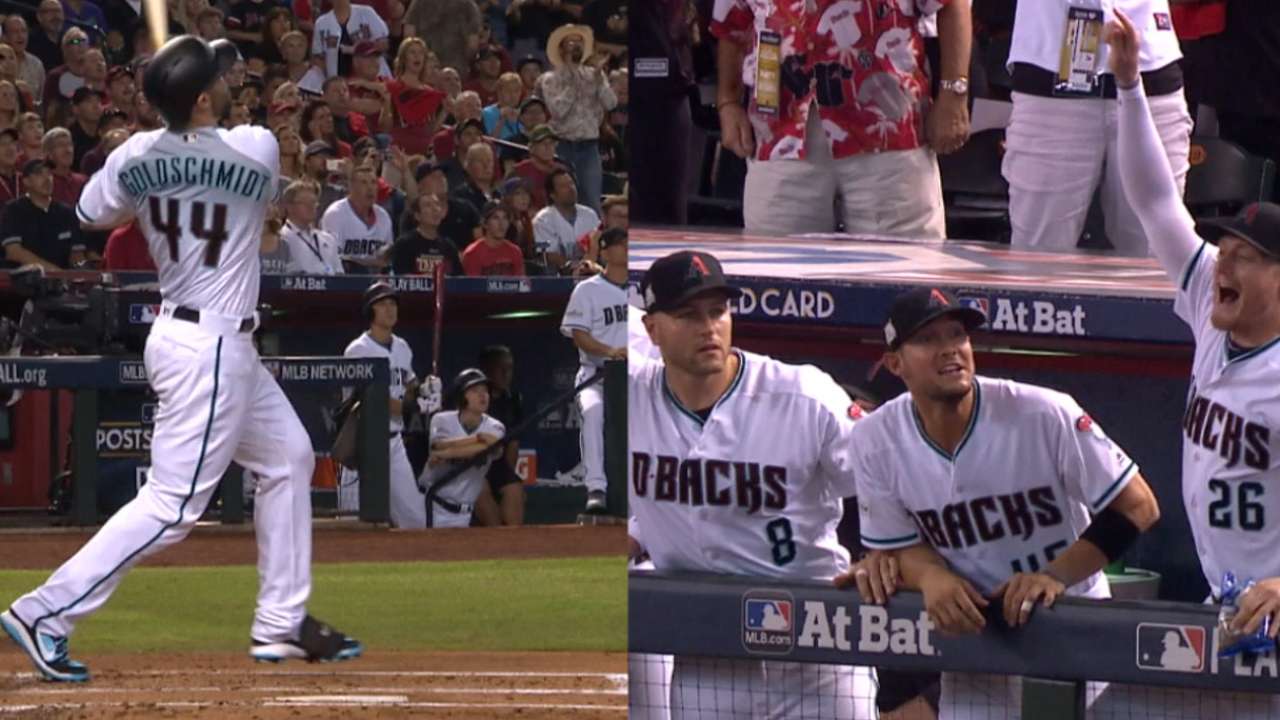 PHOENIX -- The base hit was long overdue. It could not have come at a better time.
Paul Goldschmidt's first career hit off of Jon Gray was a crucial three-run home run in the first inning that set the tone for the D-backs' offense in an exciting 11-8 win against the Rockies in the National League Wild Card Game on Wednesday night at Chase Field. Arizona advanced to face Los Angeles in the NL Division Series presented by T-Mobile, beginning Friday at Dodger Stadium.
• NLDS, Game 1: Friday, 10:30 p.m. ET/7:30 p.m. MST on TBS
The first baseman's home run to left field came on a first-pitch curveball from the Colorado right-handed pitcher to give the home team a 3-0 lead. Goldschmidt also hit a one-out single to left in the bottom of the eighth inning for his second hit of the game and finished 2-for-5 in the victory. The D-backs finished with 17 hits, their second most in postseason history.
• Gear up for D-backs' postseason
"I was just trying to get the runs in and get on base," Goldschmidt said. "It's not about me. I was able to get the first guy in, but my next two at-bats, I was not able to get the job done when a sac fly would have scored us some runs. It was kind of frustrating when you are trying to add on there, but the guys picked me up."
Goldschmidt, who was 0-for-11 against Gray, was also hitless in his past 17 at-bats overall heading into Wednesday's game. He was 0-for-9 against Gray during the regulard season.
• McCutchen tweets about Goldy's HR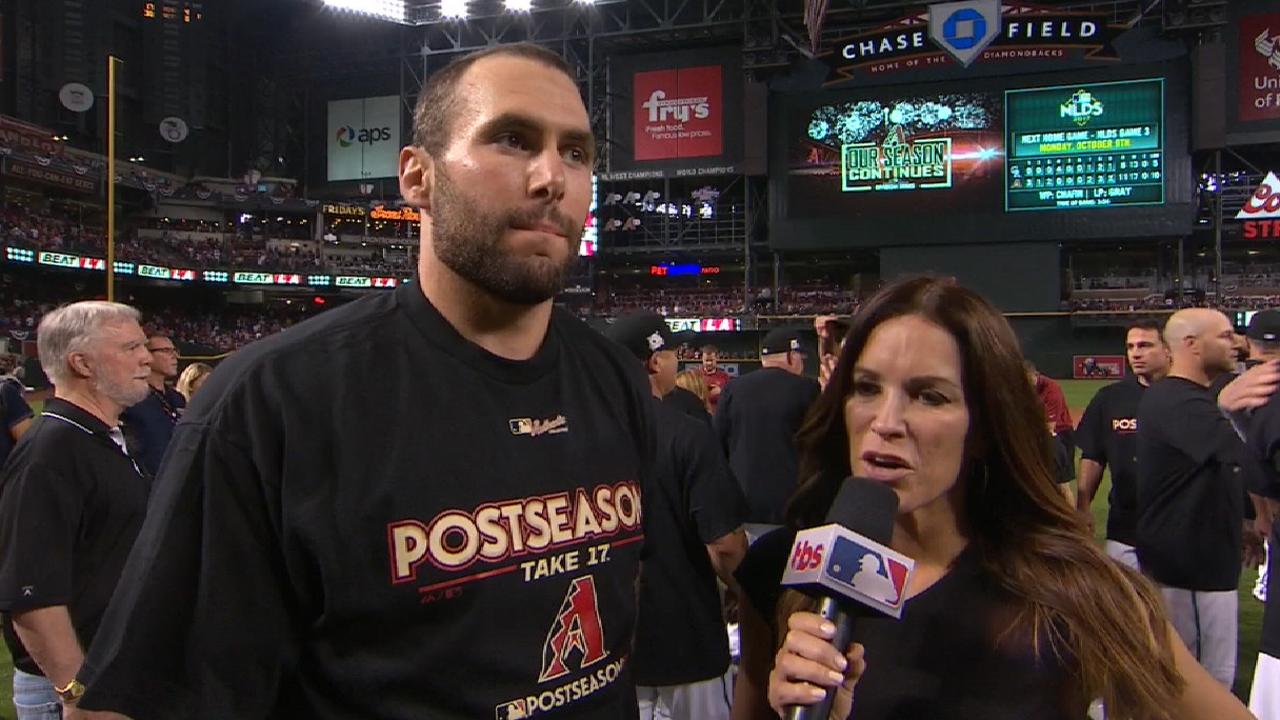 The homer capped a hot start by Arizona's offense. Left fielder David Peralta hit a single up the middle to lead off the frame. Shortstop Ketel Marte followed with a single to right field that moved Peralta to third base.
Goldschmidt did the rest. The pitch to him was 81.1 mph, according to Statcast™. The launch angle was 39 degrees, and the ball hung in the air for six seconds before finally touching down a projected 384 feet from home plate.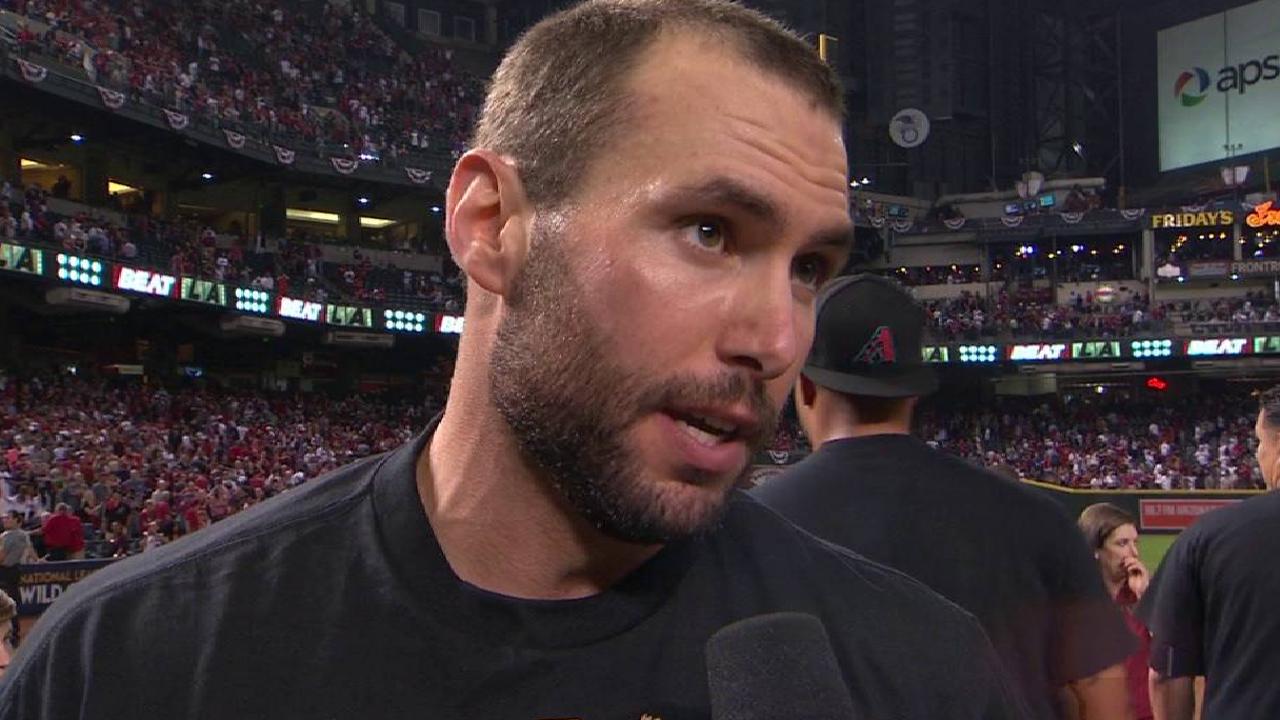 "That's the thing we talk about," Goldschmidt said. "It's not about one guy and it's not about your stats. You just try to find a way to win, especially in a one-game playoff. If you get the win, who cares about your own stats."
Jake Lamb also notched a single to right field and center fielder A.J. Pollock followed with a double to left field, but Gray escaped the rest of the inning unscathed. He would not make it out of the second inning.
"That home run was huge," D-backs right fielder J.D. Martinez said. "The entire lineup pitched in and everybody contributed. That was my favorite thing about this game. It wasn't just one or two people. It was everyone."
Jesse Sanchez, who has been writing for MLB.com since 2001, is a national reporter based in Phoenix. Follow him on Twitter @JesseSanchezMLB and Facebook. This story was not subject to the approval of Major League Baseball or its clubs.