5 Statcast facts for NLDS: Cubs vs. Nationals
Washington hosts Game 1 tonight at 7:30 p.m. ET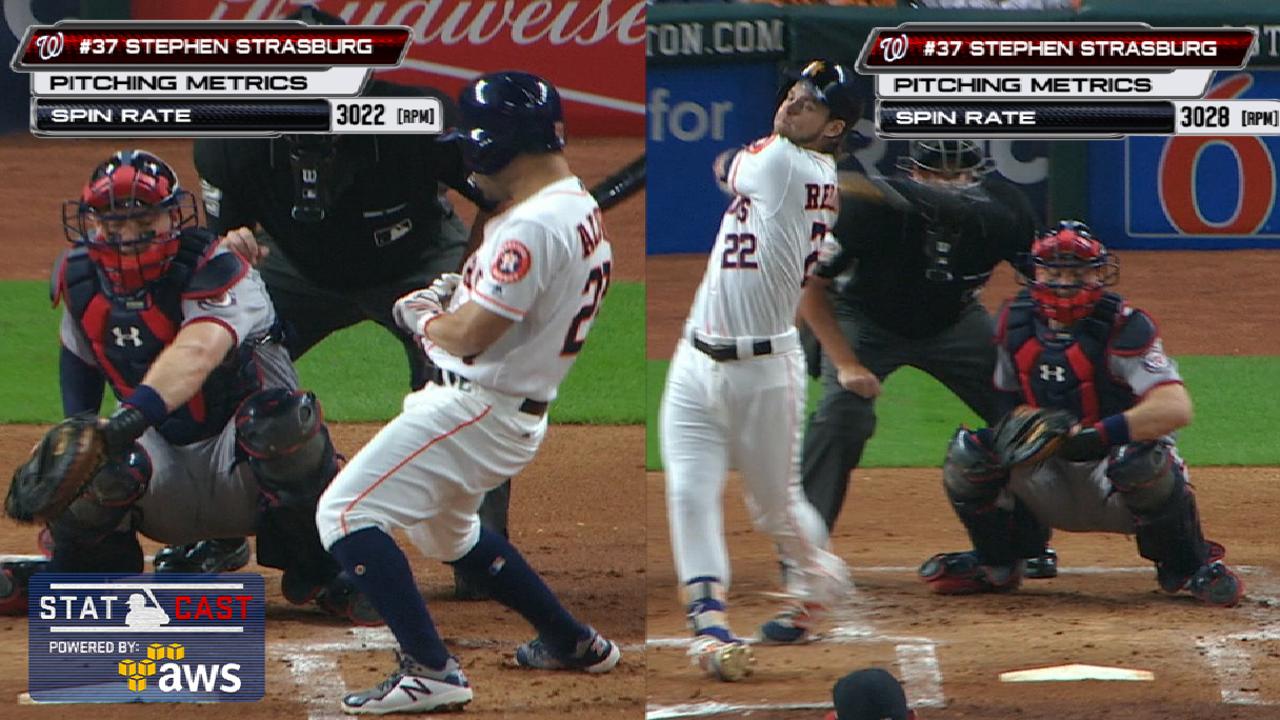 The Cubs are looking for a championship repeat. The Nationals are looking for a postseason breakthrough.
These two dynamic division winners will clash tonight at 7:30 p.m. ET (TBS) in Game 1 of the best-of-five National League Division Series in Washington. The Nats captured the competitive season series, 4-3. Following three NLDS defeats over the previous five years, the Nats will look to take out the 2016 World Series champs for their first postseason series victory since moving to Washington in '05.
All season, as Chicago pushed its way to the NL Central title and Washington cruised to an NL East crown, Statcast™ was following every aspect of both clubs' performances. Here then are five key Statcast™ facts to know about this matchup:
1. If Scherzer is healthy, the Nationals have two legitimate aces
The best things a pitcher can do is pile up strikeouts, limit walks and generate favorable contact. Statcast™'s expected weighted on-base average metric (xwOBA) is based on those three factors, and among the more than 100 pitchers who faced at least 500 batters this season, Max Scherzer and Stephen Strasburg both ranked in the top six. Scherzer's hamstring injury complicates things, but when he's healthy he's as dominant as anyone.
Lowest xwOBA allowed in 2017 (minimum 500 batters faced)
1. Max Scherzer: .242
2-T. Corey Kluber: .248
2-T. Chris Sale: .248
4. Clayton Kershaw: .253
5. James Paxton: .259
6. Stephen Strasburg: .264
The Cubs don't quite have a starter who can match that in terms of 2017 production, but Kyle Hendricks (.300 xwOBA), Jake Arrieta (.301), Jon Lester (.301) and Jose Quintana (.303) all are bunched in the top 35 overall.
2. The Cubs can crush it
Chicago's lineup knows how to put a charge into the ball. This season the Cubs smacked 300 barrels -- a Statcast™ term for balls with an ideal combination of exit velocity and launch angle that typically produces extra-base hits. That trailed only the Dodgers among NL teams, while Anthony Rizzo (45), Kris Bryant (41) and Kyle Schwarber (41) all ranked in the top 11 in the NL individually.
Most barrels by NL teams in 2017
1. Dodgers: 304 (7.4 percent of batted balls)
2. Cubs: 300 (7.2 percent of batted balls)
3. Cardinals: 286 (6.8 percent of batted balls)
4. Nationals: 283 (6.6 percent of batted balls)
5. D-backs: 275 (6.7 percent of batted balls)
3. Trea Turner's legs vs. Willson Contreras' arm is a matchup to watch
Turner went 46-for-54 (85.2 percent) in stolen-base attempts over just 98 games this season, including 7-for-8 during a four-game series against the Cubs in late June. However, that included an infamous 4-for-4 game with the since-traded Miguel Montero behind the plate. The fact is, Turner has among the fleetest feet in the game, based on Statcast™'s sprint speed, which tells us how many feet per second a player is covering during the fastest one-second window of his run. Turner's 29.2 ft/sec average on "max-effort" baserunning plays -- compared with the MLB average of about 27 ft/sec -- put him 15th in the Majors and second among shortstops. To combat this, Cubs pitchers must keep Turner off the bases as much as possible. And if Turner gets on, they have to keep him from getting huge jumps. If the Cubs' hurlers can do that, Contreras will have a shot. The 25-year-old has stopped 30 percent of steal attempts in his career, and his average max-effort arm strength of 87.2 mph this season ranked first among MLB catchers.

Fastest average. baserunning sprint speed for shortstops in 2017
1. Amed Rosario: 29.7 ft/sec
2. Trea Turner: 29.2 ft/sec
3. Wilmer Difo: 29.0 ft/sec
Highest average catcher's arm strength in 2017 (minimum 10 max-effort throws)
1. Willson Contreras: 87.2 mph
2. Elias Diaz: 86.8 mph
3. Gary Sanchez: 86.6 mph
4. Carl Edwards Jr. is the king of fastball spin rate
Wade Davis is the Cubs' shutdown closer, but Edwards led the club in appearances this season (73), and the slender right-hander assuredly will be called upon to get some crucial outs during this series. Edwards struck out roughly 36 percent of the batters he faced this season -- or about 13 per nine innings -- with more than half of those Ks coming on a four-seam fastball that averages 95.2 mph. It's not just velocity, though. A high spin rate on four-seamers gives the ball a "rising" effect, and out of more than 300 pitchers who threw at least 300 four-seamers this year, Edwards' average spin rate was the highest. That certainly contributed to him getting whiffs on more than 30 percent of opponents' swings against the pitch.
Highest average four-seam fastball spin rate in 2017 (minimum 500 tracked four-seamers)
1. Carl Edwards Jr.: 2,677 RPM
2. Mike Minor: 2,603 RPM
3. Matt Bush: 2,544 RPM
4. Justin Verlander: 2,541 RPM
5. Cody Allen: 2,506 RPM
5. Anthony Rendon is an extremely tough out
In terms of national attention, the reserved Rendon can get a bit lost on a star-studded roster, but pitchers surely don't like to see him at the plate. The third baseman hits for both average and power, and he walked two more times than he struck out this year because he doesn't get himself out. Rendon chased just 19.3 percent of out-of-zone pitches -- the fifth-lowest rate out of more than 150 batters (minimum 1,000 out-of-zone pitches). Only about 10 percent of two-strike pitches to him resulted in a strikeout, also one of MLB's best rates, because when he takes a two-strike cut, he rarely misses.
Highest contact rate (foul ball or in play) with two strikes in 2017 (minimum 300 two-strike swings)
1. Anthony Rendon: 89.7 percent
2-T. Joe Panik: 89.3 percent
2-T. Jonathan Lucroy: 89.3 percent
4. Dustin Pedroia: 88.0 percent
5. Adam Frazier: 87.6 percent
MLB average: 75.8 percent
Andrew Simon is a research analyst for MLB.com. Follow him on Twitter @AndrewSimonMLB. This story was not subject to the approval of Major League Baseball or its clubs.