Nats hope Murphy repeats '15 showing vs. Cubs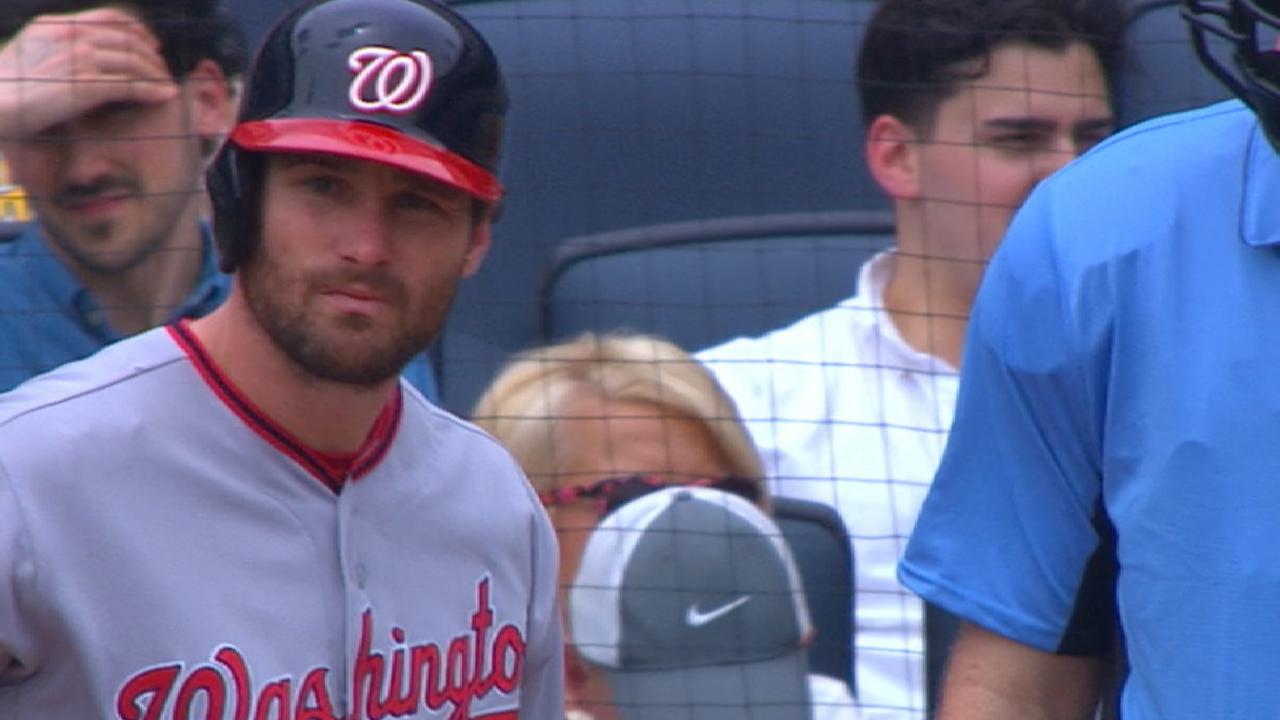 WASHINGTON -- It was against these Cubs that Daniel Murphy announced his arrival.
In the 2015 National League Championship Series, Murphy hit .529 and slugged four home runs in four consecutive games as the Mets swept the Cubs on the way to the World Series. During that postseason, Murphy homered in six consecutive games, a Major League record, and made his name on a national stage.
"He flat out beat us in '15," Chicago pitcher Jon Lester said. "Hopefully, that's not the case this go-round."
Now two years later, Murphy will try to do it again against the Cubs in the postseason when the Nationals face Chicago in the National League Division Series presented by T-Mobile on Friday at Nationals Park at 7:30 p.m. ET.
"I still wish he was a Met," Cubs manager Joe Maddon said. "There's no question I do. He was so good a couple years ago. He's still good. He's very good, outstanding. He really reinvented himself in the middle of his career. He's one of the more dangerous hitters playing baseball now."
The Nationals are glad Murphy is no longer in New York and instead has spent the past two seasons in Washington proving that his 2015 postseason performance was no fluke. He has played like an MVP candidate during the past two years and become a centerpiece of the Nats lineup.
Dusty Baker, now the Nationals manager, recalls being a broadcaster during the 2015 NLCS and remembers being amazed watching Murphy. Every time Baker thought Murphy could not possibly homer again, there went another ball over the fence.
"You can glean on past experiences, both positive and negative, to just slow the game down as much as you can," Murphy said. "One thing that I've tried to do and talked to some of the team about is really enjoy the moment. No matter how big it gets, in success or failure, just enjoy the moment."
Murphy chose to deflect talk of his performance against the Cubs in the playoffs, crediting his teammates for getting on base and easing the pressure on himself. He is a part of a Nationals lineup that will be one of the deepest in the playoffs and should give opposing pitching staffs fits.
The Cubs are aware of what Murphy is capable of as some fans in Chicago still carry bad memories of his historic performance in 2015. Murphy has also carried that performance into the regular season against the Cubs. In the past two years, he has batted .321 (17-for-53) with three home runs and five doubles in 12 games.
"I got to see it firsthand in the All-Star Game," Maddon said. "Talked to him a little bit. He's an absolute student of the game. He's very good, but [the Nationals] have other guys who are very good. They're a good ballclub. You have to pretty much meet 'em head on, make some better pitches.
"But [Murphy] has truly reinvented himself to the point he's one of the most dangerous hitters in baseball right now.''
Jamal Collier covers the Nationals for MLB.com. Follow him on Twitter at @jamalcollier. This story was not subject to the approval of Major League Baseball or its clubs.