Oct. 4 Carlos Correa and Jose Altuve workout day interview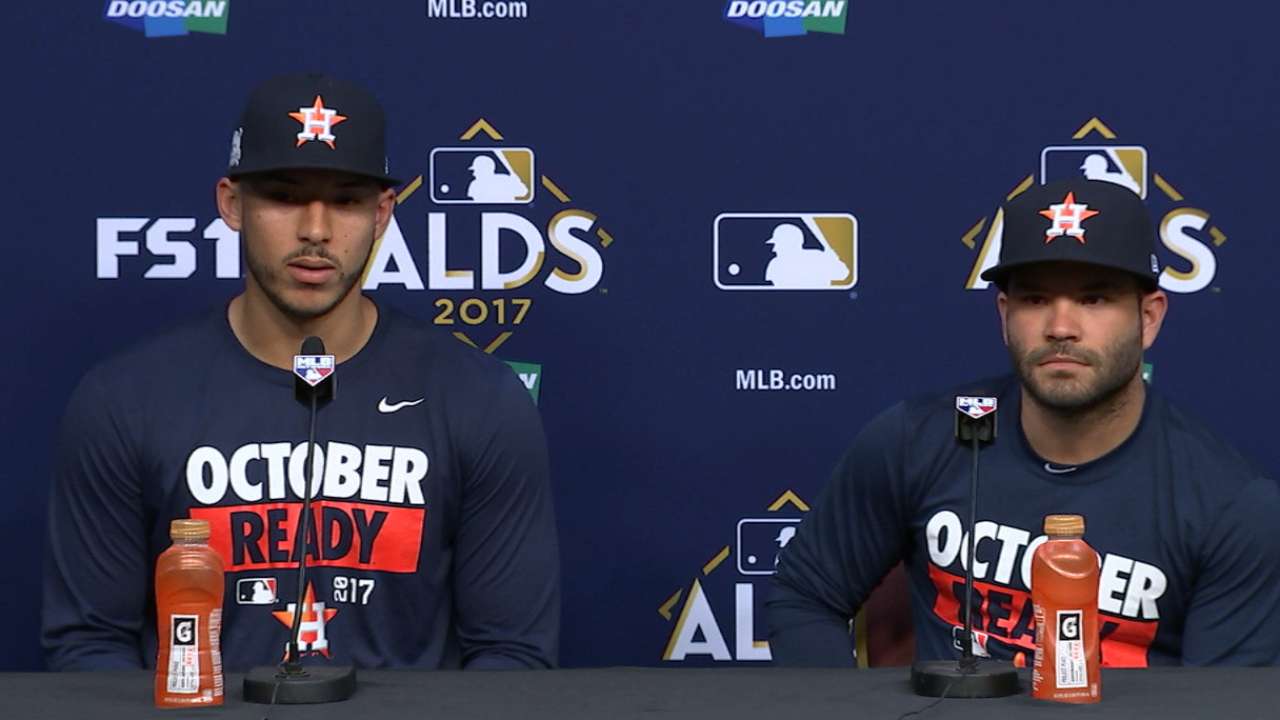 Q. I want to ask Jose, being you said it's the first time you won the bating title going into the playoffs. Being a batting champion going into the playoffs, facing some of the pitching that you'll face, what are some of the challenges for you to keep this going as you go into October the way you've been swinging the bat?

JOSE ALTUVE: I just want to go out there and try to do the same thing. To be honest with you, I already forgot about my batting title. This is a new season for me. A five-game series, we're going to do everything we can do to beat the Red Sox to play good baseball and we know we have the team to do it.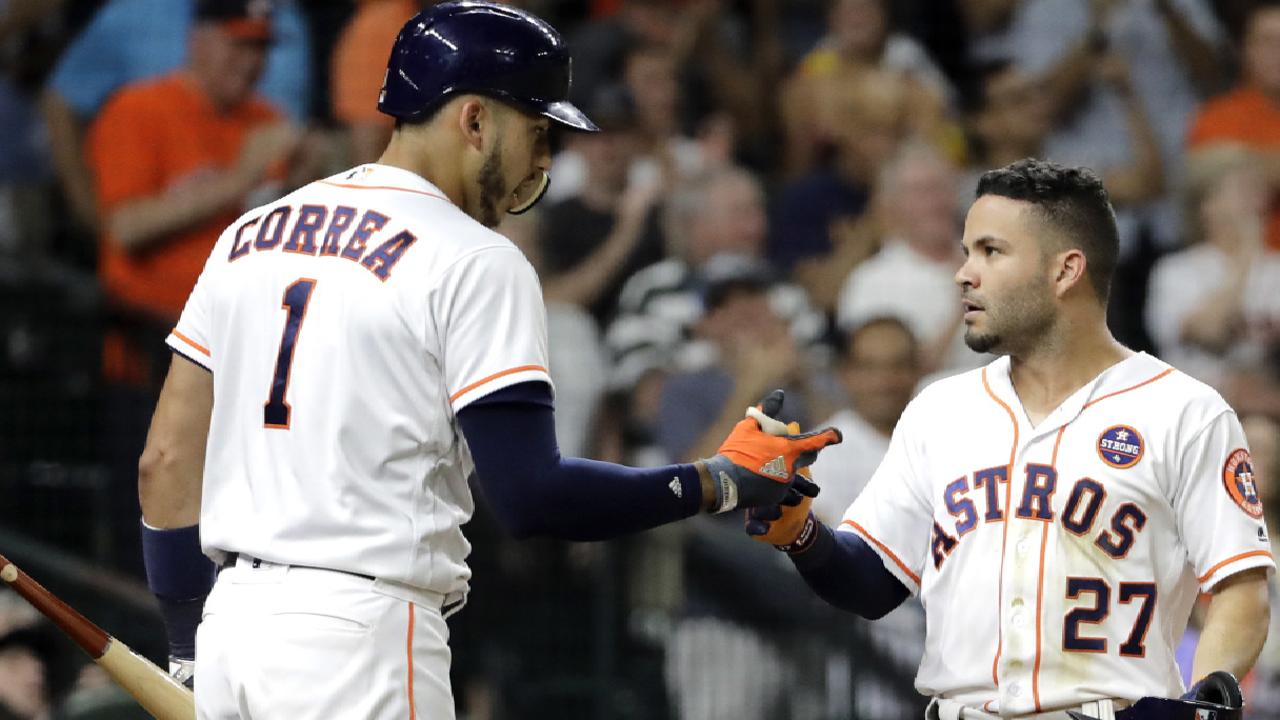 Q. Carlos you guys obviously have been exceptional offensively all season. When you look back at not only the additions of the veterans on the team but the maturation of some of the younger players, what's your take on why you guys have been so very good?

CARLOS CORREA: I think that was huge for us. Last year we had a young team with a lot of talent, but that leadership from a veteran guy we didn't have and this year with McCann, Beltran, Reddick showing up, besides their baseball skills they were great guys in the clubhouse and they taught us so much about the game. Things that we didn't know about. So that veteran leadership helped us a lot and I think all of them have been playing a great role on our team and our success.

Q. Jose, just kind of playing the position of Pedroia, what do you respect most about his game and how much do you like playing against him?

JOSE ALTUVE: I think the way he plays, he goes out there and plays a hundred percent every single game. He never takes it for granted. He dives, he slides, he does everything the right way. He's been in the league longer than me and when I was in the minor leagues he was one of my fellow players. To play the same position that Dustin Pedroia, former MVP, World Series, everything he has accomplished, I feel really proud to be like that in the same game and play in the game with him.

Q. For both of you guys, how would you describe Josh Reddick, his personality, his free spirit, to people who don't know him, how would you describe him?

CARLOS CORREA: I think he's a funny guy in the clubhouse he makes everybody laugh around him. He's just outgoing, he says whatever he has on his heart, he's going to tell you things straightforward. I think he's a good leader as well. But the way we see him and why we respect him the most is because he plays every single day a hundred percent, he gives everything for his team, and he obviously loves his teammates. So he goes out there every single day and competes.

Q. Carlos, how much do you feel like you've grown from the first time you were in the playoffs until now?

CARLOS CORREA: I think I've grown so much. I think mentally and the experience I've acquired playing every single day for the last two years and a half. Having guys in the clubhouse like Beltran has helped me a lot as well. I talk baseball with him most of the time. And just watching Jose play every single day and the way he goes about his business, the biggest thing I've learned from him is you got two hits in your first two at-bats, you got to have three, four hits that day. You can't just be pleased with having two hits that day. So that drives me every single day, the way he goes, he has four hits and he's like, Carlos I never had a five-hit game before, let me try to get the fifth hit. He's always striving for more. And that's what I've learned from him that makes me better every single day.

Q. To kind of dovetail on that, how do you use that experience that you had in 2015, the disappointment of that series loss, you had them down, let it slip away -- I mean they played well to give them their credit -- but how do you use that experience -- both you guys answer this -- to motivate you this time around you want to make sure you get the job done?

JOSE ALTUVE: I think that the difference between this one and 2015 was now we know how it feels to be there in a playoff game. Most of the guys inside the clubhouse in 2015, it was their first playoff. So now we have an idea of what is going on like that in a playoff game and we're trying to take everything like the things that we did good, the things that we didn't do good and make it better and try to -- and then at the end of the day it's another game, we just have to pretend we're playing another game, try to -- it's a five-game series, we have to play the same baseball we have been playing this year, which obviously was really good baseball. We have guys like Carlos and Beltran and McCann that they brought the leadership, now Verlander, he's starting the first game for us, so that gives you a little confidence to go out there and play the game.

CARLOS CORREA: Like he said, we know what to expect now. He's coming off his best season yet, I'm coming off my best season yet and then we have a way better team than 2015. So our confidence is in an optimum level and we're ready to go out there and compete.

Q. Jose, you've been with them team since 2011 and went through the losses and you make the playoffs in 2015, but you guys didn't make it last year. There was that feeling of disappointment, you want to get back, how much does just making the World Series, taking this franchise to the next step stick in your mind. Because as you said this is the best team you guys have ever had.

JOSE ALTUVE: You said it. I'm coming from a team that lost a hundred games in a row three years, three straight years. We made the playoffs in 2015, we didn't make it last year and after last year we were a little uncomfortable because we were watching the playoff games from home and we were like, okay, we're good enough to be in the playoffs. We show up this year, we did it again, and I'm really happy and excited about tomorrow and I trust in my guys, I feel really happy because we have a lot of talent and guys with big, big hearts and guys that I know are going to play well.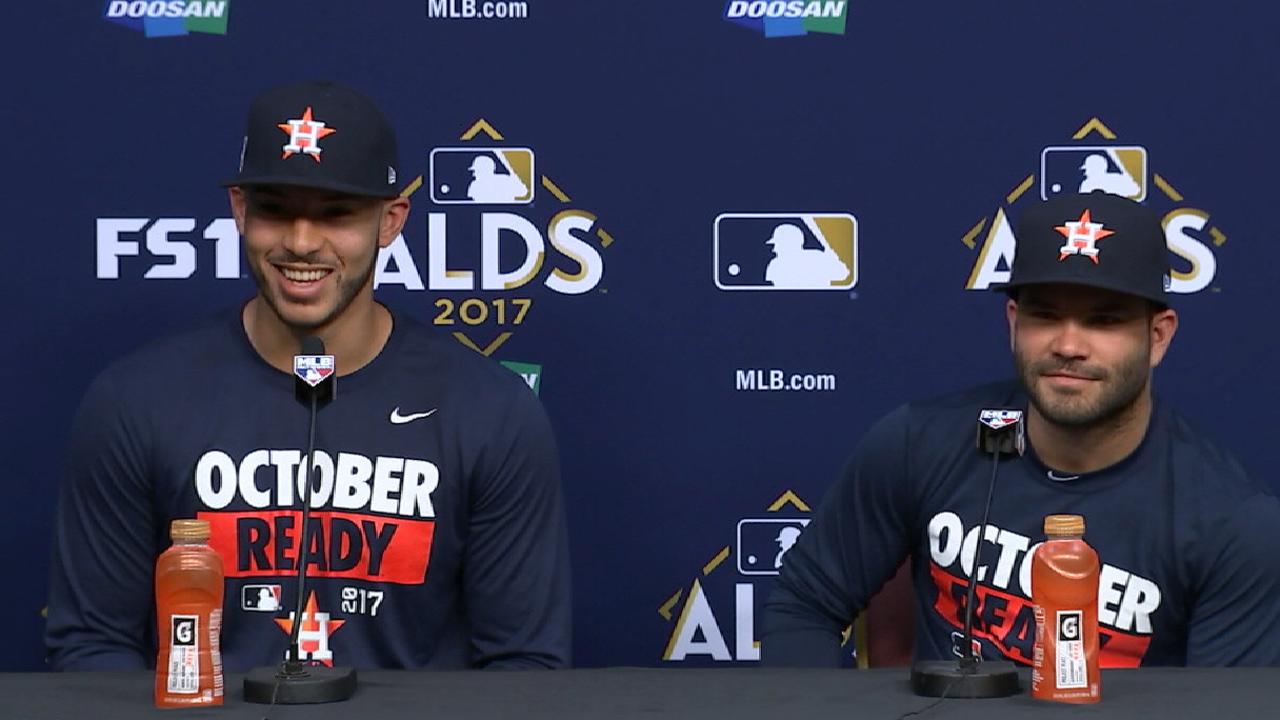 Q. For both of you, Carlos in the past you've talked about your relationship with Jose as being like brothers. Can both of you talk about how in sync you are on the field and the friendship you have off the field.

CARLOS CORREA: Yeah, I think every single year our friendship grows even more. Inside the field, obviously you guys can see everything that happens there. Turning double plays, having good times and everything. He hits a home run or I hit a home run, we're like brothers out there. But off the field as well the relationship is great. We watch boxing fights together on Saturdays. UFC fights together on Saturdays. We go grab dinners every once in awhile, especially when we're on the road.

JOSE ALTUVE: We fight too.

CARLOS CORREA: We fight a lot. We fought two days ago on the plane and five minutes later I'm like, that's why I love you, because we fight and then five minutes later we talk like nothing happened. So a little bit of everything you can see but the relationship keeps growing. Hopefully, Jim can sign him for 10 more years to this team so I can play with him for a long time.