Rox add Tapia, Tauchman to Wild Card roster
Lefty Anderson, righty Estevez available out of Colorado's bullpen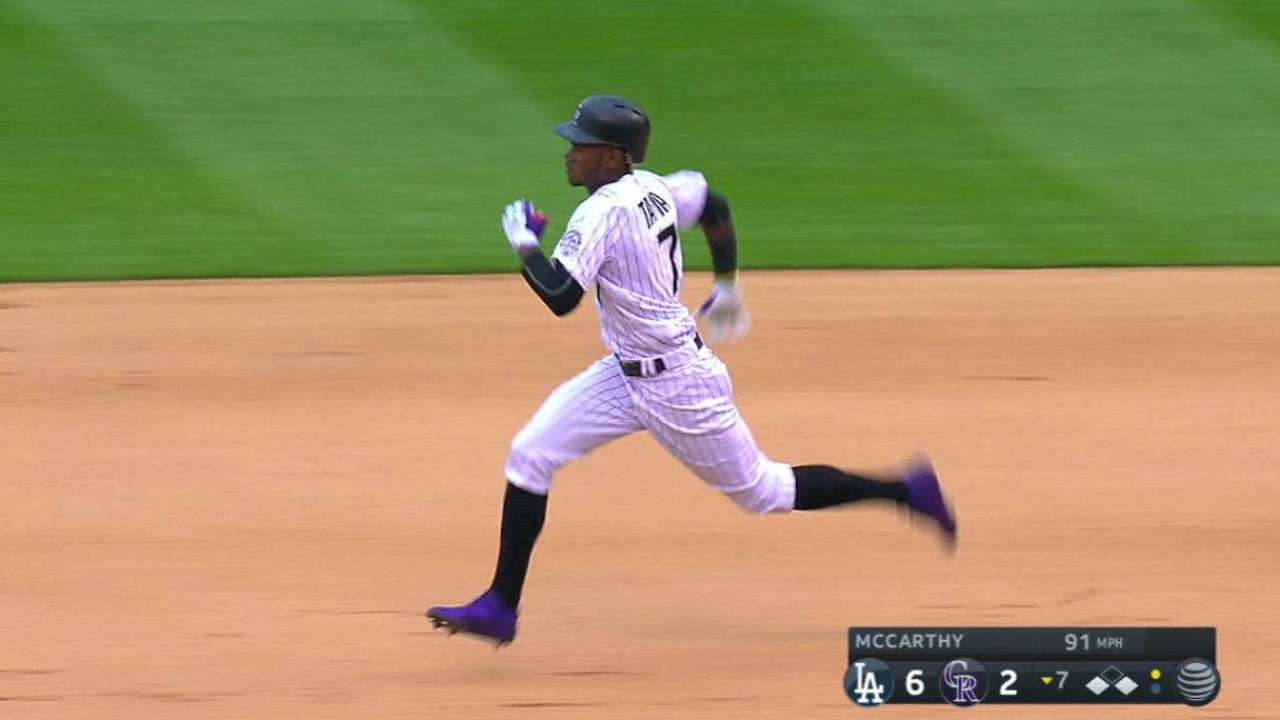 PHOENIX -- Wanting speed on the bench, the Rockies included outfielders Raimel Tapia and Mike Tauchman on their roster for the National League Wild Card Game against the D-backs on Wednesday at Chase Field.
Tapia and Tauchman are lefty complements to right-handed-hitting rookie Pat Valaika (19-for-58, four home runs, eight doubles, 16 RBIs), the team's main pinch-hitter this season. Tapia is 6-for-23 (.261) with two doubles and five RBIs as a pinch-hitter. Tauchman is 2-for-16 as a pinch-hitter. Both have been used as a pinch-runner. Tapia has been clocked as one of the Majors' fastest players this season, according to Statcast™.
Tapia and Tauchman are part of manager Bud Black's emphasis on versatility for the one-game roster. The winner will be allowed to reset the roster for the NL Division Series presented by T-Mobile, which starts Friday at Los Angeles.
"Well, I think what you look for, you know there is one game. And I think from a position player standpoint, you try to give yourself as much versatility as you can, both with the bat, with the glove and maybe with the legs," Black said. "So that's part of the reason you see the guys on the roster. Whether it's Tauchman, his ability to play defense and run and also maybe an at-bat. Tapia, the same."
Tapia brings success against D-backs righty relief troubleshooter Archie Bradley, going 2-for-4 this season. Tapia has modified his hitting approach. Through the Minors, when he was a top prospect, he had a conventional stance, then squatted into what assistant hitting coach Jeff Salazar calls "The Crab." But when the Rockies began using him as a pinch-hitter, he modified his basic stance to something in between.
"I find that I see guys that have good stuff, and I want to have a good at-bat from the get-go," Tapia said. "I don't want to waste any pitches. I'm just not quite as low."
On the pitching side, lefty starter Tyler Anderson is being kept for the bullpen, in case of a short start by righty Jon Gray or a low-scoring extra-inning game. Anderson has held opponents to a .173 batting average and a 1.19 ERA in four games (three starts) since returning from left knee surgery. In his return, he replaced an injured Kyle Freeland and held Arizona scoreless on one hit during Colorado's 5-4 victory at Chase Field on Sept. 11.
Before a couple of occasions this year (five scoreless innings, two hits, seven strikeouts, one walk), Anderson had not thrown in the bullpen as a professional. Anderson said his bullpen experience has him ready, even though he said it's best for the Rockies if he goes unused early in the game.
"I have somewhat of a routine, and I can do what I need to do to get ready," Anderson said. "But I hope the situation is I'm not in there, anyway. I think Jon is going to do his thing, but everyone out there in the bullpen is going to be ready."
The bullpen also has rookie righty Antonio Senzatela, a former starter who can provide length, plus versatile lefty Chris Rusin.
• Rusin is Rockies' postseason X-factor
"We felt as though we're covered there in a couple different scenarios with length by keeping Anderson, having Senzatela there, having Rusin for some length," Black said. "The guys who are on the roster on the pitching side are true relievers, for the most part, with the exception of Tyler. And Senzatela has pitched in relief for the last six or seven weeks or so."
If all goes well with Gray on Wednesday and Colorado wins, Anderson could start Game 1 of the NLDS.
"We've got to get there first," Anderson said.
Also, righty Carlos Estevez pitched his way onto the roster with a strong September. Since giving up three runs in 1 1/3 innings of a loss to the D-backs on Sept. 13, Estevez has made eight straight scoreless appearances, with seven strikeouts (but four walks) in six innings.
Estevez, who was the closer for much of last season but spent much of this year at Triple-A Albuquerque modifying his motion, may have locked his spot in the eighth inning of a 5-4 loss to the Marlins on Sept. 25. Rusin, the Rockies' relief troubleshooter, entered with the bases loaded and no outs and induced ground balls for forceouts at the plate. Then Estevez entered to face star Giancarlo Stanton, blew a 98-mph fastball past him, then had him bounce to the mound on a 98.6-mph fastball.
"I just needed to make my pitches," Estevez said. "I needed to work on my stuff and come back -- that completes it right there. I know I can do it."
Veteran righty Adam Ottavino (2-3, 5.06 ERA), who struggled with control all season (39 walks in 53 1/3 innings), was not kept on the roster.
Colorado kept all three catchers -- starter Jonathan Lucroy, primary backup Tony Wolters and veteran Ryan Hanigan. By carrying Hanigan, the Rockies can take advantage of Wolters' versatility without being left short behind the plate. He has decent speed and can play the middle-infield positions.
The complete roster is as follows:
Catchers
Hanigan
Lucroy
Wolters
Infielders
Alexi Amarista
Nolan Arenado
DJ LeMahieu
Mark Reynolds
Trevor Story
Valaika
Outfielders
Charlie Blackmon
Ian Desmond
Carlos Gonzalez
Gerardo Parra
Tapia
Tauchman
Pitchers
Anderson
Mike Dunn
Estevez
Gray
Greg Holland
Jake McGee
Pat Neshek
Scott Oberg
Rusin
Senzatela
Thomas Harding has covered the Rockies since 2000, and for MLB.com since 2002. Follow him on Twitter @harding_at_mlb and like his Facebook page. This story was not subject to the approval of Major League Baseball or its clubs.