MLB.com Columnist
Mike Petriello
Yankees-Indians: ALDS position-by-position
Cleveland took five of seven meetings between the clubs this season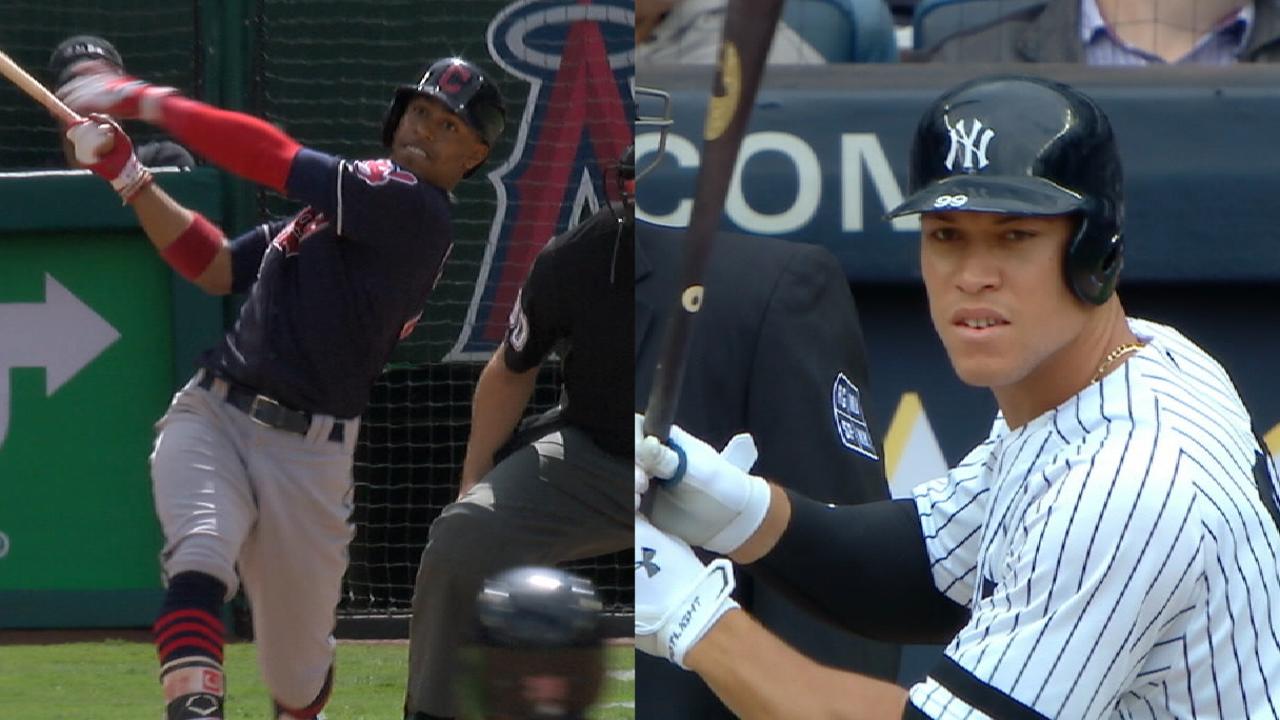 It wasn't easy, not with their starting pitcher getting exactly one out before being removed, but the Yankees managed to survive the American League Wild Card Game, topping the Twins, 8-4, thanks to their usual formula of "home runs and relief pitchers." Their reward for such heroics? A trip to Cleveland to face a rested Indians team that lost just four of their final 33 games.
Cleveland is going to be favored in the AL Division Series presented by Doosan and rightfully so, since the Indians did win 102 games and made history by winning 22 straight just a few weeks ago. But for as great as the Indians may be -- and they are -- don't forget that the Yankees specifically built a bullpen for the playoffs. Expect to see the formula they used in the Wild Card Game repeated, and it's not like Terry Francona won't do the same with his own collection of ace relievers.
So who has the edge? Let's break it down position by position to find strengths on each side. (Batting numbers are presented with traditional BA/OBP/SLG and Weighted Runs Created Plus, or wRC+, a park- and league-adjusted number where 100 is set as "league average" for easy comparison.)
Catcher
If Cleveland has anything resembling a weakness, it's probably behind the plate, where Yan Gomes and Roberto Perez (plus a little Francisco Mejia) combined to hit just .221/.300/.384 (81 wRC+). Gary Sanchez, on the other hand, has become a superstar, hitting .278/.345/.531, 130 wRC+, 33 homers). Yes, he's got an issue with passed balls, but he's also a good framer (+9 runs, tied for 10th overall, just behind Perez) with a cannon of an arm.
Advantage: Yankees
First Base
Carlos Santana did basically the same thing in 2017 that he does every year, which is to say that he showed outstanding on-base skills and strong power, hitting .259/.363/.455 (117 wRC+) with 23 homers. We're not kidding about the "same thing he does every year" part, either; for his career, dating back to 2010, Santana's overall line is a nearly identical .249/.365/.445 (123 wRC+). While Greg Bird has a high level power upside, he also missed most of 2016 and 2017 due to injuries, and hit just .190/.288/.422 (86 wRC+) when he did play this year.
Advantage: Indians
Second Base
That this one isn't close -- and it's not meant as a slight to Starlin Castro, who had a solid enough line of .300/.338/.454 (110 wRC+), though he slumped down the stretch. It's based entirely on how great Jose Ramirez was for a second season in a row, sliding back and forth between second and third base as needed and putting up elite offense (.318/.374/.583, 148 wRC+) while doing so.
Advantage: Indians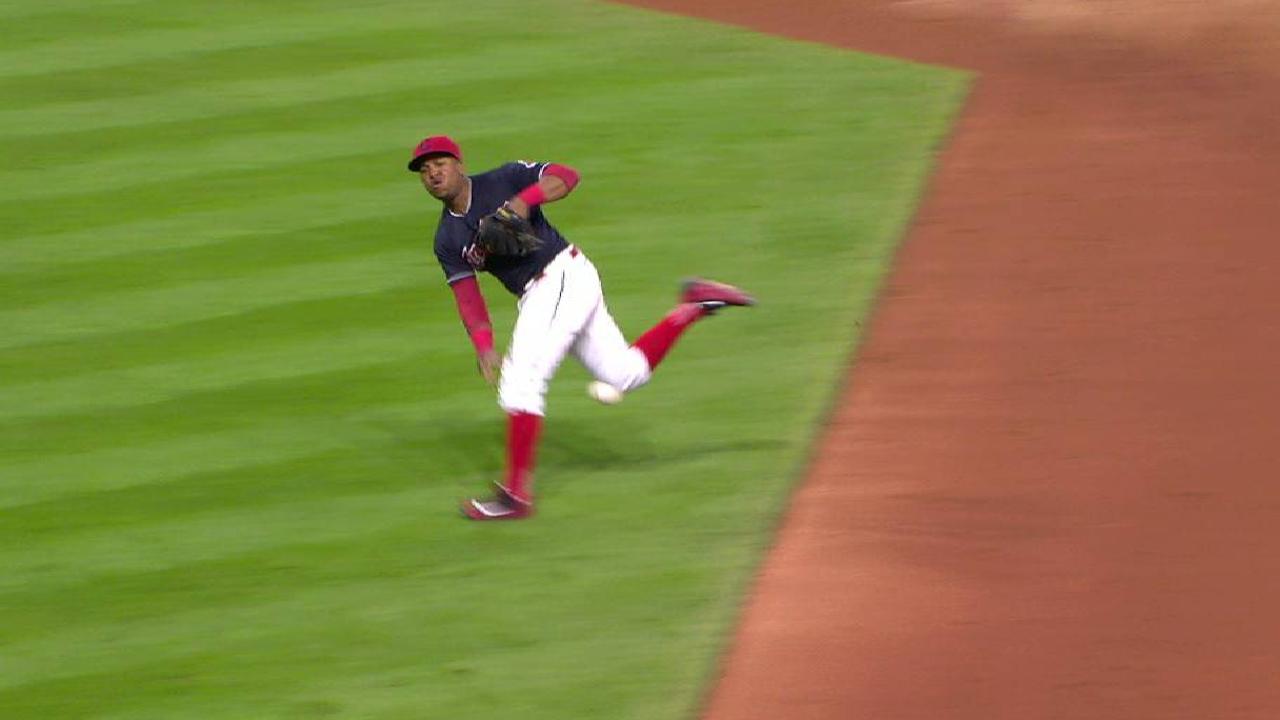 Shortstop
While Francisco Lindor obviously gets the edge here, having hit .273/.337/.505 (118 wRC+) with 33 homers and fantastic defense, it's at least worth noting that Didi Gregorius makes this a conversation. Sir Didi had a pretty great year of his own, putting up 25 homers (plus a game-tying three run shot in the Wild Card game) to go with a .287/.318/.478 (107 wRC+) line, as he became the regular Yankees cleanup hitter. That said, he's not Lindor. No one is.
Advantage: Indians
Third Base
Though Ramirez started by far the most games here, and Yandy Diaz was both the Opening Day third baseman and the primary starter in September, it's likely to be Giovanny Urshela who gets the call at third, with Ramirez at second and Diaz not on the roster. Urshela has a reputation as an elite defender, but his career batting line in parts of two seasons is just .225/.273/.314 (57 wRC+), so Todd Frazier gets the easy edge here. Frazier's a pretty good third baseman himself, and he showed both on-base skills and power after being traded to the Yankees, hitting .222/.365/.423 (114 wRC+) with New York.
Advantage: Yankees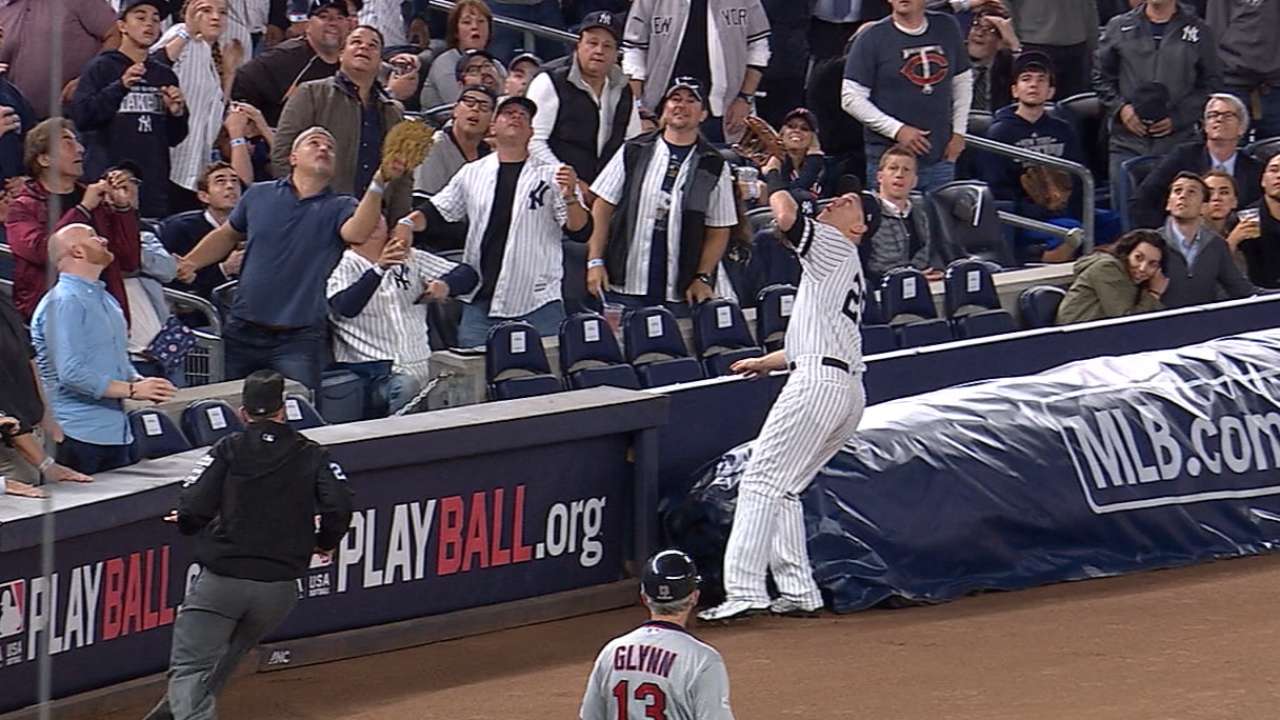 Left Field
Though Michael Brantley made the roster, it will likely be as a pinch-hitter, since he hasn't played the outfield since injuring his ankle back on Aug. 8. That means left field is likely to be a job share between righty Austin Jackson (.318/.387/.482, 131 wRC+) and lefty Lonnie Chisenhall (.288/.360/.521, 129 wRC+), who both had good years. Even though those lines are both better than Brett Gardner had (.264/.350/.428, 108 wRC+), we're calling this one a tie, because Gardner's a better defender and baserunner. He also took nearly 100 more plate appearances than Chisenhall and Jackson did, combined.
Advantage: Tie
Center Field
Expect to see the Yankees use both Aaron Hicks (.266/.372/.475, 127 wRC+) and Jacoby Ellsbury (.264/.348/.402, 101 wRC+) in center, and that's a pretty good duo to have. Hicks had a breakout season when healthy, and as the owner of baseball's strongest outfield arm, got the Wild Card start over Ellsbury mostly for his defense. Meanwhile, Cleveland lost Bradley Zimmer to a broken hand on Sept. 10, so it opted for a late-season conversion of long-time second baseman Jason Kipnis to center. While the high-strikeout profile of the pitching staff made it a worthwhile risk, he's still got just 11 games of experience there, and he hit just .232/.291/.414 (82 wRC+) this year anyway.
Advantage: Yankees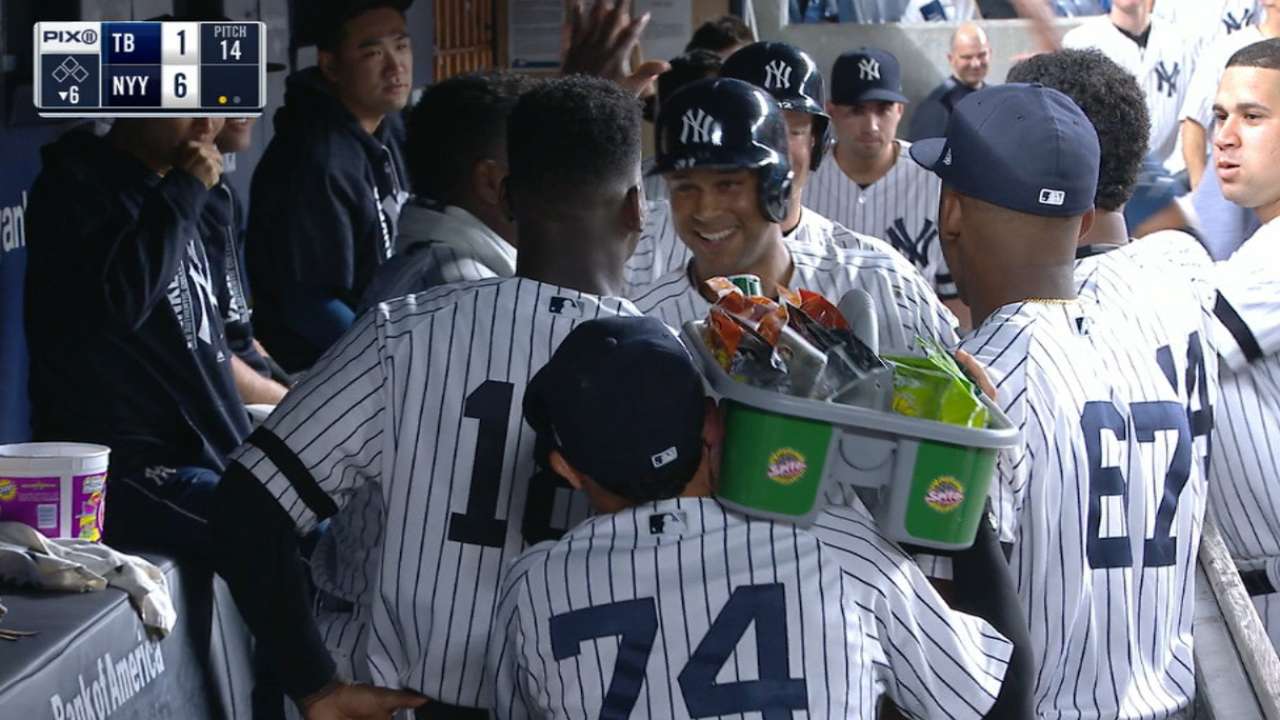 Right Field
Jay Bruce gave Cleveland everything they expected and more after being acquired from the Mets in August, hitting .248/.331/.477 (111 wRC+) with seven of his career-high 36 homers after returning to Ohio. But let's be honest here: this is the Aaron Judge show. Judge erased any memories of his summer slump with a massive September (.311/.463/.889, 233 wRC+), then pounded the hardest-hit ball of the Wild Card Game, a 108.5 mph homer off Jose Berrios. He's a better outfielder than you think, too, and he may just win the Most Valuable Player award.
Advantage: Yankees
Designated Hitter
With an all-righty Cleveland rotation, don't expect to see much Matt Holliday (.231/.316/.432, 98 wRC+) here. Instead, it's more likely that Chase Headley (.273/.352/.406, 104 wRC+) and Ellsbury will get starts at DH, and while Joe Girardi can play matchups with that trio, none can measure up to Edwin Encarnacion (.258/.377/.504, 132 wRC+, 38 homers), who lived up to expectations in his first season in Cleveland, essentially matching his career averages (.265/.354/.499, 127 wRC+). He remains one of baseball's most feared sluggers.
Advantage: Indians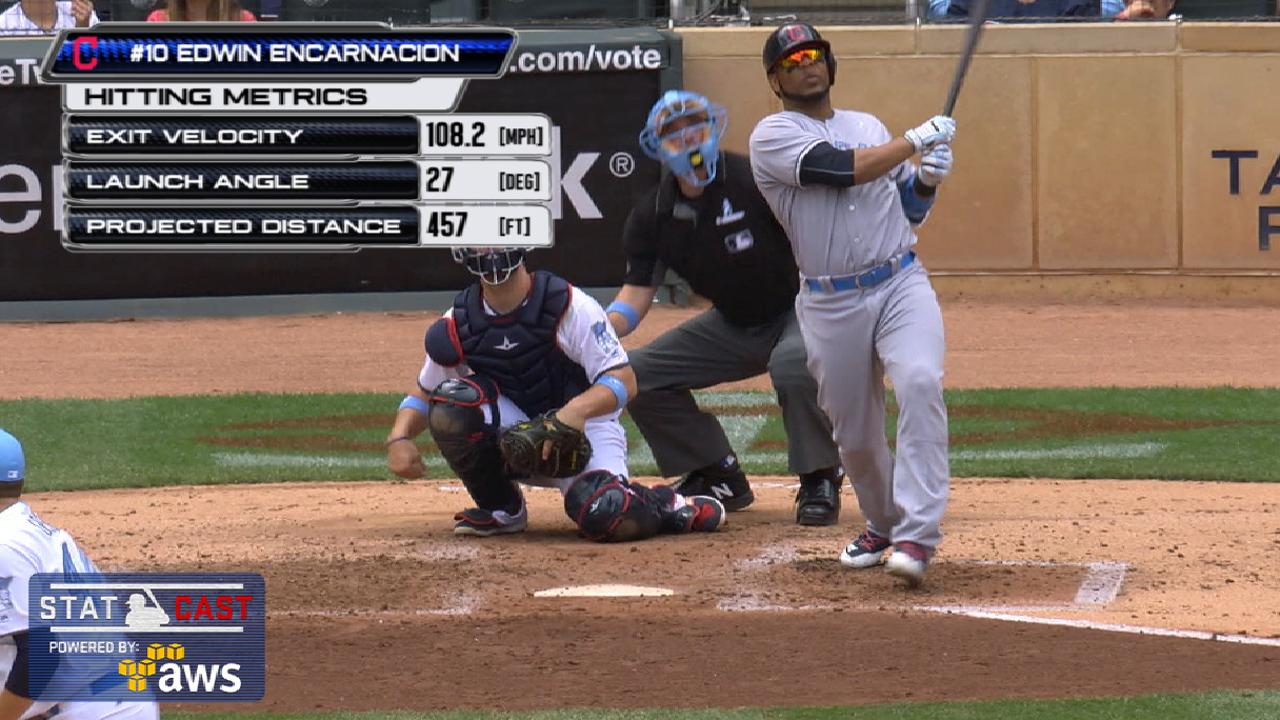 Starting Pitchers
Over the final two months of the season, Corey Kluber threw 89 innings, and the numbers are almost unreal: 104 strikeouts, nine walks, 1.42 ERA. And while it's true that Kluber won't start until Game 2, this isn't just about him, either. By one measure, this group, including Carlos Carrasco, Trevor Bauer, and Josh Tomlin, has an argument to be called the best rotation of all time. Whether or not you buy that isn't the point; the point is that while the Yankees do have Sonny Gray and Masahiro Tanaka, CC Sabathia isn't what he once was, and Luis Severino's Wild Card Game implosion leaves some uncertainty. The Yankees' rotation is good. The Cleveland rotation is great.
Advantage: Indians
Relief Pitchers
You saw what happened in the Wild Card Game, right? We called this group "baseball's scariest unit" back in August, and all they did to beat the Twins was to offer 26 outs worth of one-run baseball, without even getting to Dellin Betances. Yes, Andrew Miller remains elite, and yes, the idea of adding starters Danny Salazar and Mike Clevinger to Cody Allen, Bryan Shaw, and Tyler Olson means that Cleveland's 'pen is pretty stacked itself -- it's not hard to see this ALDS as being entirely about two great bullpens. But the Yankees are specifically built for this, and while it's not a huge edge, it's an edge. Chad Green, David Robertson, Tommy Kahnle, Aroldis Chapman, Adam Warren, and yes, Betances, are that good.
Advantage: Yankees
Mike Petriello is an analyst for MLB.com and the host of the Statcast podcast. This story was not subject to the approval of Major League Baseball or its clubs.