MLB.com Columnist
Mark Feinsand
Yankees-Indians poised for epic 'pen matchup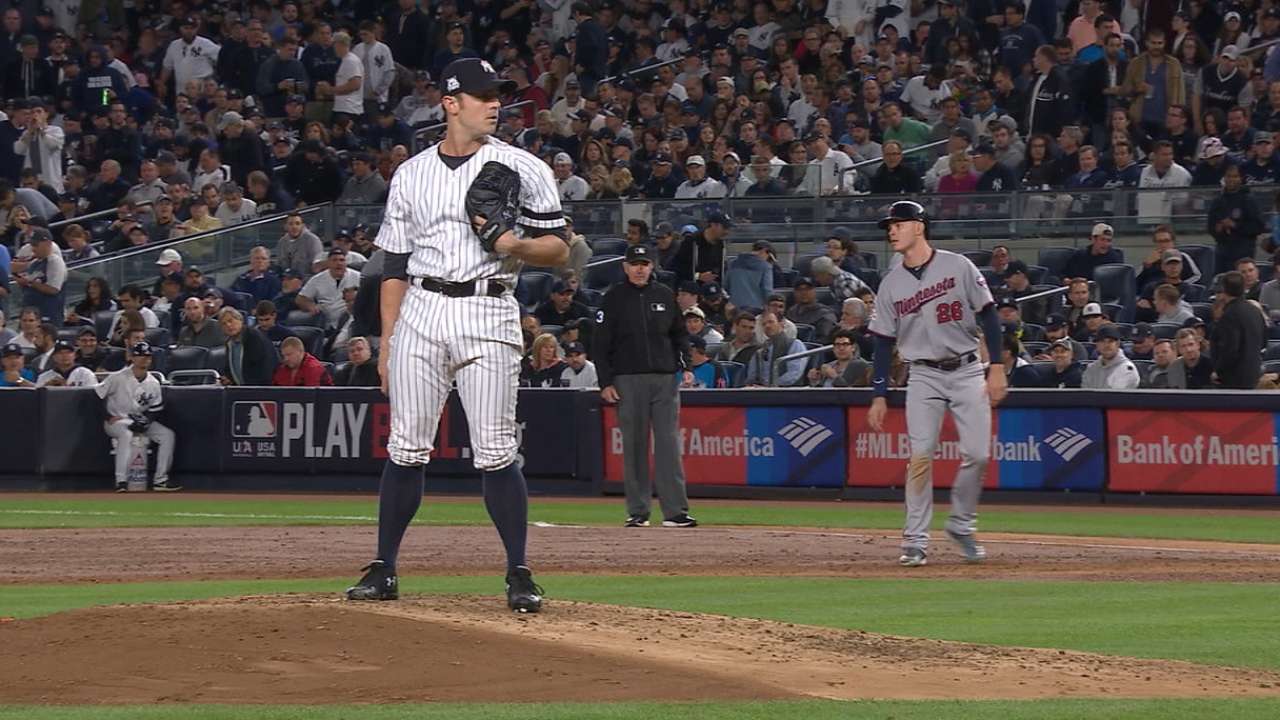 NEW YORK -- The Indians' bullpen was the story of the baseball world last October as Andrew Miller and company nearly pitched Cleveland to its first World Series title since 1948.
Tuesday night, the Yankees proved that if any team can match up with the Indians in a battle of bullpens, it's them.
Chad Green, David Robertson, Tommy Kahnle and Aroldis Chapman combined for 8 2/3 innings of one-run ball in the Yanks' 8-4 American League Wild Card Game win over the Twins. It was a valiant effort from a group that could challenge the Tribe as the deepest, most well-rounded relief corps in the game.
• DYK: Wild first, bullpen highlight ALCW
With the smell of champagne still wafting through the clubhouse, the Yankees began turning their attention to the Indians, whose bullpen boasted a Major League-best 2.89 ERA this season as Cleveland earned the top seed in the AL with 102 wins.
"We have a wonderful mix down there with guys that we can do it with," Yanks manager Joe Girardi said. "I pushed some guys a little bit further than I would like tonight, but it's win or go home, and that's why I did it."
Miller's multi-inning outings last fall became one of the biggest stories of October, as the left-hander threw more than one inning in all 10 of his postseason appearances.
Miller, of course, was traded to the Indians by the Yankees before the non-waiver Trade Deadline last summer, part of New York's rebuilding plan. That plan has moved quicker than expected, and while the Yanks would love to have Miller in their bullpen, there are one or two -- or three? -- arms out there with the potential to be game-changers this postseason.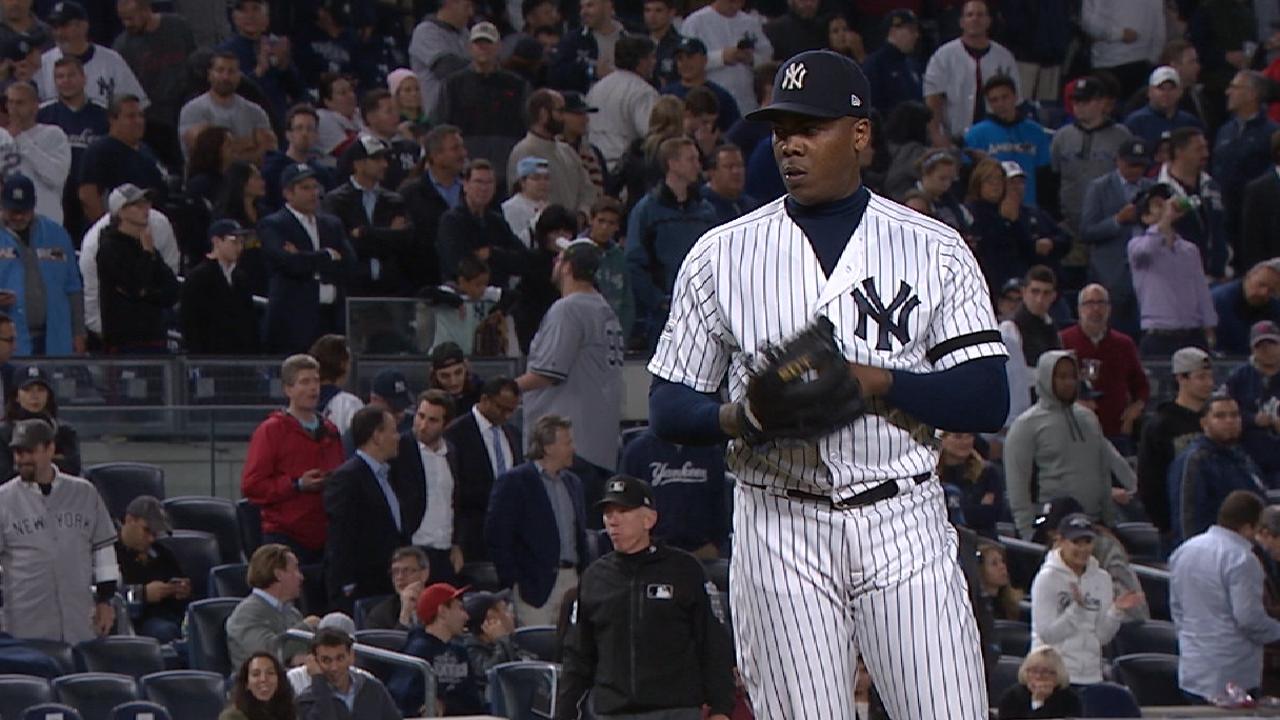 Robertson threw a career-high 3 1/3 innings against Minnesota, while Kahnle went 2 1/3. The pair was acquired in a Deadline deal with the White Sox, adding even more depth to a group that already featured Green, Chapman, Dellin Betances and Adam Warren.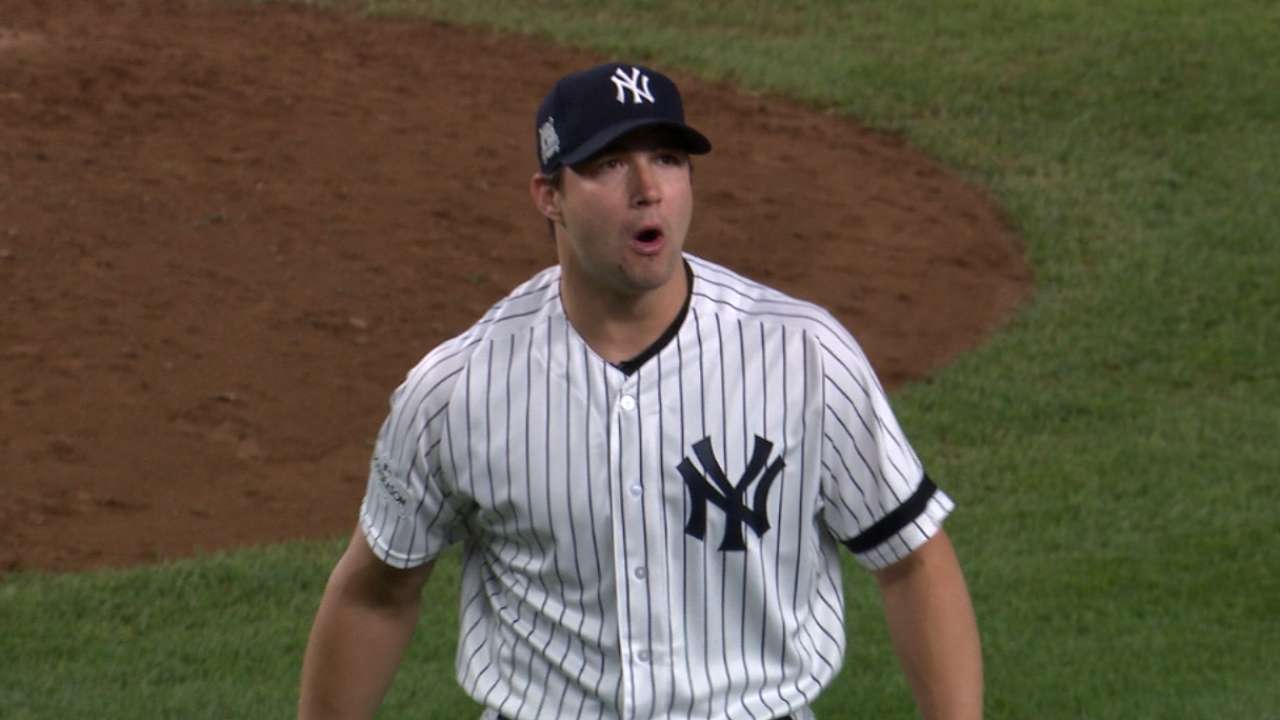 So while Miller, Cody Allen, Bryan Shaw and the rest Cleveland's bullpen figure to play a prominent role in the ALDS presented by Doosan, the Yankees' performance Tuesday night has them believing they can match up with anybody, no matter what inning they're forced to turn to the 'pen.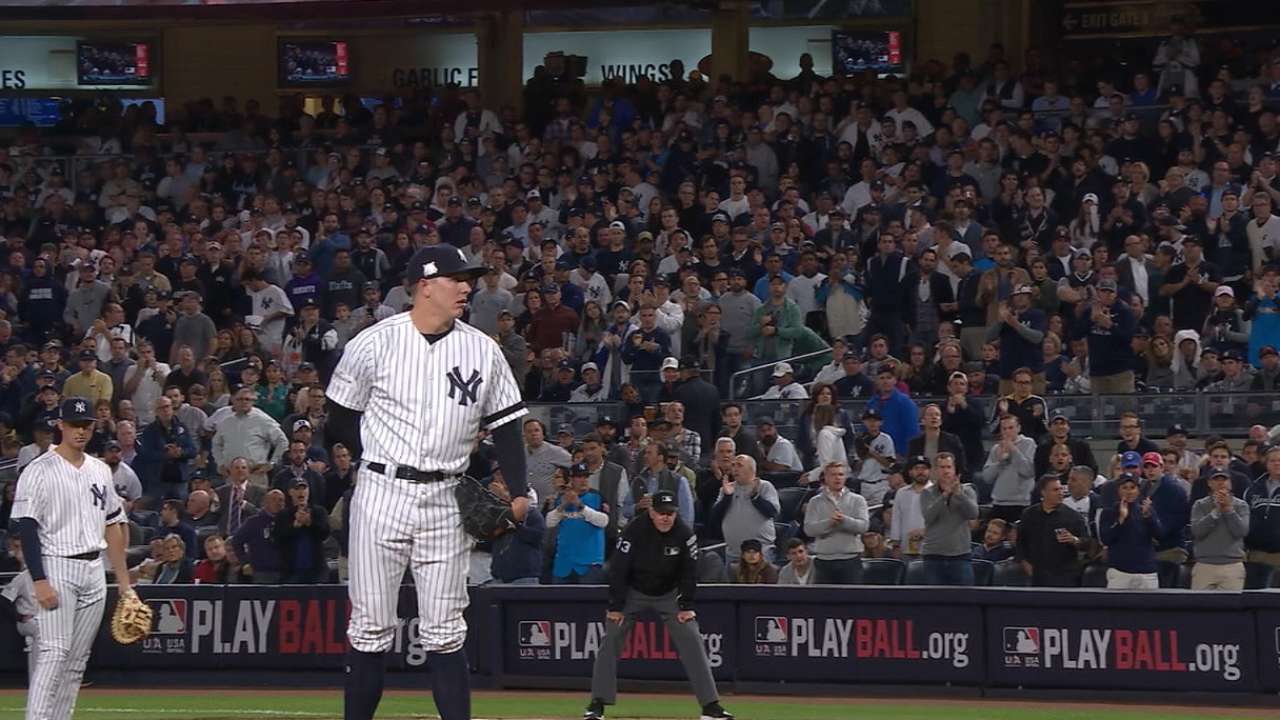 "It definitely could come down to that," Robertson said. "Cleveland has got a good bullpen; that's for sure. They've got a good lineup as well. They're a good team."
It should be noted the Tribe and the Yanks have solid starting rotations as well, so while the bullpens will be asked to get some big outs, pitchers such as Corey Kluber, Trevor Bauer, CC Sabathia and Masahiro Tanaka will have their say in who moves on from the best-of-five series.
"When you have that type of firepower out of the bullpen on both sides, managers are going to go to that when they feel they're stressed," Yankees infielder Chase Headley said. "But there are some pretty good starting pitchers on both sides, too. My guess is there are going to be some diverse games; you'll see some low-scoring, starting-pitching dominated [games]. Then you're going to see some runs scored early and a lot of bullpen. We just have to find a way to win three before they do."
Mark Feinsand, executive reporter for MLB.com, has covered the Yankees and MLB since 2001 for the New York Daily News and MLB.com. This story was not subject to the approval of Major League Baseball or its clubs.