Sale, Verlander set for grand stage in Game 1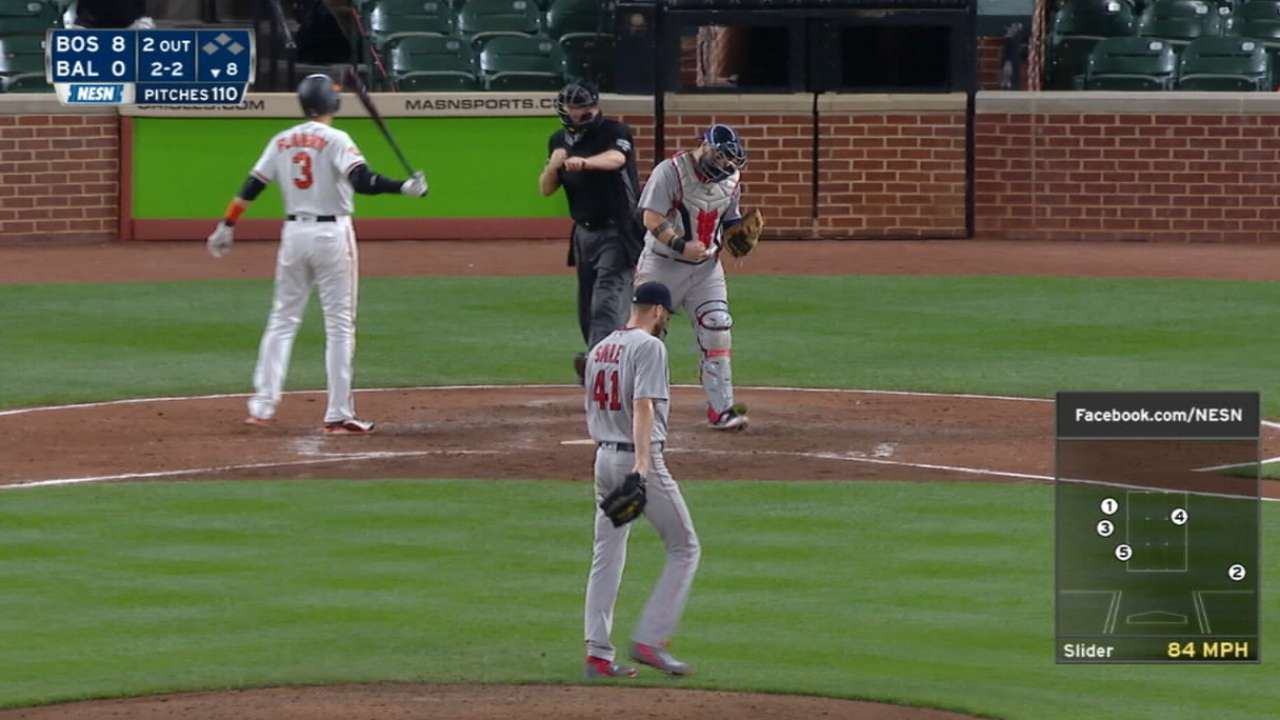 Two pitchers who were acquired with this very setting in mind have a chance to set a tone for their teams. So it's appropriate that the Astros and Red Sox have ended up in a place both expected to be.
What now?
"This is what you play for," Astros manager A.J. Hinch said.
His team won 101 games, the second-most in franchise history, and had the American League West virtually locked up by the All-Star break. Now it's about finishing the deal as the Astros and Red Sox play Game 1 of the American League Division Series presented by Doosan today (4 p.m. ET, MLB Network).
Hinch will give the baseball to Justin Verlander, who'll be making his 17th postseason start. He has been perfect for the Astros, winning all five starts with a 1.06 ERA since they acquired him from the Tigers on Aug. 31.
He did precisely what the Astros hoped he would in adding a boost that was both psychological and physical. Hinch is hoping to ride that momentum in the ALDS.
Verlander will be opposed by Boston's ace, left-hander Chris Sale, who was acquired last offseason to pitch a game exactly like this one. After 180 starts over the last eight seasons, Game 1 will be his first appearance in the postseason.
Hinch will give the ball to left-hander Dallas Keuchel in Game 2 to face another Red Sox lefty, Drew Pomeranz.
Here are the likely keys for this series:
Starting pitching
Houston's rotation finished strong, going 11-2 with a dazzling 2.96 ERA over the final two weeks of the regular season. That rotation has been so good that Hinch has not yet announced which of his starters -- and he has plenty of options -- will start Games 3 and 4.
The Red Sox, meanwhile, had a bumpy ride down the stretch, with a 4.98 ERA the final two weeks. Sale struggled late as well, posting a 4.09 ERA in his final 11 starts after a 2.37 ERA in his first 21 starts. Still, his track record is excellent. In the past three seasons, Sale's 3.21 ERA is the 11th-best in the Majors, just ahead of Keuchel (3.23).
After an 11-17 August, Houston's 21-8 record in September-October served as a sort of reset.
Offenses
Houston led the Majors in runs (896) with an offense that was second in home runs and last in strikeouts. That kind of contact offense with power puts pressure on a pitching staff from start to finish.
The Red Sox scored 785 runs, 111 fewer than the Astros, but they did steal the sixth-most bases in the Majors (106). Meanwhile, the Astros allowed 102 steals and caught only 14 would-be basestealers. This is an area the Red Sox could exploit.
Bullpens
The Astros had the Majors' best ERA (1.76) the final two weeks of the season, as right-hander Joe Musgrove established himself as a dominant right-handed setup man and All-Star righty Chris Devenski shook out of an August slump.
Boston's bullpen is anchored by MLB's best closer, Craig Kimbrel, and has a prominent X-factor in lefty David Price pitching in relief, perhaps for multiple innings like Andrew Miller did for the Indians last season.
The Astros were solid start to finish, but as Hinch said, "I don't think about records -- you can flush that. They provide the seeding. They don't provide a lot more. You can't count your wins anymore.
"Our guys know how to win. There's a lot of randomness to the playoffs. That's what you worry about. When things come up, players step up. Situations arise. The moment and the anxiety. One thing I know about this team is they're going to have fun. They're going to be themselves. They're not spooked by the moment."
Richard Justice has been a reporter for MLB.com since 2011. Read his columns and follow him on Twitter at @RichardJustice. This story was not subject to the approval of Major League Baseball or its clubs.