Yanks submit ALWC roster, go with 10 pitchers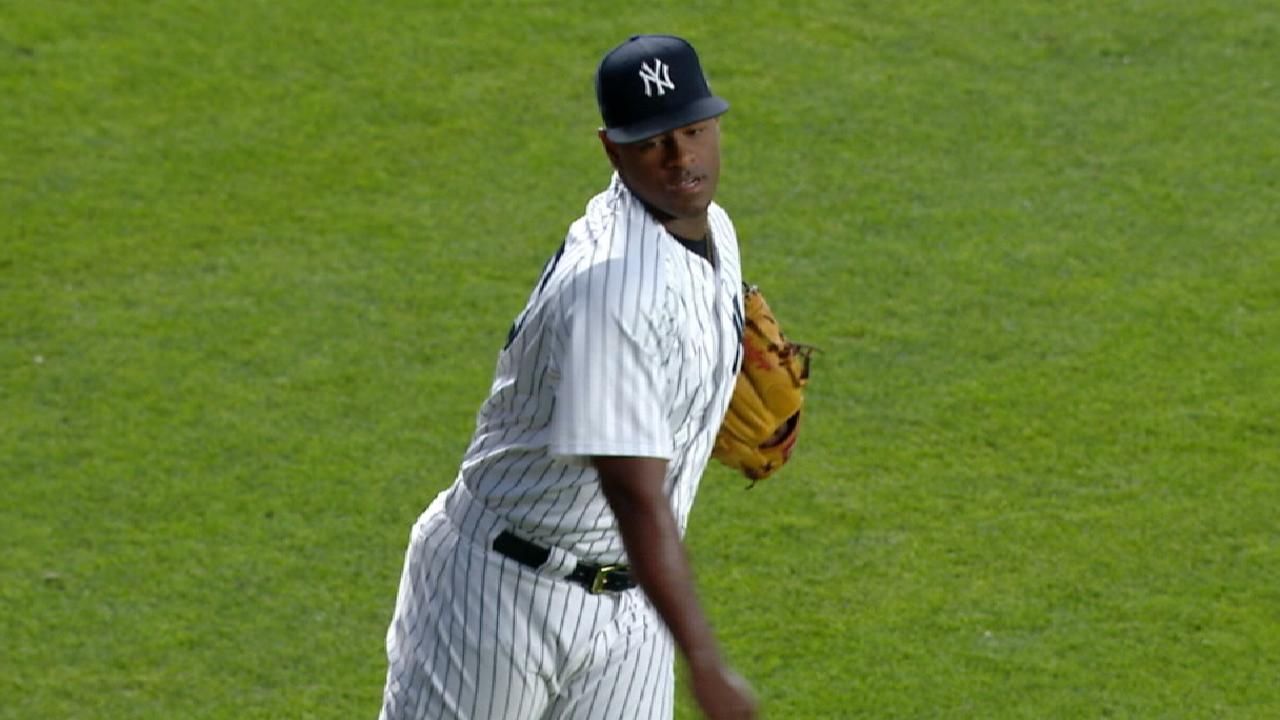 NEW YORK -- The Yankees have set their roster for Tuesday's American League Wild Card Game against the Twins, with manager Joe Girardi electing to carry 10 pitchers and 15 players for the second such contest in franchise history.
Rosters were due to be submitted to Major League Baseball at 10 a.m. ET. Girardi noted that there has been a great deal of turnover since the last time the Yankees participated in a Wild Card Game, when they fell to the Astros in the 2015 contest at Yankee Stadium.
"There's a lot of different faces," Girardi said. "I think what you take from it is you know it's one game, and I think that's why teams fight so hard to win the division. But in saying that, we still have a great opportunity here. There's 10 teams in our league that would love to be in this position."
In addition to Tuesday's starting pitcher Luis Severino, the Yankees' pitching staff will be comprised of Dellin Betances, Aroldis Chapman, Sonny Gray, Chad Green, Tommy Kahnle, David Robertson, CC Sabathia, Chasen Shreve and Adam Warren.
New York is carrying two catchers. Gary Sanchez will start behind the plate, with Austin Romine on the bench.
There are seven infielders: Greg Bird, Starlin Castro, Todd Frazier, Didi Gregorius, Chase Headley, Ronald Torreyes and Tyler Wade.
In the outfield, Jacoby Ellsbury, Clint Frazier, Brett Gardner, Aaron Hicks, Aaron Judge are all active. Matt Holliday is listed on the roster as a designated hitter.
When the Yankees faced Ervin Santana and the Twins on Sept. 18, Girardi set the lineup as follows: Gardner, LF; Judge, RF; Sanchez, C; Gregorius, SS; Castro, 2B; Bird, 1B; Headley, DH; Ellsbury, CF; T. Frazier, 3B. New York won that game, 2-1.
In 2015, the Yankees carried nine pitchers and 16 position players for the AL Wild Card Game against the Astros. The Yanks will have the ability to reset their roster if they advance to the AL Division Series against the Indians.
"You put all this work in to win, and there's only one team that's going to be happy," Girardi said.
PITCHERS
Dellin Betances, RHP
Aroldis Chapman, LHP
Sonny Gray RHP
Chad Green, RHP
Tommy Kahnle, RHP
David Robertson, RHP
CC Sabathia, LHP
Luis Severino, RHP
Chasen Shreve, LHP
Adam Warren, RHP
CATCHERS
Austin Romine, RHH
Gary Sanchez, RHH
INFIELDERS
Greg Bird, LHH
Starlin Castro, RHH
Todd Frazier, RHH
Didi Gregorius, LHH
Chase Headley, switch
Ronald Torreyes, RHH
Tyler Wade, LHH
OUTFIELDERS
Jacoby Ellsbury, LHH
Clint Frazier, RHH
Brett Gardner, LHH
Aaron Hicks, switch
Aaron Judge, RHH
DESIGNATED HITTER
Matt Holliday, RHH
Bryan Hoch has covered the Yankees for MLB.com since 2007. Follow him on Twitter @bryanhoch and on Facebook. This story was not subject to the approval of Major League Baseball or its clubs.