Sano not on Twins' Wild Card Game roster
Slugging third baseman had hoped to be available to hit off bench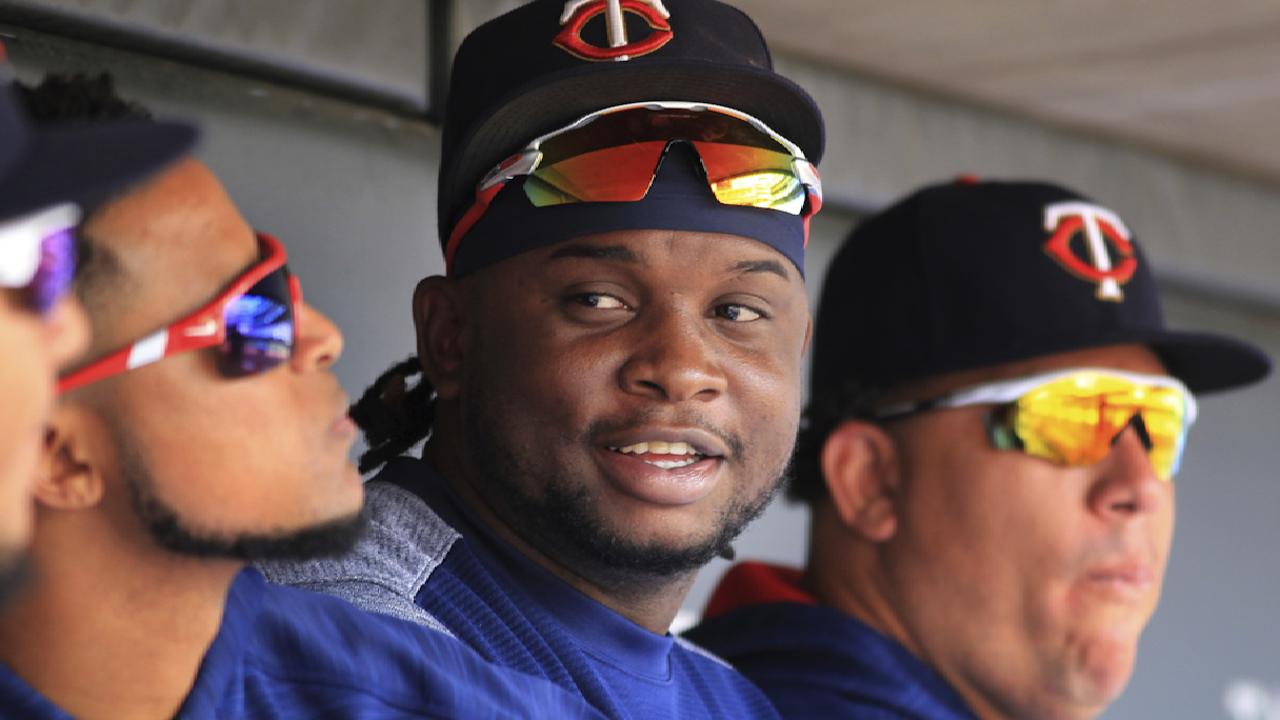 NEW YORK -- Despite being activated from the 10-day disabled list on Friday, Miguel Sano is not on the Twins' roster for the American League Wild Card Game against the Yankees.
Sano, who missed more than a month with a stress reaction to his left shin suffered on Aug. 18, was originally expected to be available off Minnesota's bench for the win-or-go-home contest. However, the club will instead elect to go with 11 pitchers, as Sano struggled with his timing upon his return over the final weekend of the regular season and dealt with more discomfort than he let on.
"Yesterday I was open-minded, even though I knew Sunday wasn't a good day," Twins manager Paul Molitor said. "I was hoping he'd be available. One at-bat, one swing can be helpful. But he went to the cage before we took the field yesterday, and he had trouble bracing on his front side to get any leverage on his swing. I think the phrase we've thrown around is that the persistent discomfort he's in is not conducive to contributing."
Sano served as a pinch-hitter on Friday and made two starts at designated hitter against the Tigers on Saturday and Sunday, going 1-for-8 with three strikeouts while struggling with offspeed pitches.
"I give him credit for trying to cram in getting ready over the last four or five days," Molitor said. "He put on a good face over the weekend that he felt good, but I'm not sure I believe he ever felt good. But he tried."
Sano, 24, batted .264/.352/.507 with 77 RBIs in 114 games in 2017, and he finished second on the club with 28 home runs. He was the Twins' most potent offensive threat before the injury, and he was disappointed he wasn't healthy enough to be the roster.
"He was emotional when I talked to him," Molitor said. "He really wants to be a part of this. I'm sure he's frustrated."
There remains a chance Sano could be on the roster if the Twins advance the AL Division Series presented by Doosan, as it was surprising he was left off the Wild Card roster.
"I'm open to what the doctors and trainers tell me," Molitor said.
With Sano not on the roster, the Twins went with 11 pitchers, with Matt Belisle, Jose Berrios, Buddy Boshers, Alan Busenitz, Tyler Duffey, Dillon Gee, Trevor Hildenberger, Adalberto Mejia, Ryan Pressly and Taylor Rogers available in relief of starter Ervin Santana. The lone surprise was the addition of Mejia as the club's third lefty over Gabriel Moya, but Mejia can give the Twins more length.
"I thought that if this game extends past nine, I'd feel good about Mejia," Molitor said. "He's a third lefty out there."
Outside of Sano, there were no surprises among positions players, as the Twins will carry three catchers -- Jason Castro, Chris Gimenez and Mitch Garver -- as well as infielders Joe Mauer, Brian Dozier, Jorge Polanco, Eduardo Escobar and Ehire Adrianza; outfielders Byron Buxton, Max Kepler, Eddie Rosario and Zack Granite; and designated hitters Robbie Grossman and Kennys Vargas.
PITCHERS
Matt Belisle, RHP
Jose Berrios, RHP
Buddy Boshers, LHP
Alan Busenitz, RHP
Tyler Duffey, RHP
Dillon Gee, RHP
Trevor Hildenberger, RHP
Adalberto Mejia, LHP
Ryan Pressly, RHP
Taylor Rogers, LHP
Ervin Santana, RHP
CATCHERS
Jason Castro, LHH
Mitch Garver, RHH
Chris Gimenez, RHH
INFIELDERS
Ehire Adrianza, switch
Brian Dozier, RHH
Eduardo Escobar, switch
Joe Mauer, LHH
Jorge Polanco, switch
Kennys Vargas, switch
OUTFIELDERS
Byron Buxton, RHH
Zack Granite, LHH
Robbie Grossman, switch
Max Kepler, LHH
Eddie Rosario, LHH
Rhett Bollinger has covered the Twins for MLB.com since 2011. Follow him on Twitter @RhettBollinger and Facebook. This story was not subject to the approval of Major League Baseball or its clubs.