MLB.com Columnist
Mark Feinsand
Date expectations: Twins, Yanks flout predictions
AL Wild Card Game contenders bring young, potent rosters into playoff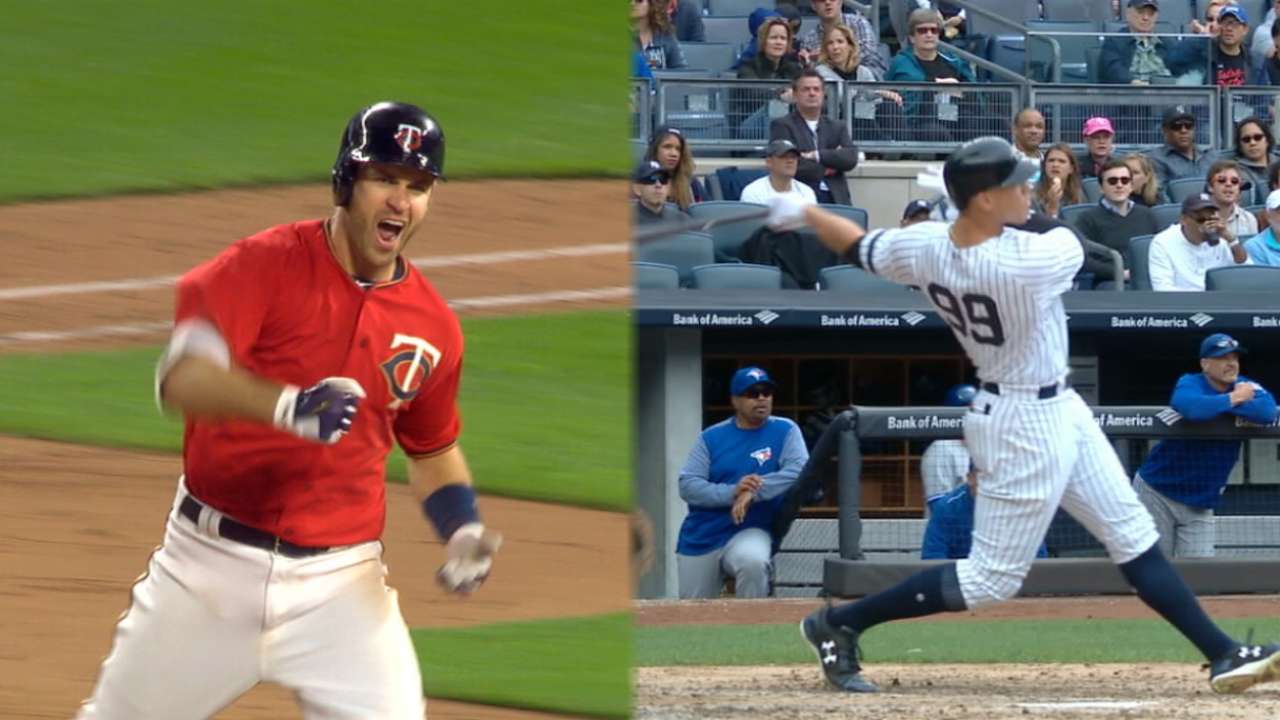 NEW YORK -- The atmosphere in the clubhouse Monday was loose. After all, when the season began, nobody expected this team to be preparing for a postseason game in the early days of October.
The roster, loaded with young, inexperienced talent, entered the season at least a year or two away from being a contender of any sort. Yes, there were a few veterans that had played into the season's seventh month before, but the rebuilding plan was in full effect, allowing only the most pie-in-the-sky fans to believe that 2017 could be a special season.
We're talking, of course, about the Yankees.
• Shop postseason gear: Twins | Yankees
We're also talking about the Twins, who will face New York in tonight's American League Wild Card Game.
Half of the 10 clubs that qualified for this year's postseason were not playoff teams a year ago, with the Twins (103 losses), D-backs (93 losses) and Rockies (87 losses) making the biggest jumps.
But as remarkable as the Twins' turnaround has been, the Yankees' 91-win season was nearly as surprising. Last summer's fire sale was supposed to be the start of a two- or three-year rebuilding process. If everything went according to plan, the Yankees would be a force again by 2019, cleansed of their onerous contracts and reliant upon a core of young players with a couple years of experience under their belt.
Instead, those young players burst on the scene and made an immediate impact. Aaron Judge thrust himself into the AL MVP Award conversation, Luis Severino posted Cy Young-type numbers and Gary Sanchez followed up his incredible 2016 debut with a stellar '17 campaign.
For a year labeled as "rebuilding" by most, the Yankees have much bigger things in mind.
"We had a great season," said Severino, who will start tonight. "Nobody was expecting us to be here. We are here."
• New Luis on life: Big stage not fazing Severino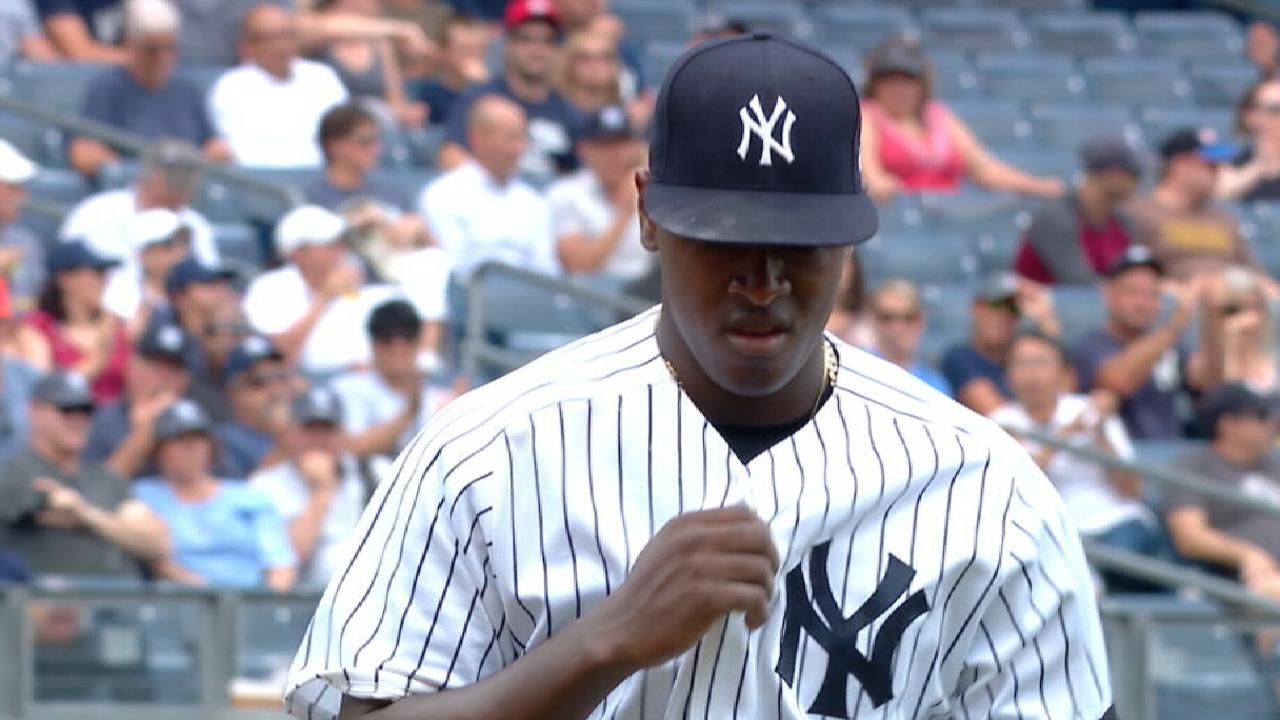 So are the Twins, the Majors' lone 100-loss team a year ago. The new front-office tag team of Derek Falvey and Thad Levine was hopeful the youngsters would show improvement with another year of seasoning, allowing Minnesota to play some meaningful games into September.
The Twins did more than that. They stunned the rest of the AL and found their way into October.
"It's checking one of the boxes off of our list, and we're not done by any means," said Joe Mauer, one of only two current Twins to play in a postseason game for Minnesota. "We're looking forward to Tuesday night and hopefully beyond."
After five seasons of 90-or-more losses in the six years since their last playoff appearance, the Twins are back in the postseason, looking for their first playoff win since 2004.
"I'm really excited for this group to experience this," Mauer said. "It's been a special year to see these guys kind of grow; to experience that with this team is pretty special."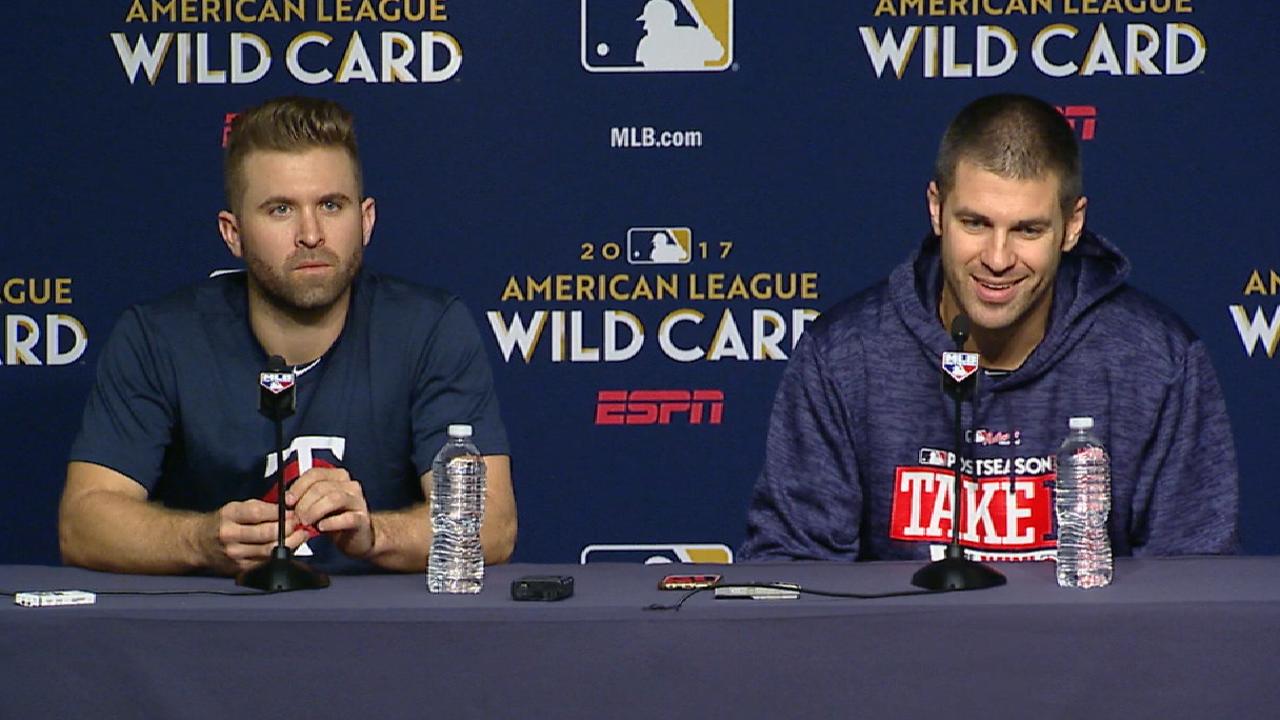 History would suggest the Yankees have a sizeable advantage tonight. These two teams have met four times in the postseason, all in the AL Division Series between 2003-2010. The Yankees won all four series, sweeping the Twins twice and eliminating them 3-1 in the other two series.
"I don't look back on history," Yankees manager Joe Girardi said. "The faces have changed so much."
If there's a historical silver lining for the Twins, it's that in both 2003 and '04, they won Game 1 of the series with a starting pitcher named Santana. It was Johan, not Ervin, but a Game 1 win in this series is all they'll need to move on to the ALDS presented by Doosan in Cleveland.
It's fun to talk about one team's dominance against another when they find themselves matched up in a game like this, but does it matter? In 2009, the Yankees found themselves in the AL Championship Series against an Angels team that had dominated them for nearly a decade. All the pre-series talk centered around whether the Yankees could exorcise their demons against the Halos, which they did en route to a World Series title.
All it will take for the Twins is one win to erase years of frustration against the Yankees.
"We ran into some pretty good teams," Mauer said. "I'm probably the only one that it means a little bit more [to], maybe. It's a different [Twins] team, and they've got a different team over there."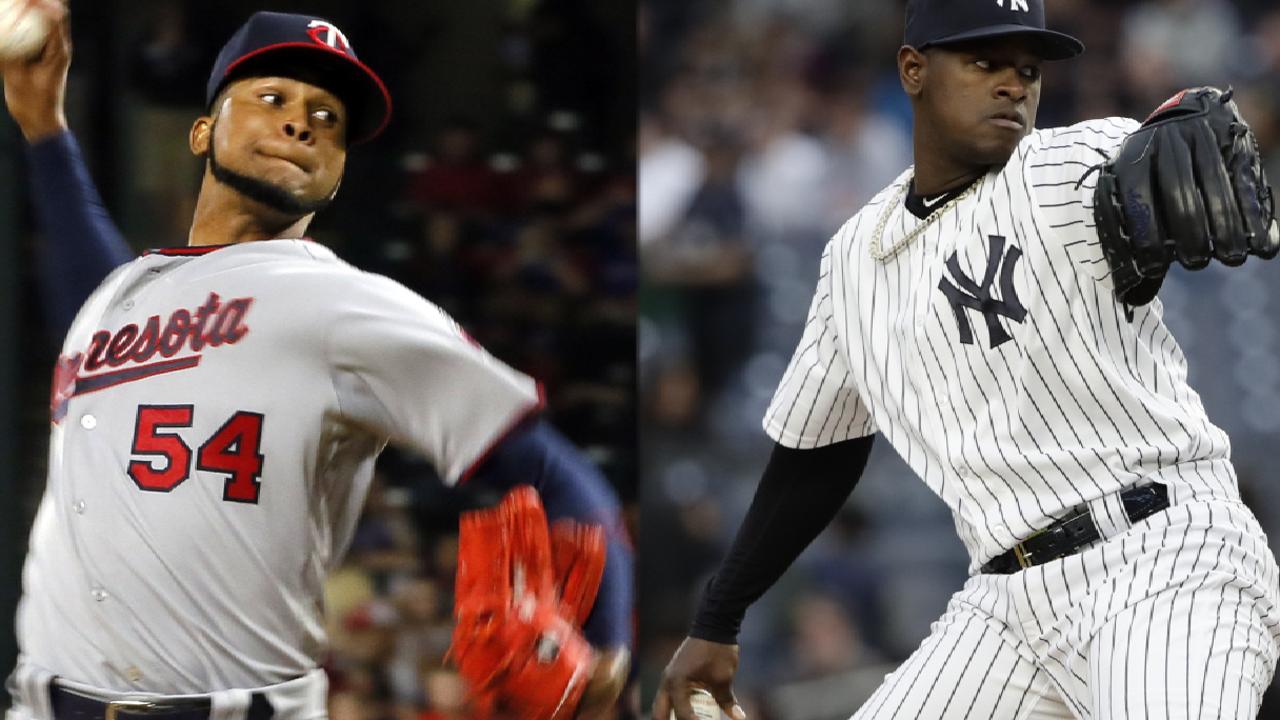 Those Yankees teams that took it to the Twins time and time again were still built around the Core Four, while the rest of the roster featured more stars than Hollywood Boulevard.
This Yankees team is different. With no postseason victories since 2012, only CC Sabathia, Brett Gardner and David Robertson know the feeling of walking off the field following a Yankees playoff win. Most of the players on both sides tonight will be making their postseason debut, so experience is no longer tilted in the Yankees' favor.
"You always hear about college basketball players as freshmen, once they get to March Madness, they're not freshmen anymore," said Twins manager Paul Molitor, who could have been speaking about either team. "These guys have been through a lot this year."
No matter what happens tonight, history will likely remember 2017 as successful seasons for both the Yankees and Twins. Neither was a popular preseason pick, and whoever moves on will be a prohibitive underdog against the Indians.
Both clubs feel they're playing with house money. Rather than feeling pressure, they seem genuinely excited to take the field tonight and let the chips fall where they may.
"If inexperience shows up, we can't predict that, but I'm fairly confident that these guys are going to go out there and do some of the things they've been doing," Molitor said. "I think we're going to play a good game. A lot of confidence in that group in there, and it's going to be a lot of fun."
Mark Feinsand, executive reporter for MLB.com, has covered the Yankees and MLB since 2001 for the New York Daily News and MLB.com. This story was not subject to the approval of Major League Baseball or its clubs.