5 Statcast facts to know for NL Wild Card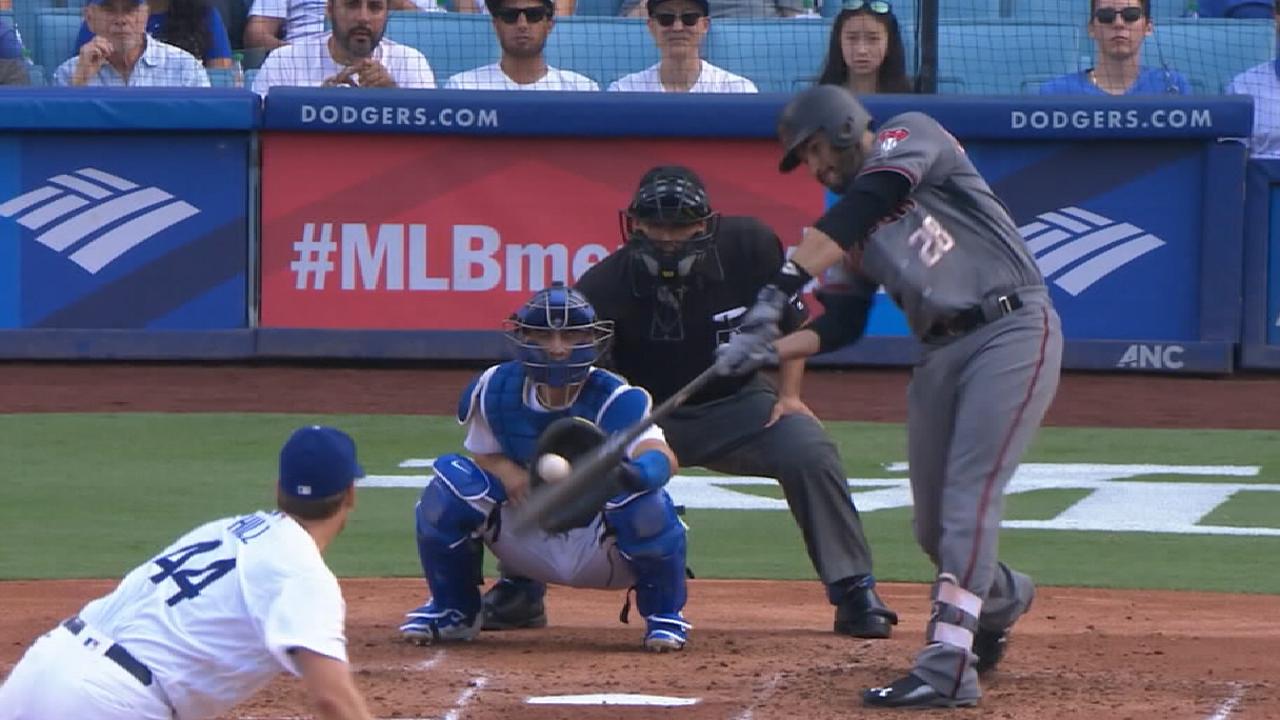 The Rockies and D-backs have battled all season long in the National League West, and now they'll battle one more time to extend their seasons.
A matchup that's been virtually untouched since the start of July finally comes to fruition tonight at Chase Field, when these two divisional rivals meet in the NL Wild Card Game at 8 p.m. ET/ 6 p.m. MT on TBS. Plenty is at stake for both clubs, given their recent history. The Rockies haven't won a postseason series since their improbable run to the 2007 World Series. The D-backs have waited the same length since their last postseason series win.
As these two clubs circled the each other all season, Statcast™ tracked their every step. With that in mind, here are five key Statcast™ facts to know about this matchup:
1. Nolan Arenado may be MLB's most lethal run producer
History says Arenado is the first player to record 130 RBIs in three straight seasons since Ryan Howard (2006-09), and Statcast™ says it's because Arenado clubs as much productive contact as anyone with runs on the line. Over the first three seasons of Statcast™, only J.D. Martinez, now powering the D-backs, and Khris Davis have hit a higher rate of barrels and solid contact balls (the two most productive types of contact a hitter can produce) with runners in scoring position than Arenado, and the Rockies' third baseman has posted the highest weighted on-base average of anyone in those RISP moments over the past three years.
Highest wOBA with RISP, 2015-17
Min. 250 ABs decided with RISP
1. Nolan Arenado: .489
2. Joey Votto: .477
3. Mike Trout: .472
4. Freddie Freeman: .464
5. Paul Goldschmidt: .447
Highest rate of barrels+solid contact balls hit with RISP, 2015-17
Min. 250 balls put in play with RISP
1. J.D. Martinez: 26.3%
2. Khris Davis: 22.6%
3. Nolan Arenado: 21.4%
4. Justin Upton: 19.4%
5. Nelson Cruz: 19.3%
2. Zack Greinke doesn't need the radar gun
Remember when we were all concerned about Greinke's low velocity readings in Spring Training?
By now, we should know that velocity is far from everything when it comes to Greinke and his superb command over his pitches. Greinke's slider a step forward in 2017, helping him to record both the third-most swings and misses and the eighth-highest rate of "poor" contact, as defined by Statcast™ (balls hit under, topped or otherwise weakly hit) induced on offspeed pitches among all qualified starting pitchers.
Most swinging strikes recorded with offspeed pitches, 2017
1. Max Scherzer: 347
2. Chris Archer: 345
3. Zack Greinke: 341
4. Carlos Carrasco: 338
5. Chris Sale: 311
Highest rate of "poor contact" induced with offspeed pitches, SP, 2017
Min. 150 batted balls induced on offspeed pitches
1. Alex Wood: 72.3 percent
2. Max Scherzer: 71.1 percent
3. Andrew Cashner: 71.0 percent
4. Carlos Carrasco: 70.9 percent
5. Aaron Nola: 70.8 percent
6. Stephen Strasburg: 70.5 percent
7. Luis Severino: 70.4 percent
8. Zack Greinke: 70.2 percent
9. Dylan Bundy: 70.0 percent
10. Matthew Boyd: 69.5 percent
3. The Rockies may be perfectly suited for D-backs starters

Greinke loves to make hitters chase his breaking pitches at the bottom of the strike zone or below. So do fellow starters Patrick Corbin, Zack Godley and Robbie Ray, who could all make an appearance in relief in this winner-take-all showdown. As it turns out, the Rockies possess two of the Majors' most adept hitters -- DJ LeMahieu and NL MVP candidate Charlie Blackmon -- at going down and turning breaking balls in the lower third of the strike zone and below into hits.
Highest swing percentage induced on breaking balls in lower-third of strike zone and below, SP, 2017
Min. 400 breaking balls thrown in lower-third or below as a SP
1. Lance McCullers Jr.: 57.5 percent
2. Corey Kluber: 56.2 percent
3. Aaron Nola: 55.2 percent
4. Zack Godley: percent
5. Chris Archer: 53.4 percent
11. Zack Greinke: 50.1 percent
13. Patrick Corbin: 49.0 percent
20-T. Robbie Ray: 46.8 percent
Highest batting average against breaking balls in lower-third of strike zone and below, 2017
Min. 50 ABs decided on breaking balls in lower-third and below
1. DJ LeMahieu: .341
2. Melky Cabrera: .338
3. Charlie Blackmon: .330
4. Justin Bour: .300
5. Jose Peraza: .295
4. J.D. was the steal of the summer

The D-backs' acquisition of Martinez implied they were serious about making a postseason run, but while Martinez was firmly established in Detroit, it's doubtful anyone could've seen the power boost he'd bring to the desert. In clubbing 29 homers in 62 games for Arizona, Martinez shattered the previous record for most dingers hit by a player for his new team while being traded on or after July 1 (Mark McGwire, 24 for St. Louis in 1997). Martinez homered on more than 5 percent of all the swings he took after debuting for the D-backs on July 19, a rate topped only by Giancarlo Stanton and A's phenom Matt Olson in that span. Better yet, Martinez recorded a barrel on close to 23 percent of all the balls he put in play for Arizona, again the third-best rate in baseball after the trade.
As the 2017 postseason begins, the tournament's most lethal power hitter may reside in Phoenix.
Highest rate of home runs per swing, since Martinez's D-backs debut on July 19
Min. 250 swings
1. Matt Olson: 6.8 percent
2. Giancarlo Stanton: 6.4 percent
3. J.D. Martinez: 5.4 percent
4. Josh Donaldson: 4.9 percent
5. Rhys Hoskins: 4.8 percent
Highest rate of barrels per batted ball since July 19
Min. 100 balls in play
1. Aaron Judge: 27.9 percent
2. Joey Gallo: 24.6 percent
3. J.D. Martinez: 22.6 percent
4. Giancarlo Stanton: 18.7 percent
5-T. Josh Donaldson: 16.8 percent
5-T. Matt Olson: 16.8 percent
5-T. Kyle Schwarber: 16.8 percent
5. Goldy can handle the heat

Goldschmidt threw himself back into the NL MVP Award discussion after a subpar season by his lofty standards in 2016. The star first baseman consistently did damage all season in the heart of the D-backs' lineup, particularly against Ol' No. 1. Among all full-time hitters, only Judge hit more barrels -- or the most productive batted ball whose ideal exit velocity/launch angle combination most often leads to extra-base hits -- and posted a higher slugging percentage against four-seam, two-seam and sinking fastballs than Goldschmidt. That will come in handy against Rockies starter Jon Gray, whose fastball sits at 95 mph.
Most barrels hit vs. fastballs*
1. Aaron Judge: 56
2-T. Paul Goldschmidt: 41
2-T. Khris Davis: 41
4-T. Nelson Cruz: 39
4-T. Giancarlo Stanton: 39
Highest slugging percentage against fastballs*
Min. 200 at-bats decided on fastballs*
1. Aaron Judge: .738
2. Paul Goldschmidt: .700
3. Nolan Arenado: .698
3. Bryce Harper: .688
4-T. Yonder Alonso: .681
4-T. Nelson Cruz: .681
*Includes four-seamers, two-seamers and sinkers
Matt Kelly is a reporter for MLB.com based in New York. Follow him on Twitter at @mattkellyMLB. This story was not subject to the approval of Major League Baseball or its clubs.