MLB.com Columnist
Mike Petriello
Twins-Yankees: Position-by-position WC look
New York swept Minnesota in Bronx in September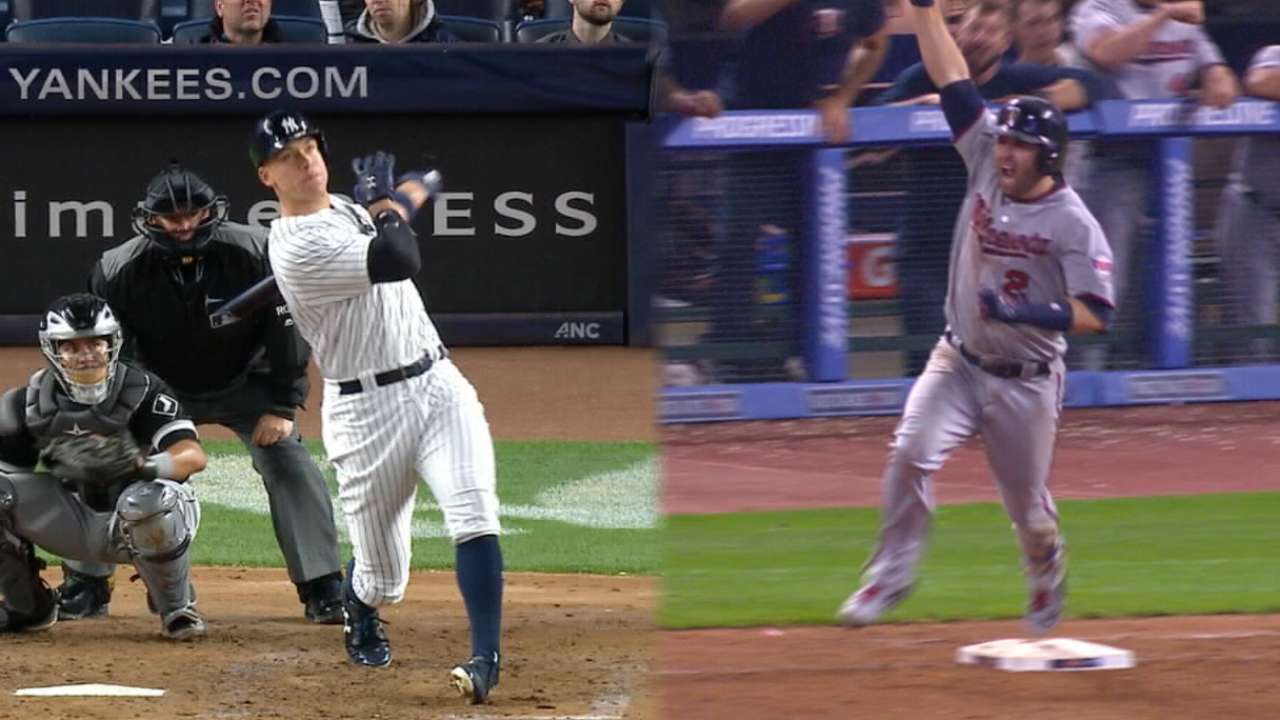 As the Twins head back to the Bronx to face the Yankees in tonight's American League Wild Card Game, the story is going to be their lack of postseason success against New York this century, like when they lost to the Yankees in 2003 ... and 2004 ... and 2009 ... and 2010, not to mention being swept in New York just two weeks ago. Narrative being what it is, that theme will be inescapable, until the Twins prove otherwise.
But it also doesn't matter -- not really. Byron Buxton and Jose Berrios were 9 years old in 2003. So was Yankee ace Luis Severino. If the Yankees win this game, it will be because their bullpen is especially well-positioned for the playoffs and because Aaron Judge is mashing again, not because of anything Twins of the past like Brad Radke and Doug Mientkiewicz once did against Derek Jeter and Mariano Rivera.
Postseason history aside, this is a dangerous Twins team with a few advantages of their own, and we're all fortunate enough to be able to witness Judge and Buxton on the same field at the same time. Let's break this one down down position by position. (Batting numbers are presented with traditional AVG/OBP/SLG and Weighted Runs Created Plus, or wRC+, a park- and league-adjusted number where 100 is set as "league average" for easy comparison.)
Catcher
When the Twins signed Jason Castro last winter, it was largely because they hoped his pitch-framing skills would help Minnesota pitchers, and he lived up to expectations, adding +10 framing runs (10th-best) where last year's primary catcher, Kurt Suzuki, was a mere -7. Still, Gary Sanchez grades out as Castro's equal in the framing department, and his elite bat (.278/.345/.531, 130 wRC+, 33 homers) isn't only miles ahead of Castro's (.242/.333/.388, 93 wRC+), it's the best of any regular catcher in the game. Oh, and he's got baseball's most dangerous catcher throwing arm, too.
Big advantage: Yankees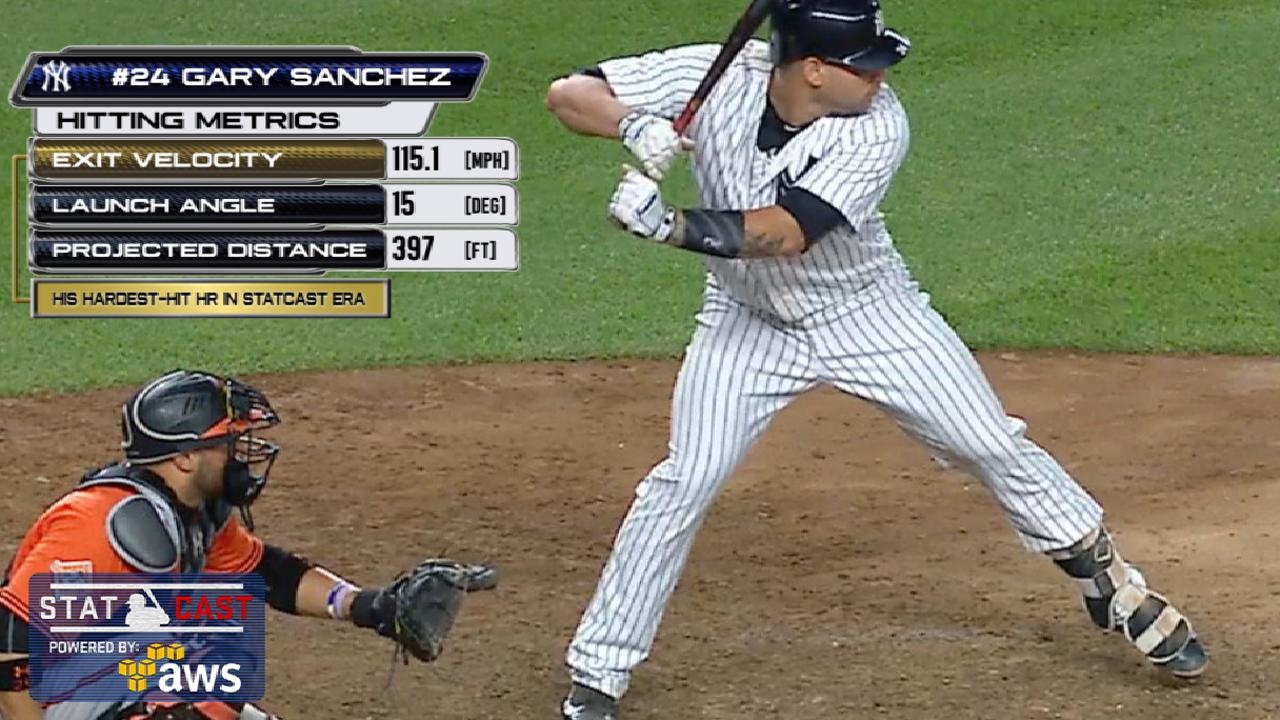 First base
Joe Mauer (.305/.384/.417, 116 wRC+) had something like baseball's quietest rebound this year, putting up his best OBP and slugging marks since 2013, along with solid defense, though a mere seven home runs is still well below average for a first baseman; 41 others hit as many or more. That reliability is enough to give him the edge over Greg Bird, who missed most of the last two seasons to injury. That said, Bird does have far more power upside, with more homers (eight) since returning on Aug. 26 than Mauer had all year long.
Slight Advantage: Twins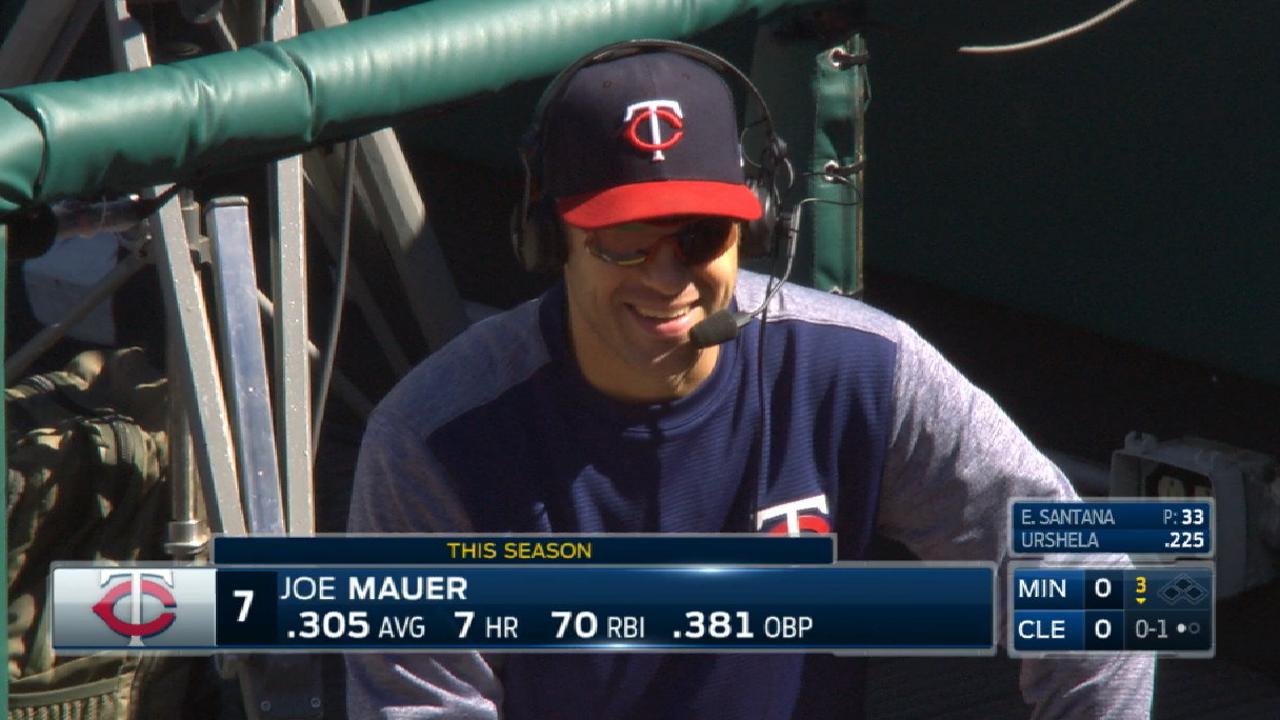 Second base
Yet again, Brian Dozier turned it on in the second half, hitting .301/.391/.587 (156 wRC+) with 21 homers after a disappointing .242/.328/.417 (95 wRC+) line before the break; only five other hitters have more homers than he does since the start of 2016. We won't overlook the solid Starlin Castro, but his season is trending in a different way than Dozier's, as he hit only .275/.319/.389 (87 wRC+) after a solid .313/.348/.486 (120 wRC+) in the first half, and the game-changing effect of Dozier's power wins out here.
Advantage: Twins
Shortstop
Though it often feels Didi Gregorius gets overlooked among bigger shortstop names like Carlos Correa, Francisco Lindor, and Corey Seager, he's had himself something of a breakout this year, hitting .287/.318/.478 (107 wRC+) with 25 homers. That's second only to Lindor among shortstops, and in addition to adding quality defense, he's become the regular cleanup hitter for the Yankees, believe it or not. While Jorge Polanco's (.256/.313/.410, 89 wRC+) first full year as a starter has gone well enough -- double digits in both home runs and steals -- Gregorius gets the obvious edge in this matchup.
Advantage: Yankees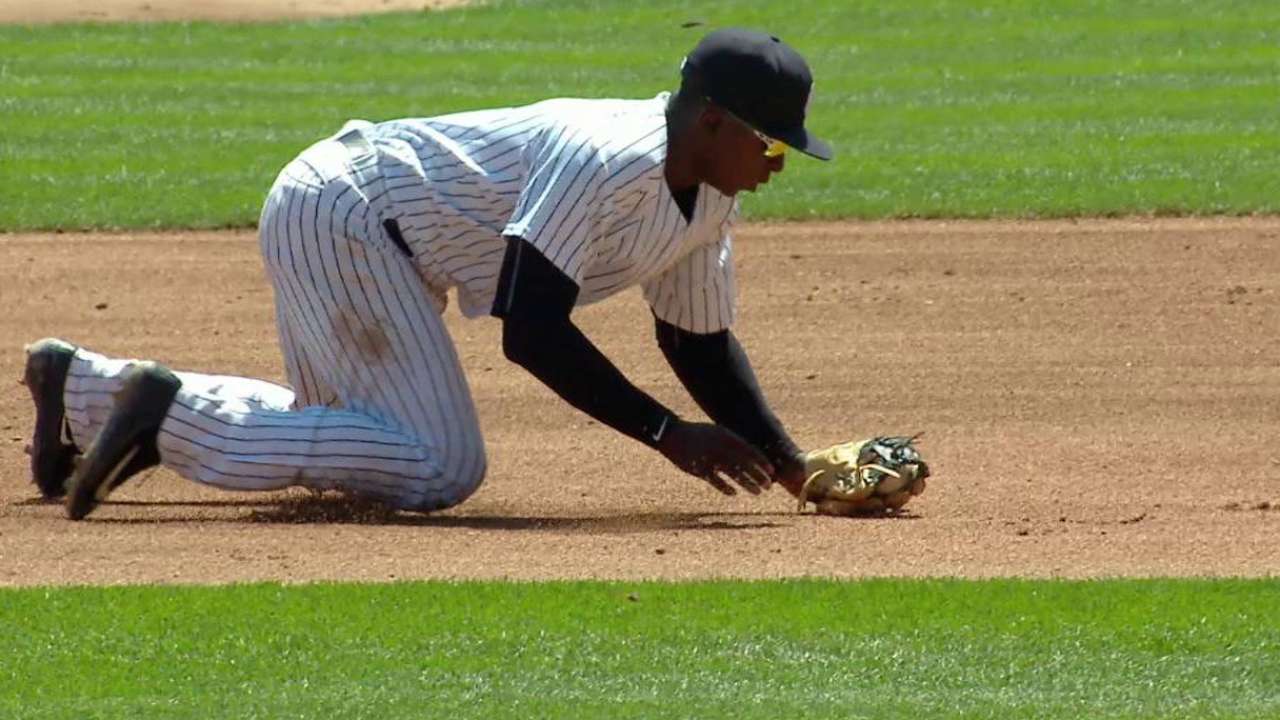 Third base
If Miguel Sano were healthy, this would be a big Twins edge. But he's not, having not played third since Aug. 18, and he wasn't included on the Twins' roster for the Wild Card Game. Meanwhile, Eduardo Escobar has been a capable replacement, hitting a league-average .250/.294/.512 (105 wRC+) since Sano went down. Sano would get the edge over Todd Frazier, posting his usual low-average/high-power (.222/.365/.423 with Yankees, 114 wRC+) output along with good defense, but Frazier has a much better track record than Escobar.
Advantage: Yankees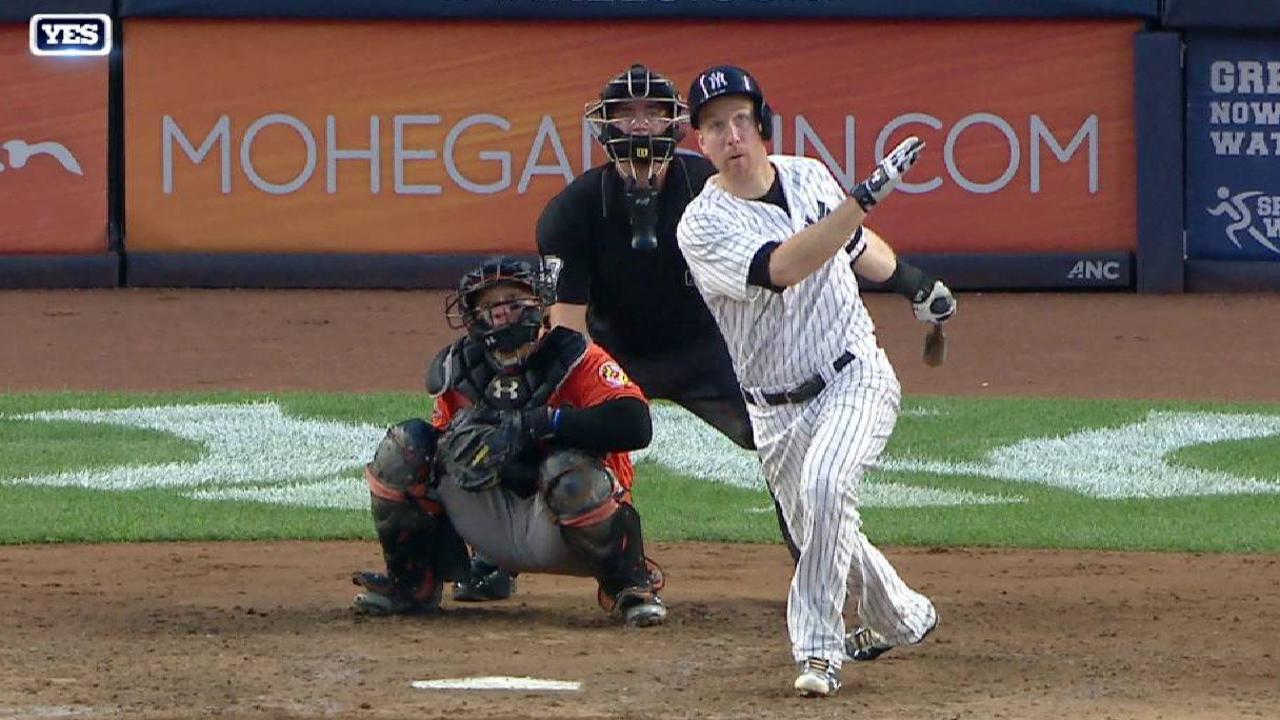 Left field
This one is closer than it seems, because Eddie Rosario had himself quite a breakout, slicing his strikeout rate from 26 percent to 18 percent while hitting 27 homers to go with a strong .290/.328/.507 (116 wRC+) line. But his outfield range wasn't strong (-4 Outs Above Average), while Brett Gardner tapped into some new-found power of his own, hitting a career-high 21 homers as part of a .264/.350/.428 (109 wRC+) line. He gets the edge here because he added value on defense (+2 Outs Above Average) and on the bases (23 steals in 28 attempts).
Slight Advantage: Yankees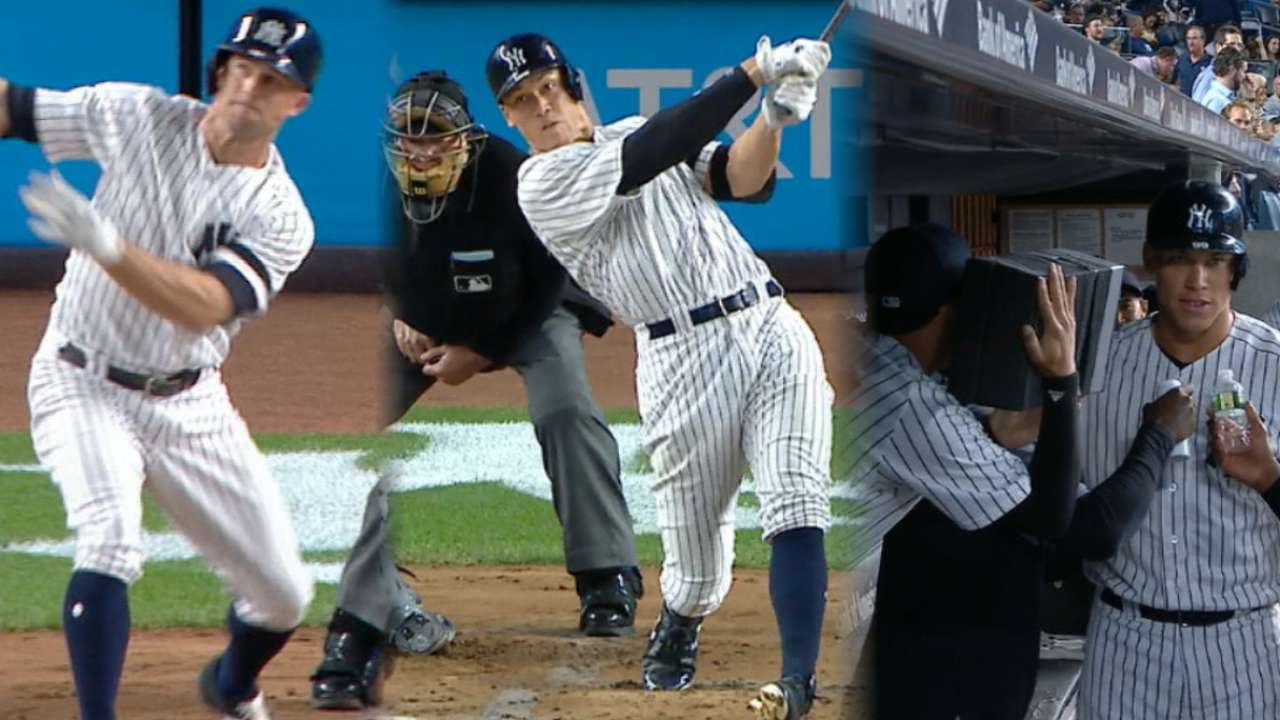 Center field
If Buxton didn't hit at all, he'd still be valuable, because he's so special everywhere else. Thanks to his best-in-baseball speed, truly elite outfield defense and record-setting basestealing skill, he may be baseball's most exciting player. And, of course, he has started to hit, putting up a .300/.347/.546 (130 wRC+) line in the second half, picking up the slack once Sano went down. Veteran Jacoby Ellsbury quietly had a good second half of his own (.263/.359/.419, 107 wRC+), but Buxton is capable of taking over a game all by himself.
Advantage: Twins
Right field
Judge set a rookie record for homers, is going to win the AL Rookie of the Year Award unanimously and will finish either first or second in the AL Most Valuable Player vote. Plus, his summer slump is barely a memory now, as his monstrous September (.311/.463/.889, 234 wRC+) was actually his best month. It doesn't help that Max Kepler (.243/.312/.425, 92 wRC+) didn't have the breakout many were expecting, but this edge is more about Judge than anything else.
Big advantage: Yankees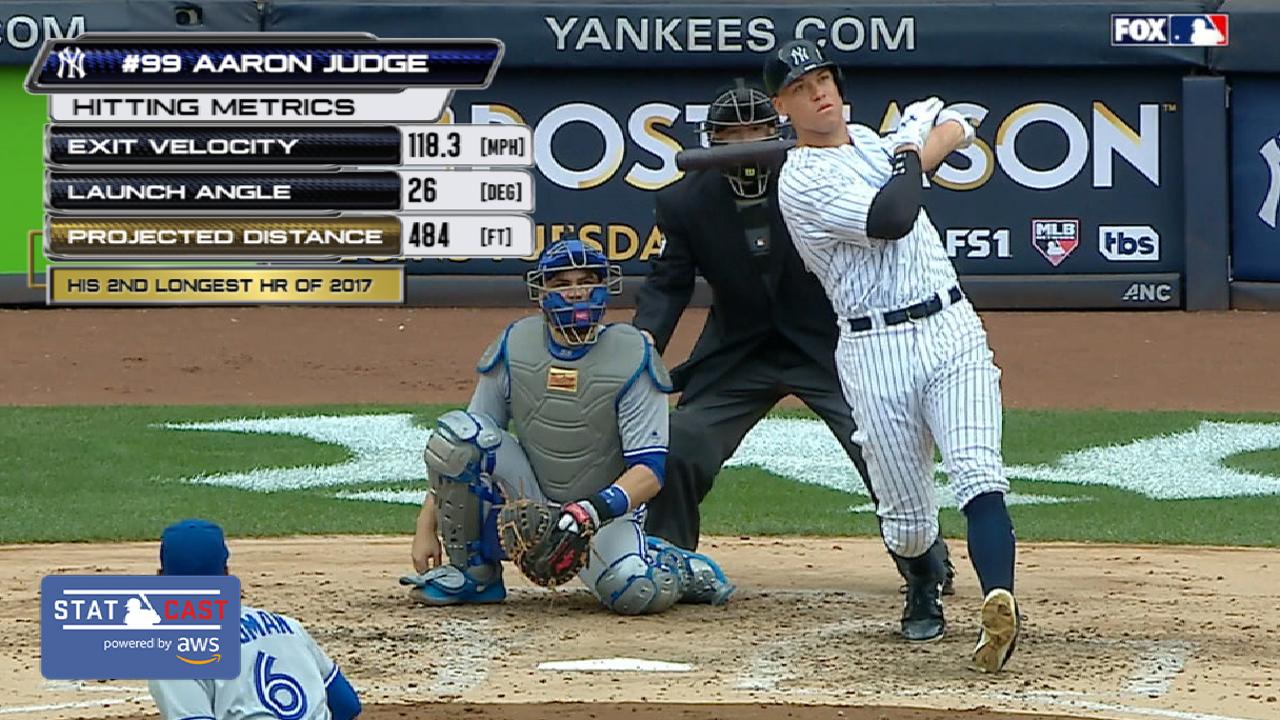 Designated hitter
This one is a toss-up, in part because it remains unclear who will man the spot for either side. For the Yankees, this might be Chase Headley (.273/.352/.406, 104 wRC+), who got the start in two of the three games the teams played in September. It might be Matt Holliday (.231/.316/.432, 98 wRC+), who has been the primary DH when healthy this year. The Twins would love it if Sano, who made his return this weekend, were able to hit, though manager Paul Molitor admitted that "it's one of those things where I don't think [Sano] feels great," so his status remains uncertain. If he can't go, it's likely that Robbie Grossman (.246/.361/.380, 102 wRC+) would.
Advantage: Tie
Starting pitchers
When elimination hinges on just one game, rotation depth doesn't matter, and neither does the ability of a pitcher to go deep into the game, since the bullpens will take over sooner than later. Still, the Yankees have an ace in Severino (2.98 ERA, 29.4 percent strikeout rate) who may just be the best starter not named Chris Sale or Corey Kluber in the AL, while the Twins are relying on solid-but-not-elite veteran Ervin Santana (3.36 ERA, 19.6 percent strikeout rate). Big Erv is perfectly capable, but Severino is electric.
Advantage: Yankees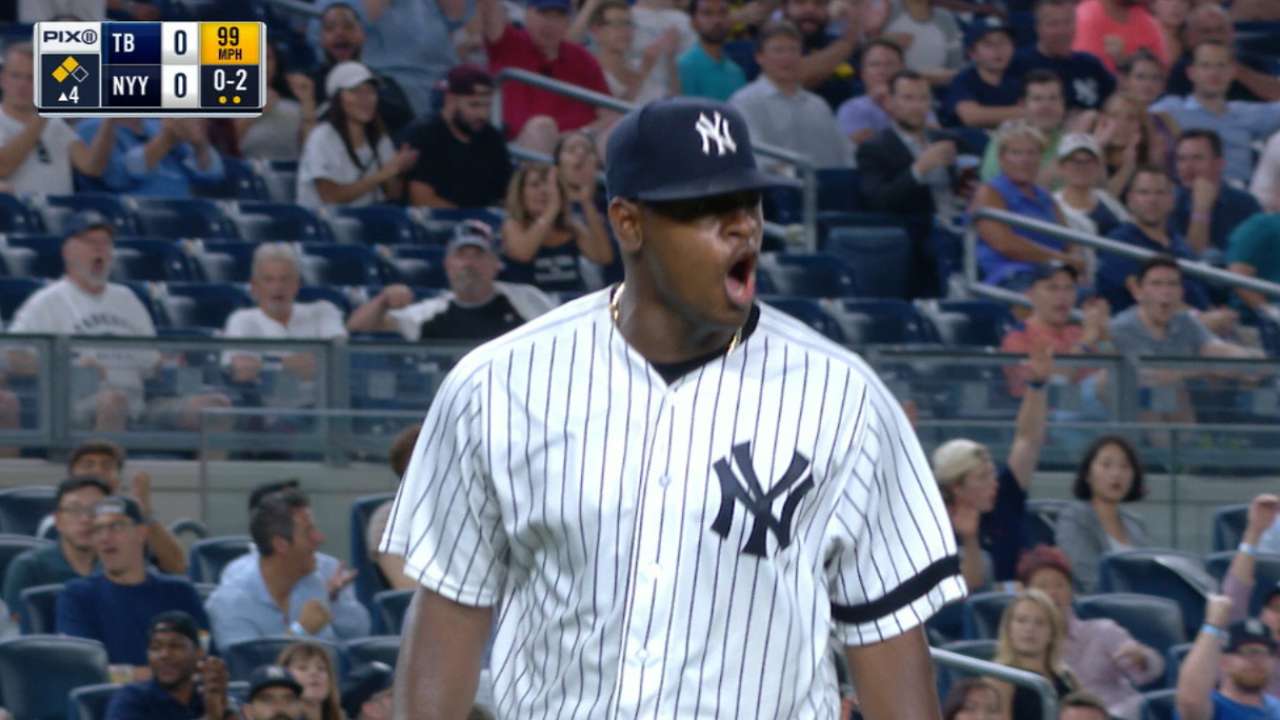 Relief pitchers
The Twins traded their closer, Brandon Kintzler, to Washington in July. Meanwhile, the Yankees, who already had Aroldis Chapman, Dellin Betances and Adam Warren, traded for David Robertson and Tommy Kahnle while also watching Chad Green evolve into one of baseball's more dominant relievers. New York has four of the top six reliever strikeout rates in baseball, and that doesn't even include Chapman. All due respect to the good work turned in by Twins like Matt Belisle, Trevor Hildenberger and Alan Busenitz, but this is the biggest strength the Yankees have.
Big advantage: Yankees
Mike Petriello is an analyst for MLB.com and the host of the Statcast podcast. This story was not subject to the approval of Major League Baseball or its clubs.