Snell hits stride in '17, saves best start for last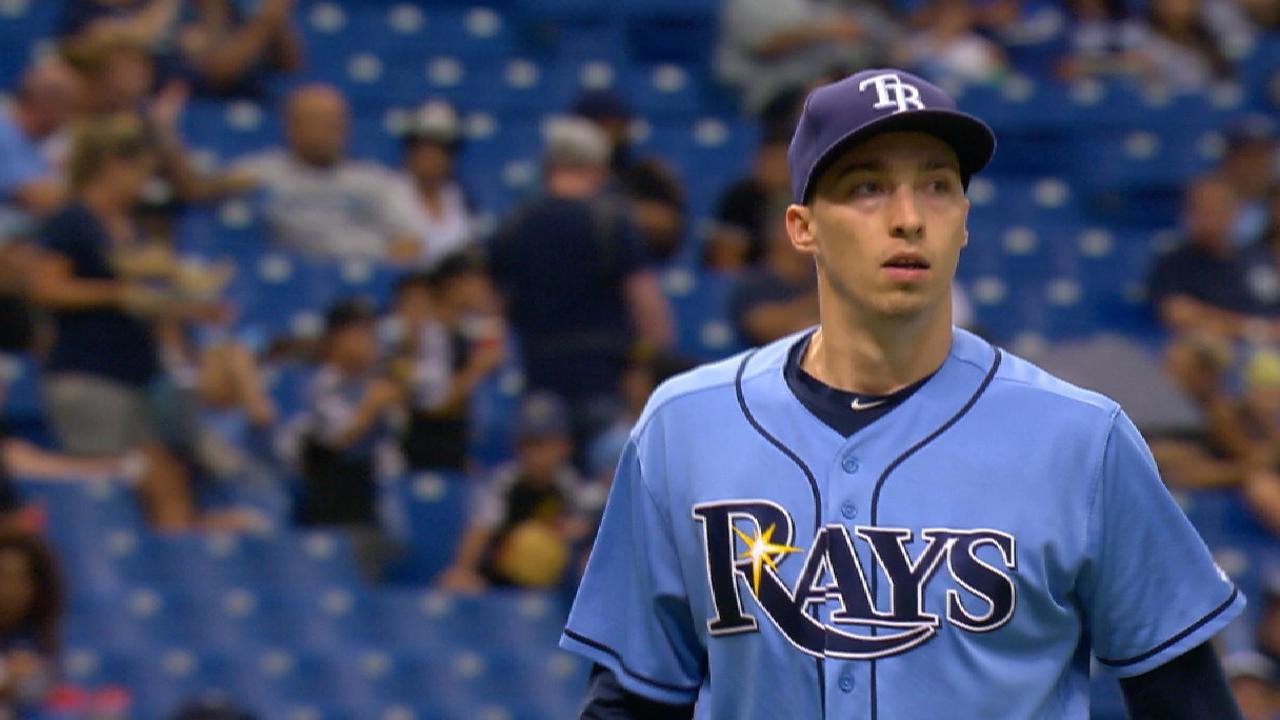 ST. PETERSBURG -- Blake Snell improved dramatically in the second half of 2017, finishing with the best effort of his career in Sunday's 6-0 win over the Orioles.
Snell was perfect through four innings, and finished with a career-high 13 strikeouts and just two hits allowed over seven frames.
"We talk about Blake Snell wanting to finish strong," manager Kevin Cash said. "I don't know if you could finish any stronger than what he did."
The left-hander showed up with his best stuff, striking out two batters in each of the first five innings. His fastball touched 97 mph and averaged 95.4 mph, up 1.2 mph from his season average. His breaking balls left the Orioles scratching their heads.
"It's impressive when those Major League hitters are swinging at 55-foot curveballs," catcher Curt Casali said. "It speaks to the type of stuff that he has. It was nice to see him go out on a really, really high note, and give fans in Tampa a glimpse of what he can really do."
A career day for @snellzilla11.

7 IP, 2 H, 0 R, 0 BB, 13 SO

His 13 Ks are the most for any #Rays starter since Arch had 15 on 6/2/15. pic.twitter.com/2COItu6nXI

— Tampa Bay Rays (@RaysBaseball) October 1, 2017
Fans have seen plenty of flashes of greatness from Snell in the past two months. In his past 10 starts since returning from Triple-A Durham, Snell worked to a 2.84 ERA and lost just once during a stretch in which the Rays were losing often.
The turnaround was a welcome sight: Before he made his July 24 start against the Orioles, Snell had not lasted seven innings in 31 career starts, something the American League had not seen since at least 1913.
Credit Snell for figuring things out upon his return from Durham.
"I'm happy that the first half happend," Snell said. "It made me a lot better, and it made me have the second half that I had because I was that hungry to finish strong, and really put things together that I knew I could do."
His list of adjustments is a long one, including understanding the purpose of each pitch he throws, feeling confident enough to attack the zone, switching his delivery to the middle of the rubber and taking his workouts more seriously.
The change gives the Rays confidence in a pitcher who Cash said is "going to mean a lot to us, next season and beyond."
Tampa Bay often relies on young arms. No pitcher older than 30 years old has started for the Rays since 2014, and next year does not look to be any different. Veterans Chris Archer, Jake Odorizzi and Matt Andriese are under contract to return, while Snell, rookie Jake Faria and prospect Brent Honeywell are also in the picture for the rotation. Alex Cobb is a free agent.
"We're excited about the pitchers that we have, [and] some of the young position players," Cash said. "But the pitchers that we have here, the pitchers that are very close, that brings excitement in itself."
Thanks to his late-season upswing, Snell has plenty to look forward to in 2018. But there's always work to be done before Spring Training.
"It's a good way to end, but it just keeps me going," Snell said. "Keeps me understanding that there's a lot I need to do going into this offseason, and then beginning next season, going into spring. A lot to learn from it, a lot to like from it, but I still have a lot to do for the offseason and spring."
Connor Mount is a reporter for MLB.com based in St. Petersburg. This story was not subject to the approval of Major League Baseball or its clubs.