MLB.com Columnist
Phil Rogers
Cubs carrying experience, quiet confidence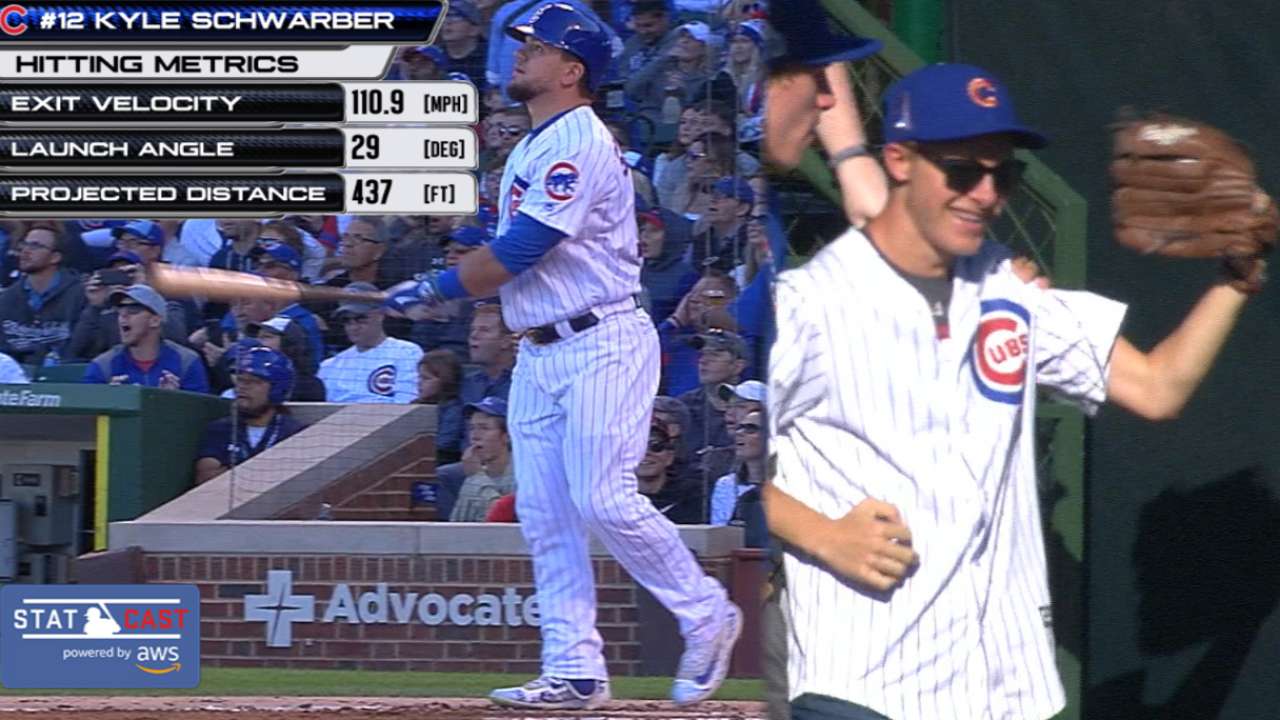 CHICAGO -- They've been the best team in the National League since the All-Star break, just like they were last season, but the Cubs won't be everybody's favorite this October. Not that they really care.
"Underdogs or overdogs, I don't listen to that crap anyway,'' manager Joe Maddon said after Sunday's 3-1 loss to the Reds. "The thing that feels different is we know how to do this. I'm going to have a meeting on Tuesday and I'll be very brief. There's not a whole lot to talk about. … I just want our guys to go out and continue to do what they've been doing since the All-Star break, no different.''
• NLDS Game 1: Friday, 6:31 p.m. CT on TBS
The Cubs' 92-70 record qualifies the defending World Series champions as only the No. 3 seed in the NL, but it's hard to imagine any opponent they line up against will be more confident. They've gone 49-25 in the second half and won five of six postseason rounds the last two seasons, gaining an edge in experience.
There was a sense of the unknown around the Cubs two years ago, before they won the NL Wild Card Game in Pittsburgh. They were a young, untested team, but in the short time since then they've created the expectation of success.
The team that will open the National League Division Series presented by T-Mobile on Friday in Washington on TBS is loaded with players who trust themselves and Maddon's process of preparing them to play their best when it means the most.
Anthony Rizzo says the feeling now is "a lot better'' than the one two years ago, when he was awaiting his first crack at building a lasting legacy.
"You get those hits out of the way, you get home runs out of the way, you get wins,'' Rizzo said. "We've won series. We've been swept. We've been through a lot of different scenarios. … We've been through all of it.''
The Cubs are not yet the Yankees of the Derek Jeter/Mariano Rivera/Jorge Posada era, but they're headed in that direction.
Led by Ben Zobrist (54 games) and Jon Jay (58 games), they have eight position players who have played in more than 20 postseason games. That list doesn't include 24-year-old outfielder Kyle Schwarber, who has a 1.178 OPS in 14 playoff games but was sidelined until the World Series last season, and catcher Willson Contreras, who shared time behind the plate the last two seasons.
Along with Contreras and Schwarber, Kris Bryant, Javier Baez, Addison Russell, Jason Heyward and Rizzo have all contributed to the Cubs winning 15 postseason games the last two years.
"I can't say enough about that,'' Bryant said. "Obviously being in the World Series is the best experience you can have in the postseason. But I look back to the Wild Card Game, the one-and-done format in that game, playing under that stress in Pittsburgh is certainly going to help. We're a young team, but a lot of us have played in a lot of playoff games. Hopefully we can use that to our advantage.''
Before digging out of a 3-1 hole against the Indians in the World Series last year, they played from behind to beat the Cardinals in the 2015 NLDS and the Dodgers in the '16 NL Championship Series. Their litmus-test moment came in the ninth inning of last year's NLDS in San Francisco, when the Cubs scored four runs to avoid facing Johnny Cueto in a winner-take-all Game 5 at Wrigley Field.
There have been so many positive moments to build confidence.
"We've been there; we've done it,'' Rizzo said. "It will be good for the nerves in big situations.''
The Dodgers have four position players with 20-plus games of postseason experience, and no other team still alive has more than three. Yankees slugger Matt Holliday is the most experienced player, with 302 plate appearances over 72 games.
Nationals left fielder Jayson Werth (58 games) won a World Series with the Phillies, and backup infielder Stephen Drew won one with the Red Sox. But Howie Kendrick is the only other Washington position player who has played 20-plus games in the postseason.
The experience comparison between the Cubs' and Nationals' rotation is even more stark. The Nats don't have any starters who have won postseason games since Max Scherzer won twice for the Tigers in 2013; the Cubs' starters have combined for 10 wins in that period, making 29 combined starts.
"The mind once stretched has a difficult time going back to its original form,'' Maddon said. "Once you've stretched yourself, then -- and it's not that it's going to work all the time -- but you just have a better understanding and feel of the situation you're going into. You are in a sense slightly more comfortable with it, knowing what it feels like, as opposed to unknowing.''
Jose Quintana, acquired in July from the White Sox, is the exception in that he'll be making his postseason debut. Maddon loves that Quintana will be surrounded by experienced teammates who can help him make the most of the opportunity.
"The impactful part is you've done it before, you're not as intimidated by the moment,'' Maddon said. "You walk into it more knowing [what to expect]. That's not saying you're going to win or be better. Just that you feel better walking into that playoff door.''
Phil Rogers is a national columnist for MLB.com. This story was not subject to the approval of Major League Baseball or its clubs.