Royals 'core four' takes one final bow
Impending free agents depart Sunday's game together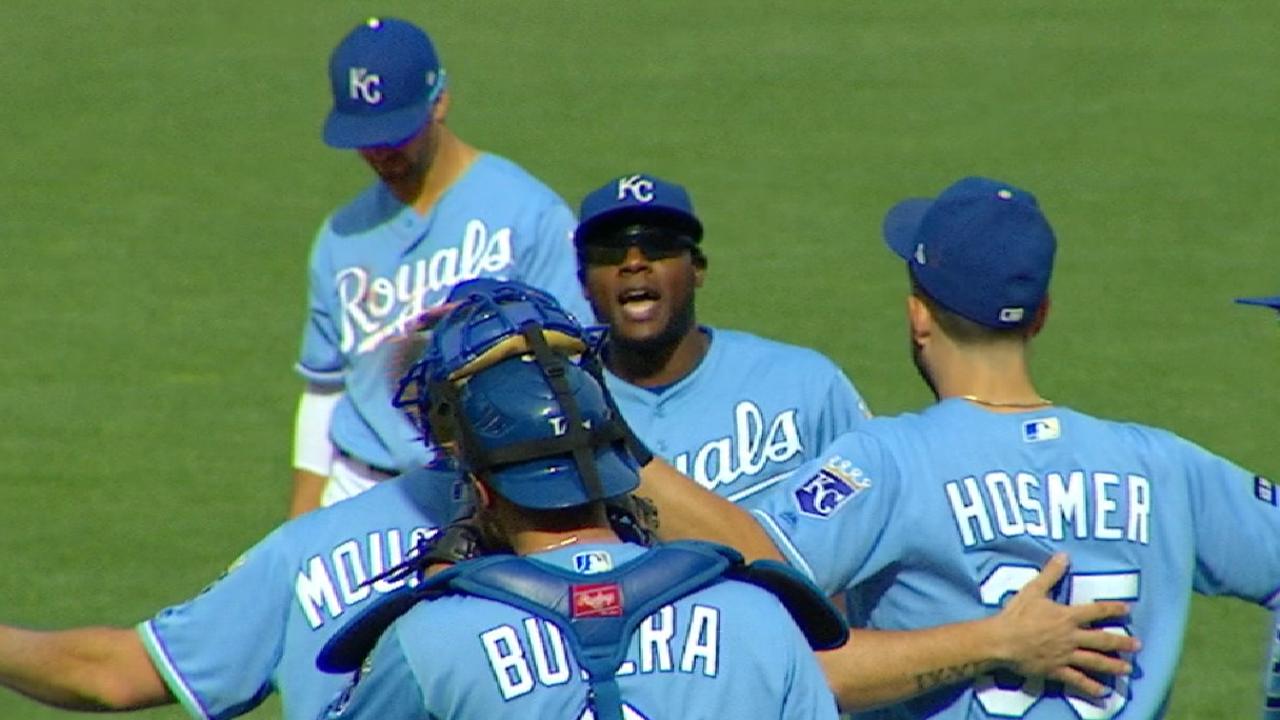 KANSAS CITY -- Eric Hosmer and Mike Moustakas, the two faces of the Royals' resurgence to relevancy, seemingly held it together for most of the day.
But in what could be their final moments together on the same Royals team, they both wept after the reguar-season finale Sunday at Kauffman Stadium, a 14-2 loss to the D-backs, when a video montage was displayed on the stadium scoreboard. The video recaptured the special moments of a journey that included two World Series appearances and a World Series championship.
Hosmer, Moustakas, Lorenzo Cain and Alcides Escobar represent the core of the group that helped resurrect a franchise. And now they all are impending free agents.
"Just watching all the highlights and seeing the growth of everyone got to me," Hosmer said. "Just reflecting on all the moments got to me. The crazy highlights, the crazy comebacks. You relive the moment in the two minutes of that video.
"For me, when Ace [the late Yordano Ventura] popped up in the video, it was extremely tough. But at the same time, it makes me think how strong our relationship was with all of us as a family."
When the video ended, Moustakas and Hosmer hugged on the infield dirt, teary-eyed.
But Moustakas admitted the entire day was emotional, starting with the ovation Hosmer received in his first at-bat in the first inning which ended in a dramatic home run.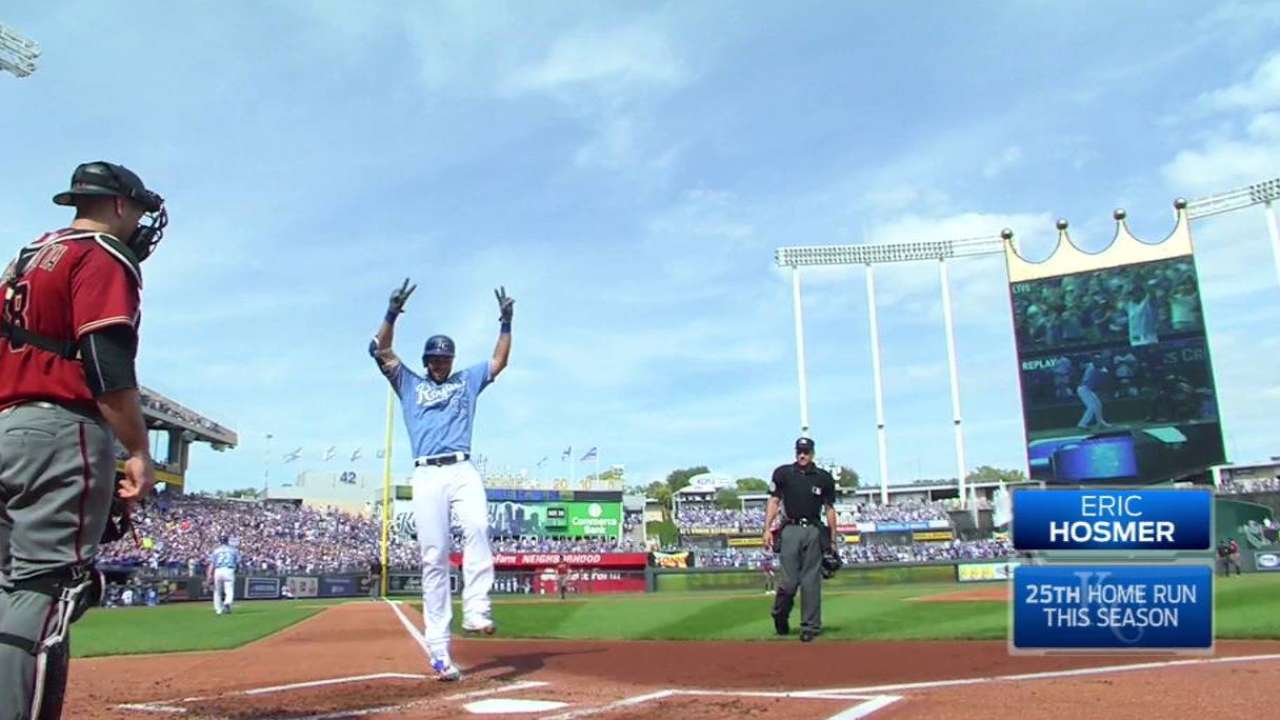 "I had shades on all day for a reason," Moustakas said. "I wasn't holding it together at all. When we hugged, I kind of realized what this all meant.
"When [Hosmer] hit that home run, I had tears in my eyes. Then I was trying to hit with tears in my eyes. That was one of the coolest moments I've ever seen. After the fans of Kansas City gave him that ovation, and then the kid hits a home run, I mean, I'm so happy I could see that and be a part of it."
Royals manager Ned Yost planned to take all four out at the same time, and he did so with one out in the fifth inning. The foursome met behind the pitchers mound and group-hugged as the crowd of 32,277 stood and cheered -- many in tears as well.
This was a core group, after all, that helped pull the franchise out of 29 years of darkness and to a playoff berth in 2014, the team's first since a World Series championship in 1985.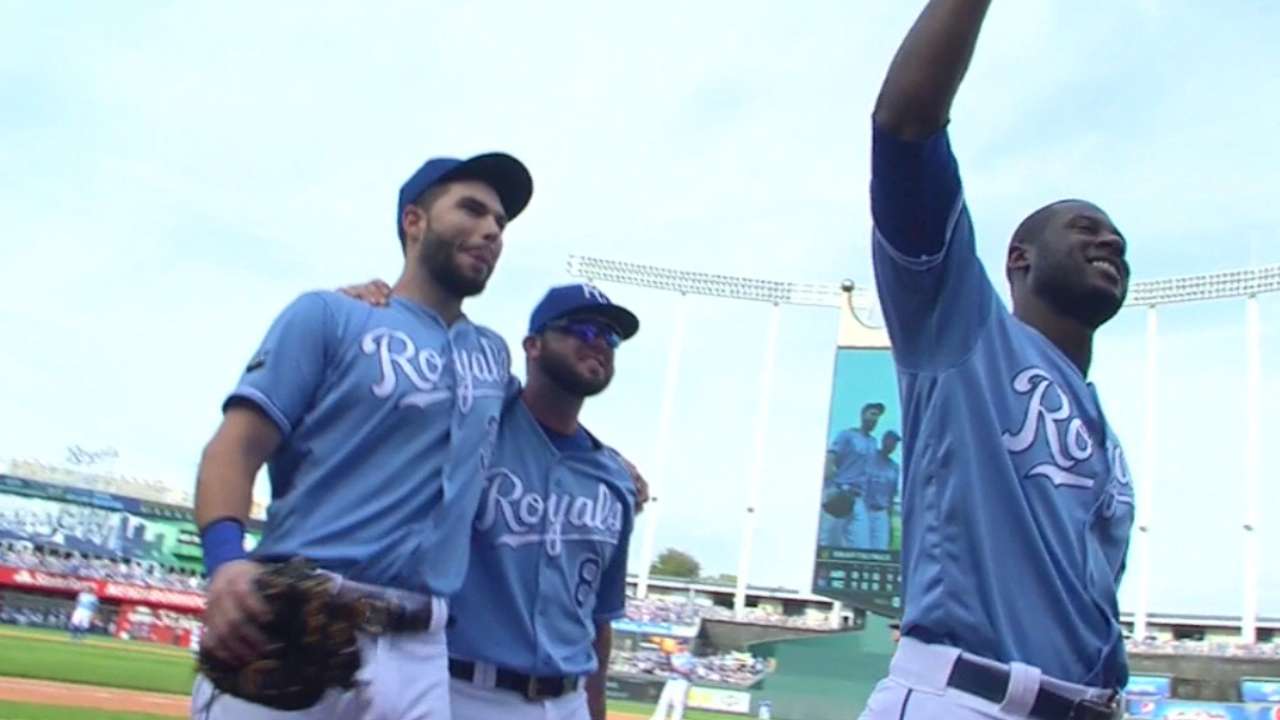 And now, the prospect of losing some, maybe all of the free agents, hit each player hard.
"You talk about it all year long," Cain said. "We don't know where we'll be next year. It got to the point where it's real. The emotions get to you and run through your bodies. You don't know what to expect. You just don't want to get used to new faces."
For now, the group will splinter their separate ways and await the future.
"I've never been in this situation," Escobar said. "I've never been a free agent. Just wait. I don't know where I'll go next year. I want to be here. I just have to wait."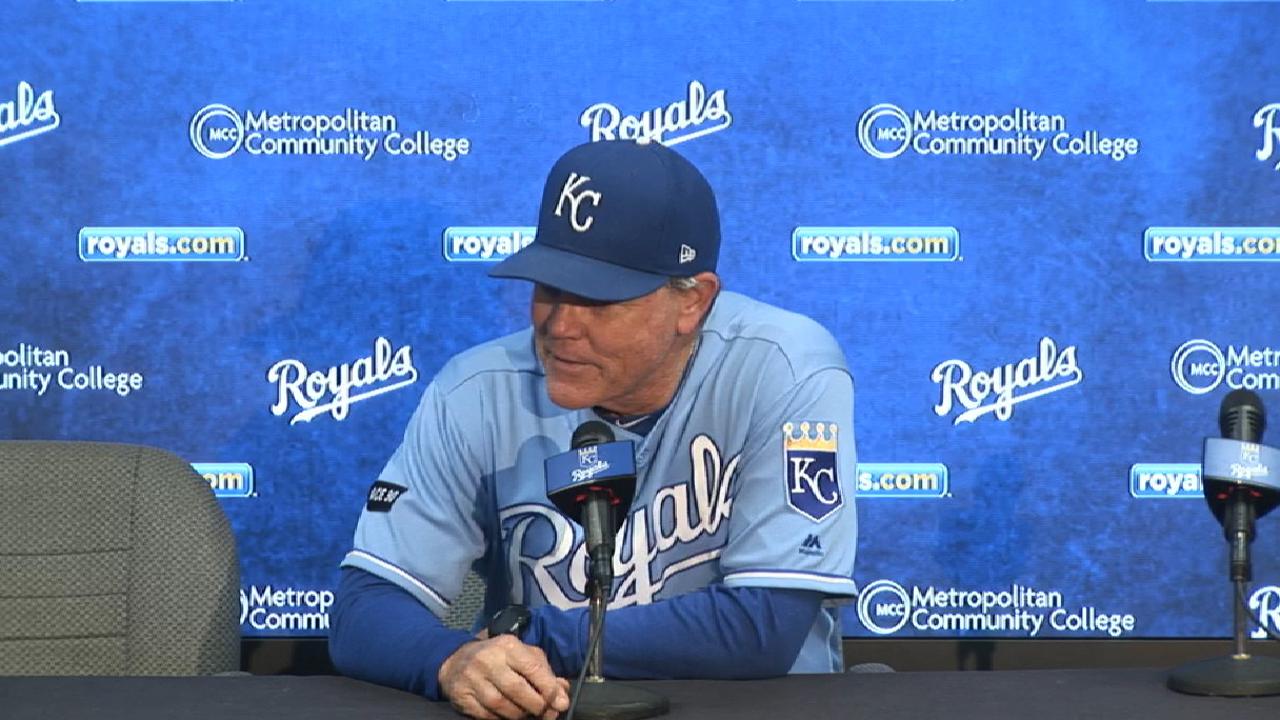 Hosmer, likely the most coveted free agent of the four, will head back to Florida. Whatever happens, he said he will cherish this portion of his life.
"For all of us who came up in the organization, it was instilled in us that we were the group that would turn the city around, the team around," Hosmer said. "It's crazy to see how quick it's all happened.
"We don't know what's going to happen. It's different. I'm used to showing up in the clubhouse and seeing their faces for the last 10 years of my life. I think this weekend was a celebration of that. The reality is we might not all be together as a team again. We don't know who will come back or if nobody will come back."
Jeffrey Flanagan has covered the Royals since 1991, and for MLB.com since 2015. Follow him on Twitter @FlannyMLB. This story was not subject to the approval of Major League Baseball or its clubs.