Perdomo records fastest triple by a pitcher
Right-hander recorded more three-baggers than all other MLB pitchers combined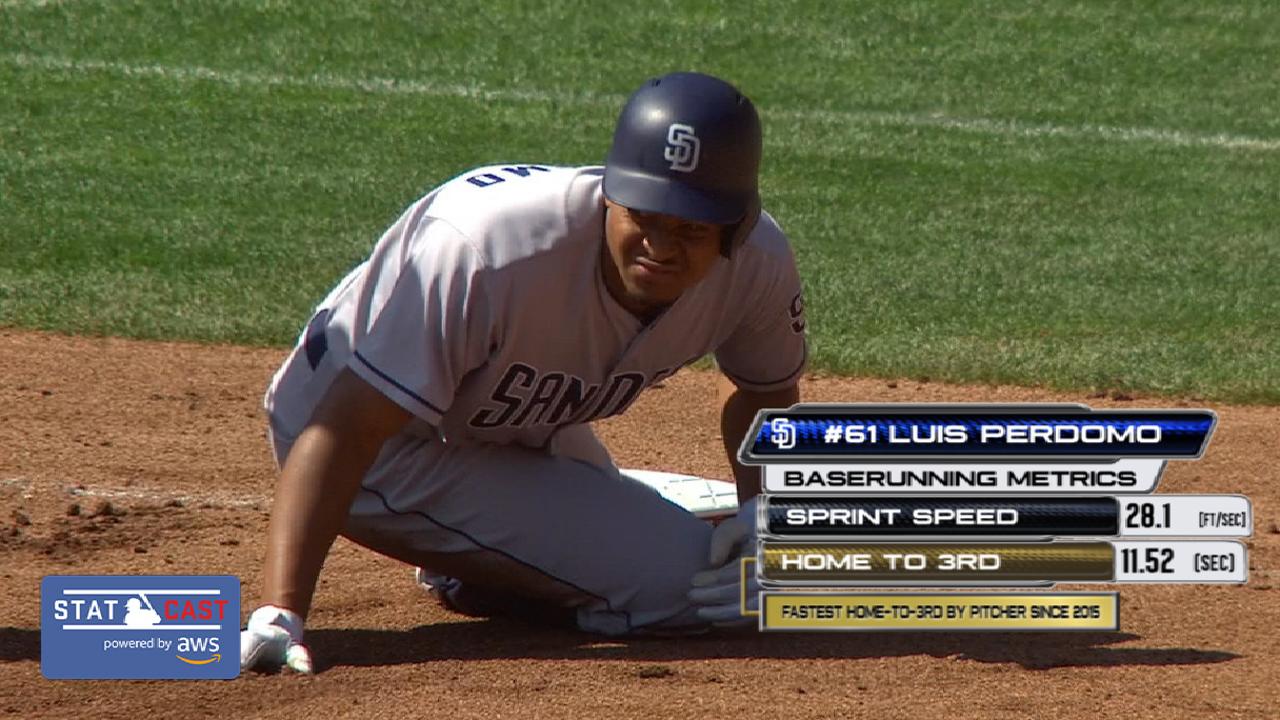 SAN FRANCISCO -- Most pitchers, when they hit a line drive into the left-field corner, aren't thinking it'll be a triple from the moment they leave the batter's box.
Then again, most pitchers aren't Luis Perdomo.
The Padres right-hander made a bit of history with his fourth-inning three-bagger in San Diego's season-ending, 5-4 loss to the Giants on Sunday at AT&T Park.
Perdomo became the first hurler with four triples in a season since Robin Roberts did so in 1955. Even then, one of Roberts' triples came when he was serving as a pinch-hitter. Nobody had recorded four triples while filling the pitchers' slot in the lineup since Bob Feller in 1941.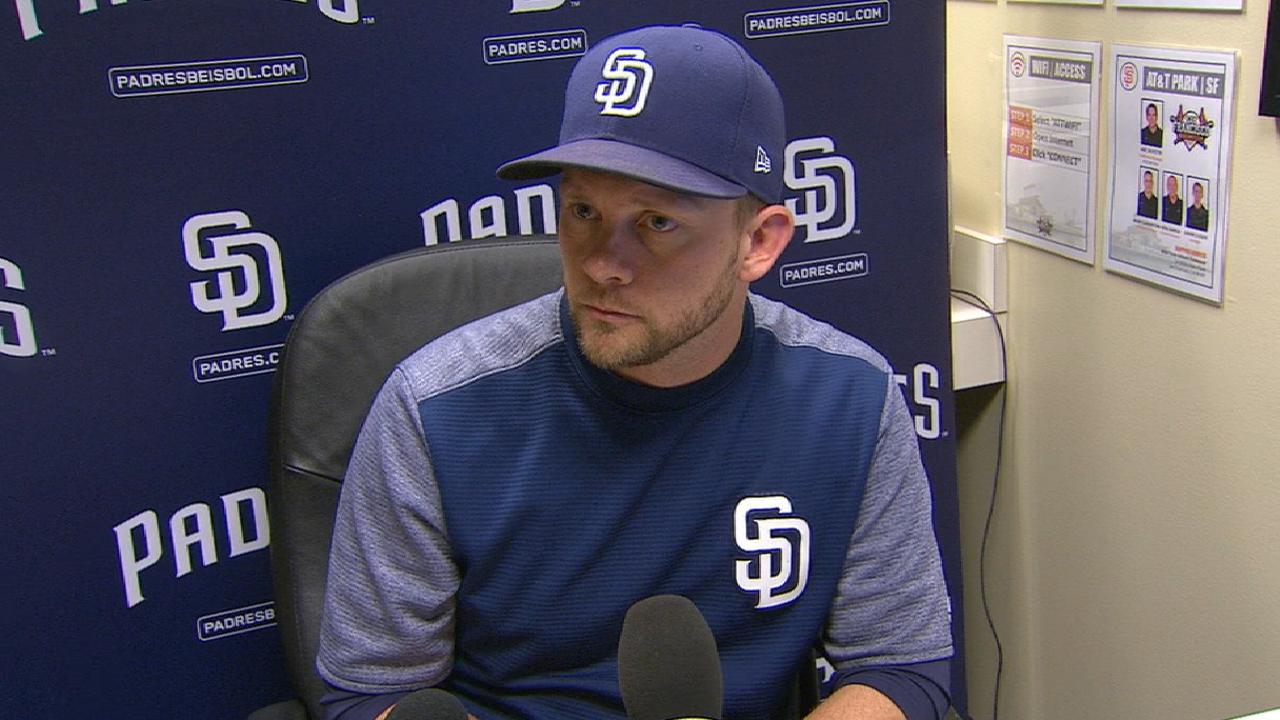 "I take a lot of pride in it," said Perdomo through a team interpreter. "I'm excited about it. Everything I do, I'm trying to put in my best work."
Perdomo went from home to third in 11.52 seconds, the fastest time ever recorded by Statcast™ on a triple by a pitcher.
"You don't see pitchers go for three on the left-field line, that just doesn't happen," said Padres skipper Andy Green. "He flies. He's as fast as anybody in the game from a pitching standpoint."
Said Perdomo: "Right when I hit it, I was thinking about [a triple], because I know I have good speed. Every time I hit the ball, I'm trying to go hard about the box."
Perdomo's four triples were one more than all other Major League pitchers combined. Meanwhile, he finished his season with seven innings of four-run ball on the mound.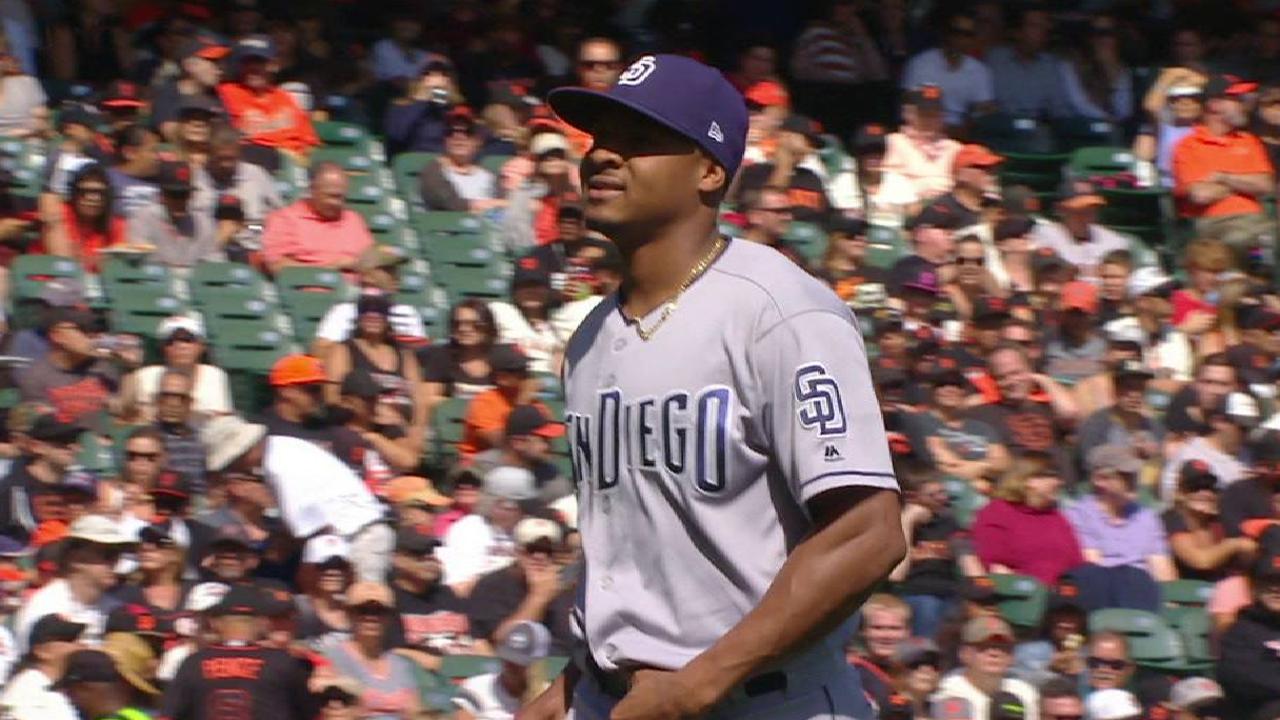 Numbers-wise, it was a disappointing year for Perdomo, who finished with a 4.67 ERA and a 1.53 WHIP. He led the National League in ground-ball rate (61.8 percent), and he finished tied with teammate Clayton Richard for the lead in double plays (32). But Perdomo didn't miss enough bats, and he allowed too much hard contact.
That said, Perdomo is still only 24. If not for his Rule 5 status last season, he may not have debuted yet. Instead, he has two years of Major League experience.
Next spring, Perdomo will enter camp as a rotation favorite. He's hopeful that 2018 is the season he firmly establishes himself in the big leagues.
"I definitely want to take that step," Perdomo said. "I've been here two years now, I feel like these two years, I've dealt with a lot of learning. There's been a lot of learning going on. I feel like next year will be a good time to take that step and say to myself, really be able to say, 'I'm a big leaguer.'"
AJ Cassavell covers the Padres for MLB.com. Follow him on Twitter @ajcassavell. This story was not subject to the approval of Major League Baseball or its clubs.