Tigers begin managerial search in-house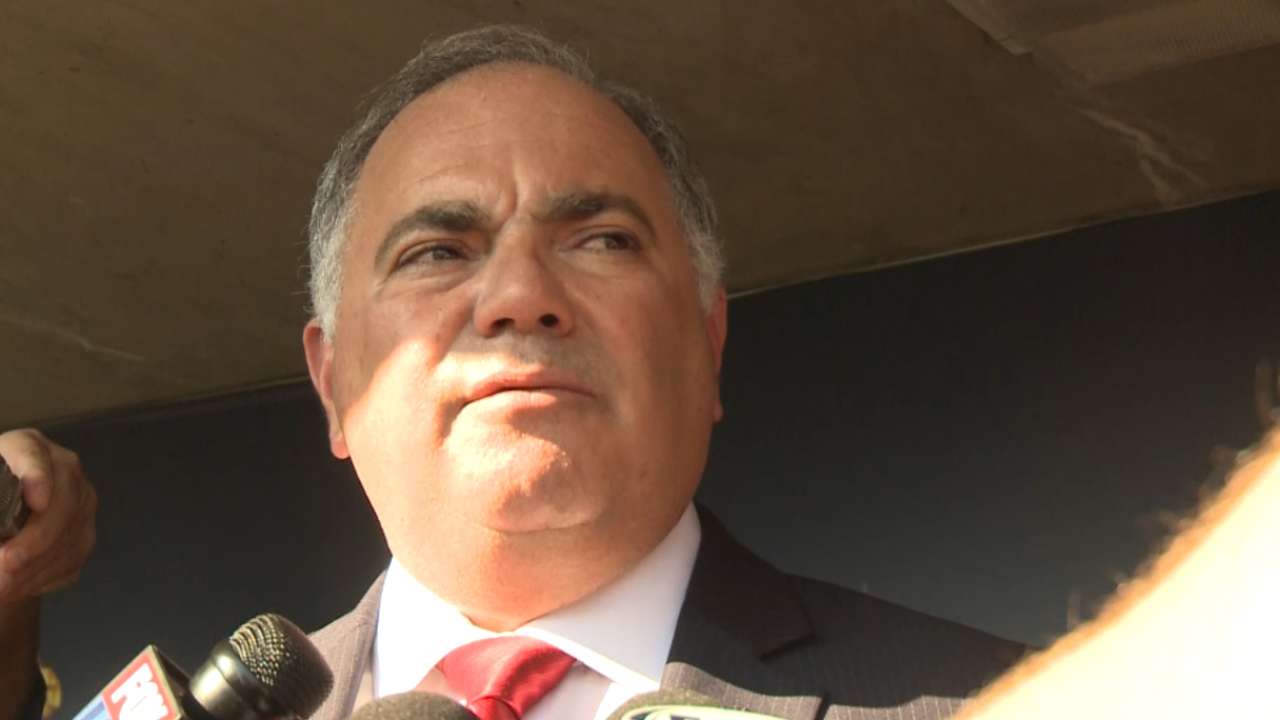 MINNEAPOLIS -- Tigers general manager Al Avila has been on hand for Detroit's final games of the season at Target Field. But he was here with the future in mind.
While the Tigers finished out their 2017 schedule, Avila and vice president of player personnel Scott Bream and assistant GM David Chadd interviewed members of the current coaching staff for the managerial opening.
"That was my purpose to come here, to interview our in-house candidates," Avila said. "That's been pretty much accomplished. And then going into next week, we will start interviewing guys from outside."
Avila has interviewed third-base coach Dave Clark and infield coach Omar Vizquel, and he is expected to talk with hitting coach Lloyd McClendon, who has managed previously in Pittsburgh and Seattle. McClendon interviewed for the job four years ago before Ausmus was hired. Clark served as an interim manager in Houston in 2009. Vizquel has shown interest in managing, including a stint this spring leading Team Venezuela in the World Baseball Classic.
The process of interviewing those from outside the organization is expected to take longer, since some of the expected candidates are serving as coaches on postseason-bound teams and aren't likely to be available for interviews until their seasons are over. Avila said they've already started asking teams for permission to interview people under contract with other organizations.
Tigers GM Al Avila said he has completed interviews with internal candidates for mgr. Will start interviewing outside candidates next week.

— Jason Beck (@beckjason) October 1, 2017
The Tigers have scheduled organizational meetings next week in Detroit, bringing in their front office and scouts to begin work on their offseason plans.
Ideally, Avila said, he'd like to have a manager hired by the end of October.
"Because of the playoffs, it might take a bit longer," Avila said. "But the way we've planned it out, I think we can accomplish that. Logistically, we might have to fly somewhere [to interview a candidate], as opposed to them flying to us."
One potential candidate who should soon be available to interview is Rays third-base coach Charlie Montoyo. MLB Network's Jon Heyman reported on Saturday that multiple teams have asked for permission to talk with Montoyo, who managed eight seasons at Triple-A Durham before the Rays promoted him to join manager Kevin Cash's staff.
Multiple teams have called on respected rays minors manager Charlie montoyo for mlb managing jobs. TB has granted permission.

— Jon Heyman (@JonHeyman) September 30, 2017
Montoyo fits the profile of what Avila has said he's seeking in a candidate, combining Major League coaching experience with a track record managing in the Minors. He earned International League Manager of the Year with Durham twice.
"There are guys in the Minor Leagues that, quite frankly, go through a season like this almost every year," Avila said last week. "In the Minor Leagues, the majority of the time you're going to have a team that's not a winning team. You're going to have some players, you're going to move them up, things of that nature. A guy who's worked at the Major League level, most guys will have gone through a lot of different experiences as far as winning teams, losing teams, rebuilding teams."
Giants third-base coach Phil Nevin and Marlins third-base coach Fredi Gonzalez also should be available to interview if the Tigers want. Nevin managed in the Tigers' farm system from 2010-13. The Tigers dismissed him from Triple-A Toledo, a decision believed to be former general manager Dave Dombrowski's call. Gonzalez, a former manager in Miami and Atlanta, has a long relationship with Avila dating back to their work in the Marlins' farm system in the 1990s.
Jason Beck has covered the Tigers for MLB.com since 2002. Read Beck's Blog, follow him on Twitter @beckjason and Facebook. This story was not subject to the approval of Major League Baseball or its clubs.