Electric field: Defense key to Giants' 2018
Adding outfield arms, lefty relievers could play to SF's existing strengths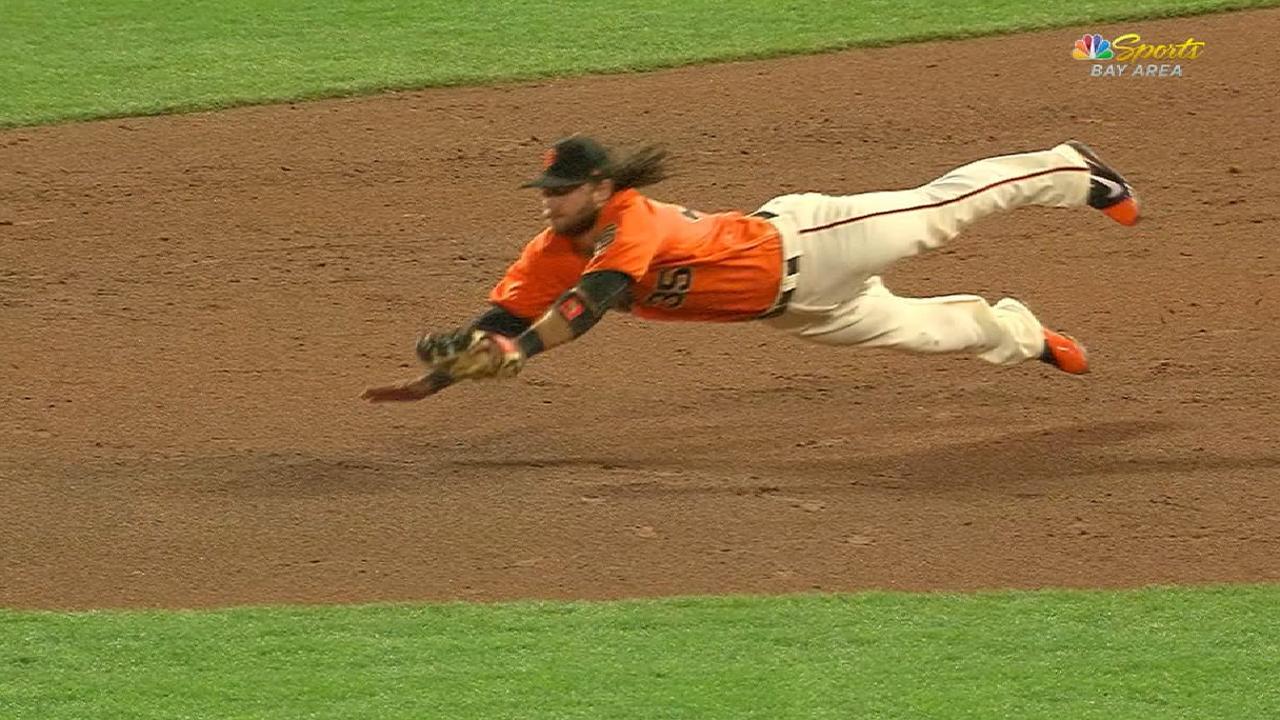 SAN FRANCISCO -- The Giants' precipitous fall from perennial contender to last place in the National League West resembled their three still-recent World Series titles in one significant aspect: Both required widespread contributions.
As catcher Buster Posey said grimly after one defeat this summer, "It's a team effort."
The Giants don't need an entirely new team to return to respectability. But partly because they play home games at AT&T Park, where the climate and the pitcher-friendly, oversized outfield discourage hitting home runs, the Giants will struggle to join the power trip that currently grips the Major Leagues.
• Giants' 2017 a season out of sync
That said, the Giants should try to obtain at least one big bat to establish a semblance of a long-ball threat. This individual's presence might rub off on veterans like Posey and Brandon Crawford, who have exceeded 20 homers in previous years.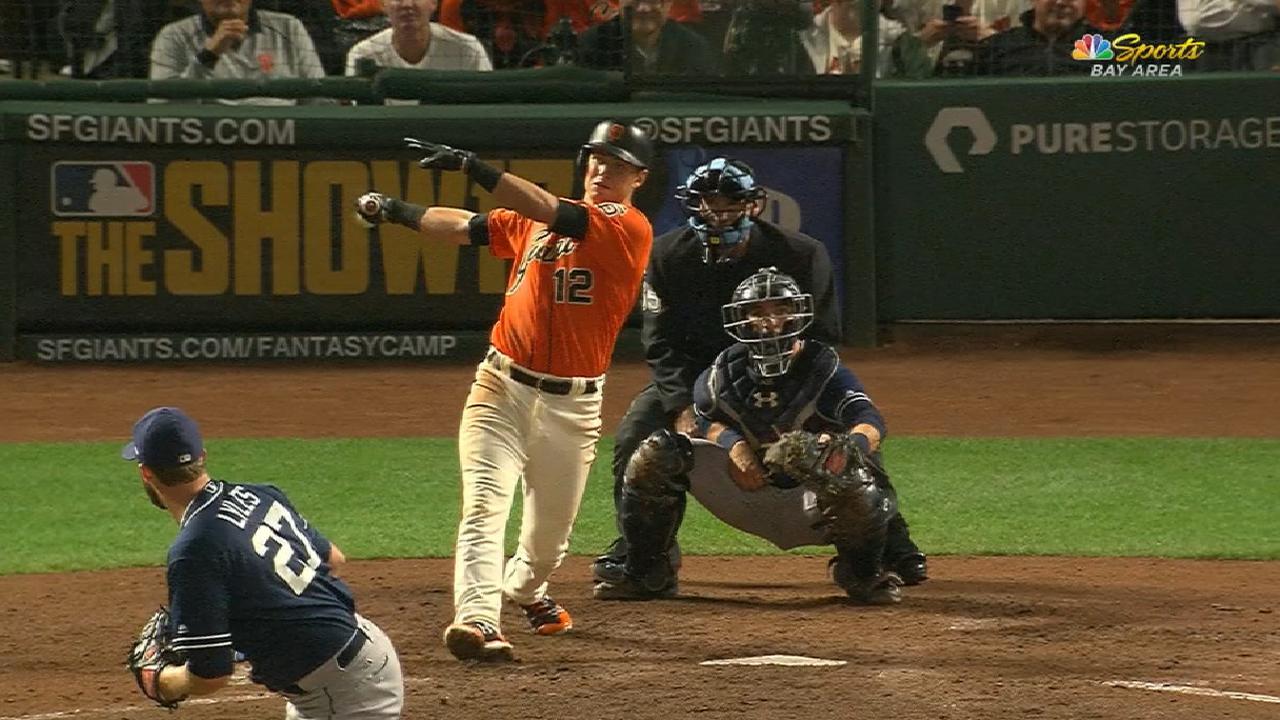 Unfortunately for the Giants, they'd have to overpay for a competent hitter in free agency, because no position player with even half-decent power wants to play at AT&T Park. Trading for a capable hitter is another issue, since the Giants have few, if any, widely acknowledged prospects who might serve as the centerpiece of a swap. The Giants might find that they'd have to part with existing assets such as second baseman Joe Panik or even left-hander Madison Bumgarner to engineer a deal. That, of course, runs the risk of being self-defeating.
So enhancing the Giants' existing strengths -- pitching and defense, particularly the latter -- while incrementally upgrading the offense might be their best combination of options.
But improving the defense will require a dedicated player-acquisition effort. Entering the regular season's final weekend, the Giants ranked 28th among the 30 Major League clubs in defensive efficiency rating, which measures team defense by evaluating the percentage of batted balls turned into outs.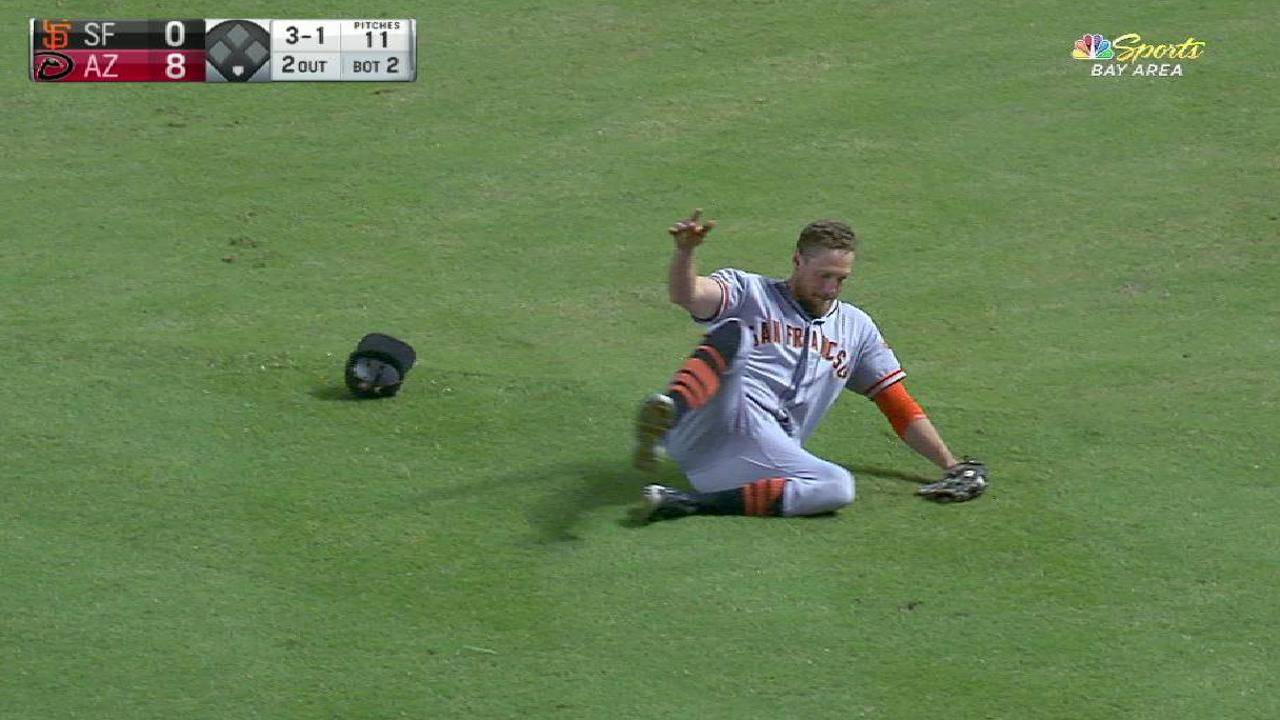 Also, according to Statcast™, Denard Span and Hunter Pence both ranked among the NL's bottom 20 outfielders in terms of average arm strength. Both, however, are signed for next year -- Pence at $18.5 million, Span at $11 million.
BIGGEST NEEDS
1. Center field: Span hasn't been the rangy flychaser the Giants hoped he would be when they signed him during the 2015-16 offseason. Given everybody's knowledge of his injury history, why they pursued him in the first place is puzzling in retrospect. Obtaining a ground-covering center fielder, who probably would force Span to move to left field, could assist the pitching staff considerably.
Possible free-agent fit: Lorenzo Cain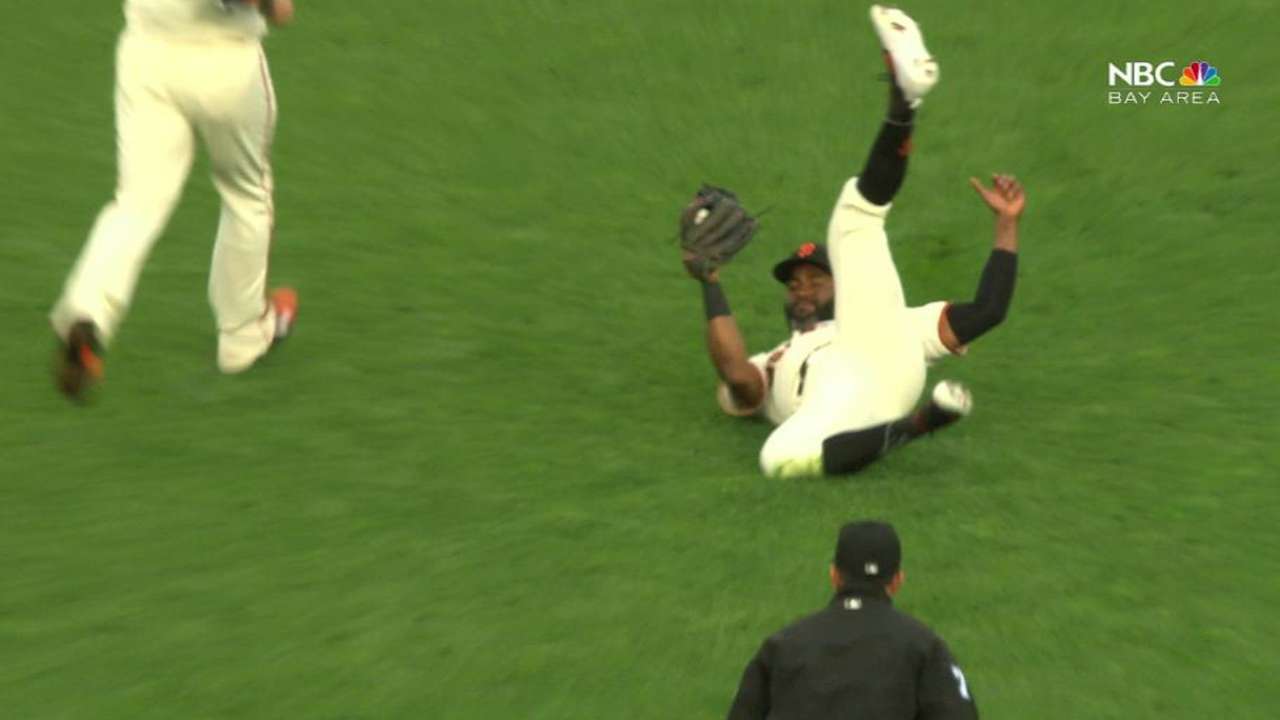 2. Corner outfield: The Giants have had a different Opening Day left fielder in each of the 10 seasons since Barry Bonds was not offered a contract. If they can't get a center fielder, the next best commodity would be a left fielder who won't let the outfield dimensions intimidate him.
Possible free-agent fits: J.D. Martinez, Jay Bruce
3. Left-handed reliever: The Giants thrived when their bullpen included two expert lefties, Jeremy Affeldt and Javier Lopez. The club needs another pair like them. Accomplishing this could happen organically, if Will Smith recovers smoothly from Tommy John surgery and if either Steven Okert or Josh Osich (ideally both) can develop consistency.
Possible free-agent fit: Tony Watson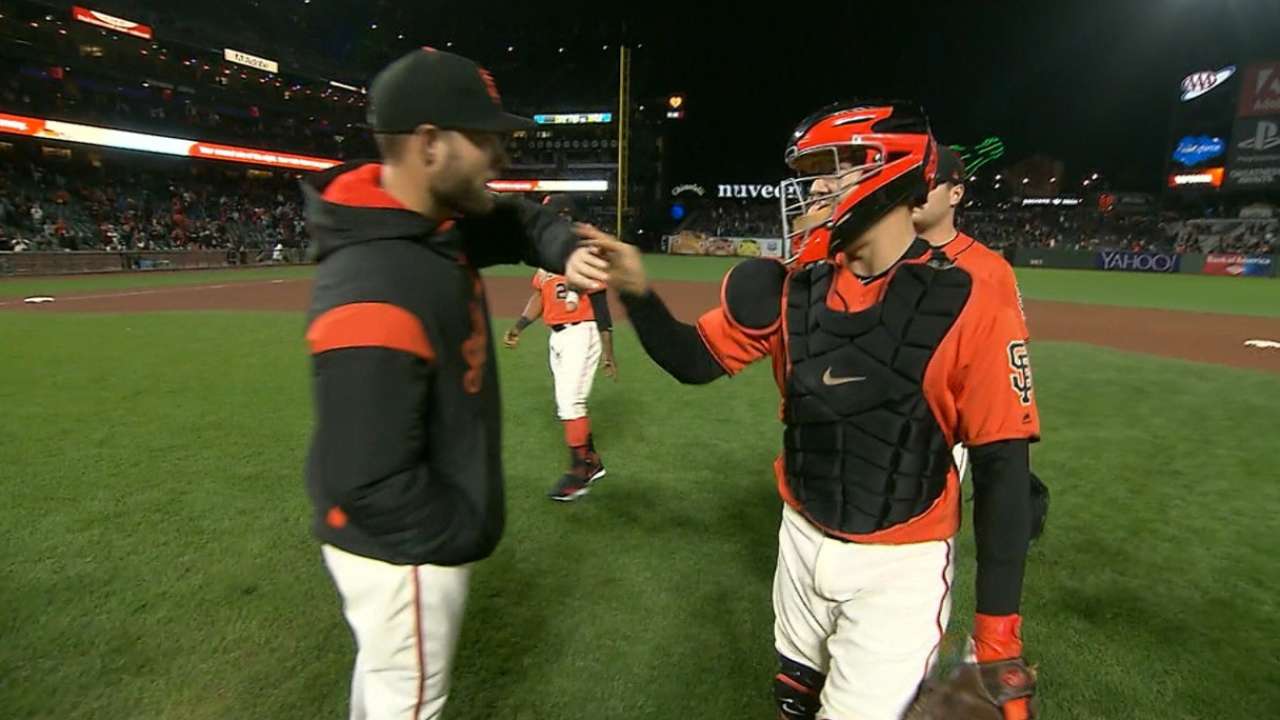 GRAY AREAS
What about Belt? Brandon Belt has his supporters and detractors within the organization, but in all fairness to the first baseman, bad luck victimized him this year. The concussion he sustained when he was beaned by Arizona's Anthony Banda on Aug. 4 sidelined him for the rest of the season, and it denied him the chance to let his performance speak for itself. Belt likely will be welcomed warmly at Spring Training, but doubts will return if he starts the regular season slowly.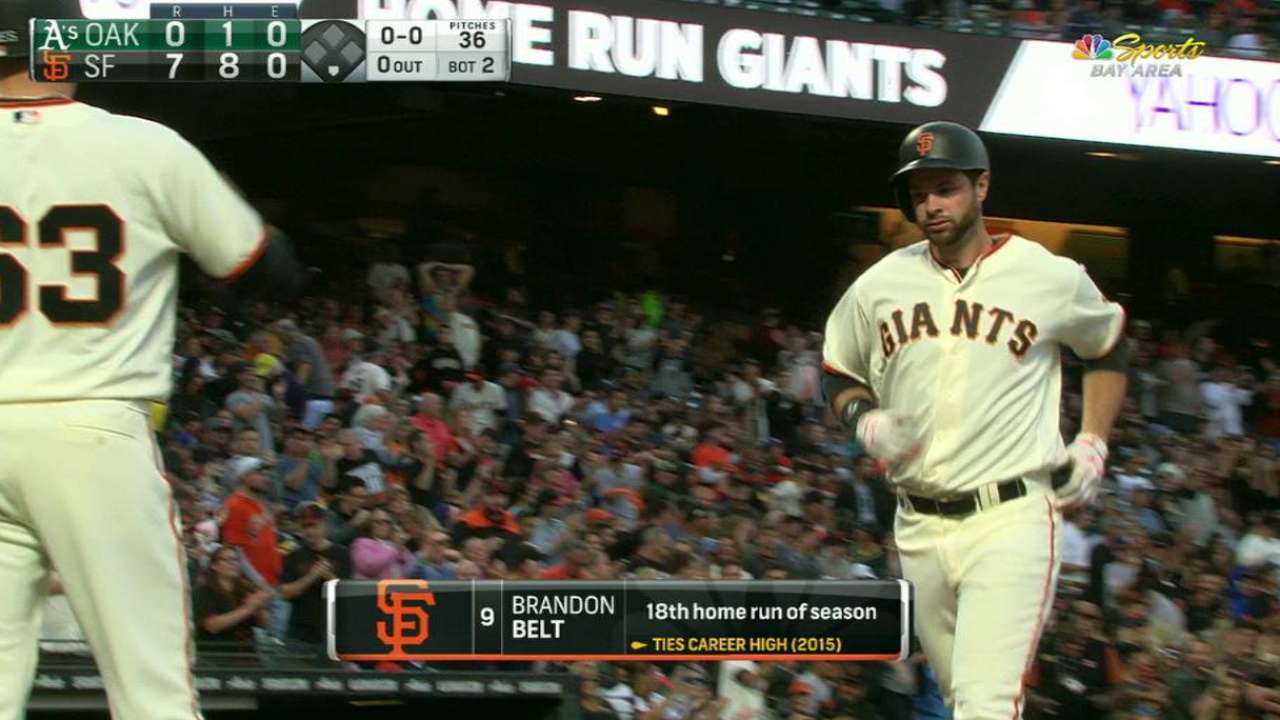 X-FACTOR
Making a bold move: In previous eras, the Giants recovered from dreadful seasons with impact players. They either added or subtracted them. After their 100-loss season in 1985, they reasoned that first baseman Will Clark, who they selected second overall in that year's Draft, was ready to play every day the following season. He helped lead a resurgence that brought the Giants a West Division title in '87 and a pennant in '89.
After finishing a combined 135-171 in 1995-96, the Giants realized they couldn't keep both Bonds and Matt Williams for payroll reasons. They sent Williams to Cleveland in a multi-player deal that brought Jeff Kent to San Francisco, and they made a handful of other moves. The result was another division championship in the first of eight consecutive winning seasons. Perhaps the Giants will have to swallow hard and make another trade or two involving key players to strengthen the roster overall.
Chris Haft has covered the Giants since 2005, and for MLB.com since 2007. Follow him on Twitter at @sfgiantsbeat and listen to his podcast. This story was not subject to the approval of Major League Baseball or its clubs.