Red Sox can clinch division title on MLB.TV
Kershaw tries to thwart Rox WC hopes; Stanton slugs for 60th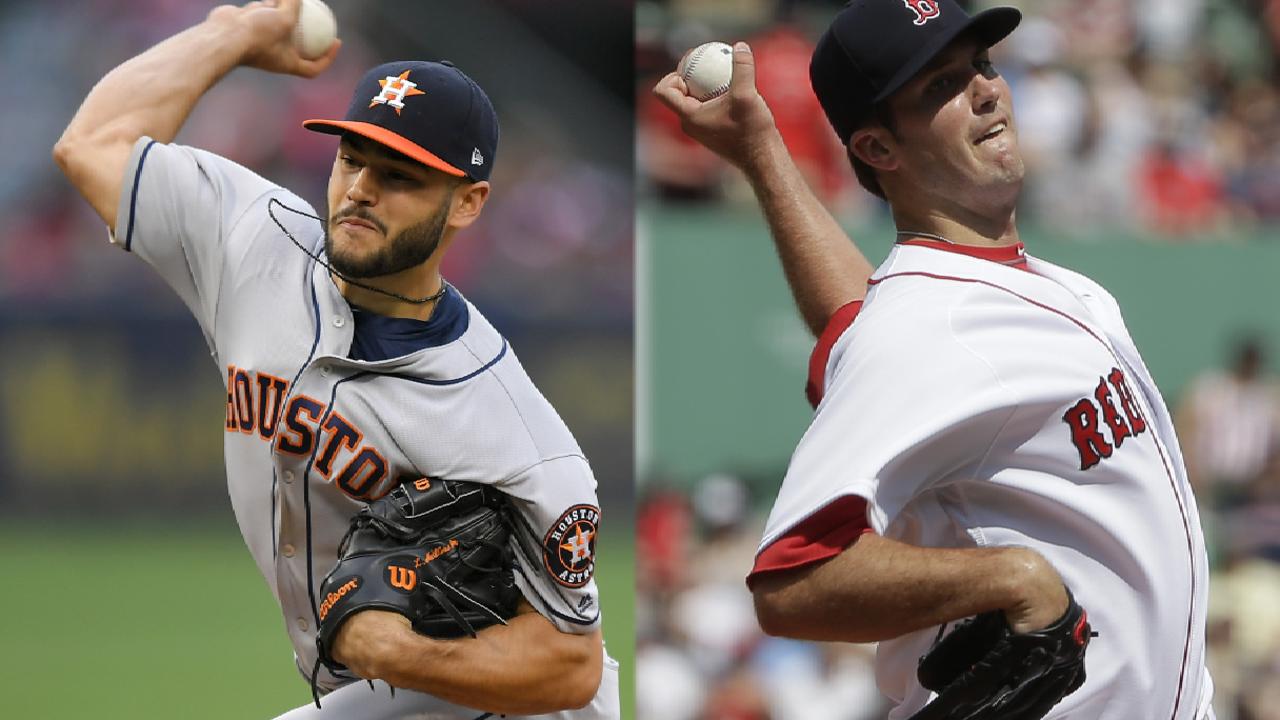 Down to the final two games of the regular season, the Yankees still have hope of tying the Red Sox for the American League East lead by the end of play on Sunday, which would force a tiebreaker Game 163 at Yankee Stadium on Monday. Boston leads New York by two games going into Saturday's game against the Astros at Fenway Park, while the Yankees host the Blue Jays.
Meanwhile, home-field advantage through the American League Championship Series is still up for grabs, with the Indians hanging on to a one-game lead in that race over the Astros entering play Saturday.
And in the National League, the Rockies need a win or a Brewers loss to clinch the second NL Wild Card spot and their first postseason berth since 2009. Not to be overshadowed, Giancarlo Stanton looks to become the sixth player in Major League history to hit 60 home runs in a single season, as the Marlins host the Braves.
• Division standings | Wild Card standings
You won't want to miss what has shaped up to be an exciting final three days of the regular season, and you can catch all the action for free this weekend on MLB.TV.
Watch every out-of-market regular-season game live on MLB.TV Premium. With nearly two dozen features for subscribers to access and interact, including the best picture quality at 60 frames per second, choice of home or away broadcasts, live game DVR, and multi-game viewing, MLB.TV is supported by more than 400 devices. Monthly and Single Team subscriptions are also available.
Here's what to watch for on Saturday (all times Eastern):
Red-hot Astros stand in Boston's path to division title: HOU@BOS, 1:05 p.m.
The Astros have won 13 of 16 to keep the heat on the Indians in the race for home-field advantage through the ALCS, and they also prevented the Red Sox from clinching the AL East with a 3-2 win over Boston on Friday.
The teams reconvene at Fenway Park on Saturday, with the Red Sox needing a win or a Yankees loss to clinch a second consecutive AL East crown. Boston sends Drew Pomeranz (16-6, 3.38 ERA) to the mound. Pomeranz is coming off his shortest outing of the season, giving up five runs in two innings against the Blue Jays on Monday.
Houston counters with Lance McCullers Jr. (7-3, 4.01 ERA), who has a 4.91 ERA in three career starts against Boston. Astros third baseman Alex Bregman is coming off a big night, going 3-for-4 with a double and a homer to drive in all three Houston runs Friday. During a seven-game hit streak, Bregman is batting .433 (13-for-30) with three doubles and three homers.
Yankees look to keep the heat on in the East: TOR@NYY, 1:05 p.m.
The Yankees look for their fifth win in six games, and their 91st victory of the season, as they host the Blue Jays with a chance to keep the heat on the Red Sox in the AL East. New York is already assured of at least a Wild Card Game appearance against the Twins in the Bronx on Tuesday, but with two victories and two Boston losses, it could force a division tiebreaker with the Red Sox at Yankee Stadium on Monday.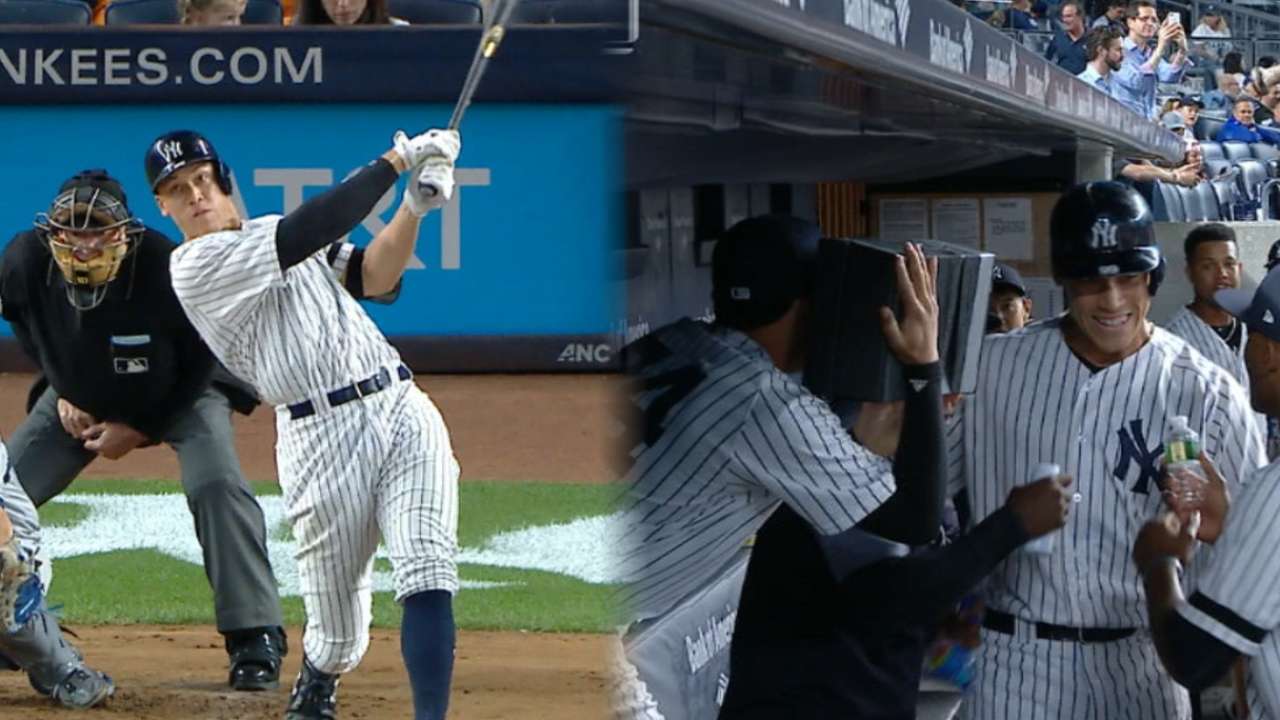 Veteran left-hander CC Sabathia goes for the Yankees -- a late sub for Jaime Garcia, who was orginally slated to make the start -- and the Blue Jays give the ball to right-hander Marcus Stroman (13-8, 3.06 ERA). Slugger Aaron Judge looks to pad his MLB rookie record for single season home runs; his next would be his 52nd on the season, and 15th in September.
Win and you're in, but you've got to beat Kershaw: LAD@COL, 8:10 p.m.
The Rockies beat the Dodgers, 9-1, on Friday night at Coors Field, reducing their magic number to clinch the second NL Wild Card spot to one over the Brewers, who also won in St. Louis. Another Colorado victory on Saturday would clinch its first playoff berth in seven years, assuming Milwaukee doesn't lose earlier in the day.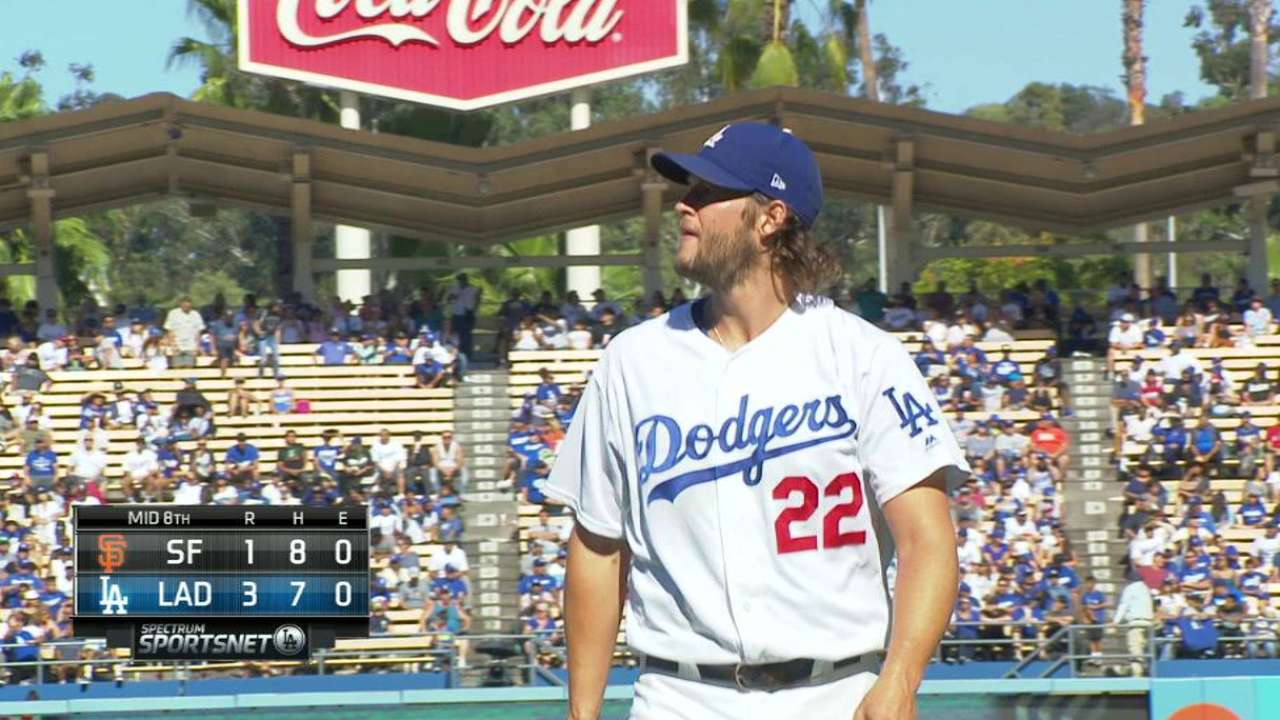 But the Rockies will have to go through Clayton Kershaw (18-4, 2.21 ERA), who will be making his final regular-season start to tune up for Game 1 of the NL Division Series on Friday. Since returning from the disabled list (back strain) on Sept. 1, Kershaw has a 3.03 ERA, surrendering four runs in two of his five starts.
Rookie right-hander German Marquez (11-7, 4.38 ERA) is slated to take the ball for Colorado. His lone career start against the Dodgers came on Sept. 8, when he gave up two earned runs on six hits over four innings. He'll have an offense behind him that is averaging 8.4 runs per game in its last five contests.
Crew still alive, needs win at Busch: MIL@STL, 4:15 p.m.
The Brewers need to win their final two games against the Cardinals in St. Louis, and hope for some help from the Dodgers in Colorado. Should Milwaukee win out and the Dodgers win the final two games at Coors Field, that would force a tiebreaker Game 163 for the second NL Wild Card spot, to be played at Coors Field on Monday.
Milwaukee sends right-hander Junior Guerra (1-4, 4.90 ERA) to the hill, and St. Louis counters with rookie right-hander Luke Weaver (7-2, 3.23 ERA). The Brewers hope Stephen Vogt continues to hit down the stretch for them -- the waiver pickup is 7-for-16 with three doubles and a homer over his last four games, including three RBIs in Milwaukee's 5-3 win on Friday.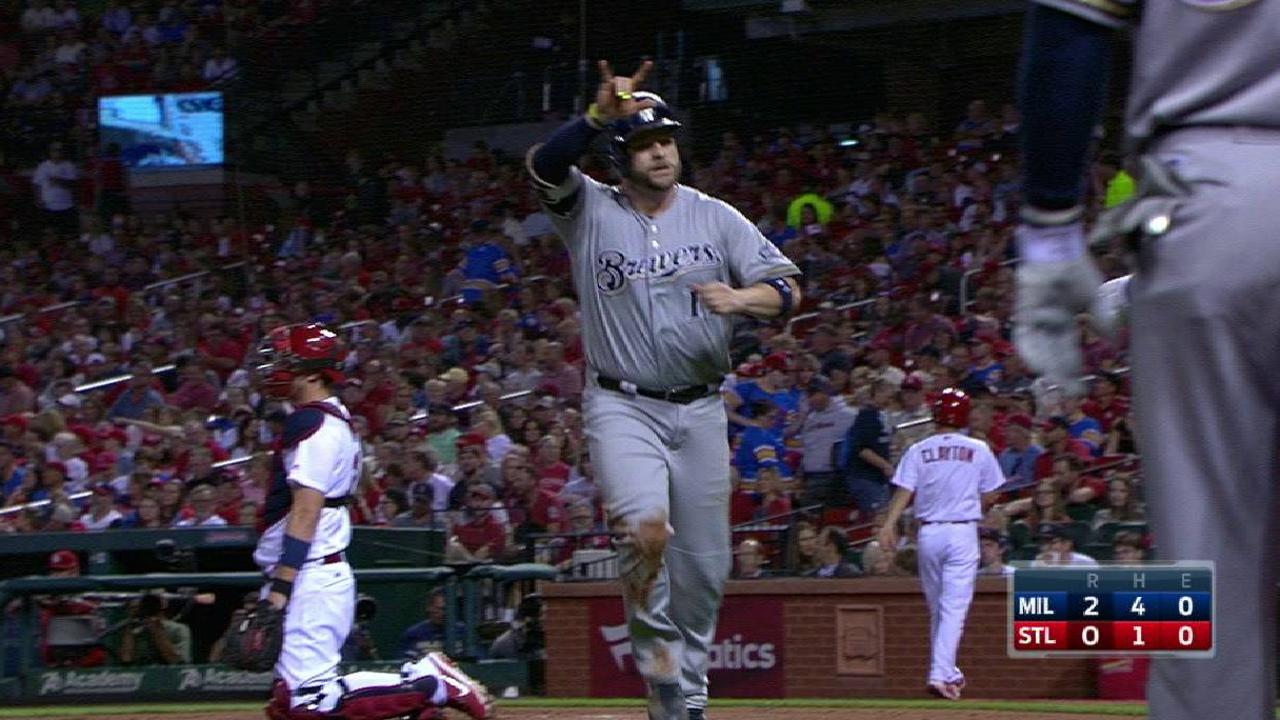 Stanton eyes 60th smash: ATL@MIA, 7:10 p.m.
With another home run over his final two games, Stanton would have the ninth season of 60 or more home runs in MLB history, and the first since 2001. Stanton will take aim at the fences against Braves right-hander Lucas Sims (3-5, 4.85 ERA) on Saturday at Marlins Park. Stanton is 1-for-4 with a single against Sims.
Stanton's incredible second-half run has included 33 home runs, and eight of his 59 homers on the season have come against the Braves.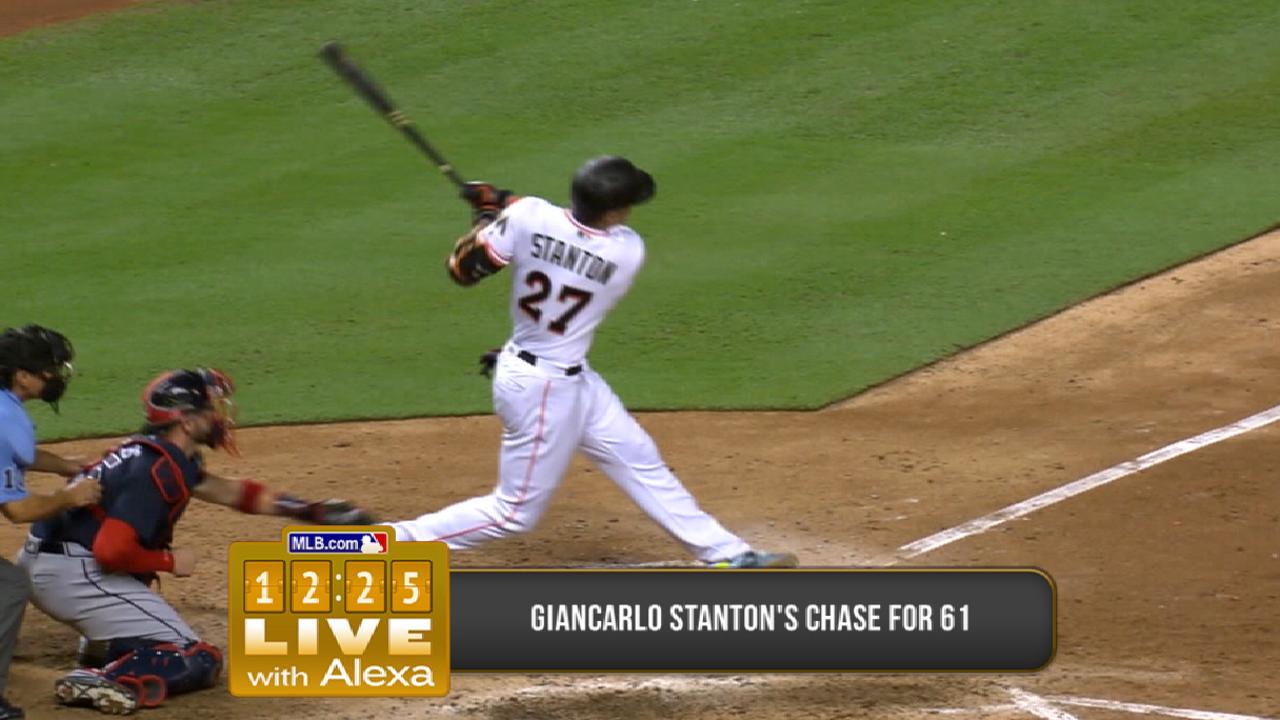 Behind ace, Tribe looks to clinch home field advantage: CWS@CLE, 7:10 p.m.
One of the frontrunners for the AL Cy Young Award, Corey Kluber, will take the mound for the Indians at Progressive Field against the White Sox, hoping to put Cleveland in position to clinch home-field advantage through the ALCS. A win would ensure at least a tie in overall record with the Astros, and the Tribe's 5-1 head-to-head record would give it home-field advantage.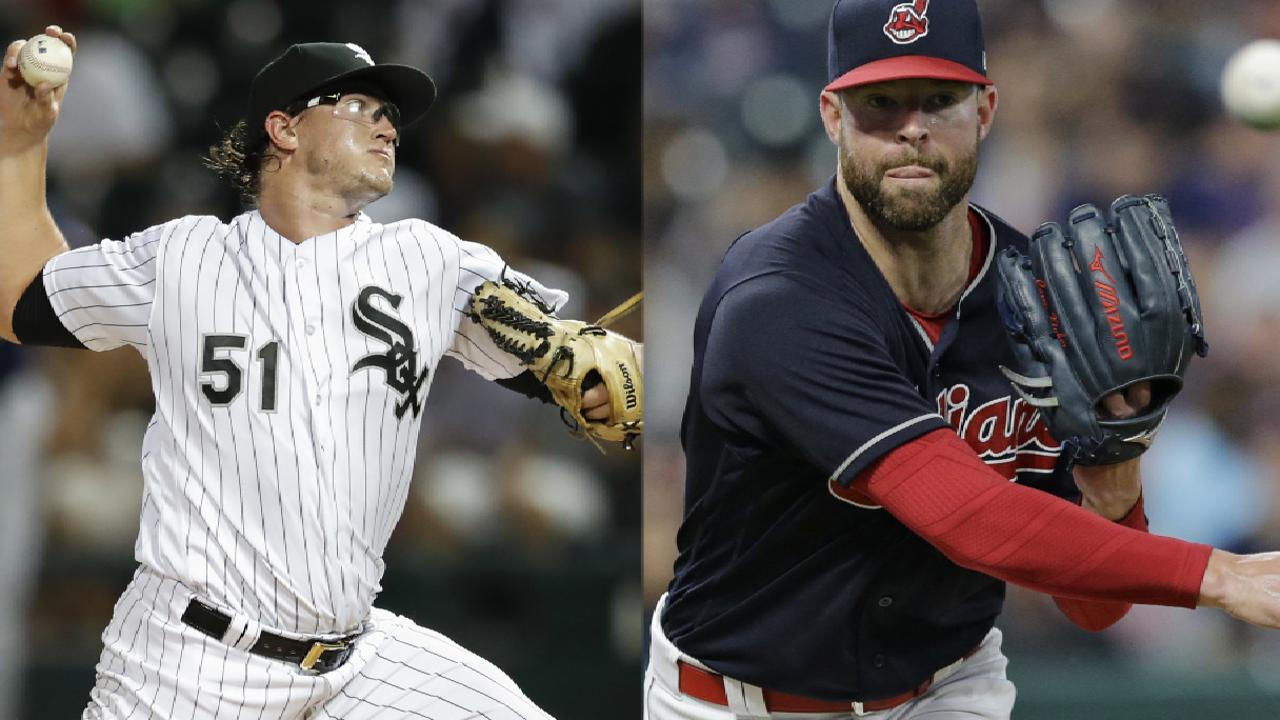 Kluber (18-4, 2.27 ERA) hasn't surrendered an earned run over his last three starts (23 innings), and has struck out 27 and walked only two in that span. In four starts against Chicago this season, the right-hander has a 2.86 ERA with 42 strikeouts and six walks.
Kluber's counterpart on Saturday will be rookie right-hander Carson Fulmer (2-1. 4.42 ERA), who makes his fifth career start, and first against Cleveland.
Manny Randhawa is a reporter for MLB.com based in Denver. Follow him on Twitter at @MannyOnMLB. This story was not subject to the approval of Major League Baseball or its clubs.