Johnson receives award for perseverance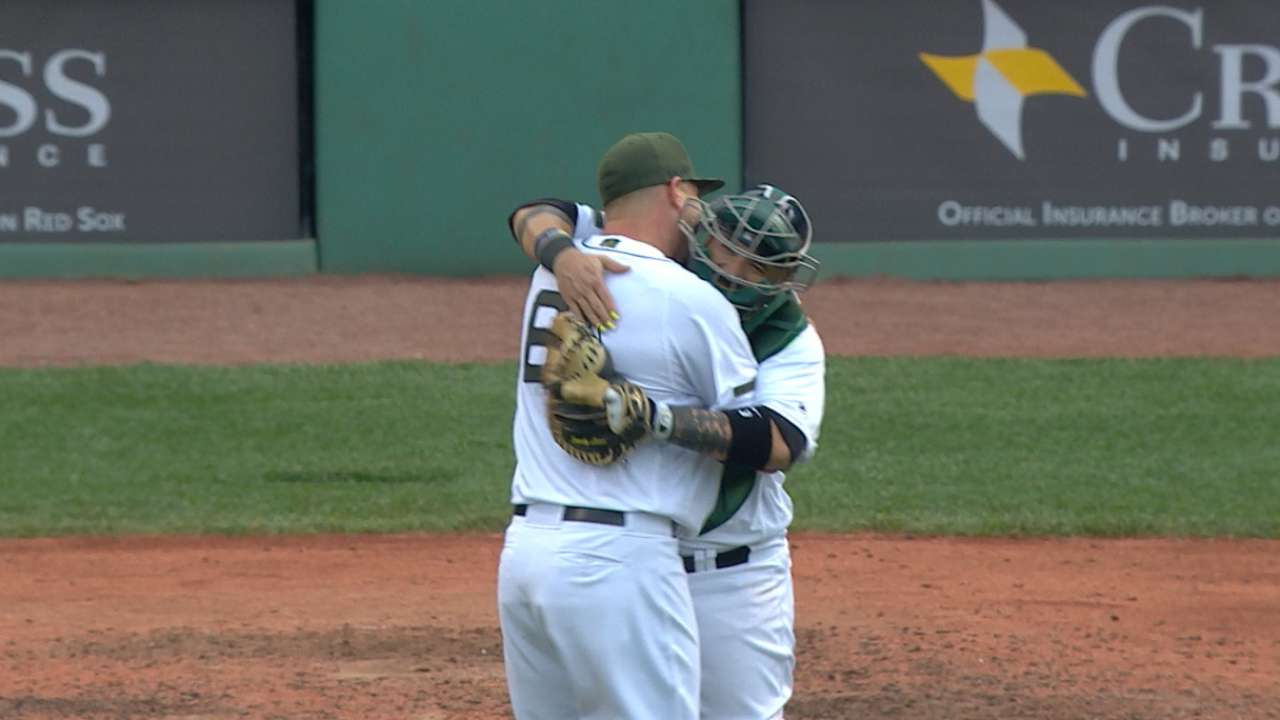 BOSTON -- Four months and three days after firing a complete-game shutout at Fenway Park in one of the feel-good moments of the season, Brian Johnson was back on Saturday to receive the club's Lou Gorman Award, handed out annually to the prospect who demonstrates dedication and perseverance while working his way to the Major Leagues.
Johnson has demonstrated his resilience many times in his six years in Boston's farm system, coming back from multiple line drives that hit him in the head. The lefty was held up at gunpoint in a car-jacking incident following the 2015 season and battled anxiety in '16.
"It means a lot to me [to win this award] with what happened last year and obviously in 2012 getting hit and getting hit again this year," said Johnson. "It's an honor and awesome to be a part of something like that and I'm excited about it."
Though Johnson didn't get a September call-up this year, he went 2-0 with a 4.35 ERA in multiple stints with the Red Sox.
Next year will represent a crossroads for Johnson. He is out of Minor League options, meaning the Red Sox risk losing him if they don't keep him in the Majors.
Congrats to @Brian_Johnson35, this year's Lou Gorman Award recipient for his dedication and perseverance. pic.twitter.com/sbfwSiMVLX

— Red Sox (@RedSox) September 30, 2017
"I don't know if my role will change or what will happen, obviously being out of options," said Johnson. "I don't know if it's bullpen or starter, that conversation hasn't been brought up, but we'll see what happens."
All 109 career games Johnson has pitched at the pro level have been as a starter, but he'd be willing to make the switch if that's what the Red Sox want.
"Whatever, I just want to be in the big leagues and help out any way I can," Johnson said. "I'm pretty sure every guy in the bullpen here was a starter at one point."
Left-handers with control and a pitch mix are always of value to an organization.
"He had a really good year in Triple-A and provided some success in the big leagues and is an important part of things going forward," said Red Sox director of player development Ben Crockett. "Obviously he pitched well as a starter, and as a left-hander with a good breaking ball. We've seen other guys come up and pitch in different roles. I think he certainly has a pitch mix that could profile that way. We'll talk more about it as we get deeper in the offseason."
Here is a list of the other Minor League awards the Red Sox gave out on Saturday in a pregame ceremony.
Offensive Player of the Year: 3B Michael Chavis
Pitcher of the Year: LHP Jalen Beeks
Defensive Player of the Year: C Austin Rei
Baserunner of the Year: OF Tate Matheny
Latin Program Player of the Year: 1B/OF Keibert Petit
Latin Program Pitcher of the Year: RHP Luis Rivero
Ian Browne has covered the Red Sox for MLB.com since 2002. Follow him on Twitter @IanMBrowne and Facebook. This story was not subject to the approval of Major League Baseball or its clubs.