Lamb's homer is D-backs' club record 217th
All-Star pushes his season total to 30 in loss to Royals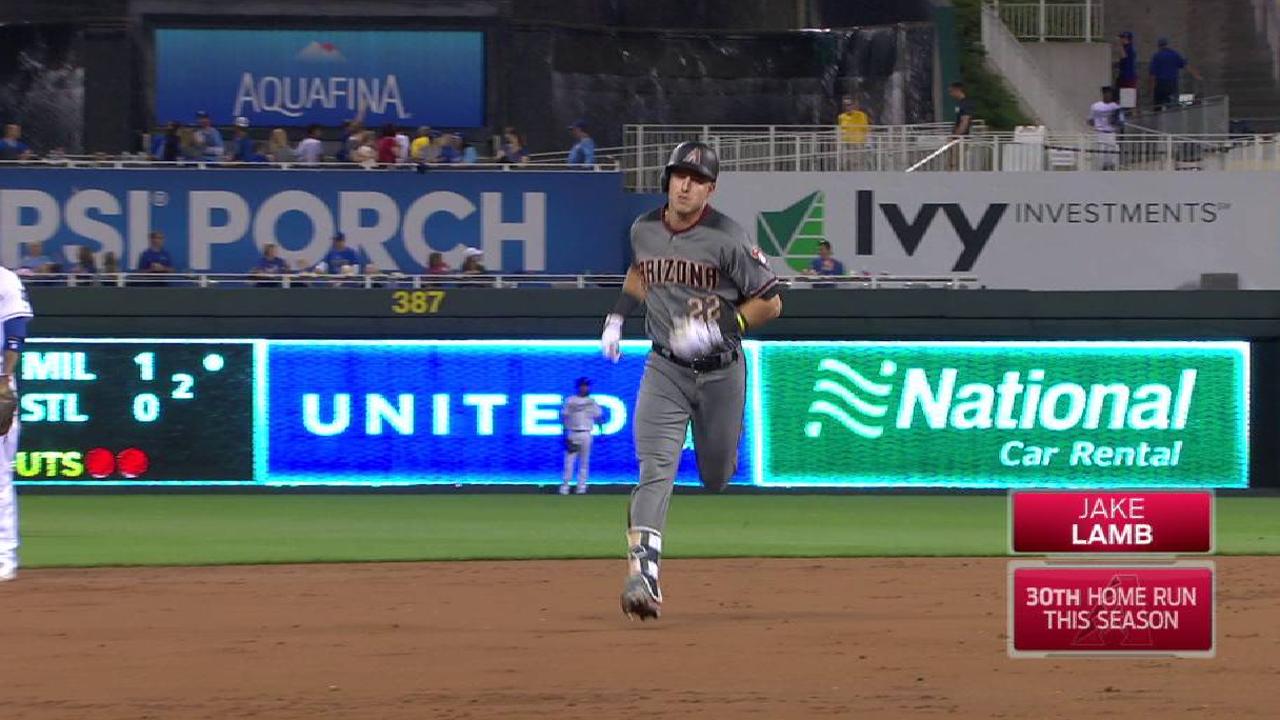 KANSAS CITY -- As Jake Lamb's ball disappeared over the right-center-field wall on Friday night at Kauffman Stadium, so too did the D-backs' franchise record for home runs.
Lamb's homer was the 217th by the club this year -- surpassing the previous mark of 216 in 1999.
"Every time you're talking about some historical records or club records, you're doing something right," manager Torey Lovullo said after his team's 2-1 loss to the Royals in the series opener. "We have good players who study, pay attention, engage, adjust and it's translating. I'm proud of these guys and proud of that moment."
Paul Goldschmidt leads the D-backs with 36 homers, while J.D. Martinez has added 29 homers since being acquired in a trade with the Tigers in July.
"When you have J.D. and Goldy hitting a homer every time up it's pretty easy," catcher Chris Iannetta joked.
But as Iannetta would go on to point out it hasn't been just those two.
Jake Lamb has 30, Iannetta has 16, and then there's 14 from David Peralta and another 13 from A.J. Pollock. It all begins to add up.
"We had a really good offense coming out of spring and then you put J.D. in the middle of the lineup it just makes it that much better," Iannetta said. "We definitely have a team and a lineup top to bottom that has some power in it. We can hit for power, we can drive runs in, get on base. Top to bottom, we have a really good lineup."
The homer by Lamb was particularly encouraging given his second-half struggles.
In the first half of the year, Lamb hit 20 homers and was one of the team's four All-Star Game representatives. He's hit 10 since the break.
"I know he's been working hard for that moment," Lovullo said of the homer. "He hit his 30th home run today. That's quite an accomplishment. The swings have been pretty consistent and he's starting to really zone in on the ball and drive the ball, and it's translating."
The 1999 D-backs won 100 games with most of their homers coming from Jay Bell (38), Matt Williams (35), Steve Finley (34) and Luis Gonzalez (26).
Steve Gilbert has covered the D-backs for MLB.com since 2001. Follow him on Twitter @SteveGilbertMLB. This story was not subject to the approval of Major League Baseball or its clubs.