Ryu's rough night could alter postseason plan
DENVER -- Hyun-Jin Ryu probably pitched himself out of a potential Game 4 start in the National League Division Series, and Clayton Kershaw into it on short rest, during the Dodgers' 9-1 loss to the Rockies Friday night.
Ryu said the line drive he took off his pitching arm in his previous start had nothing to do with the three homers and five runs he allowed in two innings at Coors Field.
• Dress for October: Get NL West champs gear
"You never want to think that it's one start that determines a player's postseason fate," said Dodgers manager Dave Roberts.
But as he thought about it, Roberts recalled that Ryu's three starts against Colorado this year have amounted to three losses. His ERA this year against the Rockies is 10.50, while the Dodgers are 7-10 against a potential postseason opponent, including five consecutive losses.
"We don't know the opponent," said Roberts, "but there is something to be said for [Colorado] maybe having his number this season."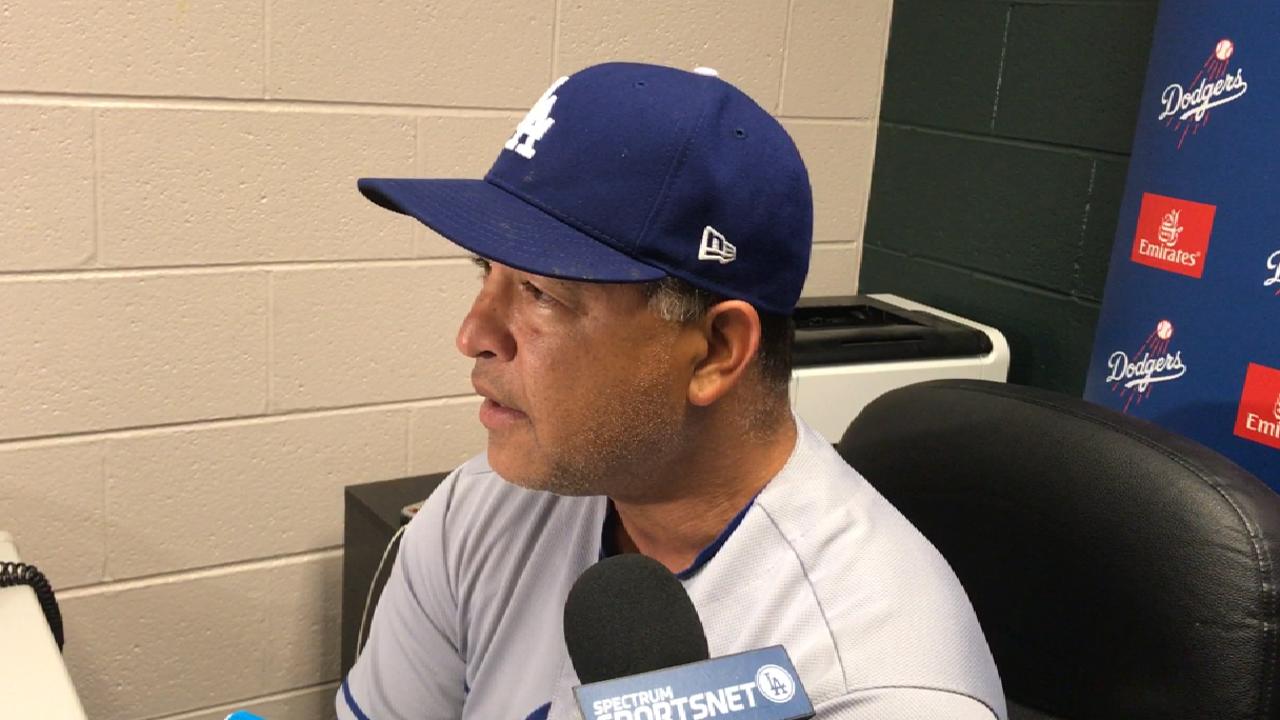 Friday's win reduced Colorado's magic number to clinch the second NL Wild Card spot to one over Milwaukee, which stayed alive in the race with a win on Friday. Read between the lines, and it figures that if the Dodgers face the Rockies, Ryu will be watching, not pitching. And because management is considering bolstering the bullpen by utilizing lefty Alex Wood as an Andrew Miller-ish utility reliever, it figures that a first-round rotation of Kershaw, Rich Hill and Yu Darvish will see Kershaw come back around in Game 4 on short rest, as he seems to do each year.
Ryu's work against the host of the NL Wild Card Game, Arizona, is only somewhat better. He has started twice against the D-backs in the past month, allowing six runs in four innings (as well as three homers) in a loss in Phoenix, then getting a no-decision vs. Arizona in Los Angeles when he allowed one run in six innings despite five walks.
Nolan Arenado, Mark Reynolds and Charlie Blackmon took Ryu deep in this game. Dodgers rookie Walker Buehler, also pitching for a postseason spot, served up a two-run blast to Trevor Story. An unlucky Tony Cingrani was charged with two unearned runs because of third baseman Justin Turner's error and catcher Yasmani Grandal's 16th passed ball. Pedro Baez, Ross Stripling and Brock Stewart -- also on the fringes of October roles -- held the Rockies scoreless during their appearances.
Roberts said Ryu's stuff was solid Friday night, with a fastball touching 94 mph, but his location was off. Ryu also walked Ian Desmond leading off the second inning, and Roberts reiterated how dangerous it is to issue walks and commit errors at Coors Field.
"It's one start, and Hyun-Jin had a tremendous year," said Roberts. "We're going to look at the recency, also what he's done and what makes sense for all of us. He's had a great year and I don't think this outing takes anything away from it."
Ryu wouldn't speculate on the effect Friday night's start would have on his October role.
"I know against the Rockies I don't have a very favorable record," said Ryu. "I just have to think optimistically. I don't know what the next outing will be. I just have to focus one game at a time."
Ken Gurnick has covered the Dodgers since 1989, and for MLB.com since 2001. This story was not subject to the approval of Major League Baseball or its clubs.