Claudio, Jimenez thinking about Puerto Rico
Players concerned about their ravaged homeland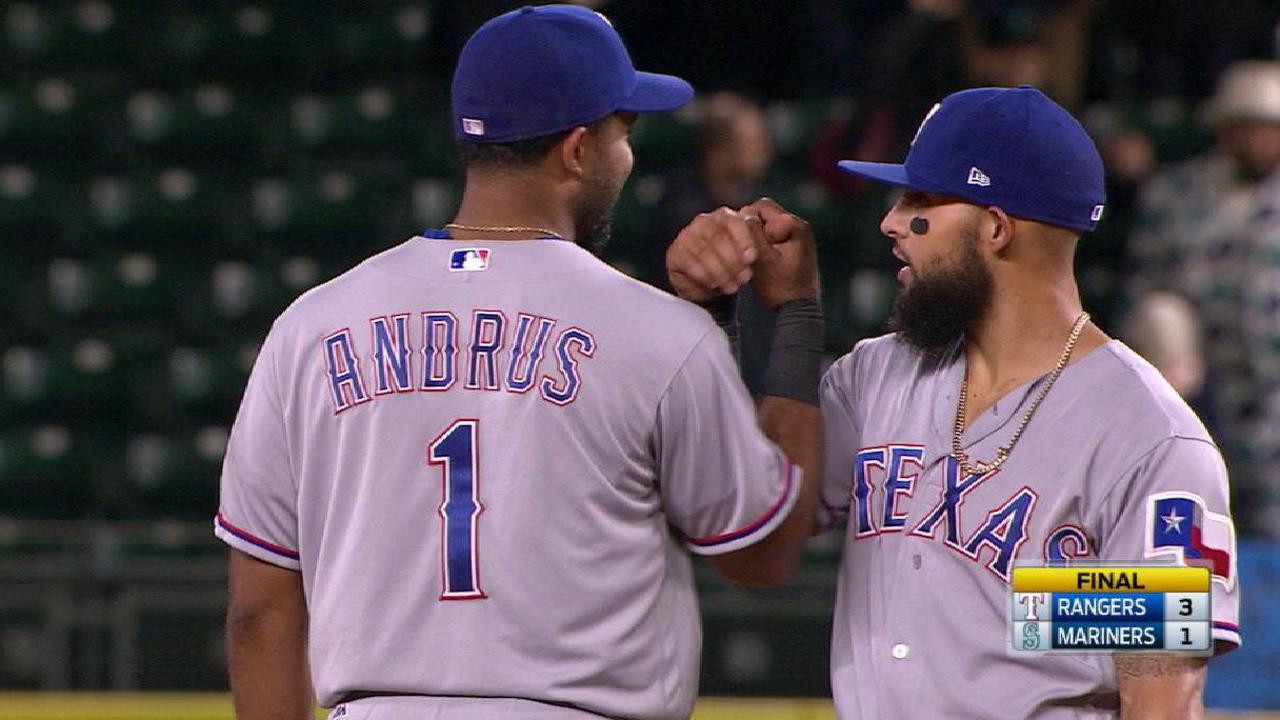 ARLINGTON -- Coming to work is harder than usual these days for Alex Claudio and A.J. Jimenez.
They are the two players on the team who were born in Puerto Rico, and after Hurricane Maria devastated their home, it's tough for them to not think about it. Winds still ravage the island, and more than half of the population is still without water or electricity.
Jimenez is from Bayamon, which is just outside the capital city of San Juan. His parents, girlfriend and older brother were able to fly out and make it to Florida, but his grandmother and brother are still there. They got hit hard, but since Bayamon is so close to the capital, he's been able to stay in contact with his family.
"Communication now is better," Jimenez said. "I'm always in touch, either text or phone calls. But the thing is, you saw right now, no food, no gas, no power. They're safe, but there's a lot of things going on right now."
Claudio is from Juncos, which is farther inland. Getting in touch with his family has been a more difficult task. He talked with his sister on Thursday, but even a 20-minute phone call took between 10 to 20 attempts to connect, he said.
Understandably, keeping their minds on baseball hasn't been easy. Claudio said he does his best to focus on the game while it's going on, but his mind wanders after.
"For me, I try to stay away from that when I'm here," Claudio said. "Because I'm here, and it's not that bad. But of course, I have to do my job here and I try to do it, and when I'm working with a team it's OK. When I finish the game, I think a little bit about it."
Jimenez admits he can't help but think about the damage while the game's going on, despite his best efforts.
"It's not easy when you know your family is needing help down there. You've got to work hard, stay focused on the game," Jimenez said. "But yeah, sometimes my mind is down there, but my body's here. You just try to stay focused. I always think, but I try not to think too much, and just stay focused on baseball."
What has lifted their spirits, though, has been witnessing the outpouring of support and relief aid they've encountered.
One of the biggest suppliers of aid has been Hall of Famer and former Rangers catcher Ivan Rodriguez, a fellow Puerto Rico native. He's been organizing a massive drive to collect food, water, generators, gas and any other items that could be of use, which will be donated to United for Puerto Rico (Unidos por Puerto Rico).
"We've been getting a lot of food, a lot of water, generators and everything. It's almost full of products getting ready to send them to Puerto Rico and also to Florida," Rodriguez said on Thursday. "It's been great. It's been good. Puerto Rico appreciates that very much, the people have been a big help here in the States. We've just got to continue to work hard."
Sam Butler is a reporter for MLB.com based in Dallas. This story was not subject to the approval of Major League Baseball or its clubs.