Harper unlikely to play full game before NLDS
Reliever Kelley not expected to return this season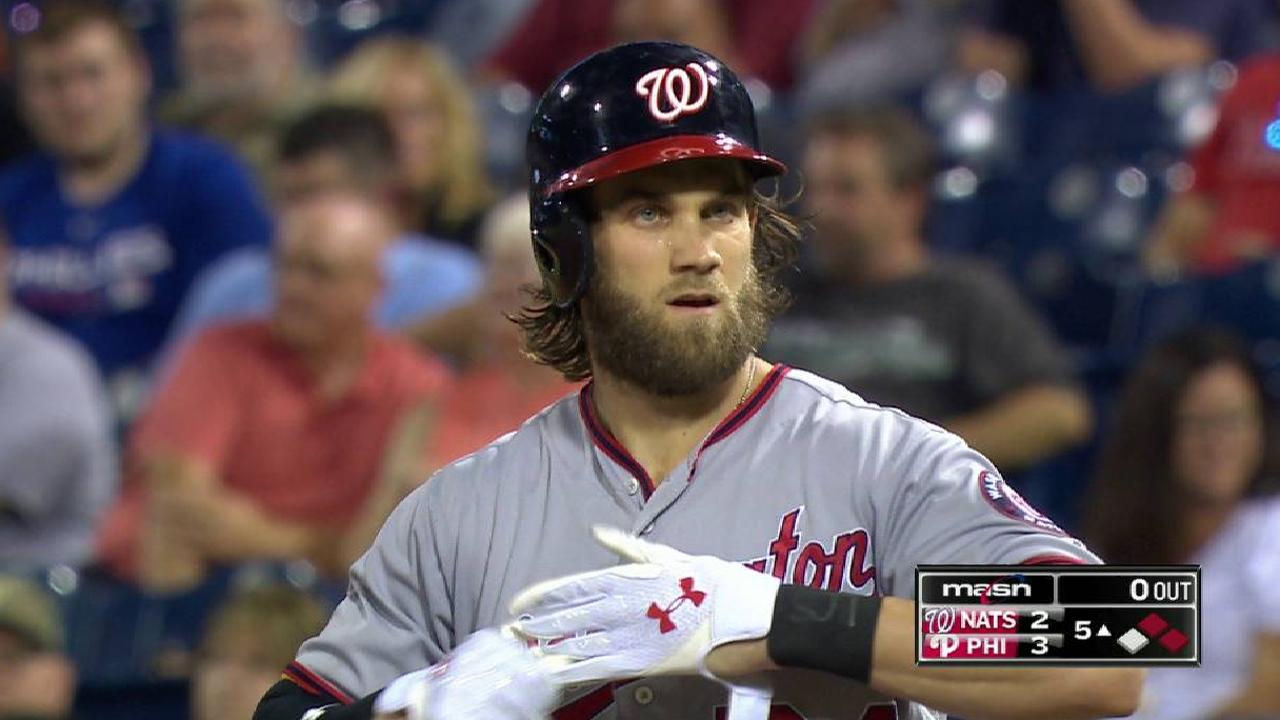 WASHINGTON -- With the regular season dwindling, Nationals manager Dusty Baker acknowledged Friday that Bryce Harper might not have enough time to play for nine innings before the postseason begins.
Harper has played in two games this week since returning from a left knee injury that nearly cost him his season. The Nationals have treated his return this week as a pseudo-Minor League rehab assignment before the team begins the National League Division Series presented by T-Mobile next Friday against the Cubs.
In his return on Tuesday, Harper went 0-for-2 with a walk before he was replaced in right field in the bottom of the fifth inning. On Wednesday, he went 1-for-4 with a single, a run scored and a stolen base before he left the game in the sixth. Those appearances were his only action after missing the previous 42 games. Harper was given the day off Thursday before returning to the lineup on Friday. He went 0-for-4 with two strikeouts and departed after seven innings in the Nationals' 6-1 win over the Pirates.
"Is there time for him to play nine?" Baker asked rhetorically. " Realistically, when do I play him nine?"
A lot of this will depend on how quickly Harper's body recovers. After playing in back-to-back games, Harper said he was a little sore. Combining that with the team's late arrival from Philadelphia on Thursday morning, Baker decided to rest Harper before playing him for the entire weekend.
Baker planned to play Harper six or seven innings Friday, and then see how he recovers from there before they proceed on how to extend him.
"We'll see how he feels," Baker said.
Worth noting
• Although Baker did not reveal any further diagnosis for right-hander Shawn Kelley, who was sent back to Washington this past Saturday to receive further testing on the nerve problem and inflammation in his right forearm, Baker finally announceed that Kelley was not expected to return this season.
Jamal Collier covers the Nationals for MLB.com. Follow him on Twitter at @jamalcollier. This story was not subject to the approval of Major League Baseball or its clubs.