Sano off DL, might be available for WC Game
Twins third baseman to use final weekend for preparation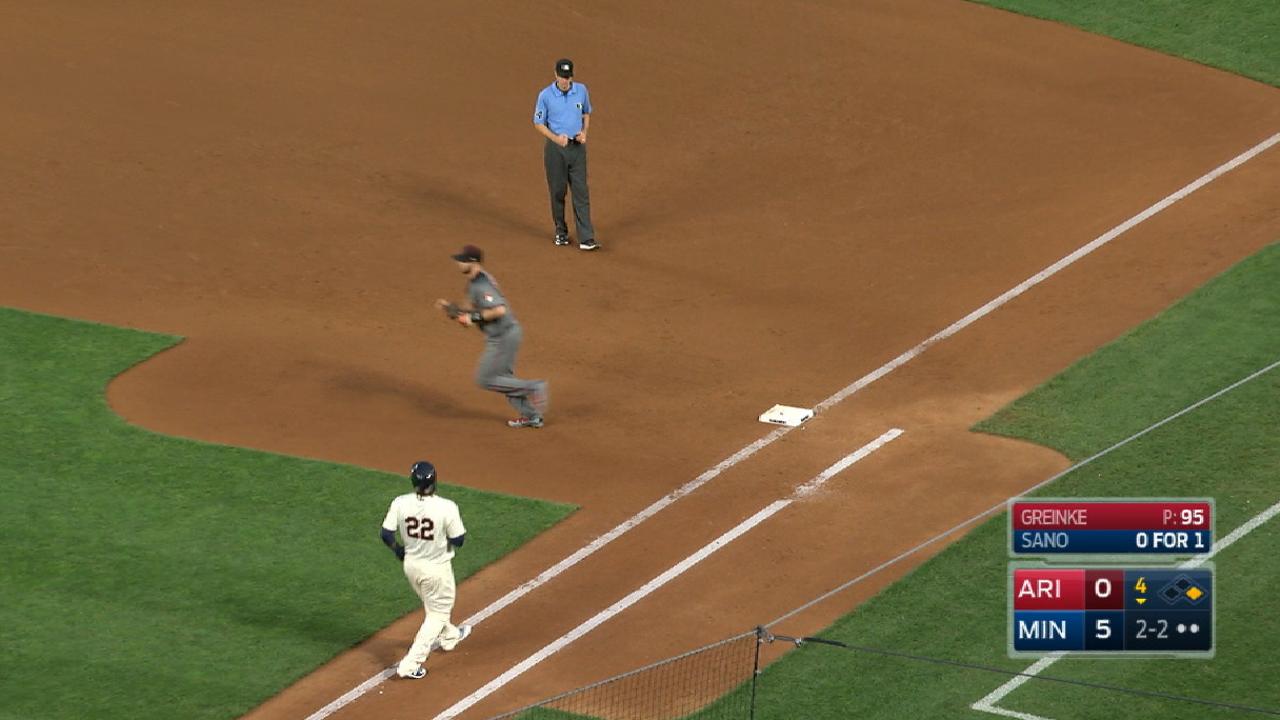 MINNEAPOLIS -- Twins slugger Miguel Sano made his long-awaited return to the plate with a pinch-hit appearance during the seventh inning of the Twins' 6-3 win against the Tigers on Friday.
Sano grounded out to the mound in his lone at-bat in the series opener. He was activated off the 10-day disabled list in a surprise move earlier that day, which could allow him to be on the roster for Tuesday's American League Wild Card Game.
Sano, who has been out since Aug. 19 with a stress reaction to his left shin, hit on the field on Wednesday and Thursday without any issues, and he was activated despite not participating in running drills or seeing live pitching. He visited two specialists last week -- Dr. Martin O'Malley in New York and Dr. Robert Anderson in Charlotte, N.C. -- who cleared him to resume baesball activities. He also ran with minimal pain on Friday, and could pinch-hit Friday and return to the lineup as a designated hitter on Saturday and Sunday to get ready for Tuesday.
"We kind of decided there was really no downside, and there's really nowhere for him to go to try to play or rehab," Twins manager Paul Molitor said. "I think he's finally at a point where some of the apprehension about risk of playing has subsided, and he had a couple of good days of hitting prior to today. The reality is that it's encouraging to some degree, but we have to have some perspective. August 19th? That's a long time not to have faced Major League pitching."
Sano was more optimistic about his ability to make an impact despite not seeing live pitching, but admitted he'd only be available to DH and not play third. It leaves Molitor with a tough decision if Sano's on the roster, as he could have Sano serve as DH over Robbie Grossman in the Wild Card Game or keep him on the bench as a pinch-hit threat.
"I'm available and I'm ready," Sano said. "I've been running harder now. Obviously, it still bothers me a little bit and I'm not 100 percent. But I've been making progress and ran today with minimal pain and know I can play with that pain. So that's no problem."
Sano, 24, was the club's best power threat before the injury, hitting .267/.356/.514 with 28 homers and 77 RBIs in 111 games. Minnesota, though, has played well in his absence, going 21-17 with third baseman Eduardo Escobar batting .252/.300/.517 with nine homers and 28 RBIs in 37 games.
"We have had a nice flow," Molitor said. "Our offense has obviously been really good the last several weeks, minus Miguel. But you are also talking about a pretty rare bat that has a chance to help you. We are going to have to figure out if there is a fit there, and if it's going to make us better."
The Twins are still deciding whether to carry 10 or 11 pitchers in the AL Wild Card Game, but if they opt for 10, they'd only have to leave rookie infielder/outfielder Niko Goodrum off the roster to make room for Sano.
"I don't know how to quantify what I need to see," Molitor said. "I'm going to be looking for timing and pitch recognition, some of those kind of things. Is it fair to do that in five at-bats or eight at-bats, or whatever it is? It's going to be a tough call. There is something about having Sano available [that] I think is very appealing."
Rhett Bollinger has covered the Twins for MLB.com since 2011. Follow him on Twitter @RhettBollinger and Facebook. This story was not subject to the approval of Major League Baseball or its clubs.