Correa raking, posts 2nd straight 4-hit game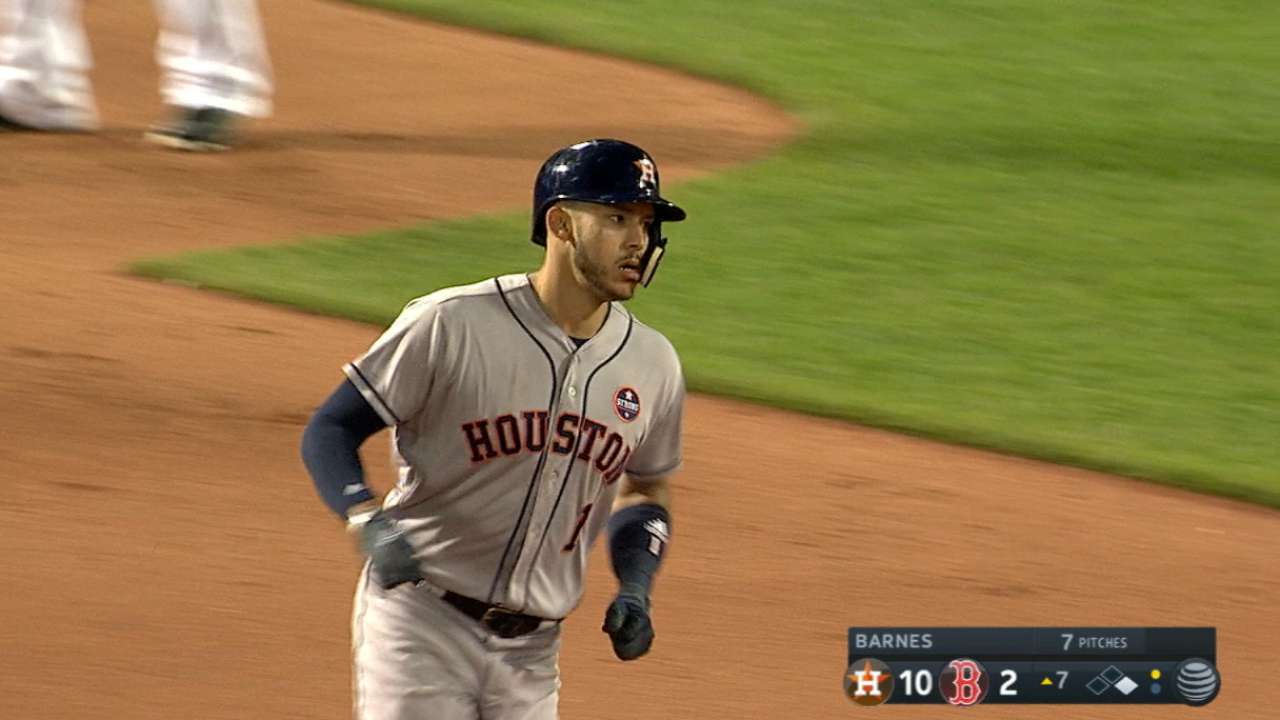 BOSTON -- The final hit of his night was the most impressive for Astros shortstop Carlos Correa, who blasted a pitch from Red Sox reliever Matt Barnes and sent it into the bullpen in right-center field at Fenway Park, an area manager A.J. Hinch later called "big man" territory.
The homer -- his career-high 24th -- capped a second consecutive four-hit game for Correa to lead the red-hot Astros to their 99th win of the season, 12-2, over the Red Sox on Thursday night. The Astros have scored a club-record 49 runs in their past four games, and Correa is a big reason why. He is 11-for-14 with three homers and 10 RBIs in his last three games.
• Dress for October: Shop for official AL West champs gear
"I cannot explain it," Correa said. "I've been hitting the ball where there's no people at. When I was slumping when I got back [from the disabled list], I hit some balls that were right at people, and now I'm hitting some balls hard that are falling. Better approach, swinging better and swing decisions. The team is going, and when you have a great lineup around you, you're going to get good pitches to hit, and I haven't been missing them."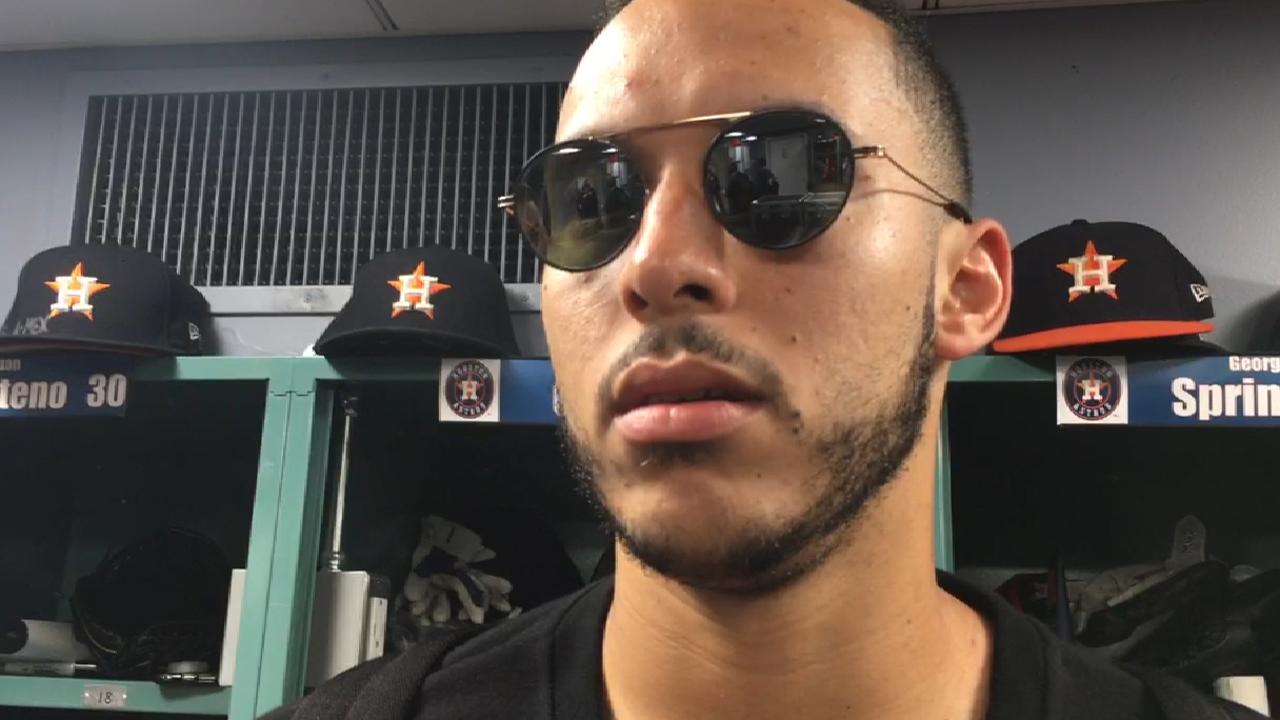 Correa went 4-for-4 on Thursday with two singles, an RBI double and a walk before his seventh-inning homer capped the scoring. He went 4-for-5 with two home runs on Wednesday against the Rangers in Arlington.
"He's pretty direct to the ball," Hinch said. "He's getting pitches to hit and not missing them. He's focused on hitting the ball on a line, and he's getting some loft on it and the ball's carrying out of the ballpark. He's tracking the ball very well. He's hitting the ball at the right depth. He's swinging at strikes. As they've pounded him in, he's gotten the head out and hit some balls to left field. He's always had power to right-center field. He's covering the plate on whatever his plan is."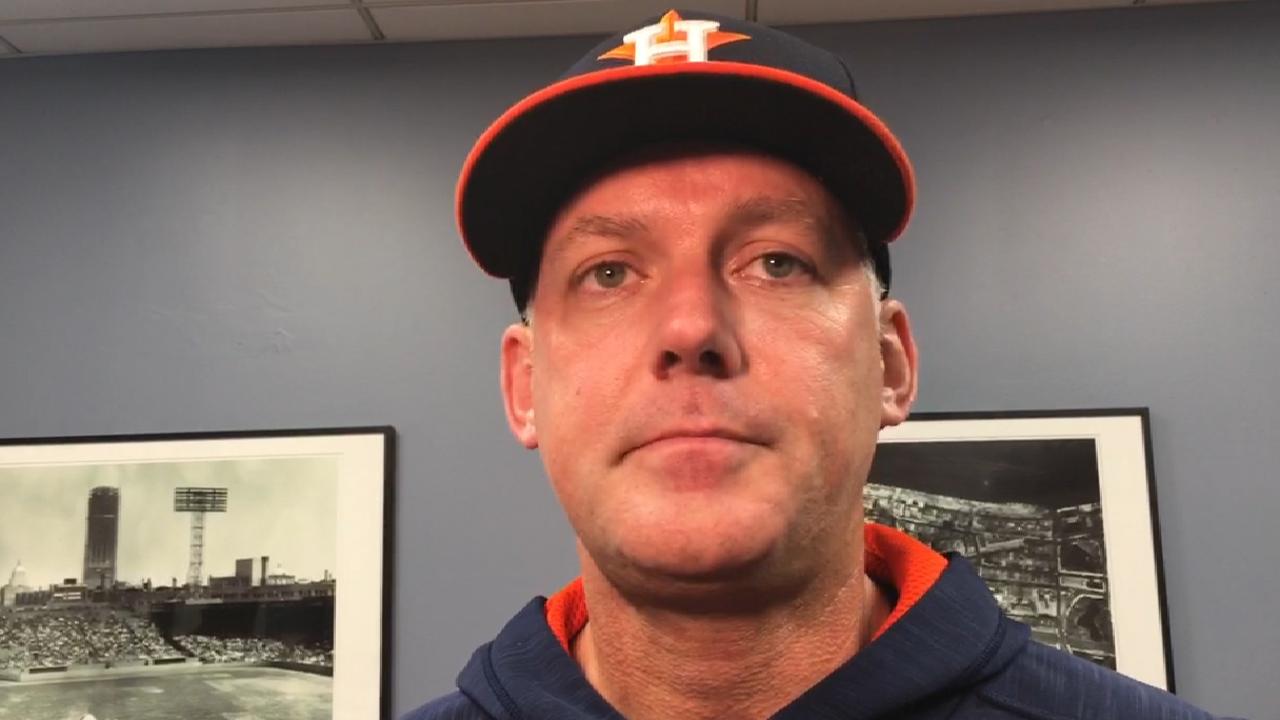 Correa had put himself in the American League Most Valuable Player Award race at the All-Star break with a monster first half that earned him his first All-Star Game start, but he tore a ligament in his left thumb swinging a bat July 17 and missed six weeks following surgery.
In his first 66 at-bats after coming off the disabled list Sept. 3, Correa struggled at the plate. He hit .182 (12-for-66) with one homer and four RBIs, but he is 15-for-25 (.600) with three homers and 13 RBIs in his last six games. All eyes will be on Correa and the Astros when they begin the postseason next week on Thursday in the AL Division Series presented by Doosan.
"It's impressive because he's getting comfortable," Hinch said. "His timing is getting better. We're going to look forward to these kinds of at-bats. He's a big-time player."
Brian McTaggart has covered the Astros since 2004, and for MLB.com since 2009. Follow @brianmctaggart on Twitter. This story was not subject to the approval of Major League Baseball or its clubs.