MLB.com Columnist
Jonathan Mayo
How the 10 postseason teams were built
Analyzing clubs' use of Draft, trades, free agency and international signings to reach the playoffs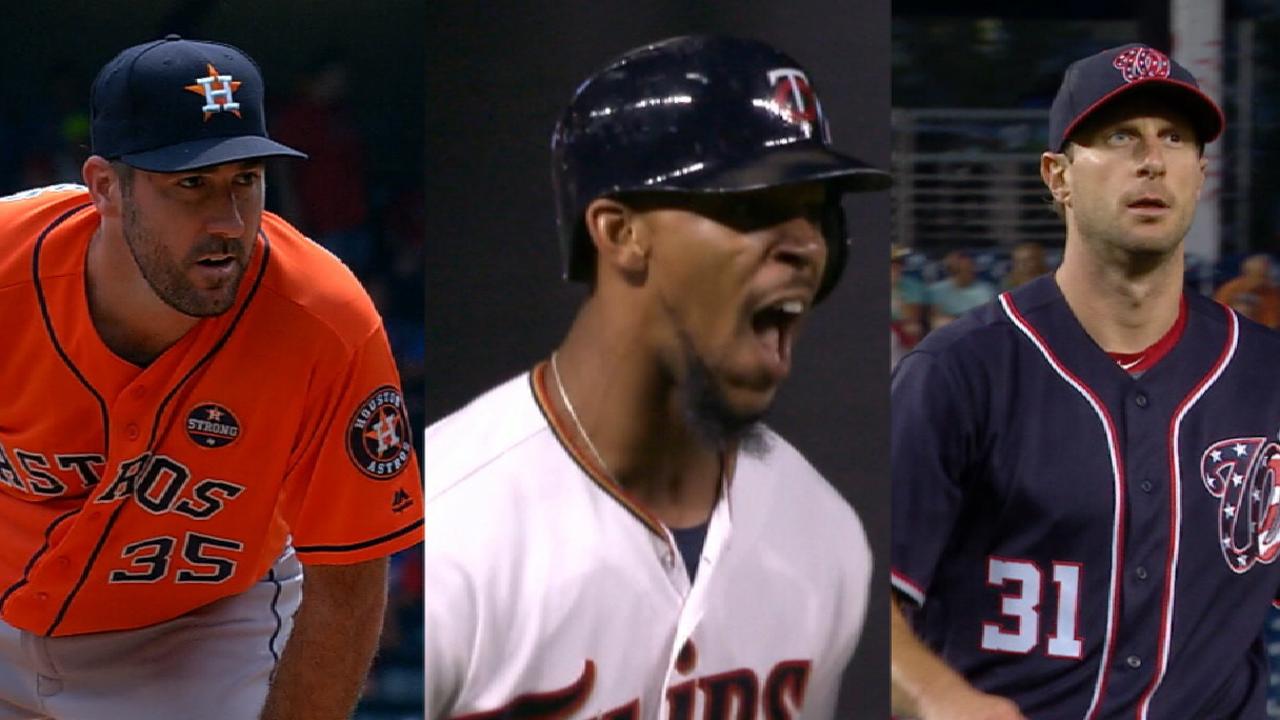 MLBPipeline.com is breaking down how each of the postseason teams was built, looking at the composition of Division Series rosters.
Building a winning team can be done in any of a number of ways.
Just take a look at last year's two World Series clubs. The champion Cubs had just five homegrown players, players drafted and/or signed originally by them, five free-agent signings and 15 players acquired via trade, waivers or the Rule 5 Draft.
The Indians, on the other hand, had nearly twice as many homegrown players (nine), just three free-agent signings and 13 from the trade/waivers/Rule 5 route. A quick historical scan of other World Series clubs assuredly provides equally diverse roster makeups.
Both the Cubs and Indians are back in the postseason and hope for a rematch, with somewhat similar breakdowns to their potential playoff rosters. The other eight teams hoping to be the last team standing have all gotten there with varying approaches.
Teams love to be able to develop from within, and it's generally believed that the smaller market or revenue teams must do so in order to repeat. The Twins have taken that to heart, with their 14 homegrown players easily leading all of the other clubs. The Indians are next with 11, while the Rockies have 10 homegrown players.
Ten of the Twins' 14 have come from the Draft, with first rounders as far back as 2001 (Joe Mauer) and as recently as 2014 (Trevor Hildenburger). The 2012 Draft has been particularly fruitful, providing Byron Buxton, Jose Berrios, Tyler Duffey and Taylor Rogers. The Rockies are next among Draft-heavy clubs, with eight original draftees on their postseason roster.
The Dodgers and Twins lead all clubs with four international signees apiece, followed by the Indians and Yankees, who both have three. That includes marquee names like Yasiel Puig for Los Angeles and Jose Ramirez in Cleveland.
The Cubs remain on the other side of the pendulum with six homegrown players (Ian Happ added to their total), tied with the D-backs. Five of the six Cubs came via the Draft and all six of Arizona's homegrown players came the same way.
Having a high homegrown pool doesn't mean it was necessarily the most productive. The Twins' 14 homegrown players compiled a combined 25.9 WAR, but that total would actually place them third among postseason teams. The Astros and their nine homegrown players lead the pack at 32 and the Yankees are second at 27.2. The Rockies (25.6) and Nationals (nine players, 24.3 WAR) round out the top five.
Teams without a ton of players developed from within, obviously, built rosters via trades, waiver claims or free agency. The Dodgers lead the way in players acquired via trades or wavers, with 14, with the Cubs and Red Sox next at 13. The Indians have 12 (one via waivers), as do the Yankees, while the Astros have 11. Houston has two waiver claims (Cameron Maybin and Will Harris) on the roster and, of course, perhaps the biggest name traded this summer, Justin Verlander. The Dodgers run a close second with the acquisition of Yu Darvish.
Again using WAR as a guide, with players traded this year only having the WAR they've accrued with their new team, the Indians lead by a wide margin at 31.7, thanks largely to Corey Kluber (8.0) and Carlos Carrasco (5.4). The Yankees are a distant second at 21.6, while the Cubs (21.5), Dodgers (20.8) and D-backs (20.2) are the other teams over 20.
No playoff team has used the free-agent market more than the D-backs with nine, though the Nationals are right on their heels with seven. The Nats' free agents have accrued more WAR, 12.3, to the D-backs' 10.3. For both teams, it's been a big free-agent pitching signing leading the way. In Washington, it's Max Scherzer (7.2), while Arizona has Zack Greinke (6.1).
If you're one who thinks WAR is an indicator of which team will win it all, here's how the overall rosters stack up:

1. Astros, 55.3
2. Indians, 54.6
3. Yankees, 54.4
4. Nationals, 50.2
5. Dodgers, 48.9
6. D-backs, 45.9
7. Cubs, 44.6
8. Red Sox, 41.1
9. Rockies, 40.0
10. Twins, 38.9
Using that as a guide, the postseason should look something like this:
AL Wild Card Game: Yankees beat Twins
ALDS: Astros beat Red Sox
ALDS: Indians beat Yankees
ALCS: Astros beat Indians
NL Wild Card Game: D-backs beat Rockies
NLDS: Nationals beat Cubs
NLDS: Dodgers beat D-backs
NLCS: Nationals beat Dodgers
World Series: Astros beat Nationals
Jonathan Mayo is a reporter for MLBPipeline.com. Follow him on Twitter @JonathanMayo and Facebook, and listen to him on the weekly Pipeline Podcast. This story was not subject to the approval of Major League Baseball or its clubs.