Norris looking forward to healthier '18 season
Tigers left-hander finishes '17 hampered by groin issue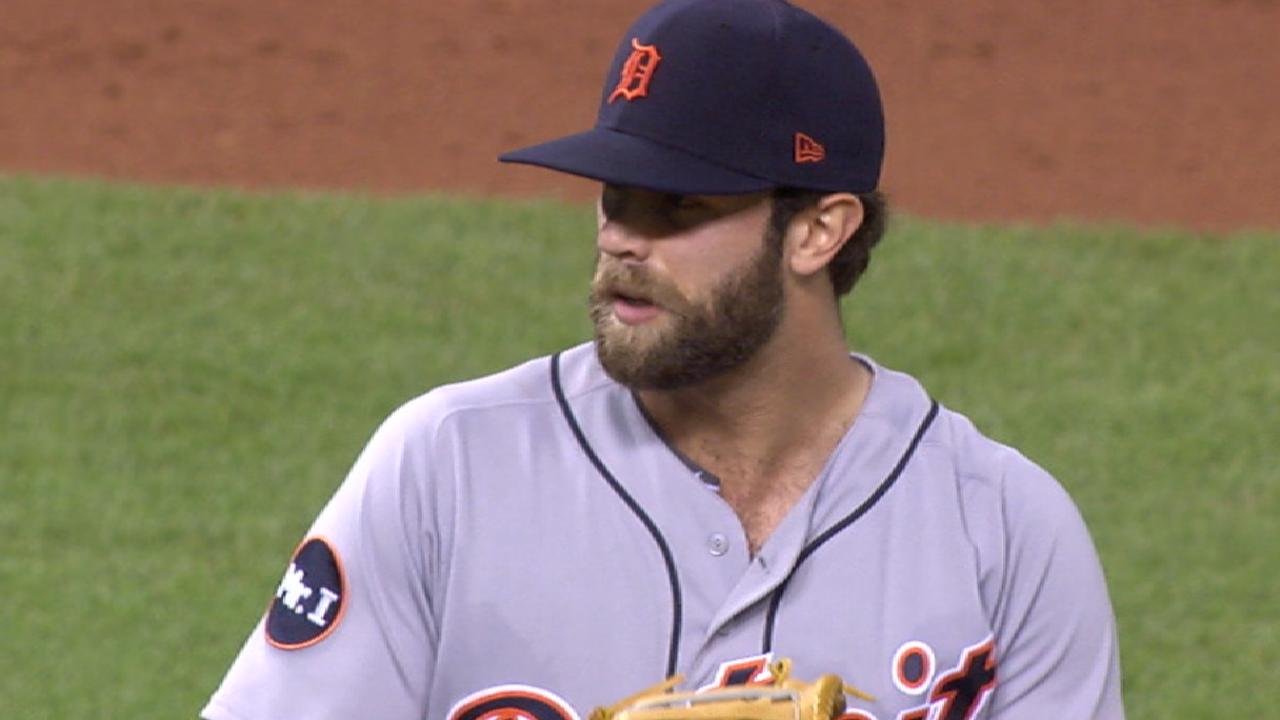 KANSAS CITY -- The Tigers entered Thursday having not won a game since Matthew Boyd's no-hit bid 11 days earlier. Left-hander Daniel Norris feels the struggles and wants to do his role, which is partly why he was so insistent on staying in his start against the Royals when manager Brad Ausmus and head athletic trainer Kevin Rand visited the mound in the fourth inning to check on his groin injury.
But there was an individual aspect, too, to Norris' five scoreless innings in a 4-1 win at Kauffman Stadium. He was frustrated that the injury bug had bitten him once again, and Norris wanted to go out on his terms. And that's why he wasn't reveling in helping end the Tigers' nine-game losing streak to ensure they won't suffer a 100-loss season.
Norris went five innings with just two hits allowed, but with just 54 pitches, he wanted to go deeper into his last start of 2017. But by the time he finished the fifth, he wasn't even walking well. His delivery was shorter and quicker, but Norris could feel his legs tighten. He walked off the mound, rather than being pulled, but Norris knew he was done, hobbled by the same injury that forced him onto the disabled list at the All-Star break and never completely went away.
"It was nice to go out there and not give up any runs," Norris said, "but I think at the forefront of my mind is just the groin right now. ... I want to get it done with. I want to stop thinking about it and just be able to work out and get things right. That's my focus right now.
"It's hard to explain what it's like to pitch not at 100 percent. Obviously, you're not going to be 100 percent every time. Some days, your arm's not going to feel right, whatever, or maybe you're tired. But for the last 2 1/2 months of the season, it's been this groin. And it's like, why won't it just go away? I feel like I'm doing everything to get it right, and it's just still there. Especially tonight, it's probably the worst I've felt it. I just want it to go away and not come back."
After a few weeks off in October, Norris plans to visit a facility in California that Anibal Sanchez used last offseason to help get over his injuries. Norris will work out there for a while, then leave with a workout plan to address the groin, back and oblique issues that have hampered him the last two-plus seasons.
If Norris is healthy, he believes he can be the front-line pitcher the Tigers need him to be in their rebuilt rotation.
"For me, there's not really a doubt," he said. "I just have to be healthy. That's my main focus this offseason.
"Even at the end of last year, I was able to pitch well and throw strikes, and it wasn't really a problem for me. This year it was just all these lingering injuries, it was tough to repeat my delivery because of the way my body was feeling. That's my main goal this offseason is to just kind of dial that in and just get it out of the way to where it's not in the forefront of my mind every time I'm throwing a baseball."
Jason Beck has covered the Tigers for MLB.com since 2002. Read Beck's Blog, follow him on Twitter @beckjason and Facebook. This story was not subject to the approval of Major League Baseball or its clubs.