Inbox: Is Tapia on tap for Wild Card Game?
Beat reporter Thomas Harding answers questions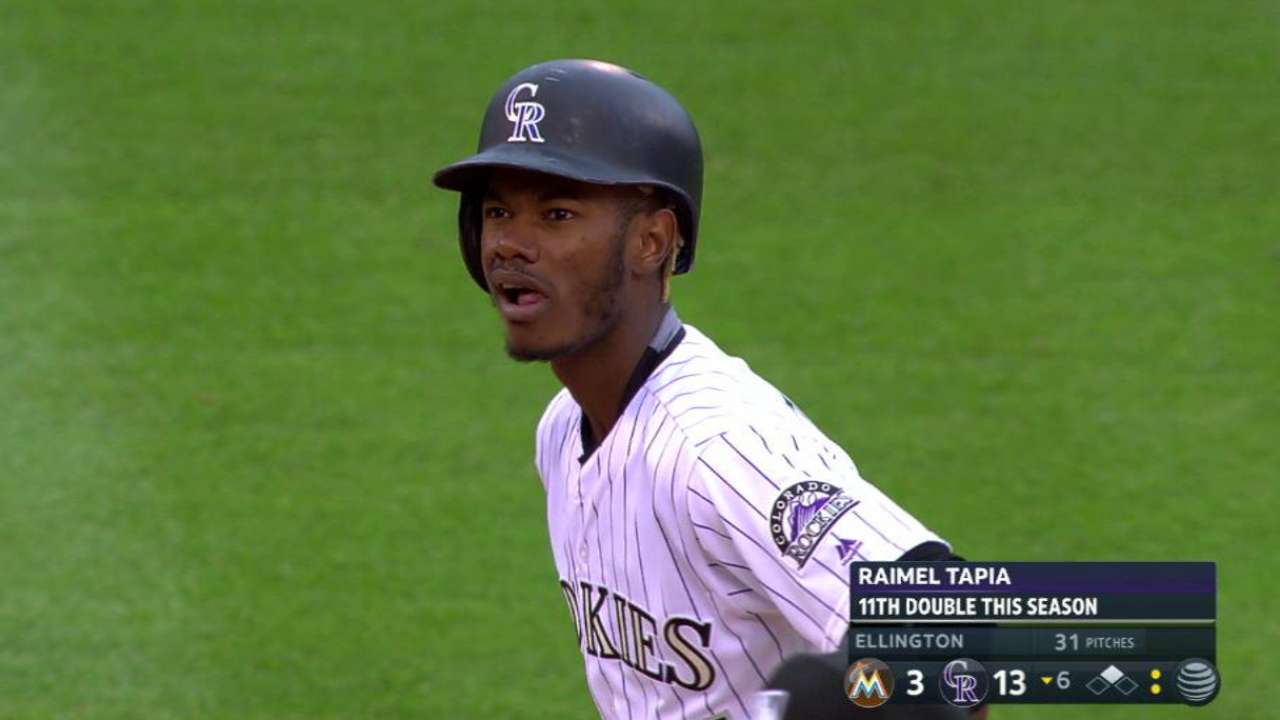 DENVER -- Not comfortable answering today, but you asked.
The Rockies are close to securing the second National League Wild Card, which would mean a playoff game Wednesday at Arizona, which has the top Wild Card spot. The winner would meet the Dodgers in the NL Division Series presented by T-Mobile starting Oct. 6. But the Rockies have to make it there first.
• Submit a question to Rockies Inbox
But, hey, that's the Rockies' job. That said, many of the questions I took for the Edward Jones Beat Reporter's Inbox are based on the team playing beyond the regular season.
• Wild Card standings | Division standings
@Gooorox22: Has Raimel Tapia gained enough trust from Bud [Black] to be the main pinch-hitter in the Wild Card Game should they make it?
@harding_at_mlb has Raimel gained enough trust from Bud to be the main pinch hitter in the Wild Caes Game should they make it.

- Connor Smith (@Goooorox22) September 28, 2017
Teams set a one-day roster for the Wild Card, and for me Tapia and Mike Tauchman would be useful for that event, simply because of their speed.
As for Tapia specifically, he has four hits in his last eight pinch-hit at-bats. Should the Rockies prevail against the D-backs, one of manager Bud Black's toughest decisions will be determining if Tapia can fit onto the roster for the NLDS.
@Ivan2765: Who gets the ball in the Wild Card Game?
It would be hard not to give the ball to righty Jon Gray. Not only is he 4-0 with a 2.10 ERA in his last five starts, but he is 2-0 with a 2.77 ERA and 20 strikeouts against one walk in two starts against the D-backs at Chase Field this season.
However, if the Rockies need a win in Sunday's regular-season finale against the Dodgers, there's a possibility Black will bring back Gray on short rest. The temptation is understandable, Sunday is the turn for lefty Tyler Anderson, who blanked the Marlins for seven innings in his last start and has a 1.19 ERA in four games (three starts), with 18 strikeouts against three walks, since his Sept. 11 return from left knee surgery.
Whoever doesn't pitch Sunday would most likely pitch Monday should a tie-breaker need to be played to determine the Wild Card.
But the Rockies can take care of that by simply winning enough to allow Gray to pitch in the Wild Card Game.
@sabres4love: Ian Desmond is clearly starting now. But doesn't seem ready for first base. Is he now starting left field? What about playoffs if they get in?
Desmond had a wild throw with the bases loaded after an ill-fated decision to step on first instead of immediately throwing home on Saturday at San Diego, and a difficult play in left field Monday. But on the whole, he has been adequate at both spots, plus he has hit .344 with two homers and six RBIs in his last nine games.
But the Wild Card Game with the D-backs brings some tough decisions. Desmond is 3-for-22 career against likely D-backs starter Zack Greinke; however, he has gone 2-for-6 this season.
Whether to put Desmond at first base or in left field, or not start him, becomes interesting. First baseman Mark Reynolds is just 7-for-36 (.194) with 14 strikeouts against Greinke -- but has four home runs.
Gerardo Parra, clearly the best defensive option in left, is 12-for-41 (.293) with a double against Greinke, but his bat would have to show more life this weekend against the Dodgers. Parra is in a 1-for-21 skid, and is 18-for-90 (.200) in his last 23 games.
@drumstick342: Assuming Rockies end up snagging the WC2 spot in the coming days, does Buddy have a shot at NL Manager of the Year?
Black, the D-backs' Torey Lovullo, the Brewers' Craig Counsell and the Dodgers' Dave Roberts are on my list. I include Roberts because of the otherworldly record for most of the year, but Black, Lovullo and Counsell took teams that were also-rans last year and made them contenders.
The two NL West Wild Card managers present a fine debate. In 2016, The D-backs (69-93) finished below the Rockies (75-87), although they did have pitching in place. Black took over a team with a feared lineup, but had four rookies in the starting rotation most of the year.
Thomas Harding has covered the Rockies since 2000, and for MLB.com since 2002. Follow him on Twitter @harding_at_mlb and like his Facebook page. This story was not subject to the approval of Major League Baseball or its clubs.