MLB.com Columnist
Jonathan Mayo
How they were built: Dodgers
L.A. makes long awaited return to World Series on back of impressive core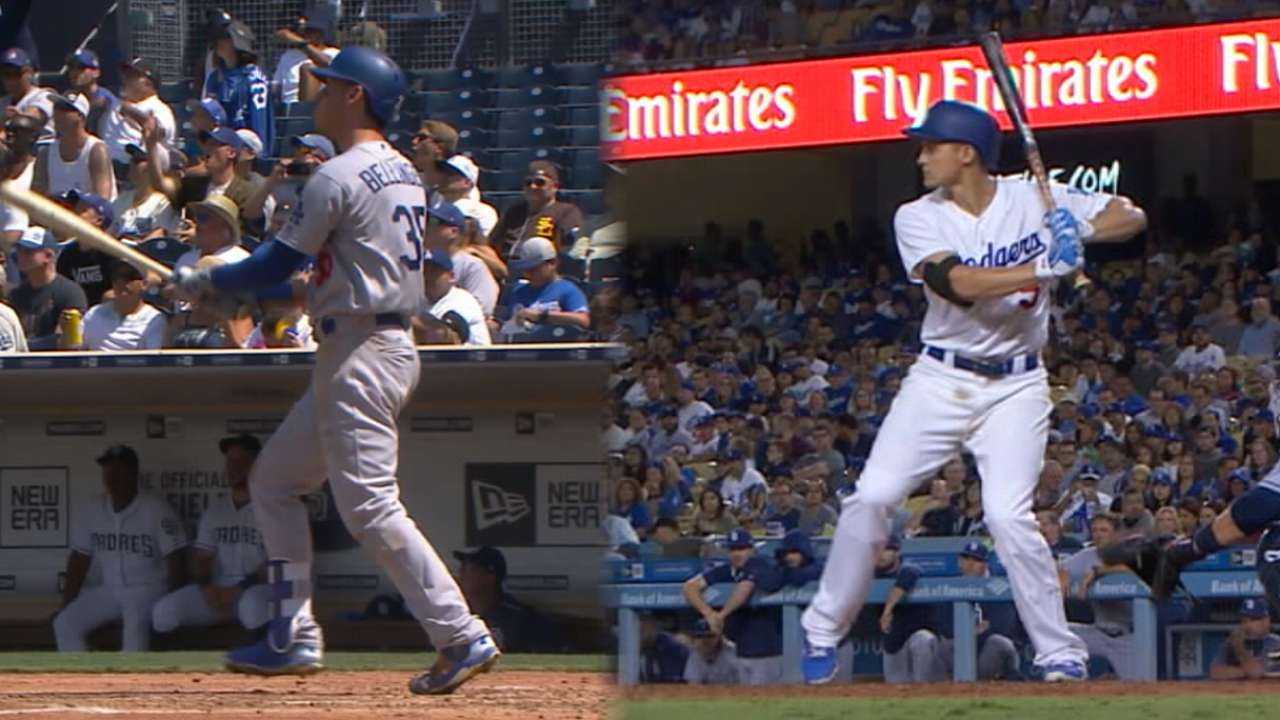 MLBPipeline.com breaks down how each postseason team used the Draft, the international market and free-agent signings to build its team.
Much had been made of the Los Angeles Dodgers' inability to make it to the World Series in recent years, let alone win it. Last year, they made it to the National League Championship Series after two years in a row of getting bounced in the Division Series.
That talk should now dissipate, though focusing on postseason futility distracts from what the organization has managed to accomplish for the past five years. The Dodgers won the NL West for the fifth season in a row in 2017, making them just the ninth team in history to make five (or more) consecutive trips to the playoffs.
"Each season we have a regular-season goal, which we've been fortunate to accomplish with this five-year run that helps you accomplish your ultimate goal," said Andrew Friedman, the Dodgers' president of baseball operations, who came aboard following the 2014 season, the second year in this run. "We've come up short on that front and that's something all of us are working hard together on to accomplish. All of us really want to deliver a world championship to who are, in our opinion, the best fans in sports."
A good amount of the key personnel making up the Dodgers' core during this run is still on the roster. There is an expectation every year they'll be standing right where they are. That culture, where the first language spoken in the clubhouse is winning, makes it easier for any additions to fit in.
"I remember a week after we traded for Tony Watson, I went up to him and asked him if he was acclimating well," Friedman said. "He said it couldn't be any easier and was blown away that every single guy is focused on how to win that night's game. He said, 'It's incredible and it makes it easy to seamlessly transition and join in the conversation.'"
HOMEGROWN

Player, how acquired, year, 2017 Baseball-Reference WAR (21.6):
Kenley Jansen, Int'l sign, 2004, 2.9
Clayton Kershaw, Draft, 2006 (1st), 4.6
Joc Pederson, Draft, 2010, (11th), -0.4
Yasiel Puig, Int'l sign, 2012, 3.7
Corey Seager, Draft, 2012 (1st), 5.6
Ross Stripling, Draft, 2012, 0.5
Cody Bellinger, Draft, 2013 (4th round), 4.2
Kenta Maeda, Int'l sign, 2016, 0.5
In 2016, Seager turned his first full Major League season into a Rookie of the Year campaign, then followed that up with an All-Star season in 2017. This year, it was Bellinger's turn, and in some ways, his sure-to-be Rookie of the Year turn was even better than Seager's.
That evaluation goes beyond just statistics, where Seager's rookie WAR of 5.6 bests Bellinger's 4.2. But Bellinger didn't even start the year in the big leagues, and then was called upon to step in to fill very large holes at first base and in the outfield.
"We expected Cody to debut this year, but this was well beyond what we imagined in terms of the amount of time up, A, and B, the impact," Friedman said. "We were extremely high on him as a prospect coming up, but there's that last-mile challenge, when he goes from the minors to the major leagues, that you can't simulate in any way. There's that unknown.
"Pretty early on, we had a pretty good feel that this was different and unique with how he was able to make adjustments on the fly. The impact he's had in the batter's box is obvious. His athleticism and versatility, along with how well he's fit in the clubhouse have had an impact, too."
TRADES/WAIVERS

Player, year, acquired from, bWAR (21.1):
Austin Barnes, 2014, Marlins, 2.6
Tony Cingrani, 2017, Reds, 0.1
Yu Darvish, 2017, Rangers, 0.6
Andre Ethier, 2005, Athletics, -0.1
Josh Fields, 2016, Astros, 0.8
Logan Forsythe, 2017, Rays, 1.8
Yasmani Grandal, 2014, Padres, 2.2
Enrique Hernandez, 2014, Marlins, 1.4
Rich Hill, 2016, A's, 2.2
Chris Taylor, 2016, Mariners, 4.8
Chase Utley, 2015, Phillies, 1
Tony Watson, 2017, Pirates, 0.4
Alex Wood, 2015, Braves, 3.3
Because the Dodgers kind of ran away and hid in the NL West this season, they had some time to really look at what pieces they might need at the Deadline to help them prolong their run in October. This is a front office that's not afraid to tinker while continuing to win, as evidenced by the fact that 14 players on the roster came via trade, the most of any postseason team.
The first thing on the wish list was left-handed relief help. The losses of Grant Dayton and Adam Liberatore to injury made that a necessity and the Dodgers felt fortunate to bring in the Tonys, Watson and Cingrani, both of whom have pitched well down the stretch and in the postseason.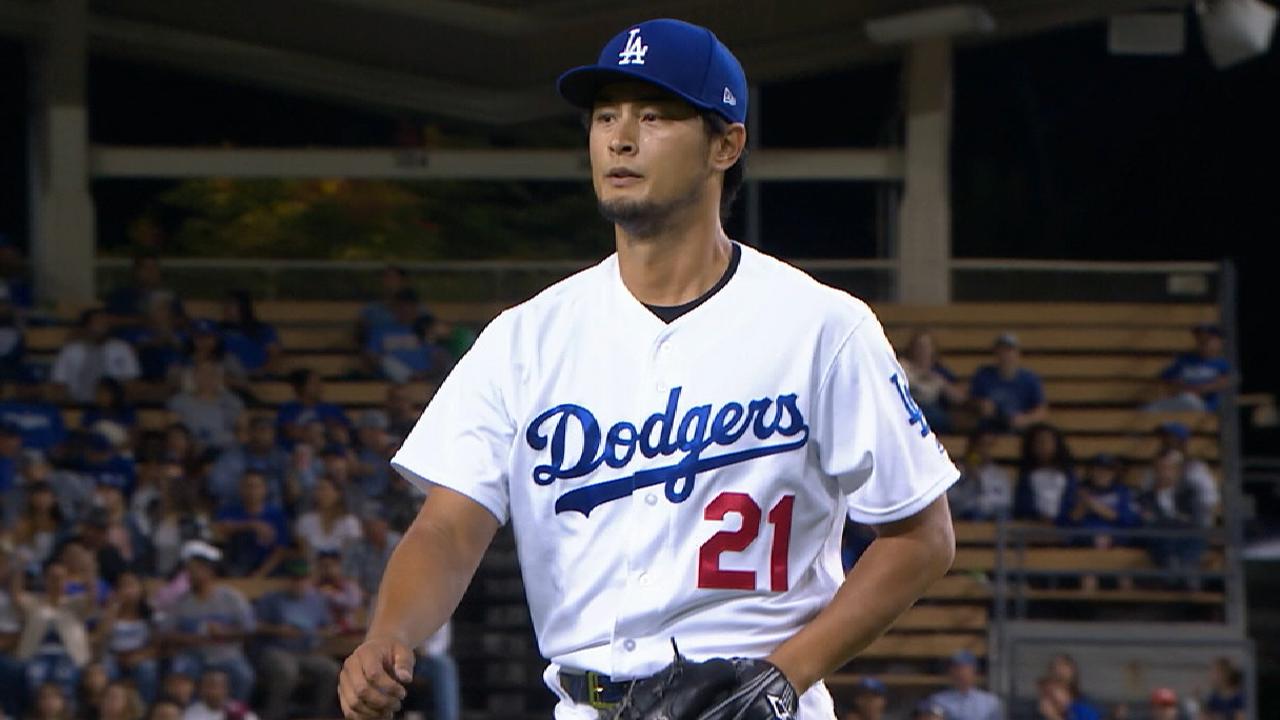 "Watson has been high on our radar for a while and we checked in periodically with the Pirates about him," Friedman said. "He is a master of inducing weak contact and he's a great competitor and teammate. He's been a big part of our continued success and is going to help lengthen our bullpen in October.
"Cingrani, some of our scouts really liked. And talking to some of our big league hitters, they talked about what an uncomfortable at-bat it was against him. The combination of that made him attractive. We've seen another gear from him."
While taking care of that primary need, the Dodgers were keeping an eye out for anything bigger that might come available. Seemingly last minute, that player surfaced in the form of Yu Darvish, who was really sharp right at the end of the season, something that carried over into the playoffs.
"We went into July with the mindset of focusing on impact-type talent," Friedman said. "To the extent we were able to line up on it, we would be aggressive in doing that. Our most acute need was left-handed relief, but if there was someone who could impact us in October … and Yu fits that perfectly.
"He's done a tremendous job of acclimating, his teammates love him. He's a great competitor. He's tuned up his delivery with [pitching coach] Rick Honeycutt and that's taken hold. In his last three starts, he's looking like a guy who can really impact the game in October."
FREE AGENTS

Player, year, bWAR (7.6):
Brandon Morrow, 2017, 1.1
Justin Turner, 2014, 5.7
Charlie Culberson, 2015, 0.1
Brandon McCarthy, 2014, 0.7
As much as the Dodgers are a big-market team, they have not been active on the big league free-agent market. They've used their resources on the international market as well as for long-term extensions for players they already have.
But it was a smaller free-agent signing, made before the 2014 season by the previous regime, that might stand out the most. Justin Turner looked like a veteran utility type when he signed a $1 million contract for the 2014 season. He was a part-time player that year, but one who hit .340. Friedman and company took over and Turner morphed into a big league regular and hasn't looked back since.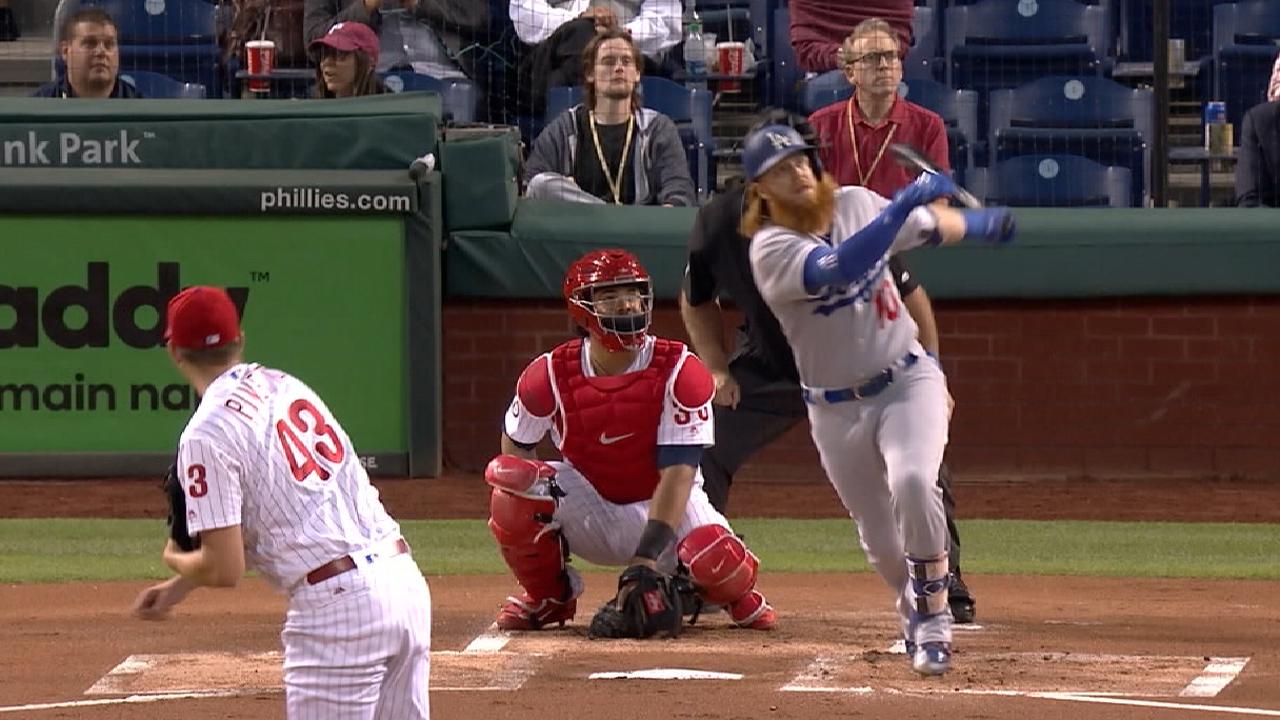 He was a free agent after the 2016 season, but this time got a contract worthy of his production, a four-year, $64 million deal. He's responded with an All-Star season and several career highs offensively. Prior to coming to the Dodgers, Turner's career WAR was 0.8. Since donning Dodger blue, he has amassed an 18.8 WAR.
"It's a testament to him," Friedman said. "He went to work on his swing, was able to find one that really worked well for him and his body. He's been able to lock that down and just do maintenance on it. He's turned into one of the best hitters in the National League."
Jonathan Mayo is a reporter for MLBPipeline.com and writes a blog, B3. Follow @JonathanMayo on Twitter. This story was not subject to the approval of Major League Baseball or its clubs. This story was not subject to the approval of Major League Baseball or its clubs.