Romano closes out eye-opening rookie season
Once viewed as a bullpen arm, right-hander now firmly in mix for 2018 rotation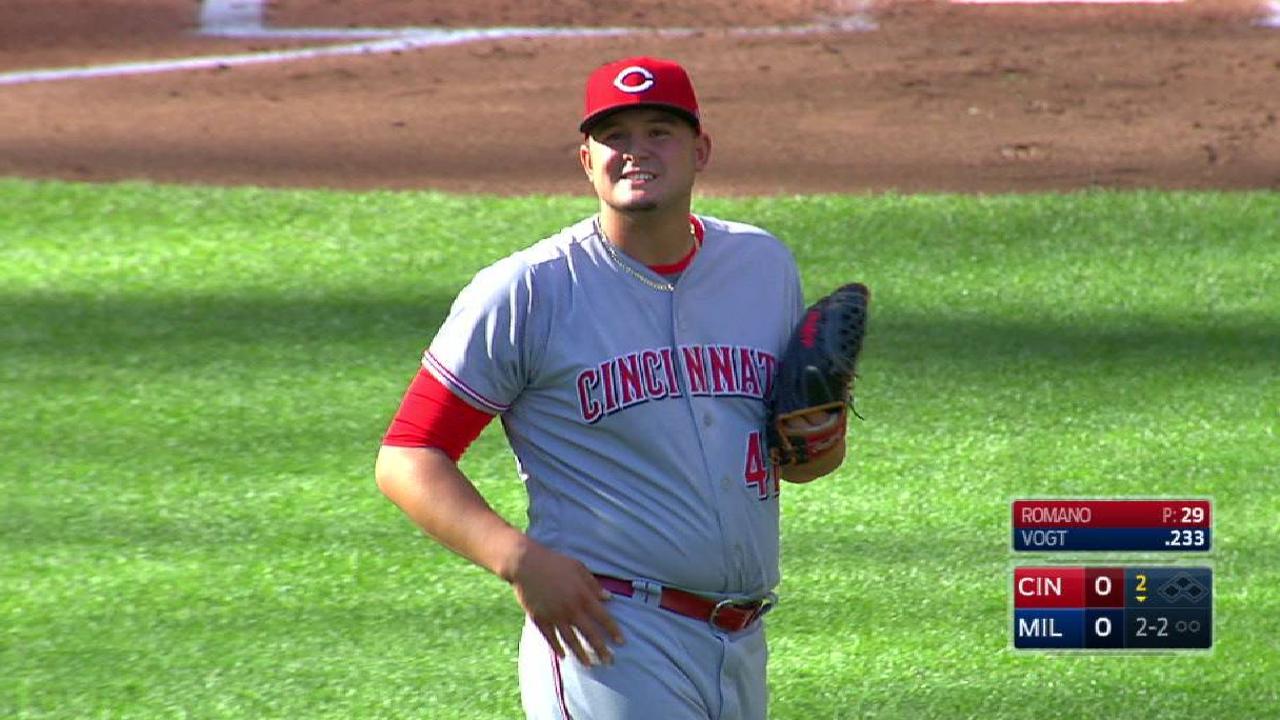 MILWAUKEE -- No, the bottom of the sixth inning did not work out for the Reds how manager Bryan Price or pitcher Sal Romano would have wanted. But it meant something to the rookie starter that he was even given the chance to continue in the game.
Romano had 94 pitches going into the sixth and got two outs before a walk and Brett Phillips' RBI double provided the difference in a 4-3 loss to the Brewers on Thursday at Miller Park.
"I thought he pitched his tail off. In that situation for him to go back out there for the sixth, really, unless his pitch count got him, I saw that as his game until they scored," Price said.
Romano finished with 113 pitches and allowed four runs (three earned) on seven hits over 5 2/3 innings. He walked two and struck out seven.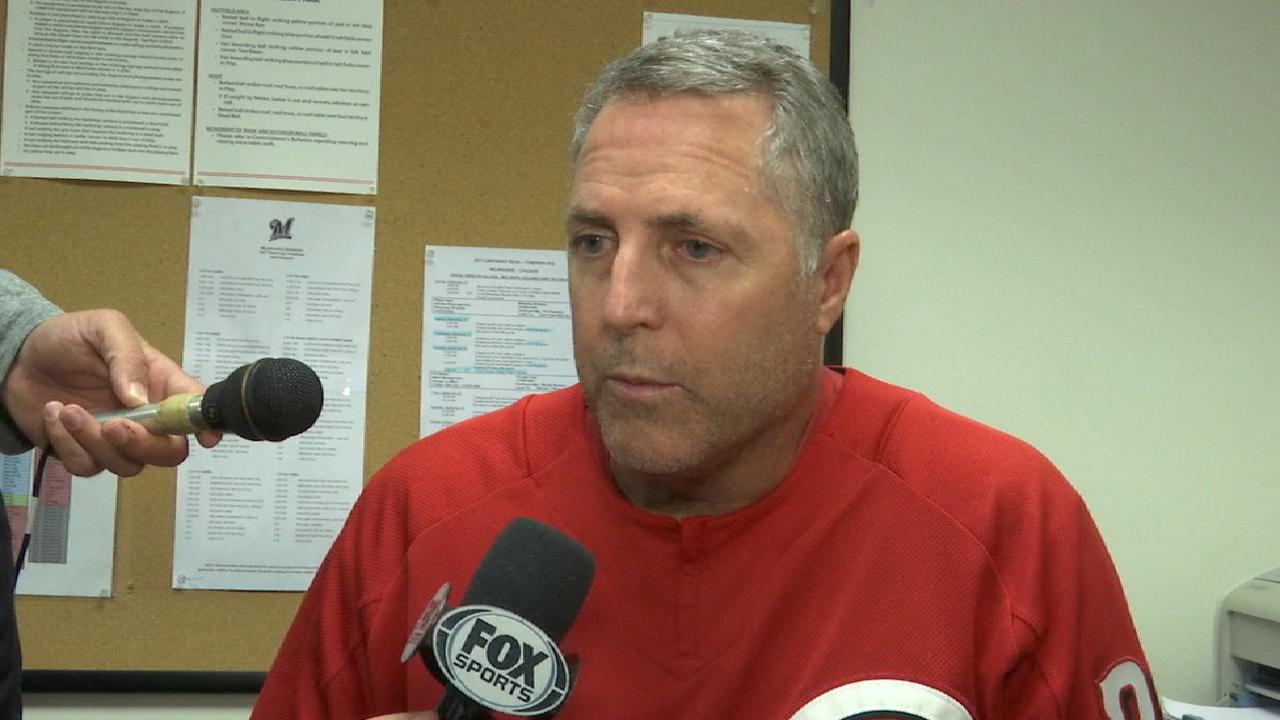 "I had some quick innings and was able to stay out there, and I was glad that Bryan and Mack [Jenkins, the pitching coach] had the confidence to keep me in there and go out for the sixth and keep me in there to face Phillips," Romano said. "Obviously, I'm not going to get the result I want every single time."
In the first inning, after he put his first two men on base, Romano felt a cramp in his groin but was checked out and was able to continue. He struck out Travis Shaw and then got a groundout to escape. A run-scoring error by center fielder Billy Hamilton hurt him in the fifth.
Romano finished the season 5-8 with a 4.45 ERA in 16 big league starts over two callups. But the Reds watched him turn the corner over the final eight starts (3.17 ERA), a stretch that included an eight-scoreless-innings performance on Sept. 16 vs. the Pirates.
Romano will now go home to Connecticut for the offseason and hope he can fortify his chances of making the 2018 rotation.
"I think I put myself in a pretty good spot going into next year," Romano said. "I say it all the time, it's not my decision, but I've got to come into Spring Training ready to go and do well in Spring Training. I'm very, very pleased with the progress I've made since I went through a little rough stretch when I was up here.
"I really figured out who I am as a pitcher and got a lot of help from a lot of different guys here. I'm very appreciative of that and will take all that I've learned and these past three months I've been here and take it into next year."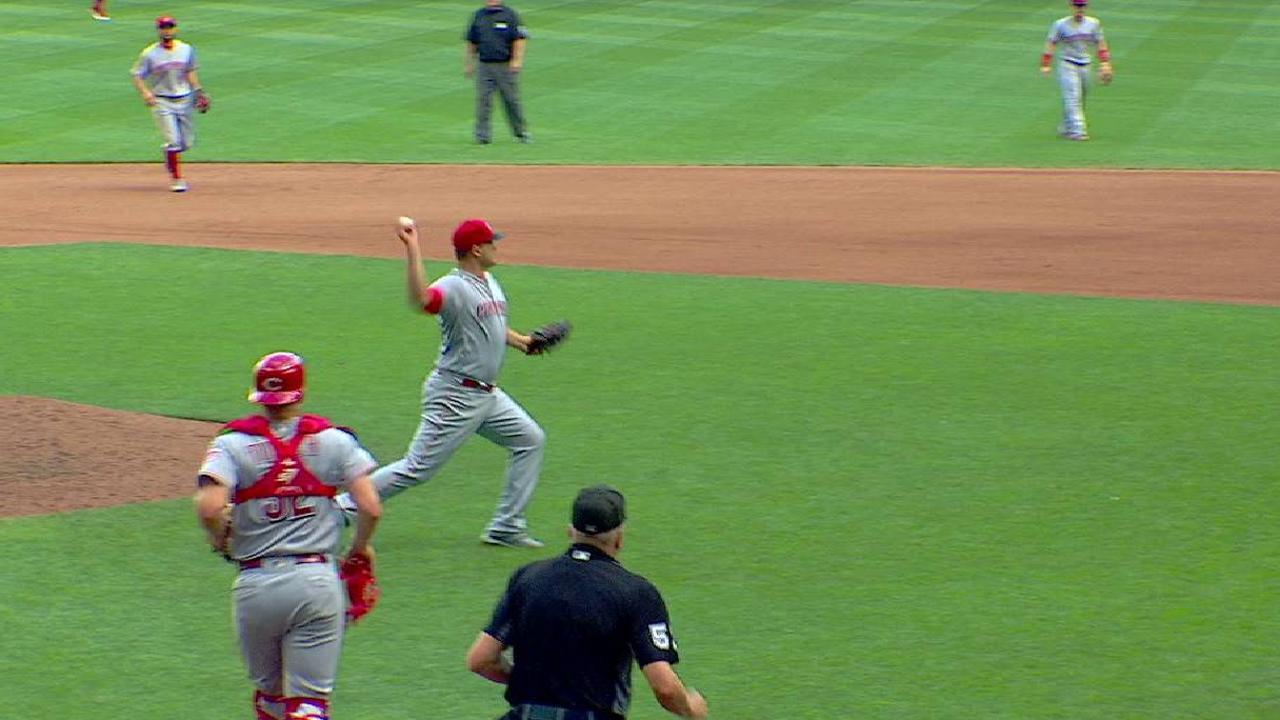 Romano certainly opened some eyes among the Reds decision-makers this year.
"If you asked a year or two ago, we might have only seen this guy as a late-inning setup guy or potentially a closer type," Price said. "But [he has] the ability to throw three pitches for strikes and control the running game. He's a big, durable guy.
"I see him as a guy who can potentially be one of those guys that goes out there and is that 200-inning-plus guy for us, and we need guys like that. We need guys to get acquainted to what it takes to take on that type of innings workload, and he fits the mold."
Mark Sheldon has covered the Reds for MLB.com since 2006, and previously covered the Twins from 2001-05. Follow him on Twitter @m_sheldon and Facebook and listen to his podcast. This story was not subject to the approval of Major League Baseball or its clubs.