Healthy Carrasco ready to roll into postseason
After missing 2016 playoffs with broken hand, dominant righty excited to contribute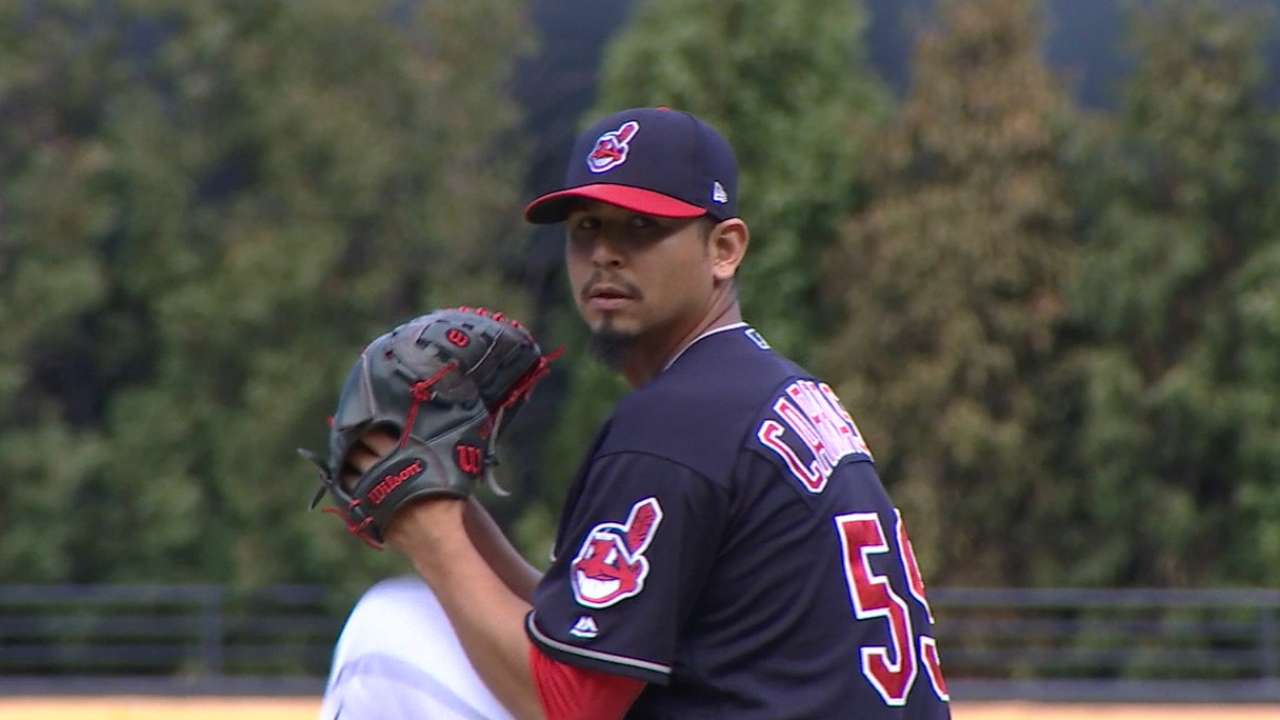 CLEVELAND -- During the Indians' incredible run to the World Series last season, Carlos Carrasco was forced to watch from the dugout. The starter's right hand was broken after he was hit by a line drive off the bat of Ian Kinsler during his Sept. 17 outing against the Tigers. This brought his season to an abrupt end and ultimately left a hole in the team's starting rotation throughout the postseason.
Just over a year later, Carrasco walked off the mound in the ninth inning of Thursday's 5-2 victory over the Twins to a rousing standing ovation from the Progressive Field crowd. Carrasco's 8 1/3 scoreless innings were the perfect way for him to end the best start-to-finish campaign of his career.
More importantly, with the postseason beginning next week, Carrasco is healthy and ready to help the Indians as they aim to avenge their loss 2016 World Series loss.
"I think this was a really good way for him to lead into a playoff start," Indians manager Terry Francona said. "I think he feels really good about himself. Like I said, it's the first time he's thrown 200 innings, but he looks like it's the first day of the season. I think that's a credit to his ability to work and his routines. It was fun to watch today."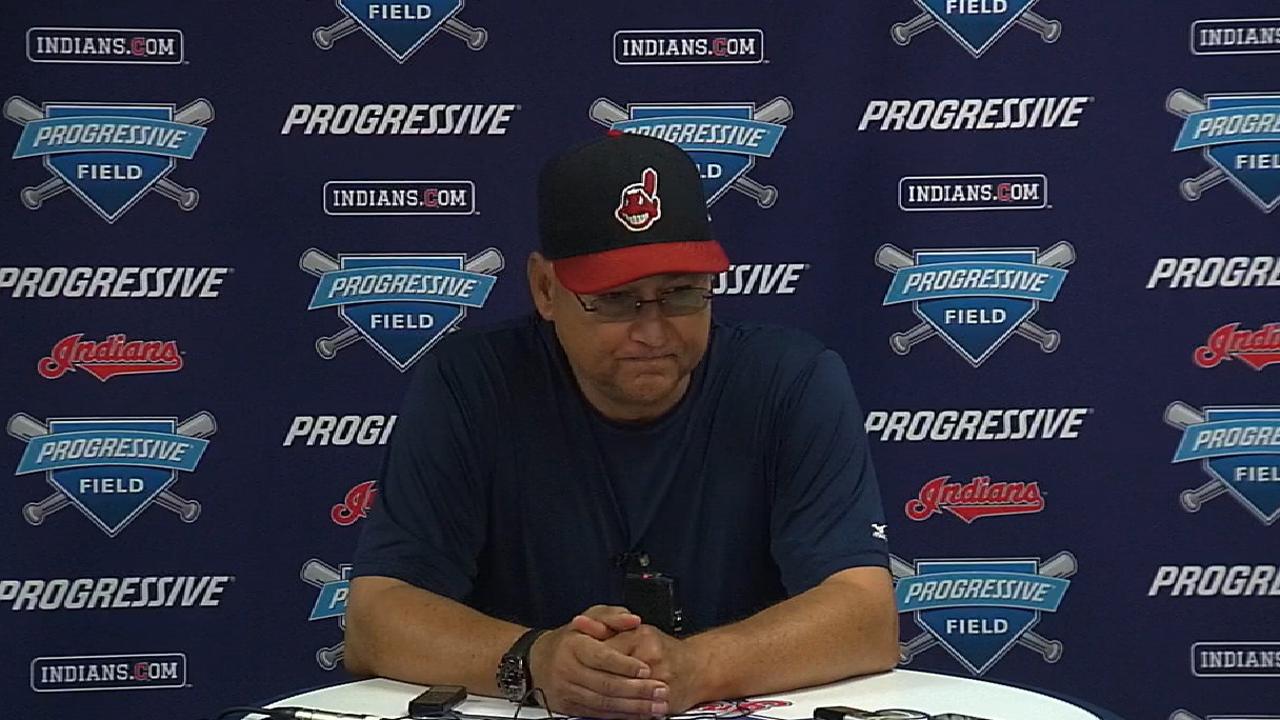 Carrasco extended his career high in wins by earning his 18th of the season with Thursday's dominant outing. He allowed six hits, issued one walk and struck out a season-high 14, including 10 of the last 15 batters he faced. It marked his fifth double-digit strikeout performance of the season.
"You saw it. He's a bona fide ace in our mind," Indians center fielder Jason Kipnis said. "The guy goes out there, and when he's on, he's pretty lights-out, and he's pretty hard to hit."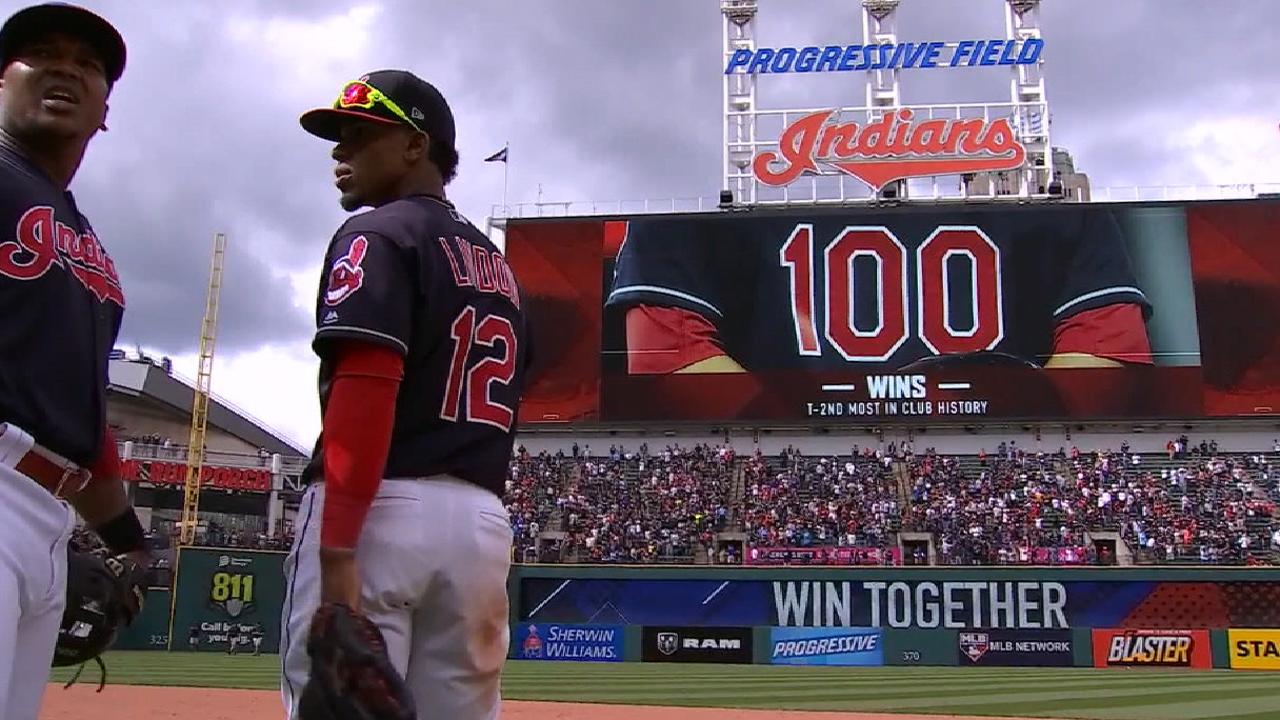 Carrasco finished the regular season with an 18-6 record and a 3.29 ERA. In 200 innings, he recorded a career-high 226 strikeouts against only 46 walks. His 18 victories tie him with teammate Corey Kluber and Royals starter Jason Vargas for the most wins in the American League.
"He's huge for us," catcher Roberto Perez said. "He was consistent all year long. ... He's pretty consistent with his work ethic, and every five days he gets the ball. He wants the ball. He's one of our leaders out there in the field, and I'm happy for him."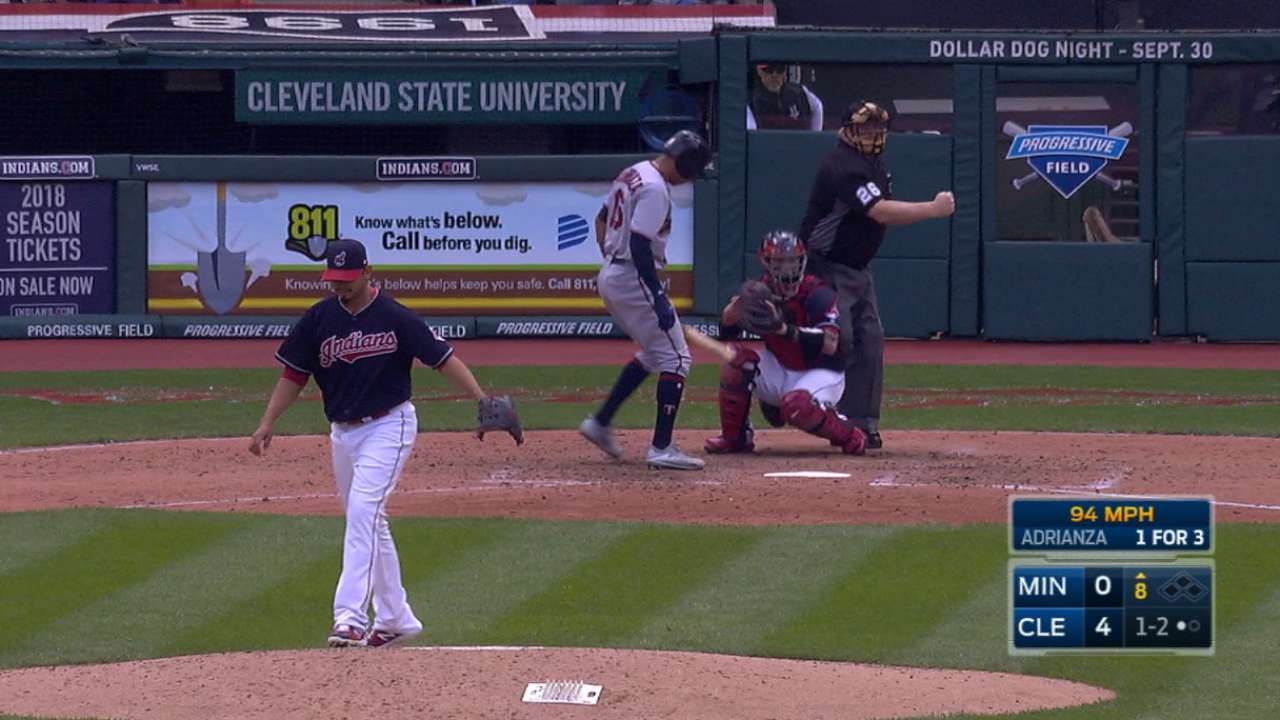 Carrasco has been pitching his best ball over the past month, and he will carry that right into the AL Division Series presented by Doosan, beginning Oct. 5. In his final seven starts (49 2/3 innings) of the season, Carrasco has gone 6-0 with a 1.28 ERA and 59 strikeouts against six walks.
"I'm really excited for it," Carrasco said of pitching in the postseason. "So I've been in two postseasons, 2013 and then last year. But this year, I am able to pitch. It's going to be the same game, more people, but nothing is different. Same baseball. I'll pitch the same way I did in regular season."
Perez expressed excitement on having Carrasco as the No. 2 starter behind Kluber.
"It gives you another option," Perez said. "Last year, we kind of missed him. We did a pretty good job, but you add an arm like he has, I mean, that gives Tito another option to go to. Finally, he's healthy, and I'm just looking forward to watching him pitch in the playoffs."
William Kosileski is a reporter for MLB.com based in Cleveland. This story was not subject to the approval of Major League Baseball or its clubs.