Is Beckham's one start enough to impress?
Veteran infielder flashes glove in hopes of sticking with Mariners in 2018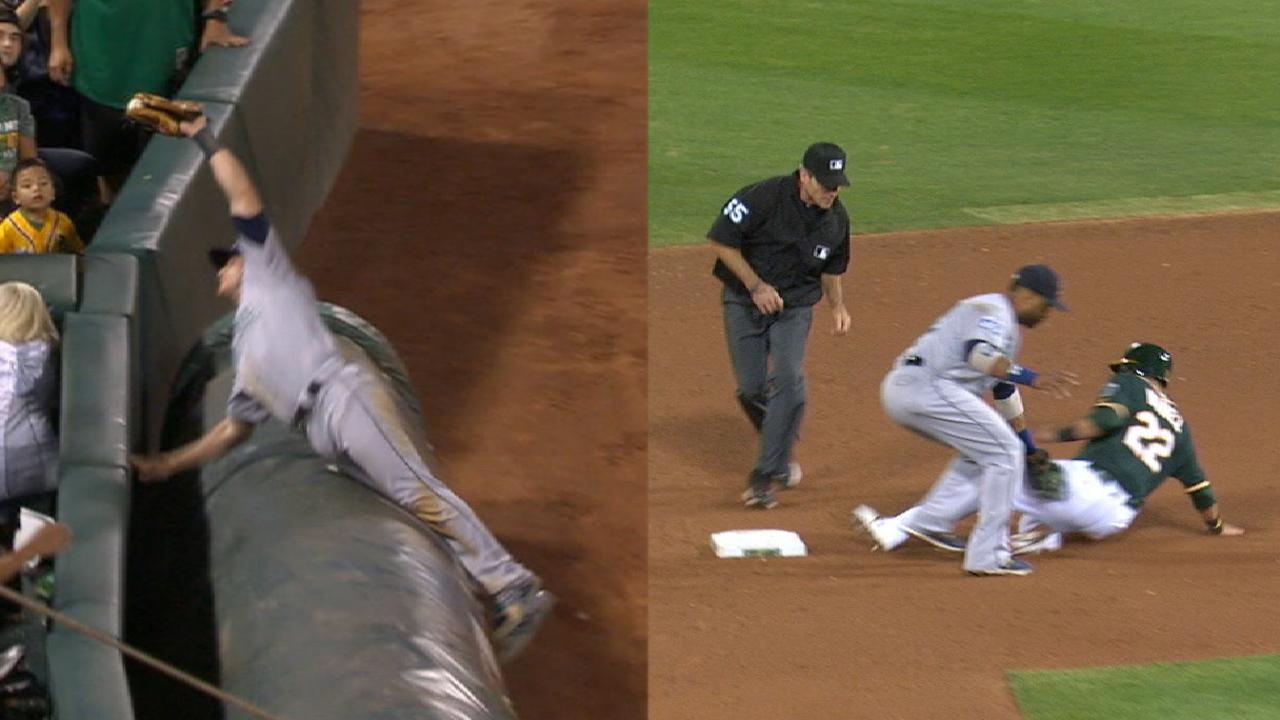 ANAHEIM -- He's played nearly 1,000 games in his nine-year Major League career, most of them with the White Sox team that drafted him with the eighth overall selection in 2008 and had him in the big leagues a year later as a promising infielder.
But Gordon Beckham took a little extra pride in his one and only start so far with the Mariners, given he proved to himself -- and he's hoping the Mariners as well -- that he can still be a valuable contributor to a club after spending the year toiling with Triple-A Tacoma on a Minor League contract.
After three weeks with just a handful of late-inning mop-up appearances as a September callup, the 31-year-old gave third baseman Kyle Seager a day off Tuesday in Oakland and proceeded to go 2-for-4, stole a base and scored a run. He also provide one of Seattle's best defensive gems of the season when he dived over the tarp alongside the stands down the third-base line, somehow hung on to the ball and then had the presence of mind to fire to second base to catch the runner trying to advance for a double play.
With just a three-game series remaining against the Angels, clearly Beckham's time is short. But has he shown the Mariners enough in his limited opportunities to get his foot in the door for the future?
"I hope so," Beckham said. "I grinded it out all year in Triple-A. It was my first year playing a full season in the Minor Leagues, and it was a lot of ups and downs. But I feel like I can still play and do a lot of good things to help a team win. I love it up in Seattle, so for me it's definitely an option for next year, because I'd love to be back. I like the guys here. I like what's going on. So we'll see."
After hitting .270 with 14 homers and 63 RBIs in 103 games as a rookie with the White Sox in 2009, Beckham has struggled to maintain that sort of offensive consistency over the rest of his career. He owns a .240/.303/.369 slash line in 961 games and hit just .211 in 196 games during the past three years while bouncing between the White Sox, Braves, Giants and now Mariners.
Beckham hit .262 with nine homers and 45 RBIs in 328 at-bats for Tacoma this year, and Seattle manager Scott Servais likes what the veteran has added to the mix in September, even while not playing much for a team that has Robinson Cano entrenched at second base and Seager at third.
"It's been nice to have him on the ballclub," Servais said. "I know we had him in Triple-A most of the year, kind of the veteran presence, and he really helped out a lot of our younger players there. And I say that, but he can still play.
"He's a heads-up player. He's really into the game, and he's helped on the bench. He's just got that veteran savvy you're looking for in that utility guy."
And on Tuesday night, Beckham showed he's quite capable of contributing when given a chance. Which is really what this entire season has been about, since agreeing to the Minor League deal late in Spring Training.
"For me, I'm not a quitter, and I really feel like the majority of my career I haven't hit the way I know I can," Beckham said. "So it was one of those things where I was going to grind it out and work on my game, and I'm still doing that.
"But I know I can still play. I know I can still provide a winning player to a team. So I'm glad [Tuesday night] happened, because it was just validation to stick it out all year and not just give up, and take it to the house."
Greg Johns has covered the Mariners since 1997, and for MLB.com since 2011. Follow him on Twitter @GregJohnsMLB. This story was not subject to the approval of Major League Baseball or its clubs.