Inbox: Wood best suited for 'pen in playoffs?
Beat reporter Ken Gurnick answers questions from Dodgers fans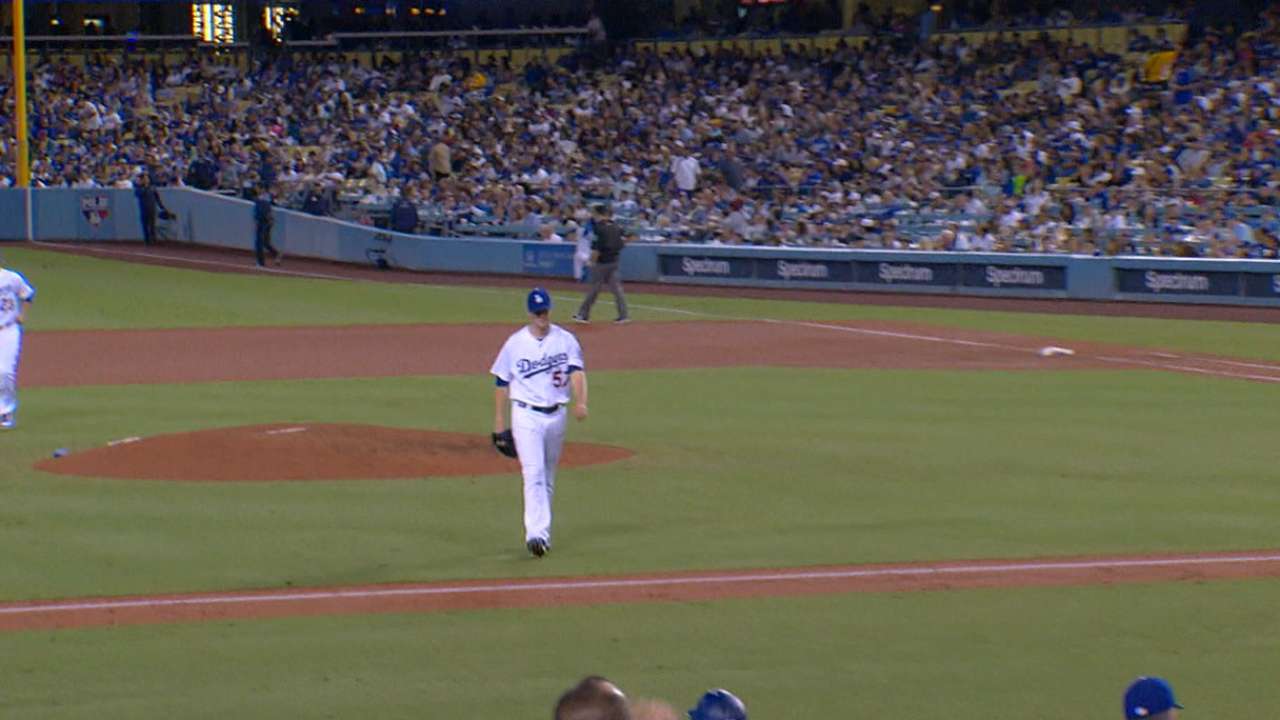 Will Alex Wood be in the bullpen or starting rotation in the postseason?
-- @dreday227
Is the bullpen such a crazy idea? Think Andrew Miller of the Indians and how he was used last October. A left-hander who can get right-handed hitters out, pitch multiple innings and is available to help win multiple games, instead of one. Wood has shown he is physically capable of warming up quickly. He was willing to fill a relief role last postseason coming off midseason left elbow surgery.
With Kenta Maeda already moved to the bullpen, Wood could be replaced in the rotation by Hyun-Jin Ryu, who otherwise would likely be left off the postseason roster entirely. With Pedro Baez and Ross Stripling off form in September, the bullpen has been the Dodgers' greatest area of concern. Adding Wood with Maeda might be the best way to turn that around.
• Submit a question to the Dodgers Inbox
With Adrian Gonzalez gone (no pun intended), who will be a legitimate backup for first base?
-- @daaannyortiz
In the past week, manager Dave Roberts has started right-handed hitters Kyle Farmer and Rob Segedin at first base, so there's a clue. Chase Utley has started 10 games at first base this year. Farmer and Segedin, despite their relative inexperience, also would provide a right-handed bat for pinch-hitting. Without contributions from Franklin Gutierrez, Trayce Thompson or Scott Van Slyke, the Dodgers have gotten away with the absence of a dedicated right-handed pinch-hitter.
Enrique Hernandez has the most right-handed pinch-hit at-bats, going 10-for-45 (.222) with a homer and three RBIs. Their most successful right-handed pinch-hitter is Chris Taylor (6-for-13), but he's now a starter. Farmer is 5-for-13 as a pinch-hitter; Segedin 0-for-3. Farmer is technically a third catcher, which would free up Austin Barnes to pinch-hit (he's 9-for-31 this year), although the club hasn't let Farmer catch in a game yet.
How long do Curtis Granderson's hot streaks usually last?
-- Cynthia Takano @catakano
After his trade to the Dodgers, Granderson hit four home runs in his first 10 games. For a bigger sample, he struggled in April, batting .128 with a .395 OPS. But in May, Granderson batted .273 with an .874 OPS, and in June, he hit .316 with a 1.153 OPS. So the answer is his streaks can last a month or longer.
Ken Gurnick has covered the Dodgers since 1989, and for MLB.com since 2001. This story was not subject to the approval of Major League Baseball or its clubs.