Playoff vet Lackey delivers in Central clincher
Cubs righty clips Cards, excited for chance at another ring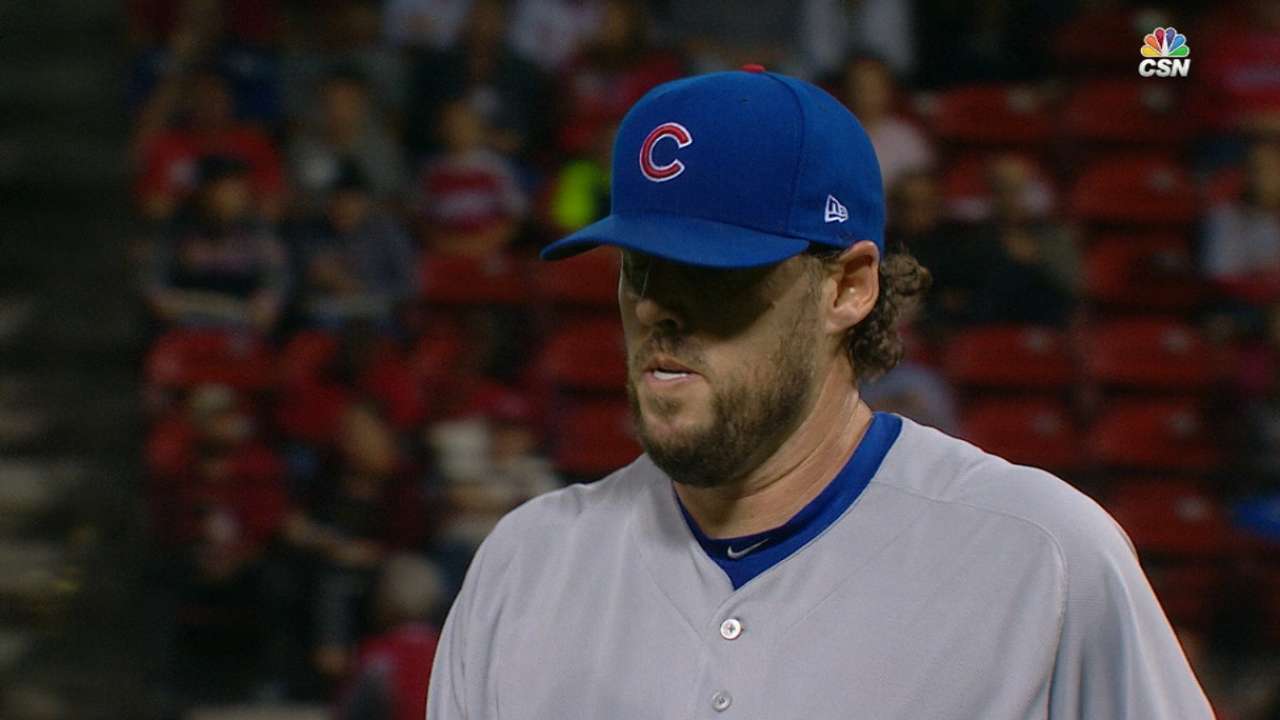 ST. LOUIS -- Drenched in beer and champagne, the Cubs players stopped the party in the visitors' clubhouse at Busch Stadium briefly Wednesday night and turned off the music. They had just beaten the Cardinals, 5-1, to clinch their second straight National League Central title, but needed to toast John Lackey.
"We didn't come here for no haircut, boys," one of the players yelled, repeating a statement Lackey made after a start last year which he had followed by saying he wanted jewelry instead.
• Cubs net Central title, 3rd straight October trip
Lackey got another World Series ring last year, and on Wednesday, he was the winning pitcher in the Cubs' decisive game. Lackey was the perfect man for the job.
Jon Lester led a toast to Lackey
"I've had the pleasure to call this guy a teammate for eight years," Lester said. "I've learned a lot about this game from this guy and I'm sure you guys have to. He's one of the best teammates and one of the best people I've ever had to play with. Tonight was probably his last regular-season start. Here's to one hell of career."
Then the players chanted Lackey's name and sprayed more beer. Lackey didn't want to speak -- after all, there were TV cameras to capture the moment -- and said he'd respond when the guys got on the bus. Then, the music started up and the party resumed.
"It's very fitting," Lester said about Lackey getting the win. "He's been throwing the ball well for us in the second half. It's vintage Lack, vintage Lack. He never gives in. You always know he's going to go out there and compete and give us a chance to win."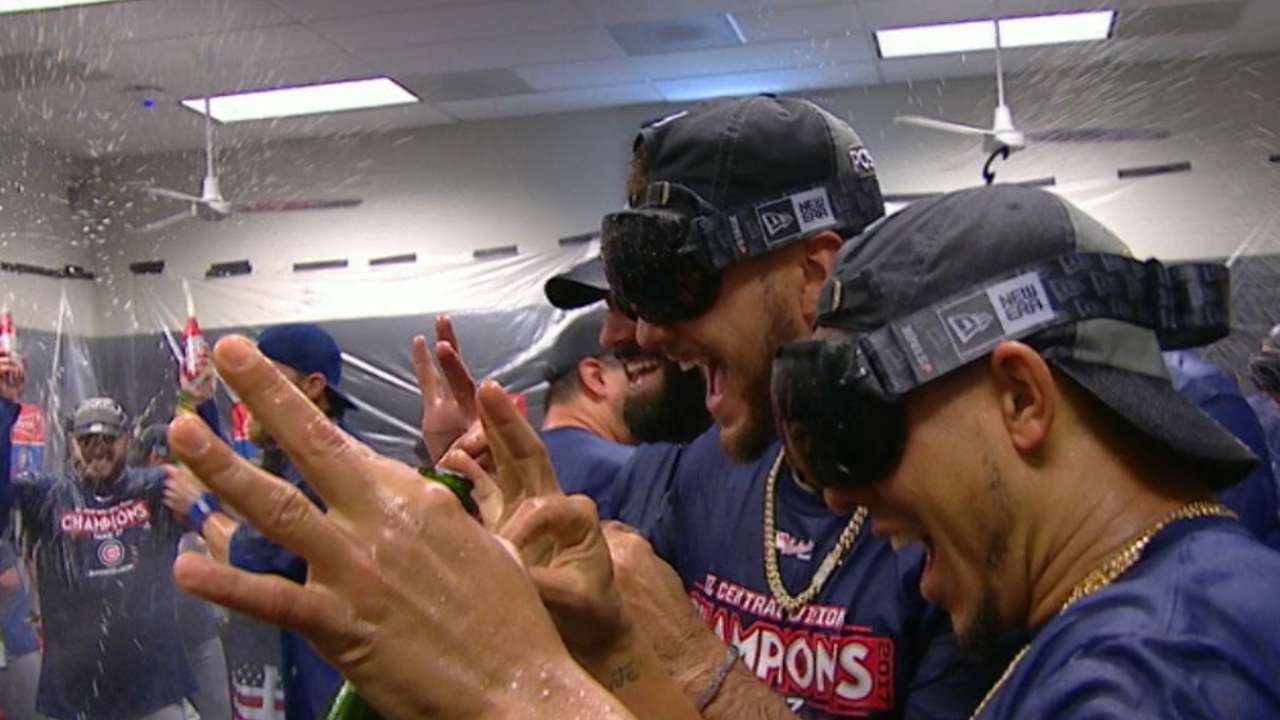 The 38-year-old right-hander held the Cardinals to two hits over six innings in his 30th start, a number he's reached nine times in his career, and three times in the past four years.
The Cubs' magic number was two when they arrived in St. Louis for the four-game series. Lester pitched well in Monday's win, but Jake Arrieta lasted three innings in Tuesday's loss. Before Wednesday's game, Cubs manager Joe Maddon talked about how much he liked having Lackey on the mound.
"John likes these kind of moments," Maddon said. "He's had good success in this ballpark, he's pitched well against this team and he likes this time of the year."
On Wednesday, the Cardinals scored in the second on Paul DeJong's RBI single, but then Lackey got Randal Grichuk to hit into a double play. Lackey needed just six pitches to retire the side in the fourth and seven to shut down the Cardinals in the fifth.
"Lackey's been in this place before," catcher Rene Rivera said. "He went out there and did what he's supposed to do, throw strikes, and make them chase. He pitched really well.
"They saw he was throwing strikes early in the count in the first couple innings and I guess they decided to start swinging right away," Rivera said. "It was awesome."
Yay!!!! So happy for this old guy for enjoying his 10th postseason clinch! #gocubsgo #2ringsinarow #didntcomehereforahaircut pic.twitter.com/dIpoWaYUTW

— Kristina Lackey (@klackey33) September 28, 2017
"He made pitches. He does that," St. Louis manager Mike Matheny said. "He knows what matchups he likes. He will work his way around certain hitters at times to find a matchup he likes better and gets himself out of jams. He's always right around the corners and pushing those edges all the time. Just didn't give us a whole lot to work with."
Lackey did not get a decision in his past two starts, which included an abbreviated start Sept. 15 against the Cardinals when he was ejected for arguing with an umpire. That actually may have helped.
"A couple things conspired in our favor," Maddon said. "The game he got kicked out, he threw only 70 some pitches. The last game wasn't as good. I felt he was rested. And this lineup was perfect for him today. Overall, I thought his stuff was very good tonight."
Apparently, so did Lackey, who wasn't happy about being removed for a pinch-hitter in the Cubs' five-run seventh, even though that batter, Tommy La Stella, delivered an RBI double.
"Honestly, there's no way I should've been taken out of that game," Lackey said. "I was feeling it tonight."
Yep, that's typical Lackey. Asked about the Nationals, who the Cubs will face in the NL Division Series presented by T-Mobile, Lackey smiled.
"I think we're going to have a good time tonight," Lackey said. "I don't think we care about the Nationals."
Carrie Muskat has covered the Cubs since 1987, and for MLB.com since 2001. She writes a blog, Muskat Ramblings, and you can follow her on Twitter @CarrieMuskat. This story was not subject to the approval of Major League Baseball or its clubs.