Almora aching, but with 'smile on my face'
Out after running into wall, Cubs' OF hopes to play soon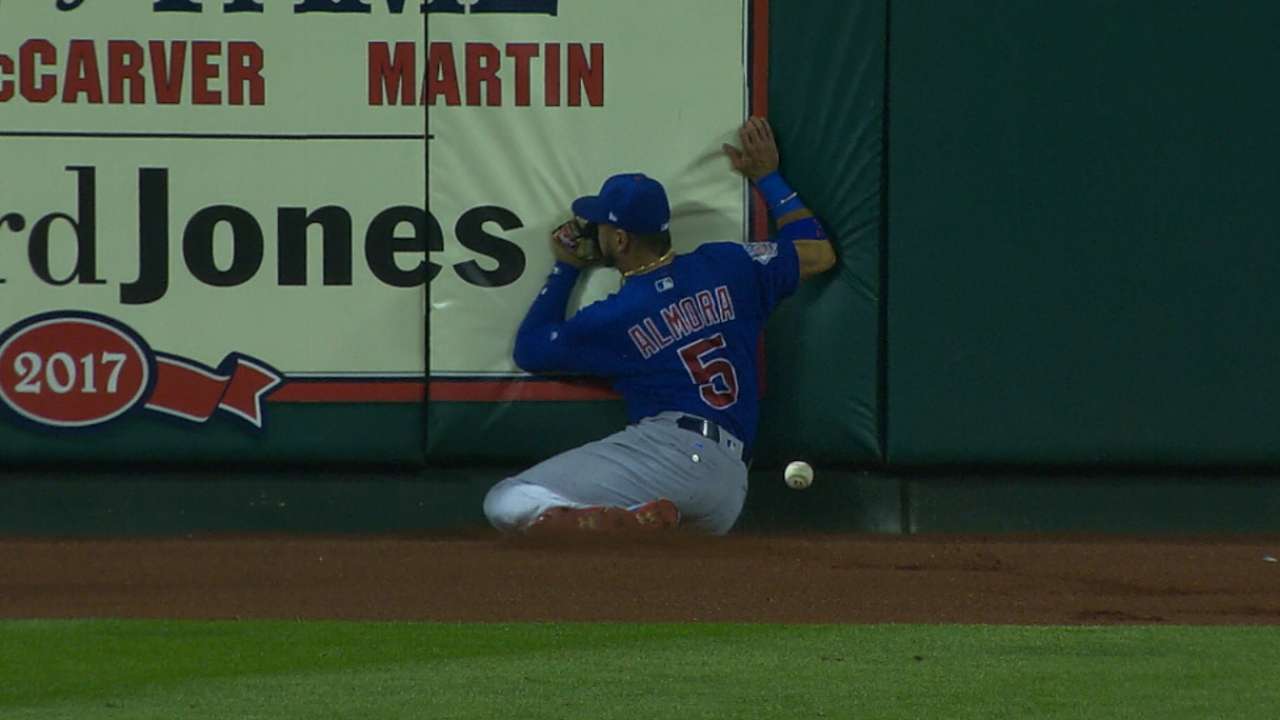 ST. LOUIS -- Albert Almora Jr. woke up Wednesday with a few more aches and pains incurred when he ran into the outfield wall at Busch Stadium than the Cubs' outfielder remembered.
Almora crashed into the wall in left-center in the fifth inning of Tuesday night's 8-7 loss chasing a ball hit by the Cardinals' Paul DeJong. Almora suffered a contusion on his right shoulder in the rotator cuff area. X-rays were negative.
"I woke up feeling a couple different areas of the body that were hurting," Almora said Wednesday. "My shoulder feels good, as good as it could be. It's all good, all positives.
"Right now, it's like I got in a bad car accident," Almora said. "Nothing feels great, but nothing hurts. I just have to take it day by day."
He still has pain but knowing that nothing was broken, added, "I still have a smile on my face."
Almora said he felt fortunate to be able to walk off the field under his own power. As to when he can play again, it depends on who you ask.
"The responsible thing would be that [I take a couple days off], but knowing myself, the way I am, if I'm given the chance -- if I'm given the OK to go -- I'll probably be out there," Almora said. "The smart thing to do right now is be 100 percent, because obviously I want to be healthy for the long run. I'm going to be smart. Right now, I'm going to see how good I'll feel in the next couple hours and the next day."
Besides his right shoulder, Almora said his neck was a little tight and his back hurt.
"It's nothing that I think will be long term," he said.
Is he day to day?
"I'm hour to hour right now," Almora said. "I want to be available [Wednesday]. But maybe the smart thing to do is stay out tonight. I have to go off what the trainers say to me. If they think I'm OK, it's easy for me. I can play through a little bit of pain. I'm just trying to stay healthy the rest of the time."
• Left-handed reliever Justin Wilson threw seven pitches Tuesday, and only one was a strike. He walked the first batter he faced, then fell behind 2-0 to the next one before manager Joe Maddon pulled Wilson.
On Saturday, Wilson struck out three of the four Brewers he faced in 1 1/3 innings. What happened?
"I missed [Tuesday] night," Wilson said. "Some close pitches. I need to get back to the middle of the plate, really."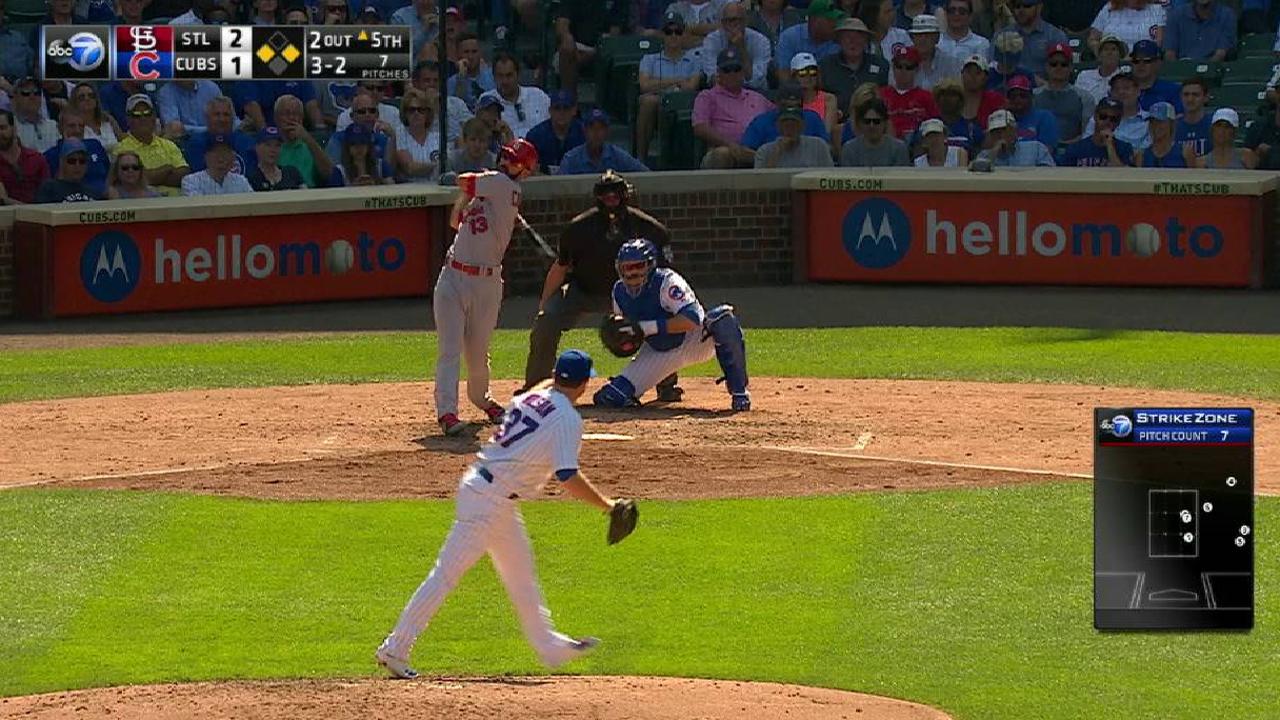 Wilson said he has a stiff neck from sleeping awkwardly but said that was "annoying and nothing I can't deal with."
"Today's a new day," Wilson said. "I'll go right out there and do what I need to do."
The Cubs acquired Wilson from the Tigers in July, hoping he could be an additional setup option for closer Wade Davis. What Maddon wants to see is more consistent strikes from Wilson.
"I told him right afterward, 'Man, you're going to be right back out there,'" Maddon said of his message to Wilson. "First-pitch strike [Tuesday], then all of a sudden, he started pulling a couple pitches. I know they've done nice things with his delivery and I still believe that it's going to work. For [Tuesday] night, I could not be overly patient."
• Cubs starter Jake Arrieta, who threw three innings in Tuesday's loss, said his right hamstring was still bothering him and affecting his delivery.
"I could see that from the side," Maddon said Wednesday. "But I felt the same way the last time [Arrieta pitched] and I thought he was more effective the last game. It's almost like a new normal that he's trying to pitch now. You have to be patient with that."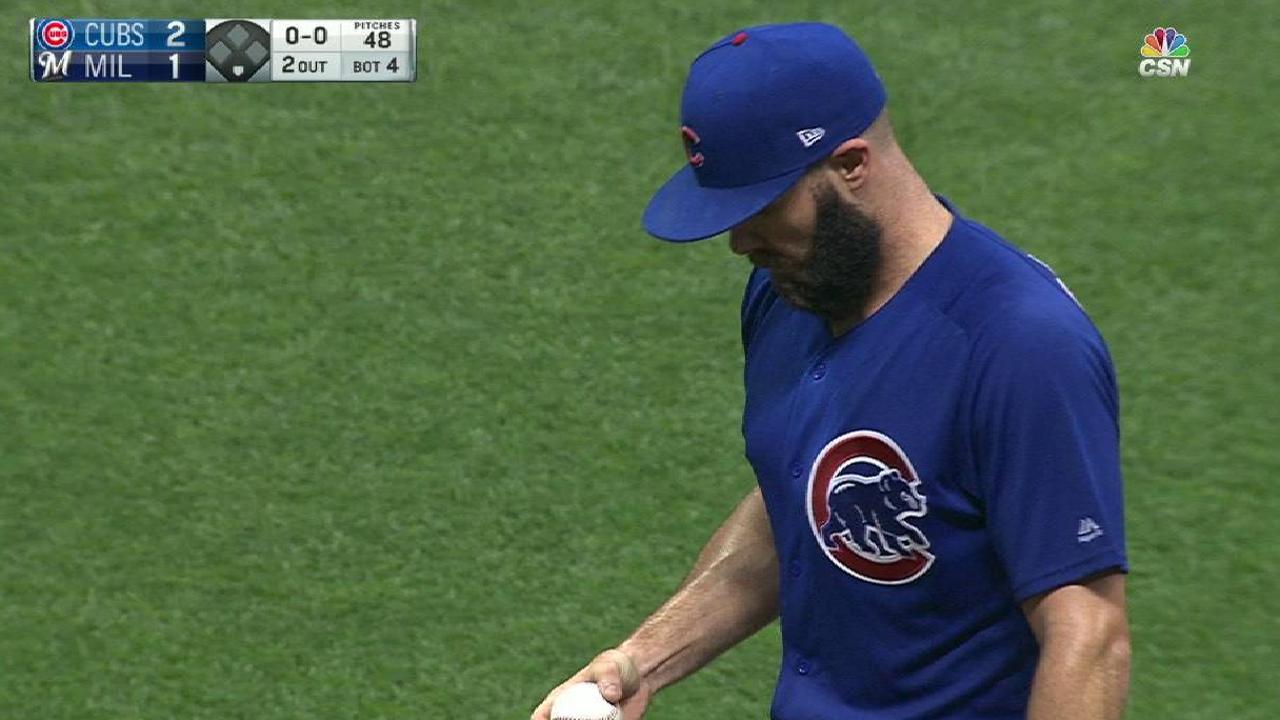 The Cardinals' Tommy Pham hit a two-run homer off Arrieta in the second inning and Maddon said that was a perfect example of Arrieta being unable to execute the pitch, leaving it in the middle.
It takes time to come back from a hamstring injury.
"It's one of those things that are in the back of your mind all the time that it's there, because you know how much it hurts if you do it again," Maddon said. "There's a guarded approach to everything you're doing. It's going to take time, and with time he'll get beyond that."
"I think we're going to take the next six, seven days or so and really get this hamstring to a point where it's a little more comfortable and be ready for the first playoff start," Arrieta said. "Even if I'm not 100 percent, I'll be ready to go."
• There are reports out of Hollywood that a movie of former Cubs catcher David Ross' book, "Teammate," is in the works and that actor and diehard Cubs fan Bill Murray would play Maddon.
"That's awesome," Maddon said. "He's much better looking than me. Second of all, it's very flattering if that is true."
Carrie Muskat has covered the Cubs since 1987, and for MLB.com since 2001. She writes a blog, Muskat Ramblings, and you can follow her on Twitter @CarrieMuskat. This story was not subject to the approval of Major League Baseball or its clubs.