Pham calls HBP by Cubs' Pena intentional
Matheny, Maddon disagree with Cards' outfielder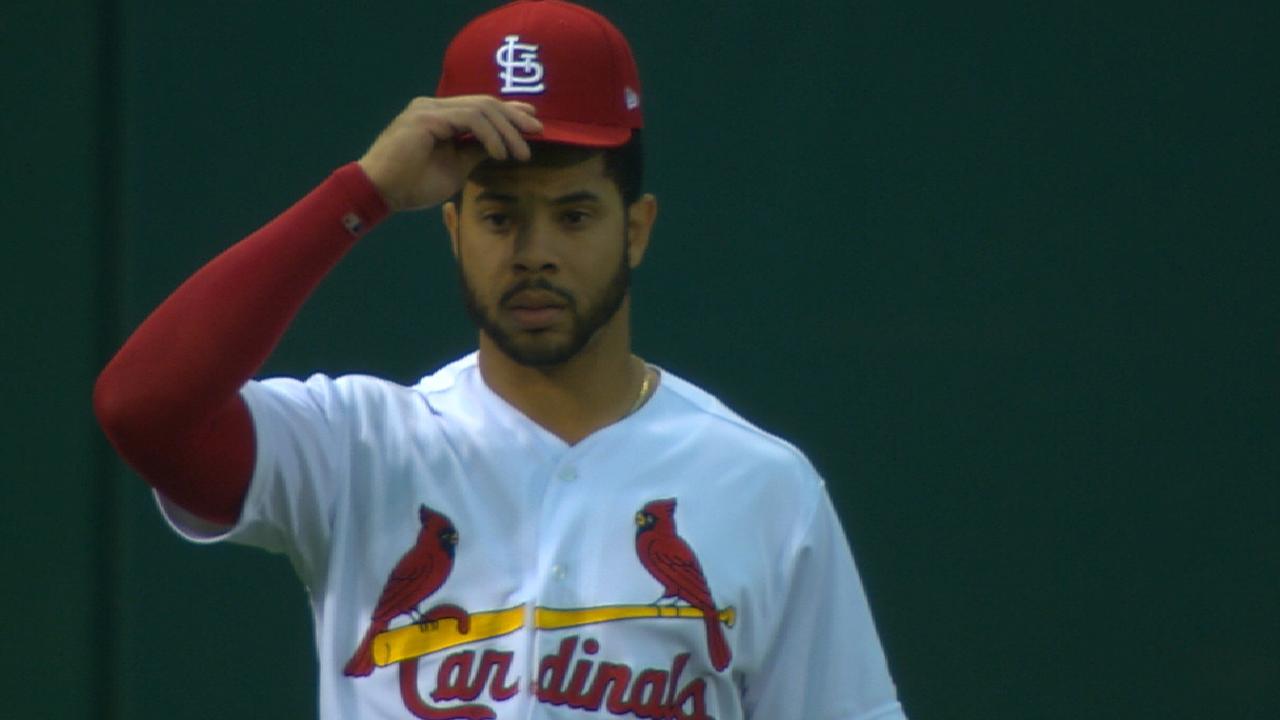 ST. LOUIS -- Though the pain in his left oblique had subsided a day after Tommy Pham was drilled by a 95-mph pitch, his irritation at what he believed to be a purposeful plunking had not.
"It was definitely on purpose," Pham insisted Wednesday. "We have video. Video you see everything. You see the sign that they put down. You see the signals that they put out to show what they wanted to do."
Pham was hit in the sixth inning of Tuesday's 8-7 win by Cubs rookie reliever Felix Pena. There were two outs and nobody on at the time, with the Cardinals holding a three-run lead.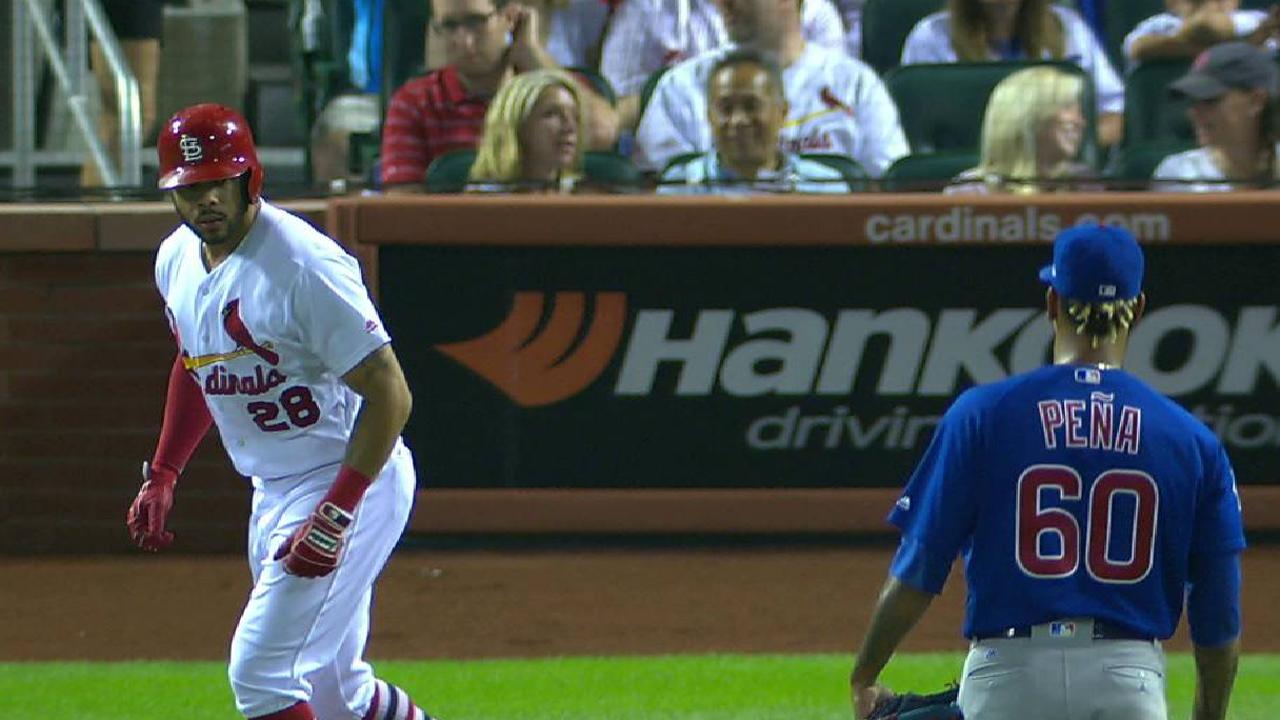 Pham, who had connected for a two-run homer off starter Jake Arrieta in the second, stared down Pena as he walked slowly to first base. He didn't say a word -- "I'm not much of a talker," Pham explained -- and acknowledged that he "had to think twice" before taking his base without incident.
"I don't make enough money right now to go out there and face a suspension, so I'm not going to go out and fight," Pham said. "That's too much money for me to throw away right now."
Though insistent that he was hit purposefully, Pham wasn't sure why. Cards starter Carlos Martinez had plunked Kris Bryant earlier in the game, though the situation did not suggest intent. Pham had never faced Pena in the Majors before Tuesday.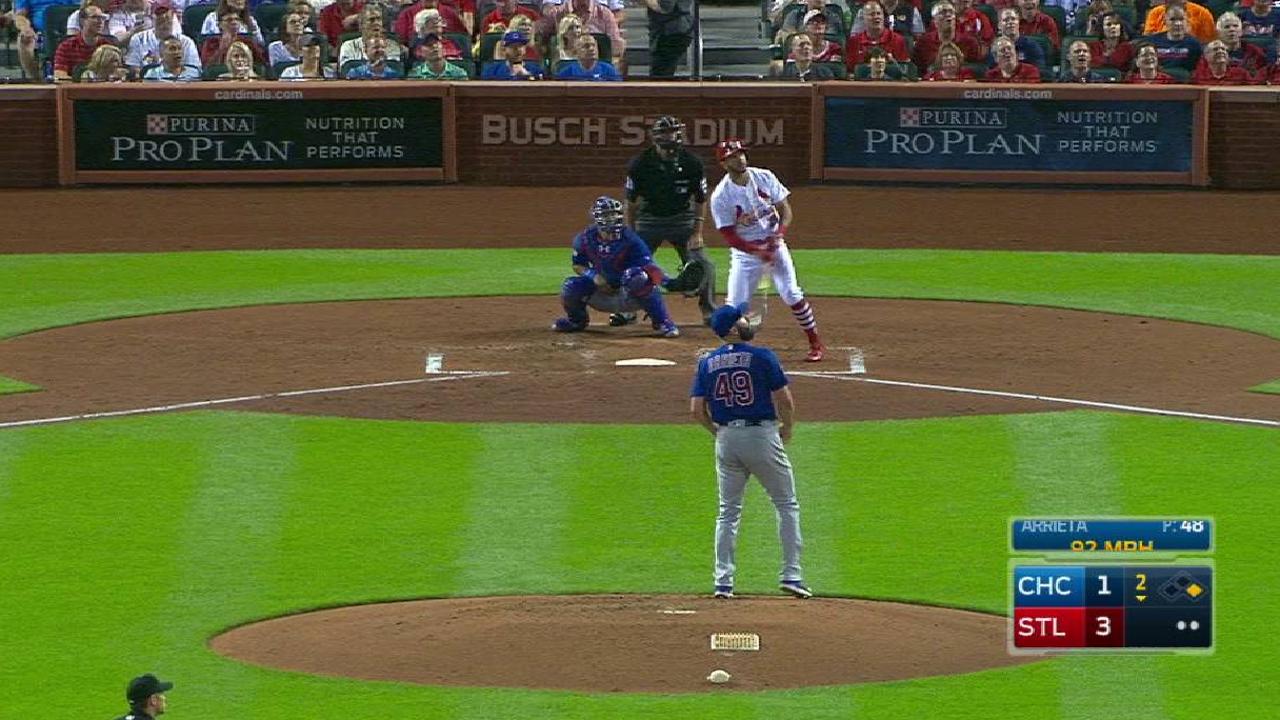 Two years ago, the Cubs and Cardinals exchanged words after a sequence of hit batters, with Cubs manager Joe Maddon calling the Cardinals a "vigilante group" at the time. However, neither Maddon, nor St. Louis skipper Mike Matheny, seemed to come to the same conclusion that Pham did Tuesday.
"It's a bad method of trying to piece the dots together," Maddon said. "There was no intent there, just as we didn't think there was any intent to hit K.B. It's part of the game. You have to pitch guys inside, and sometimes you get hit. [Anthony Rizzo] gets hit all the time, and I don't think one time Rizzo has come out and said anything."
In the first inning Wednesday, Cards starter Michael Wacha plunked Rizzo, who wasn't pleased as he walked to first base.
"I think it's impossible to know intent," added Matheny. "Sometimes it looks a little more obvious than others, or if you do have a history with somebody, but I don't think that seems to happen as much as it used to."
Medical updates
Yadier Molina, who has been in concussion protocol since taking consecutive foul tips off his mask Monday, will go through another round of testing Thursday to determine whether he's cleared to return to the field.
"The protocol defines what the next steps are," general manager Michael Girsch said. "It could go quickly. It could go slowly. It all depends on how it goes once he starts the testing."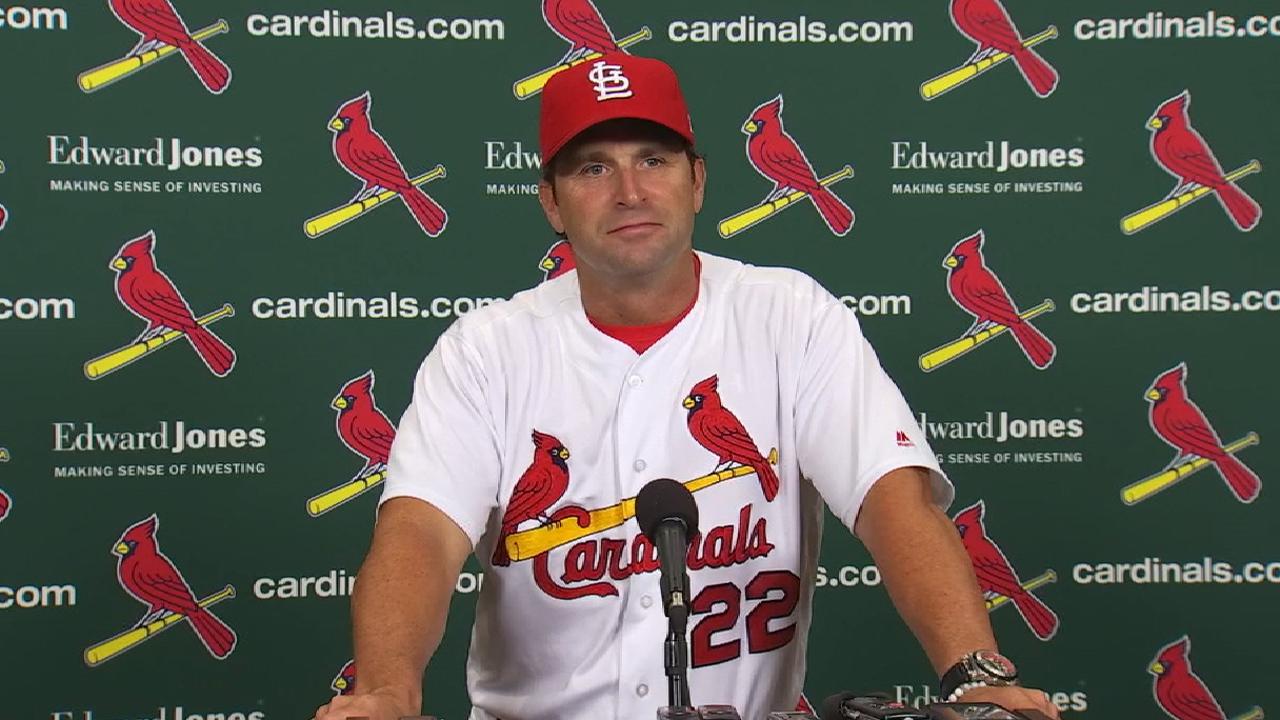 Kolten Wong's status is similarly in flux as he deals with nagging tightness in his lower back. Wong has been out since exiting in the seventh inning of Monday's game.
"He came in better today than [Tuesday]," Girsch said. "It's sort of one of those things that is up and down. We expect he plays again, but every day, see how his back feels."
Worth noting
• The Cardinals don't plan to make any changes to their rotation for the final series of the season, meaning that John Gant, Luke Weaver and Martinez will start against the Brewers this weekend.
Jenifer Langosch has covered the Cardinals for MLB.com since 2012, and previously covered the Pirates from 2007-11. Follow her on Twitter and Facebook. This story was not subject to the approval of Major League Baseball or its clubs.