Pedro's 17-year-old son inks deal with Tigers
Martinez Jr. plays third base, expresses no desire to pitch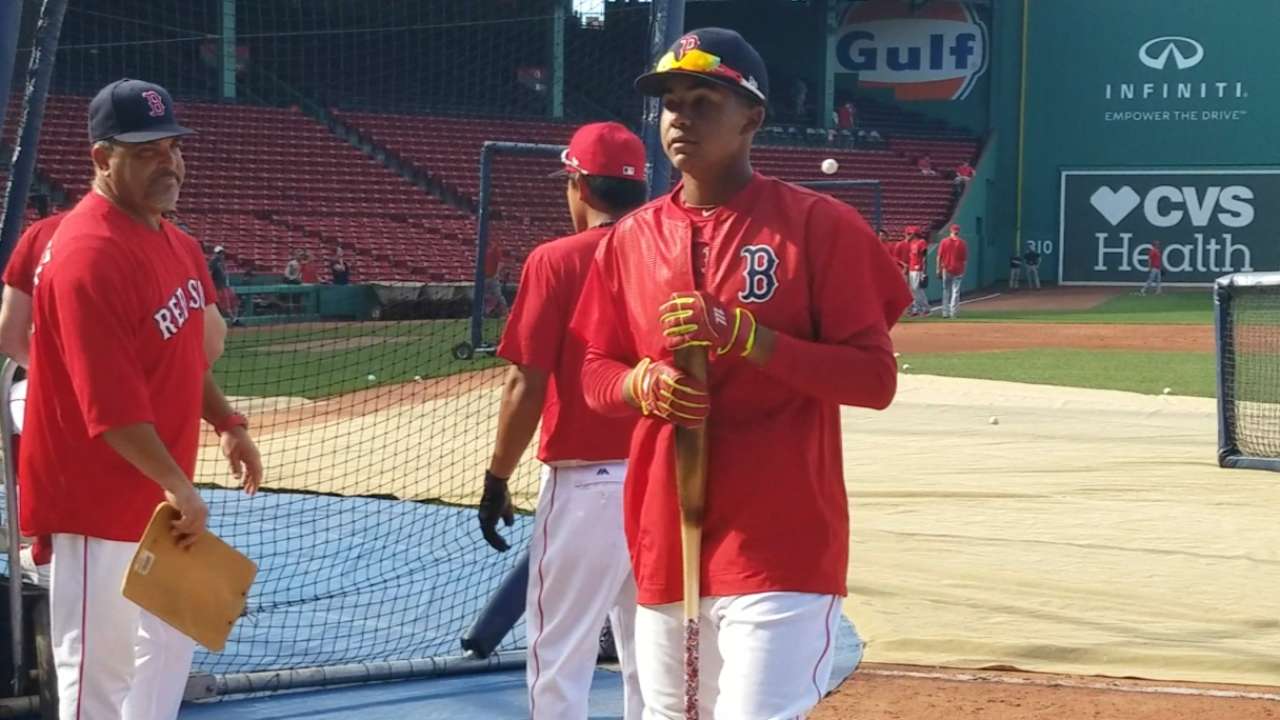 KANSAS CITY -- The Tigers saw far too much of Pedro Martinez for their liking when the Hall of Famer was a shutdown starter for the Red Sox. The Tigers saw enough in Martinez's son, Pedro Jr., to believe he could be a part of their rebuilding effort for the future.
The Tigers signed the 17-year-old third baseman Wednesday. The deal was announced in his native Dominican Republic, with his parents on hand, along with Tigers international scouting director Tom Moore.
"We're really excited," Moore told MLB.com in a phone interview. "He's 6-foot-2 and projects to get bigger and stronger. He shows not only power, but the ability to hit."
The Tigers have not announced the terms of the deal. Dionisio Saldevila, a Dominican journalist, reported that Martinez will receive an $800,000 signing bonus along with a $300,000 scholarship. The Tigers still had a good amount of their $4.75 million international signing pool available after their July signings.
The elder Martinez signed out of the Dominican Republic with the Dodgers for $6,500 in 1988. He paid off by winning 219 games and three Cy Young Awards to go with the 13th-most strikeouts of all time (3,154).
Martinez was not ranked on MLB Pipeline's list of top 30 international prospects going into the summer period, but Moore said the Tigers had been tracking him off and on for the last few years. He was part of the Dominican team that played in the junior division of the RBI World Series last year in Cincinnati, and he took part in the International Prospect League in the Dominican, as well as other showcase events. Still, Moore said, "it's not a situation where he's been overly exposed to the market."
What they saw, they liked. Though the elder Martinez had a big arm that defied his 5-foot-11 frame, the younger Martinez is a big, pure hitter with a strong right-handed swing.
"I really don't like pitching," Martinez said to MLB.com last year.
He has more than held his own with his bat while playing the left side of the infield, moving from shortstop to third as he grew.
"He's still growing," Moore said. "When he gets bigger and stronger in his development, that is going to determine where he's going to play."
Just as important as the athletic ability, Moore said, is the upbringing. Growing up not only around baseball, but around Major League players, Martinez was able to learn by observing.
"Obviously he's been around the game for a long period of time," Moore said, "and generally what you find is they're not just around baseball, but at a higher level, around big league coaches and a big league atmosphere. They can soak in all this information at such a high level, it's obviously different than a kid in a youth program."
Martinez Jr. just turned 17. He attends a private school and is bilingual. Though many international signings complete their education at the Tigers' Dominican academy, Moore said they'll set up his schedule so that he can take part in the academy this fall, take classes through his school and graduate next spring.
Martinez is the latest addition to a Tigers system that has depth in pitching, but far too few impact hitters. Detroit focused on adding position talent while trading away veteran stars the last couple of months, but its best chance of adding big hitters is through the Draft or international market.
If Martinez rises up the Tigers' rankings, he'll join several sons of former Major Leaguers breaking out. Vladimir Guerrero Jr. and Bo Bichette, son of former slugger Dante Bichette, are the top two prospects in the Blue Jays' system, according to MLB Pipeline. Cal Quantrill, son of former pitcher Paul Quantrill, and Fernando Tatis Jr. are ranked second and fourth in the Padres' system.
Jason Beck has covered the Tigers for MLB.com since 2002. Read Beck's Blog, follow him on Twitter @beckjason and Facebook. This story was not subject to the approval of Major League Baseball or its clubs.