Disappointed Rangers seek more consistency
After falling short of postseason, Texas aims to 'come in stronger next year'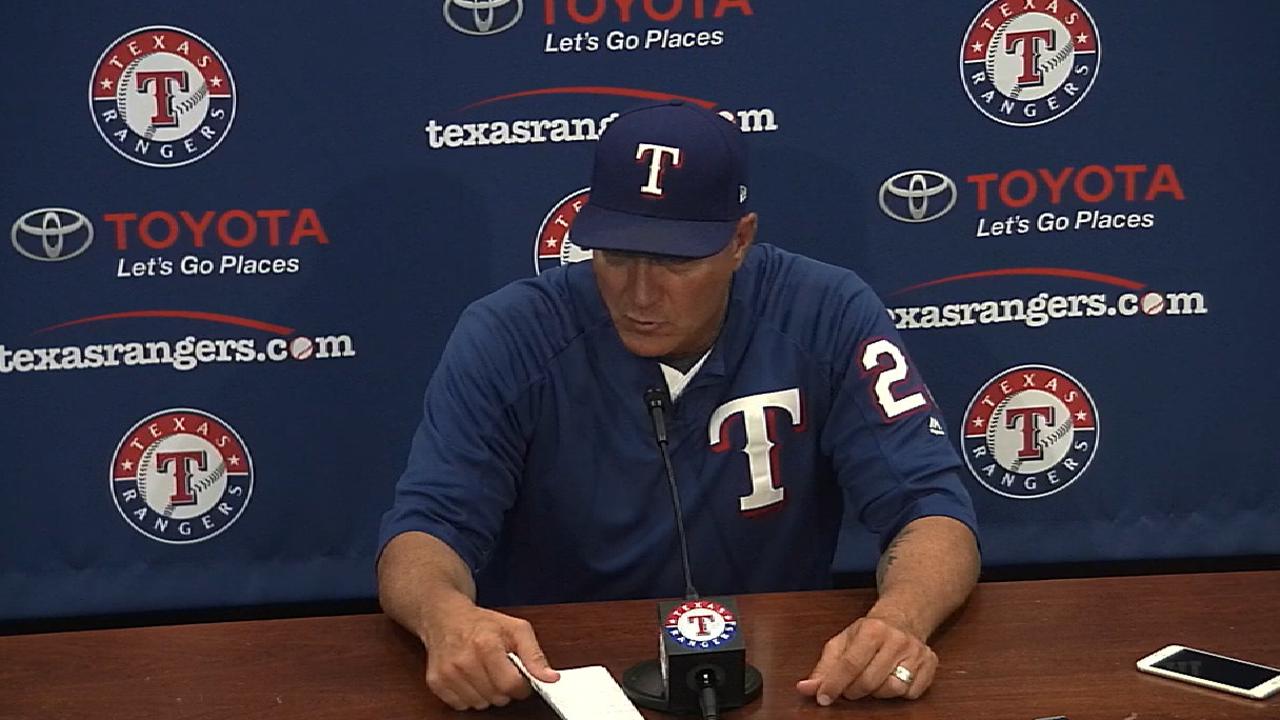 ARLINGTON -- When the Rangers wrapped up a three-game sweep of the Mariners in Seattle last week, the postseason looked like a distinct possibility. But that waned quickly after Texas was swept in Oakland.
With the Rangers back home and eliminated from playoff contention, their clubhouse had a noticeably different atmosphere. For just the second time since 2009, their season won't end on a day they were playing to keep their postseason hopes alive.
"It is a little weird to get to the final week and there's pretty much no meaning, playingwise, but that's what it is," shortstop Elvis Andrus said. "That's the way the year ended up for us."
Texas made the postseason in all but two seasons between 2010-16. In '14, the team was decimated by injuries and plummeted to the bottom of the American League West, and the Rangers lost an AL Wild Card tiebreaker game to the Rays in '13.
This year, a slow start played a big part in Texas' middling season, as well as a rash of bad luck and streaky play.
A 10-game winning streak in May helped the Rangers bounce back after falling in that early hole, but nothing like that materialized the rest of the year. It made for a disappointing end to the season, especially for Adrian Beltre, who played well despite battling through myriad injuries, but saw his team fall short of the goal.
"For me personally, yes, 100 percent [it's the most disappointing season]," Beltre said. "I wasn't able to be on the field enough to help these guys out. I think it's the first time I've ever missed so many games in my career. I was able to come back and play well enough to contribute and then had another injury, and I was really disappointed. So no doubt, you can say it's my most disappointing season."
Delino DeShields joined Texas in 2015, and this will be just the second time in his professional career he won't be playing in the postseason after making it both years with the Rangers and four of five seasons in the Minor Leagues. He echoed Mike Napoli with what was a common refrain: Texas just couldn't ever consistently piece things together at the right time.
"We've been streaky as far as it all being put together -- the hitting is there and pitching is not, or the pitching is there and hitting's not," DeShields said. "It's been inconsistent as far as that. If we had more games we were playing like we were when we were on those streaks, then we'd be having a different conversation. But it's baseball."
Absences of key players for stretches at a time hurt, too: Beltre didn't make his season debut until May 29, Cole Hamels missed two months with an oblique injury and Yu Darvish was sent to the Dodgers at the non-waiver Trade Deadline on July 31.
"That's just the way baseball is, man," Andrus said. "There's nothing for sure for nobody here in baseball. That's something that as a team, as an organization, you have to review that in the offseason and come in stronger next year."
Sam Butler is a reporter for MLB.com based in Arlington. This story was not subject to the approval of Major League Baseball or its clubs.