Cozart's swat provides Reds with spark in loss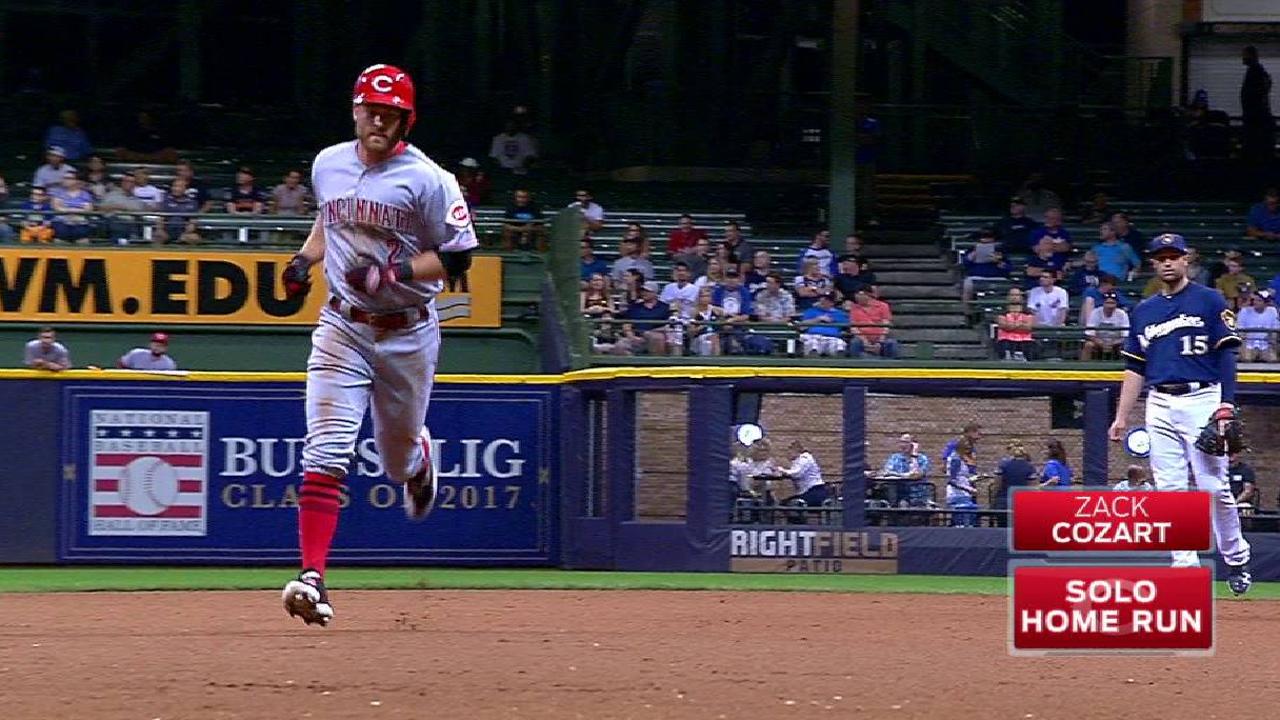 MILWAUKEE -- Reds shortstop Zack Cozart fouled off the first two pitches against Brewers reliever Josh Hader to get mired in a 0-2 count on Tuesday. Even with his team trailing by three runs and Hader being a tough lefty, Cozart had no plans to go down quietly.
In what became a 7-6 Reds loss, a one-run game that Milwaukee had to grind out to keep its playoff hopes alive, Cozart provided the at-bat of the game and the spark that got Cincinnati back in it. He turned that 0-2 count into a 10-pitch at-bat before slugging a solo home run to left-center field in the seventh inning.
"He's one of those, you know, lefties that creates kind of a weird angle," Cozart said of Hader. "His fastball, even though it may say 93-94 [mph], it actually looks firmer than that. I just tried to not do too much. He's throwing more offspeed tonight. In the past, he was like 95-percent fastball. He threw a couple of changeups that at-bat. I was trying not to do too much, I was not trying to worry about getting the head out. I was just trying to battle."
On the third pitch from Hader, Cozart looked at a fastball for ball one, then fouled off two fastballs to stay alive. Hader missed on a pair of changeups and Cozart fouled off the ninth pitch -- a fastball. Pitch 10 was a 94-mph fastball over the middle of the plate.
It was the 24th homer for Cozart, extending his career high. He has seven homers for September, the most he's hit in any month of his career.
Cozart, whose previous career high was 15 homers in 2016, made an adjustment during Spring Training that sparked the improvement with his all-around hitting.
"I'm just most surprised by how a simple mechanical change of putting my bat on my shoulder freed up not only my power, but also seeing the ball better in general, which is still kind of crazy to me," Cozart said. "But 100 percent that's the reason I feel better up there, more consistent, because of that. My mind's not boggled by anything. I'm just up there trying to make a good swing."
It was during a Reds-Indians Cactus League game when Cozart saw Francisco Lindor resting his bat on his shoulder to begin his at-bats. It's something teammate Joey Votto has also done. And now Cozart is seeing others do the same, such as rookie Phillip Ervin.
"It takes the whole rhythm and the thinking about your hands out of it because you just sit them there. It's obviously been huge for me," Cozart said. "I talked to [Ervin] when he first came up and I said, 'Man, when did you start doing that?' Because he looks way smoother and looks like he's taking tougher pitches."
If Cozart can hit one more homer, the Reds will set a single-season franchise record with six players with at least 25.
"I feel like almost every team we've faced this year says, 'Man, you guys' lineup is tough to get through. You have good at-bats,'" Cozart said. "Joey's rubbed off on a lot of us in that we don't want to give away at-bats. There's been some games out of hand this year and it's easy to go through the motions and roll over to short and get the game over with, but guys are consistently working on having the good at-bats and getting a good swing off and all of a sudden, we battle back like we did tonight."
Mark Sheldon has covered the Reds for MLB.com since 2006, and previously covered the Twins from 2001-05. Follow him on Twitter @m_sheldon and Facebook and listen to his podcast. This story was not subject to the approval of Major League Baseball or its clubs.