Jimenez's heart with homeland of Puerto Rico
Tigers reliever grateful his parents left island for safety in Texas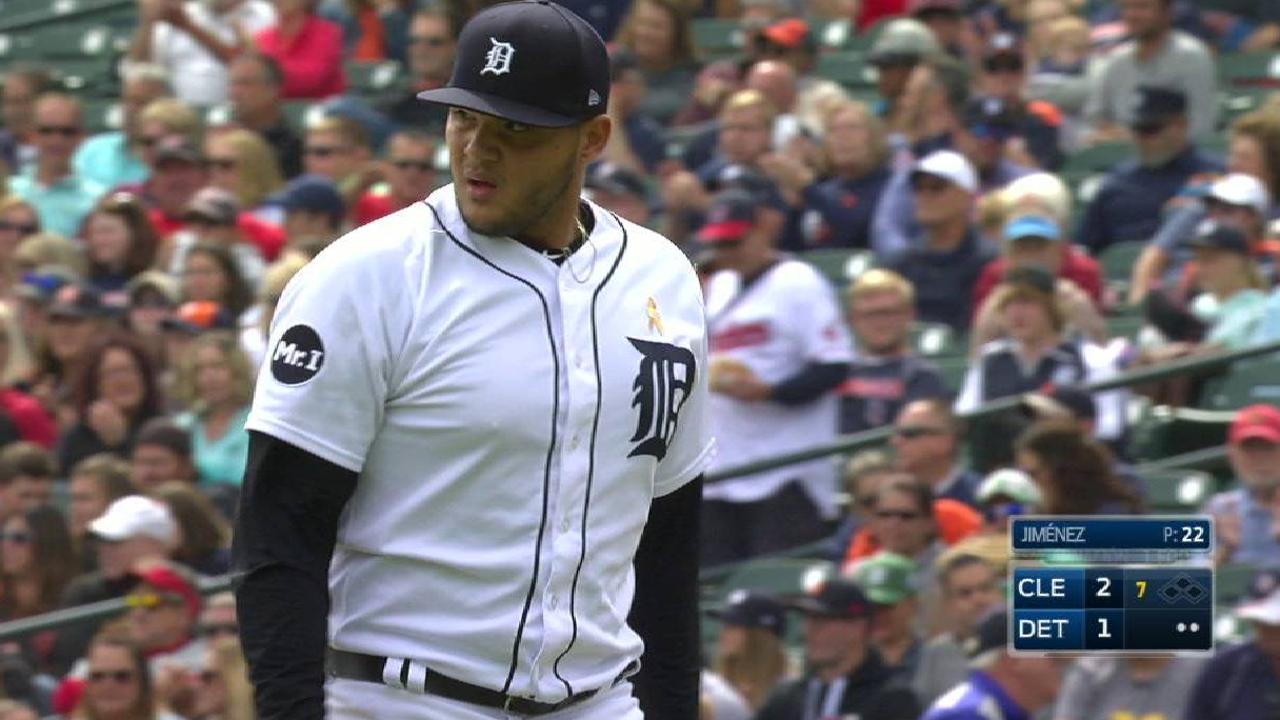 KANSAS CITY -- Tigers reliever Joe Jimenez has been worried about his family in Puerto Rico ever since Hurricane Maria struck the island last week. He was relieved to find out they were able to get out and come to the United States.
"They flew to Texas to see my brother, so they're out of Puerto Rico for a while," said Jimenez, whose brother A.J. is a catcher for the Rangers.
Depending on the situation, he might be joining them for the offseason.
Jimenez was born in San Juan and lives with his family in Bayamon during the offseason. Their home took on water when the storm hit, but was spared any structural or wind damage. Now, however, his home has the same issues as much of the island.
"No power, no water, nothing," Jimenez said. "They're having some bad times. No food, no water. I just can't live in that condition. I'm not going to let my parents live in that condition, either."
For that reason, he could spend part of the winter with his brother. At some point, though, he wants to go back to Puerto Rico, at least for a little while.
"I think I'm going to go there, just to help, to see my family and be with them," he said. "I'm not sure if I'm going to move from Puerto Rico yet, but it's on my mind right now."
He could be one of many leaving the island as government officials figure out how to rebuild the infrastructure. Jimenez has heard the same as others, that power might not be back for months.
Even if he isn't there in person, and might not be there for a while, his homeland is on his mind.
"You have to think about it. I'm human," he said. "I can't do anything about it. I'm here now, and I'm just trying to figure it out."
Major League Baseball on Saturday announced a $1 million contribution to assist communities in Puerto Rico impacted by Hurricane Maria, as well as last week's earthquake in Mexico. MLB's contribution is being directed to immediate relief and long-term rebuilding efforts through a variety of organizations, including Habitat for Humanity, Project C.U.R.E. and The U.S. Fund for UNICEF. MLB will also fund travel for physicians and other medical personnel as part of a special effort to provide direct medical assistance to affected communities.
Quick hits
• Miguel Cabrera will seek a second opinion on the MRI exam that showed two herniated disks in his back. Manager Brad Ausmus isn't ruling out Cabrera playing again this season, but he's at least sidelined while that process plays out.
• Outfielder Tyler Collins remains day-to-day with an intercostal strain.
Jason Beck has covered the Tigers for MLB.com since 2002. Read Beck's Blog, follow him on Twitter @beckjason and Facebook. This story was not subject to the approval of Major League Baseball or its clubs.