Inciarte into record books with 200th hit
Leadoff hitter becomes first Braves player to accomplish the feat since 1996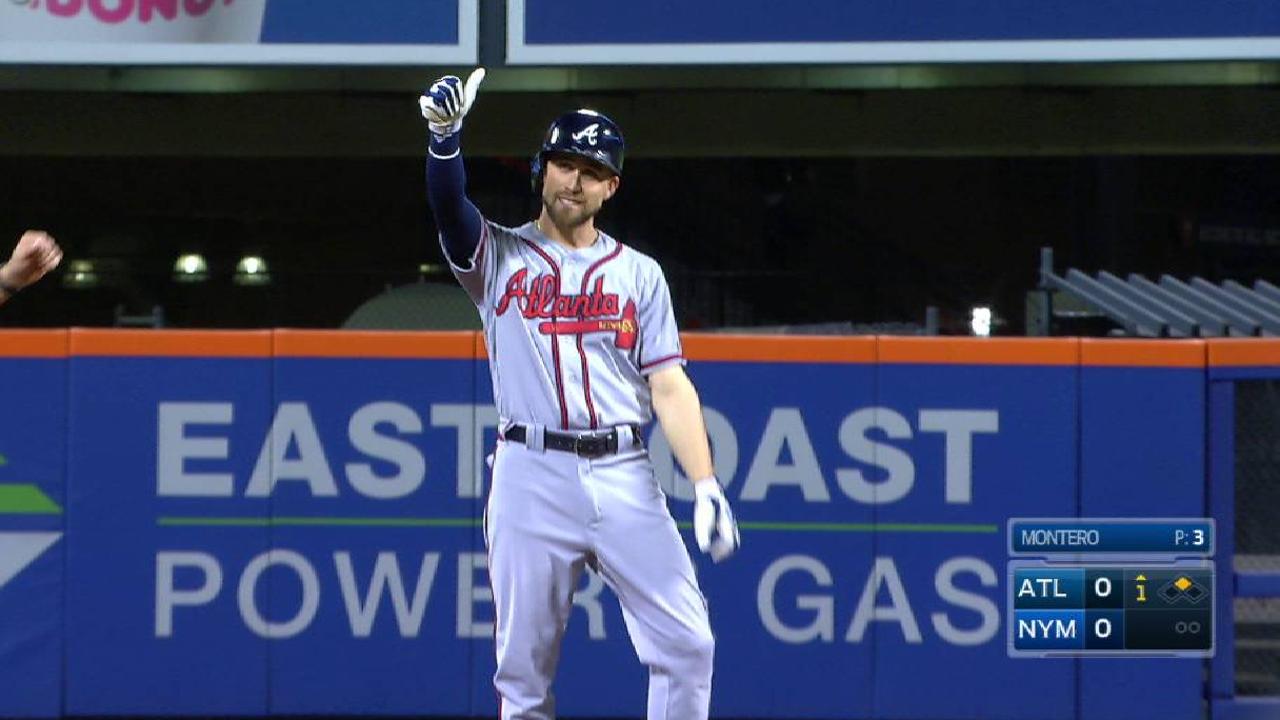 NEW YORK -- Something about Citi Field brings out the best in Ender Inciarte.
With a double into the right-field corner to lead off Tuesday's 4-3 loss against the Mets, Inciarte became the fourth Braves player and first in 21 years to have 200 hits in one season. For good measure, he added two diving catches in center field, building off his show-stopping, game-saving robbery of Yoenis Cespedes to preserve a Braves victory just over a year ago.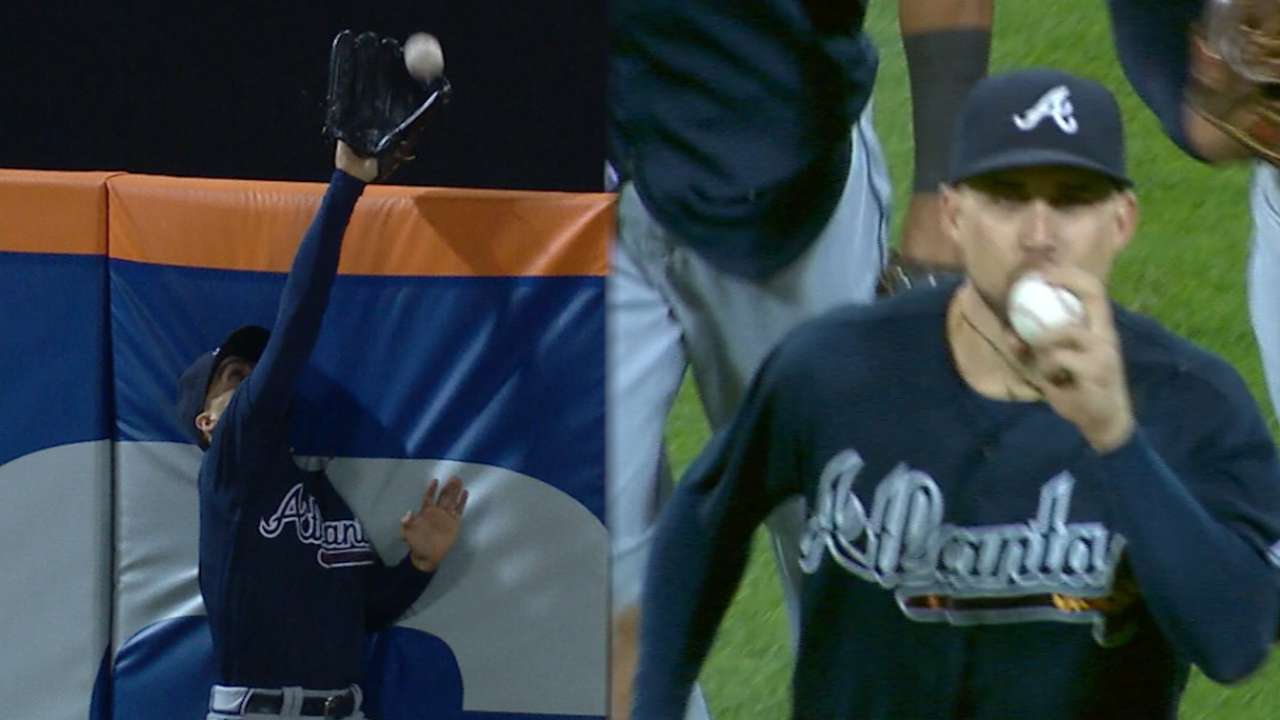 "Every time I come here, something special happens," Inciarte said. "I'm starting to see this ballpark as a special [place] for me."
Reaching 200 hits in one season is certainly special, and its importance -- and degree of difficulty -- is not lost on Inciarte. A 2016 Gold Glove Award winner and 2017 All-Star, he claimed this accomplishment ranks at the top of the list.
"It's so hard to do," Inciarte said. "I've come in every day wanting that to happen because, like I said, I talked to Jose Altuve before the season started. That's actually my mentality, come in every day, play hard, expecting to get three or four hits every night. That's hard to do, especially because it's such a long season, but I'm proud of what I did and hopefully I get to do it again."
The last Atlanta player to reach the 200-hit mark was Marquis Grissom, who recorded 207 hits during the 1996 season. It was the seventh time an Atlanta Braves player racked up 200 hits: Ralph Garr did it three times ('71, '73, '74) and Felipe Alou twice ('66, '68) before Grissom.
During the World Baseball Classic, Inciarte's Team Venezuela teammate, Altuve, informed him that two Venezuelans had never attained 200 hits in the season. It would be up to them to erase that fact from history. Altuve needs just one more hit to uphold his end of the bargain and accomplish the feat.
Braves manager Brian Snitker said Inciarte's ability to stay healthy and play almost every game this season -- especially as a center fielder -- was a large reason why he reached the 200-hit plateau.
"Everybody behind this club is entirely happy for him," Snitker said. "It's a great accomplishment.
"He can get [hits] in bunches, too, is what we've seen. He's got that sweet swing. He lets the ball get deep and he can massage it around the field."
With hamstring injuries hampering at various points across the last two seasons, Inciarte took it upon himself to be on the field for an entire season.
"I work really hard in the offseason," he said. "The big part for me was staying consistent and healthy."
Inciarte's defensive prowess was on display shortly after he reached his milestone at the plate. Jose Reyes flared a ball to center in the bottom half of the first, and Inciarte charged hard. The result was a diving, three-star catch, according to Statcast™. With a catch-probability of 63 percent, he covered 66 feet in 4.2 seconds for the grab.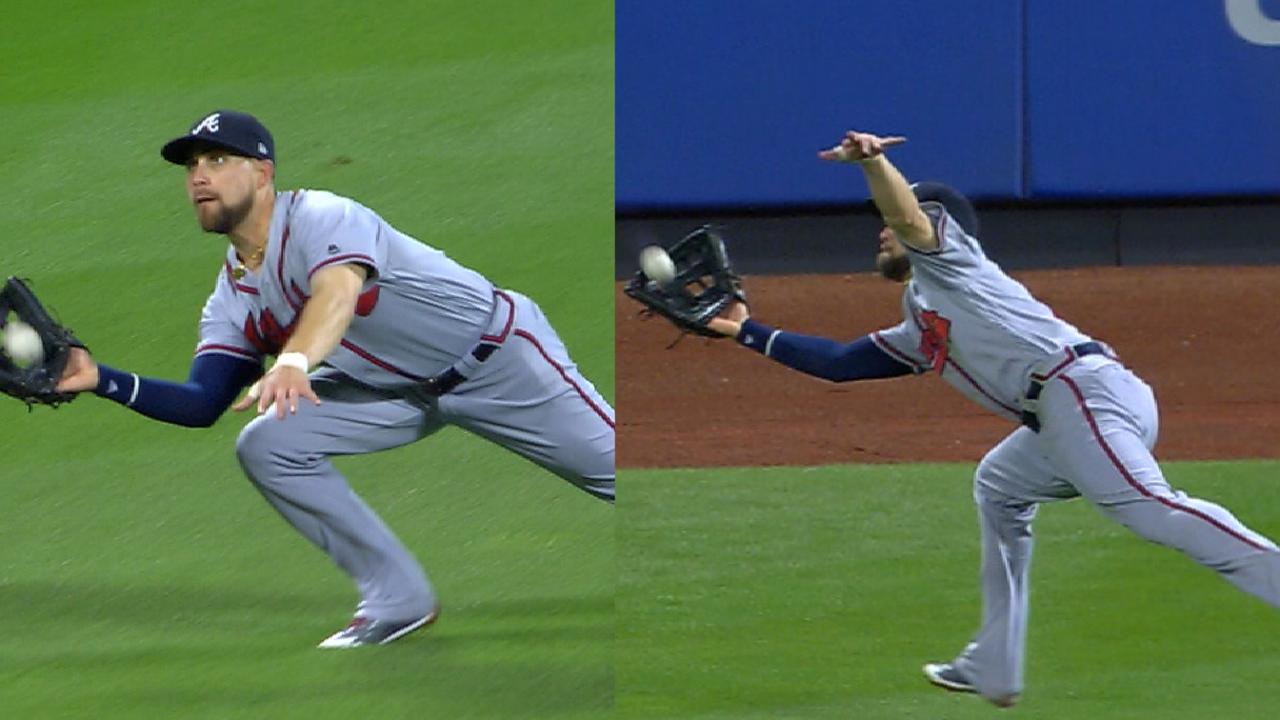 He would go on to outdo himself. With runners on second and third and the Braves leading by one in the eighth, he laid out once again to rob Asdrubal Cabrera of extra bases. Instead of the Mets taking the lead, Cabrera settled for a sacrifice fly to tie the game. Statcast™ rated that catch at four stars on a 26 percent catch-probability, as Inciarte covered 70 feet in 4.1 seconds.
"The jumps he gets are unbelievable," Snitker said.
All in a day's work for Inciarte at Citi Field.
Chris Bumbaca is a reporter for MLB.com based in New York and covered the Braves on Tuesday. This story was not subject to the approval of Major League Baseball or its clubs.