Peterson aiming to become a versatile option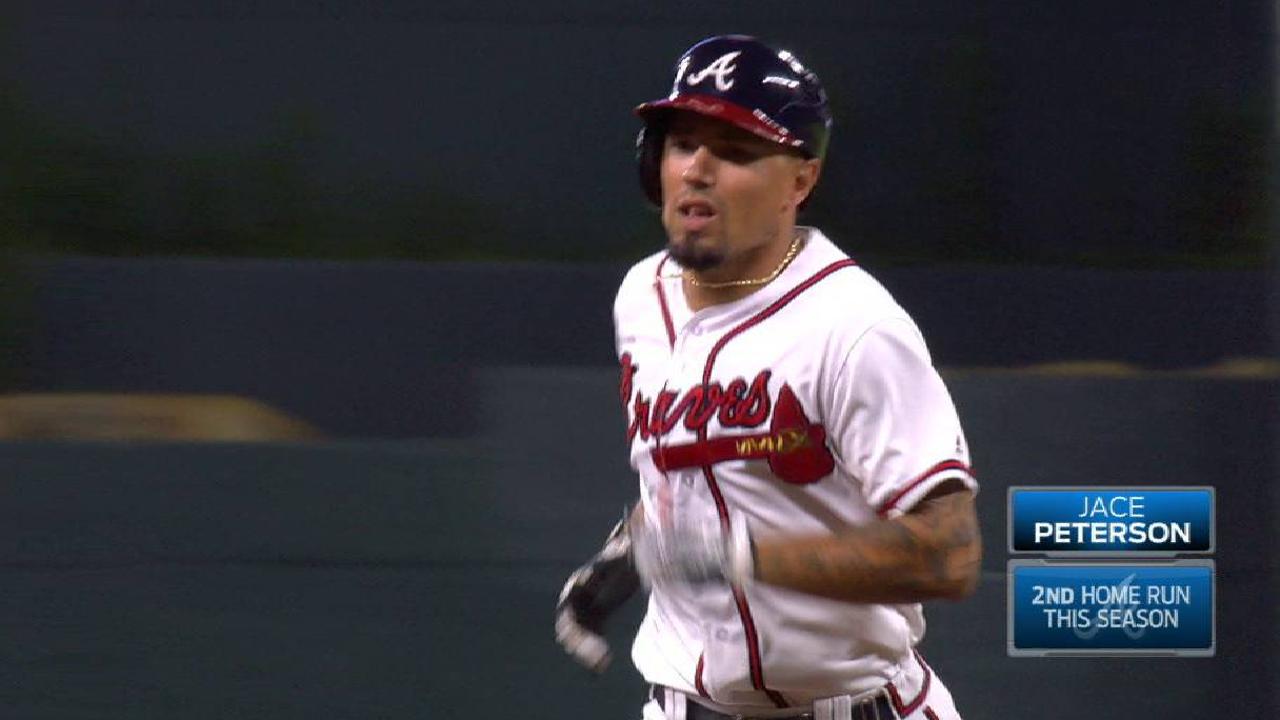 NEW YORK -- Jace Peterson's main focus is on the six remaining games of the 2017 season, but he is already aware of the areas he needs to work on during the offseason. The 27-year-old has recently been seeing more time in left field, and with a crowded middle infield, he knows his future may lie in the outfield.
"I haven't done it a lot, but I think it's been going good so far," Peterson said before Tuesday's game against the Mets of playing left field. "I feel comfortable out there and I think it's just a matter of continuing to go out there, take the reps, and take it into the offseason."
Peterson's efforts won't strictly pertain to one position, such as left, because he wants to develop into an all-around utility option. That coincides with him continuing to serve as a bat off the bench, something Peterson has excelled at this season. As a pinch-hitter this season, Peterson is 8-for-22 (.364) with a .440 on-base percentage. Four of those eight hits have gone for extra bases (two doubles, one triple, one home run).
Two ways Peterson has grown as a pinch-hitter, he said, was simply to learn by doing, and heeding the advice of older players. The reality of pinch-hitting, Peterson mentioned, is that hitters aren't going to reach base every time they're called on, but his focus is to have a quality at-bat.
"I just continue to stick to my game plan and just being ready," Peterson said. "That's the main thing, just being ready. When your number's called, just go and compete."
Braves manager Brian Snitker agreed that Peterson's future likely lies in being a versatile option off the bench, adding he's been impressed with his performance while pinch-hitting.
"He's been more consistent," Snitker said. "He's gotten better at learning how to stay ready."
Snitker has been pleased with not only Peterson, but the bench as a whole this season. Peterson said the Braves' bench prides itself on contributing in meaningful ways, even if they surpassed expectations this year.
"Regardless of what people thought about the bench coming out of Spring Training, or during the season early on, I mean, we're professionals," Peterson said. "We're big leaguers and we're going to compete."
Foltynewicz likely not returning this season
Snitker all but confirmed Tuesday that Mike Foltynewicz was done for the season (finger). Foltynewicz told reporters that he was disappointed he could not finish the season on a high note, but that he was OK with exercising caution with the injury.
Adams limited to pinch-hitting
Much like Matt Kemp, Matt Adams is only capable of operating out of a pinch-hitter's role because of a bad hamstring, Snitker said, although he started Saturday in place of Freddie Freeman.
"He's not at a point where he can go out there," Snitker said. "It's still bothering him enough where he can pinch-hit, but we'll have to run for him. It's just one of those things. It takes so long [to heal]."
Chris Bumbaca is a reporter for MLB.com based in New York and covered the Braves on Tuesday. This story was not subject to the approval of Major League Baseball or its clubs.