Chisenhall just about ready to return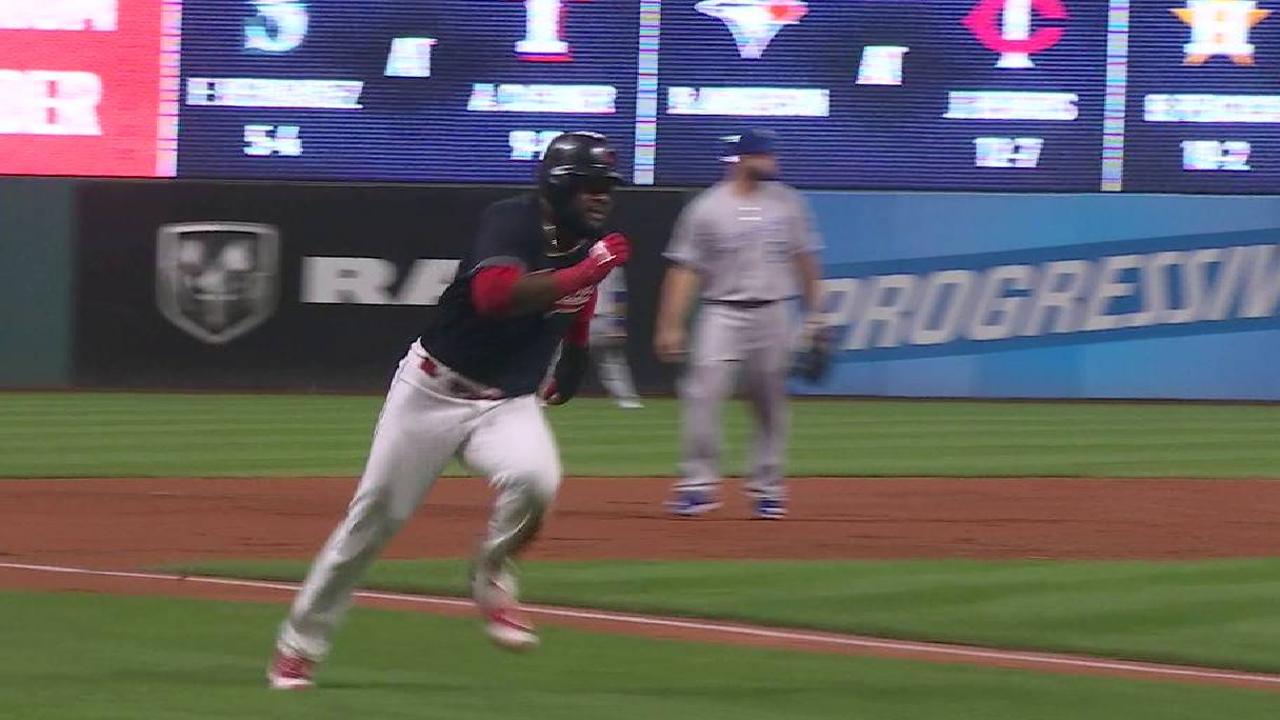 CLEVELAND -- Although the Indians may not be in need of much help these days -- having won 29 of their last 31 games -- they will be getting a reinforcement by Wednesday, and possibly as early as Tuesday night during their series opener against the Twins at Progressive Field.
Manager Terry Francona said that outfielder Lonnie Chisenhall (tight right calf) ran the bases on Tuesday and noted that Chisenhall did so well that he wants to be available off the bench for the game. Even so, the training staff is leaning toward Wednesday for Chisenhall's return to action.
"Chiz went out and ran and did really well," Francona said. "He actually wanted to be available tonight. I think our trainers were thinking maybe more tomorrow. But I have a feeling Lonnie is back there right now [arguing]. If you see him pinch-hitting [tonight], you know he won."
"But more than likely, it'll be tomorrow. The fact that he ran and did well is really encouraging."
Chisenhall hasn't played since Sept. 14, when the Indians won their American League-record 22nd straight game. He left that game, a 3-2 walk-off win over the Royals, in the fifth inning due to soreness in the calf. As a result of the nagging injury, he did not travel with the team to Seattle this past weekend.
With the uncertainty surrounding the injuries of left fielder Michael Brantley (sprained right ankle) and corner outfielder Brandon Guyer (sore left wrist), and with center fielder Bradley Zimmer likely out for the entire postseason with a broken hand, Chisenhall's return will provide further depth to an already deep outfield for the remainder of the regular season and possibly in the postseason.
Chisenhall will join right fielder Jay Bruce; center fielders Tyler Naquin, Greg Allen and Jason Kipnis; and Austin Jackson and Abraham Almonte, both of whom can play all three outfield positions. Chisenhall, too, can play all three positions, and Francona applauded his defensive ability and versatility.
"Lonnie is a good outfielder," Francona said. "On the corners, he's an above-average outfielder. And he can play center. I'm not sure that's his best spot out there, but he can certainly go out there and be just fine."
Francona added that Brantley and Guyer will both be re-evaluated later this week. Brantley will attempt to run the bases, and Guyer will take batting practice.
"Brantley is going to try to run later this week," Francona said. "Kind of one step at a time. We'll see how he does and see where that leads. Same thing with Guyer. He'll try to hit later this week and see how he does, and then we'll go from there."
Worth noting
• Third baseman Yandy Diaz, who has been dealing with a jammed right middle finger, has not been in the lineup since Sept. 19. Although Diaz has come off the bench as a pinch-hitter and a defensive substitution, Francona said that the club will continue to start Giovanny Urshela at the hot corner until Diaz is back to 100 percent.
"Yandy is doing OK," Francona said. "He's getting better and better, and it's still nagging at him a bit. He's pinch-hit a couple of times and went in to play third, but like I said, we probably could have played him. I just think Gio has done such a good job over there that until Yandy feels better, we'll play Gio."
William Kosileski is a reporter for MLB.com based in Cleveland. This story was not subject to the approval of Major League Baseball or its clubs.