Harper returns, says it 'felt good to be back'
Nats easing him into action before playoffs begin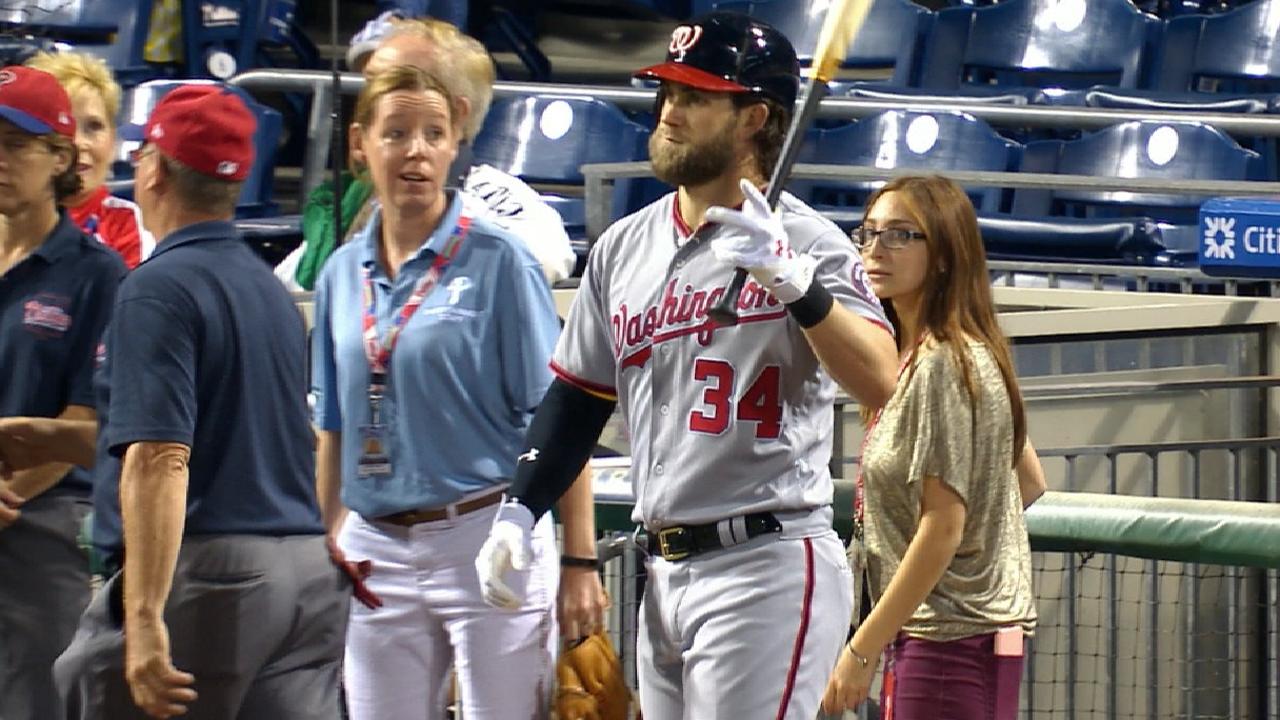 PHILADELPHIA -- The Nationals have been able to tell for some time now how badly Bryce Harper has been itching to get back onto the field. From the intensity of his workouts, to the numerous rounds of early batting practice and cage work, to his demeanor on the bench and in the clubhouse while he has been sidelined for the previous 42 games, his teammates have described him as champing at the bit.
Harper officially made his return from the disabled list in Tuesday's night's 4-1 loss to the Phillies, going 0-for-2 with a walk in his first game since Aug. 12. Those results mattered less than the fact that one of the game's most dangerous sluggers was back in the Nationals' lineup, which brought the excitement out of both the team and himself.
"I talked to the trainers, they said he was kind of giddy," manager Dusty Baker said with a laugh prior to the game. "Like a little kid on opening Little League day."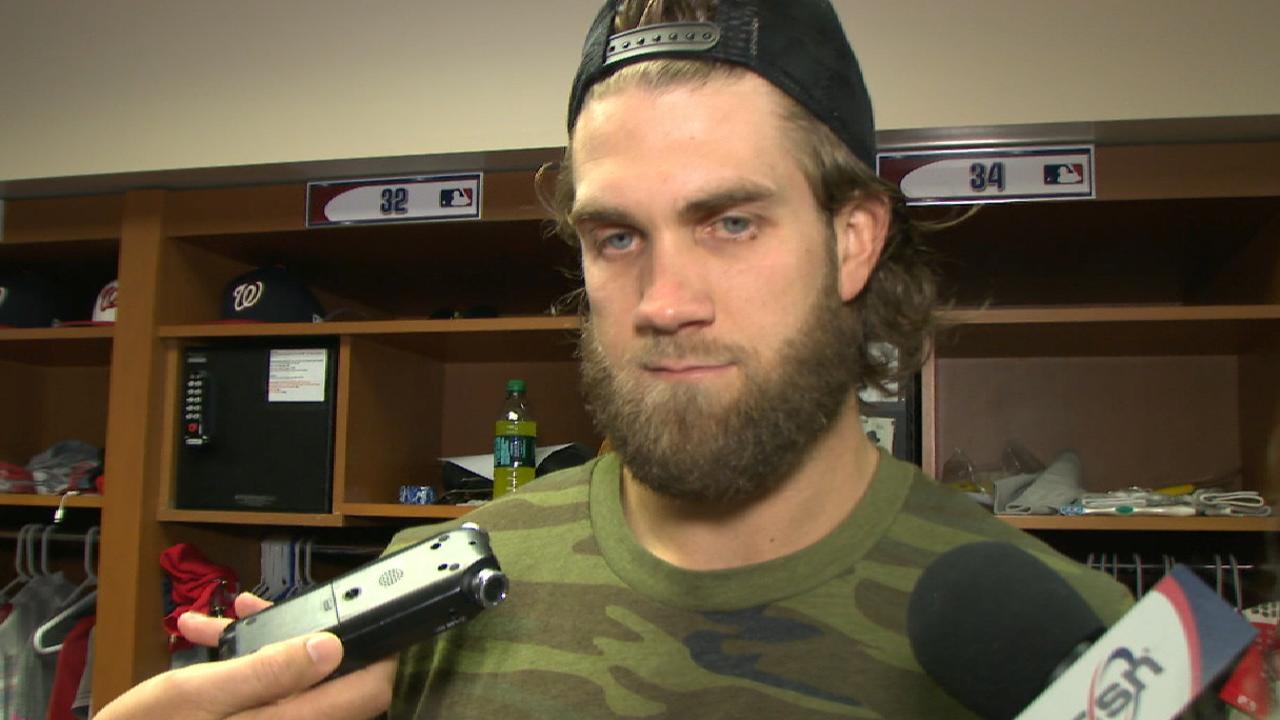 The fact that Harper was back in the Nationals' lineup with time to spare during the regular season is a miracle, Baker remarked, considering the violent nature of his injury at Nationals Park on Aug. 12. After making awkward contact with a wet first-base bag, Harper's leg appeared to buckle as he was launched into the air before he fell to the ground. He stayed on the ground clutching his knee and had to be helped off the field, unable to put any weight on his leg.
He walked away with a hyperextended left knee, significant bone bruise and calf strain that put the rest of his season in jeopardy. Now Harper said he feels pain free.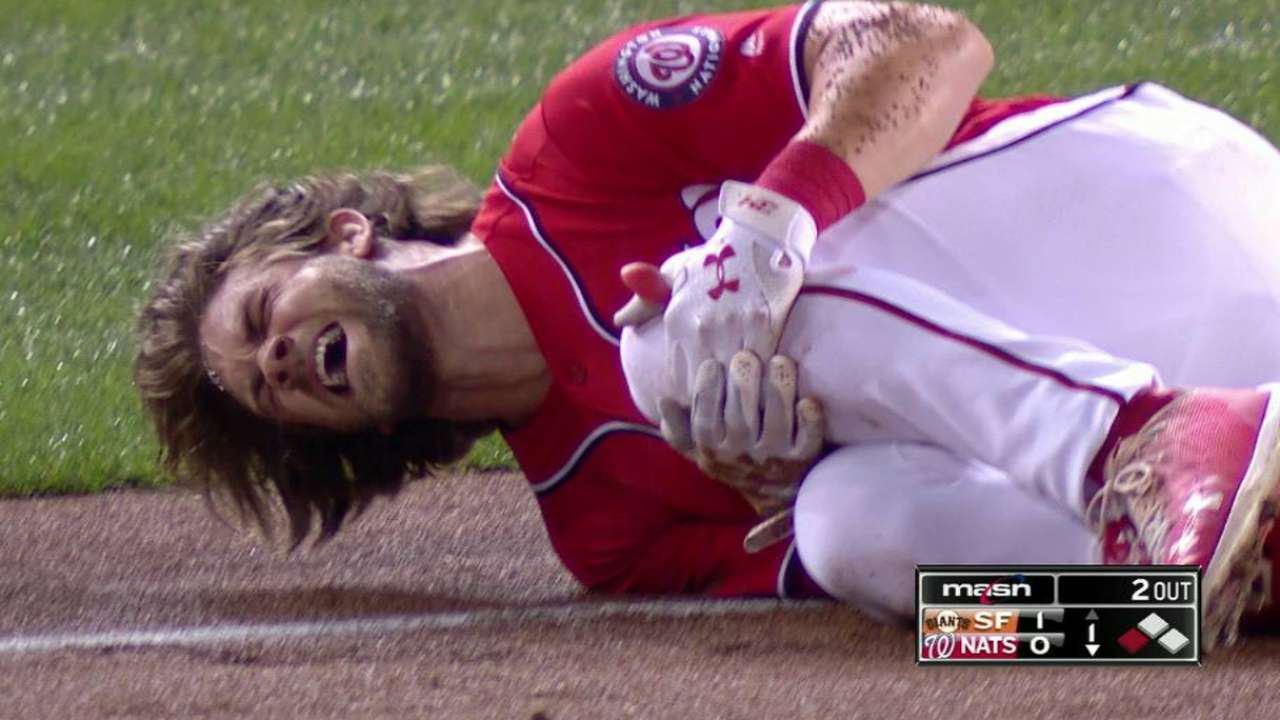 "It felt good to be back," Harper said.
Harper's return to the lineup was delayed a day after he woke up Monday morning with some flu-like symptoms. Aside from repeated sneezes in the clubhouse, before the game he said he felt fine. Including Tuesday, Harper has just six games to go during the regular season to try and regain his form before the start of the National League Division Series.
Harper's first at-bat in more than a month was a bit uneventful, as he drew a four-pitch walk from Phillies right-hander Jake Thompson. He received a test for his leg in the bottom of the inning when he ranged down the right-field line, spun and threw the ball back to the infield on a double from Aaron Altherr. He struck out in his second at-bat on six pitches and popped out in his final at-bat before his night was complete.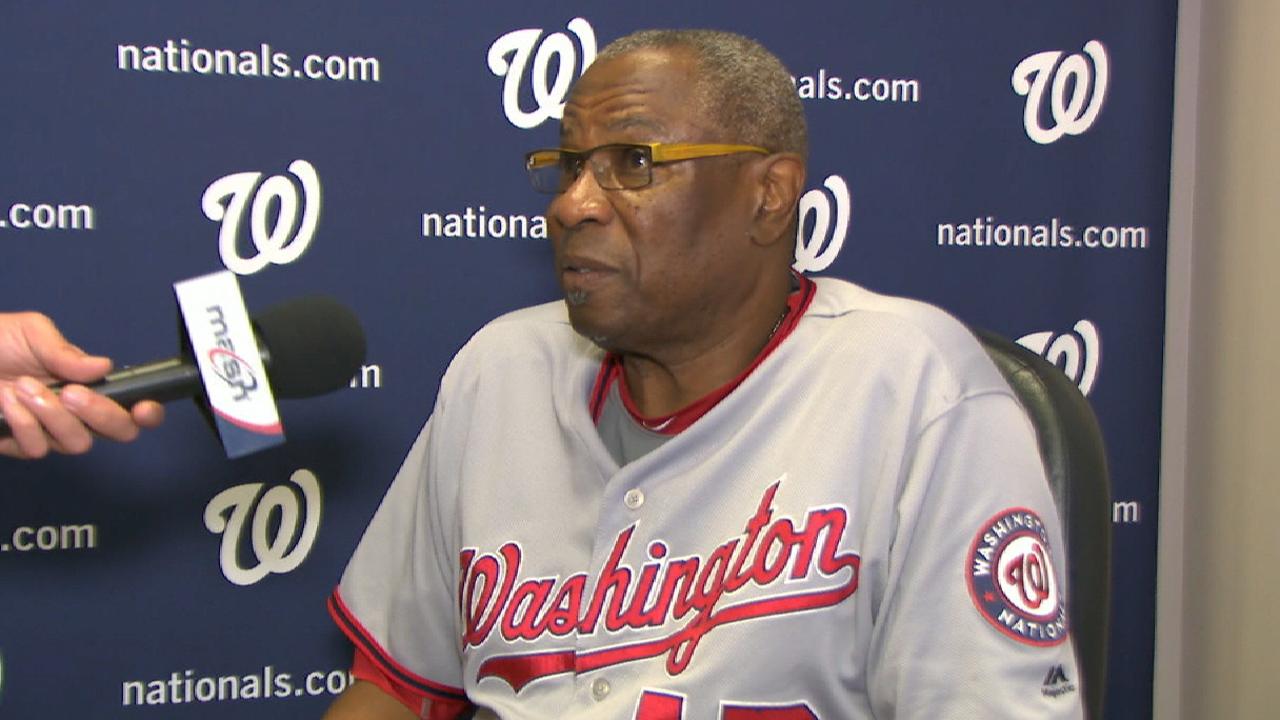 The Nationals plan to ease him into action slowly this week, incorporating him into the game as if it were Spring Training, so after three at-bats in this game he was replaced in right field in the bottom of the fifth inning by Victor Robles.
"I was happy I got in some deep counts," Harper said. "First [at-bat], second one as well. Got two pitches over the plate that third at-bat I thought I could drive. Tried to attack those the best I could. Saw a lot of pitches tonight, and I was happy about that."
Baker added: "[Harper] looked pretty good. His timing's off a little bit, but he moved around good. I didn't see any signs of limping or real fatigue. So we got him out of there at, we thought, the right time."
Harper's return is a welcome sight for the Nationals and their aspirations of a deep postseason run. When he was healthy, he played like an MVP candidate, entering Tuesday's game with a 1.034 OPS and a slash line of .326/.419/.614 with 29 home runs.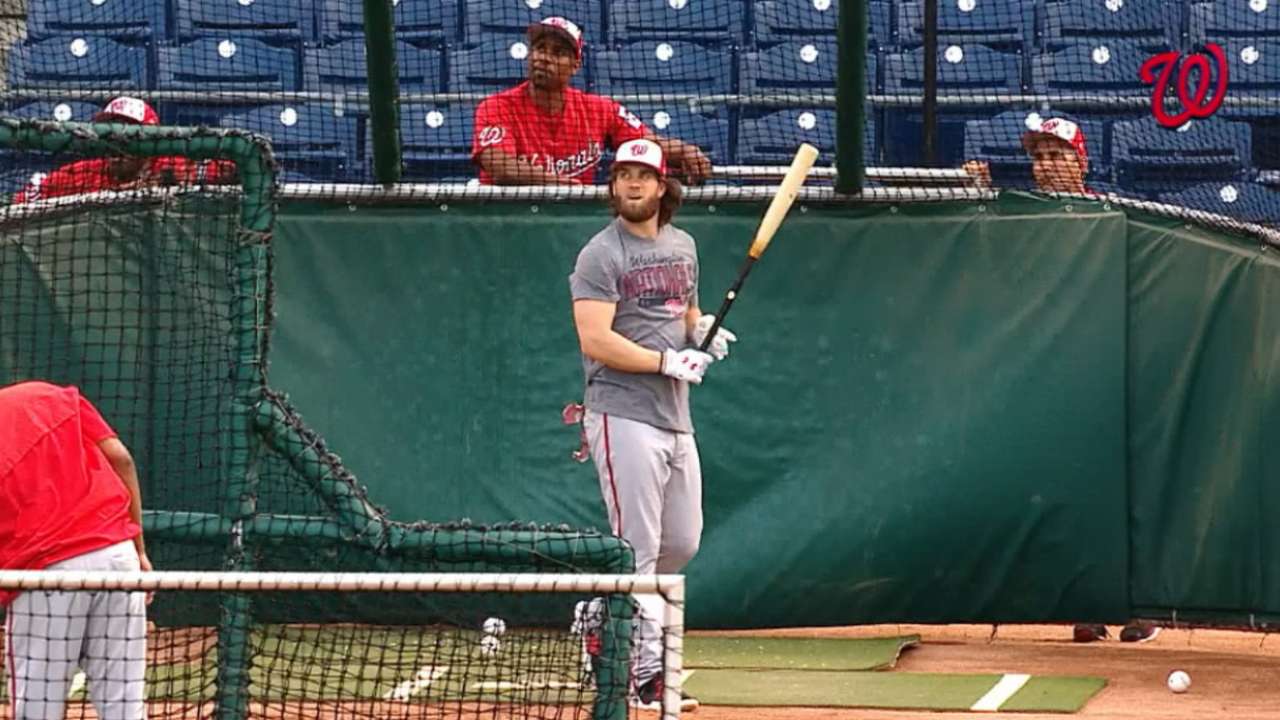 In his absence, the Nationals went 26-16, which was actually a better winning percentage (.615) than before his injury (.605). However, that is largely due to the strength of the Nationals' pitching staff as their offense has missed him in the middle of the order.
Washington had been averaging nearly six runs per game before his injury, one of the tops in the NL. That number decreased to approximately four runs per game without him.
"He's a huge player for us," said general manager and president of baseball operations Mike Rizzo. "He's one of the elite players in the game, and his presence in the lineup means a lot not only for him but for everybody in the lineup. He lengthens us greatly and makes the middle of the lineup potent, and I think he'll change the whole pitching attack on how teams pitch to players around him."
Jamal Collier covers the Nationals for MLB.com. Follow him on Twitter at @jamalcollier. This story was not subject to the approval of Major League Baseball or its clubs.