Cain to get start Saturday vs. Padres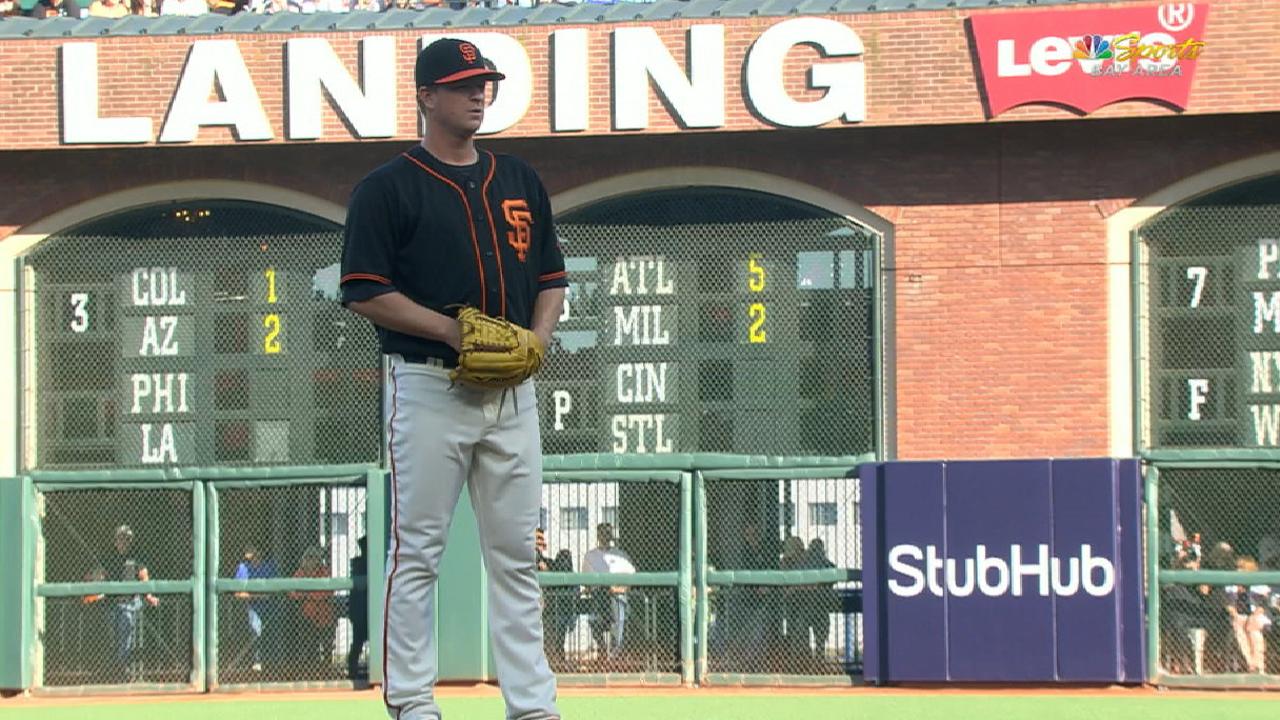 PHOENIX -- Matt Cain's competitive fire will remain stoked until he throws his final pitch as a Giant.
Tuesday, Giants manager Bruce Bochy named Cain to start Saturday against the San Diego Padres at AT&T Park. It's largely a symbolic assignment, since the Giants do not plan to extend his contract that expires after the end of this season.
Bochy said Cain, who was removed from the pitching rotation in late July, deserved this final recognition "with what he's done for the Giant organization."
Cain has spent 12 years with the Giants, more than any individual to play exclusively with the team since the franchise moved to San Francisco in 1958. Known for his stoic determination, Cain isn't about to alter his mound demeanor at this late juncture.
Asked how long he hopes to last against the Padres, Cain said, "You go out for as long as you can and see what happens. We're still looking to win every game."
Conspicuously absent from the Giants' slate of weekend starters was Madison Bumgarner, the tireless left-hander who worked 7 2/3 innings in last Saturday's 2-1 triumph over the Dodgers. Bochy indicated Bumgarner has endured more than his share of stress since experiencing a dirt-bike accident near Denver on April 20.
Bookending Cain will be Chris Stratton on Friday and Johnny Cueto on Sunday.
"Great game there in L.A.," Bochy said, referring to Bumgarner's last start, a win over the Dodgers as he allowed one run in 7 2/3 innings. "With all that happened this year and the rehab, you know what, that's enough. I really want to keep Stratton on a normal rotation, too, so that helps that out with Matty going Saturday."
Cain, who turns 33 on Monday, has thrown multiple bullpen sessions to revive his arm strength. He has made just five appearances since the beginning of August, including two spot starts.
"The biggest thing is to feel confident in my stuff and know that I've got pitches to work with," said Cain, who's 3-11 with a 5.66 ERA. "The biggest thing is to compete and let the ability come out however it comes out and make adjustments as quick as you can."
Cain realizes that his 331st career start and 342nd appearance, which could be his final big league outing if he decides to retire or isn't signed as a free agent, will be anything but ordinary.
"I don't see how it couldn't be emotional. It's going to be a special moment for me," Cain said. "I'm not sure of what's to come after the season's over, next year and what not. ... So much has gone on in the years that I've been here. To think that could possibly be the end for me in a Giants uniform is definitely going to be emotional."
Chris Haft has covered the Giants since 2005, and for MLB.com since 2007. Follow him on Twitter at @sfgiantsbeat and listen to his podcast. This story was not subject to the approval of Major League Baseball or its clubs.