Nola etching place among Phillies' elite arms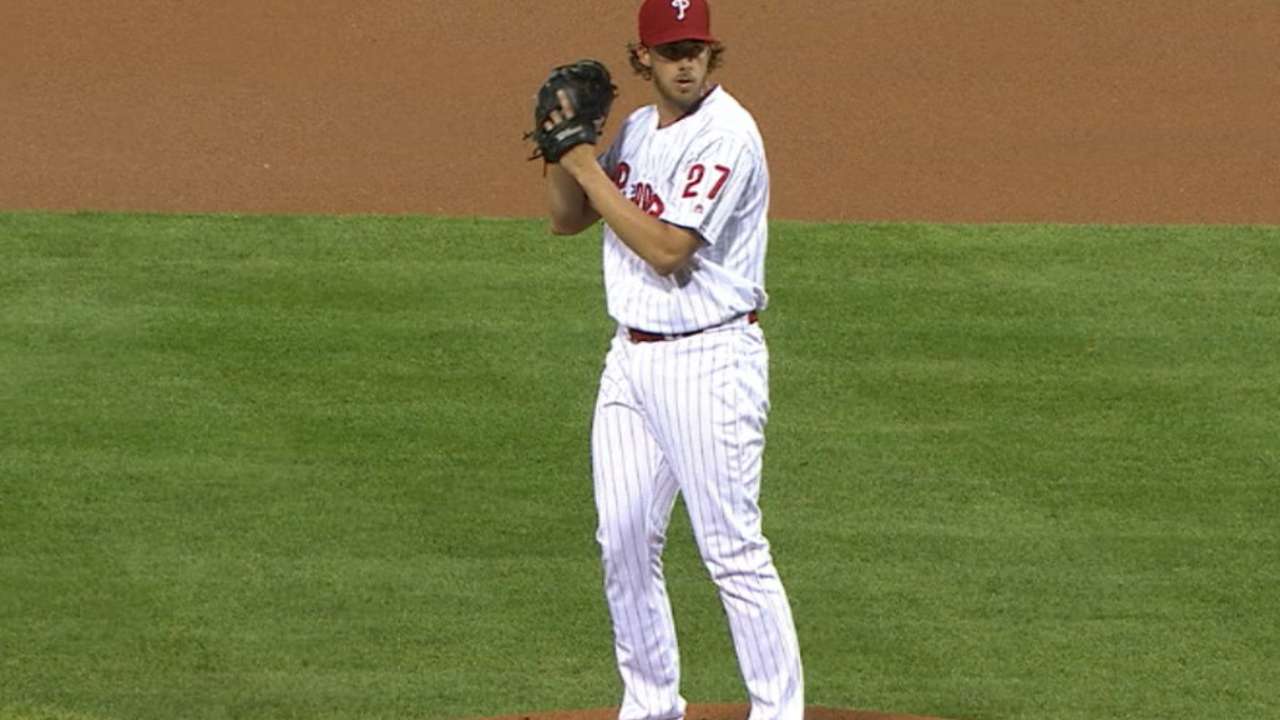 PHILADELPHIA -- The Phillies had one of the best rotations in baseball history in 2011, but the starting pitching has been slim pickings since.
Cole Hamels had a few good seasons before the Phillies traded him to Texas in July 2015. Cliff Lee pitched well until an elbow injury ended his career in 2014. But Aaron Nola on Monday night very quietly finished one of the organization's best seasons by a starting pitcher since Roy Halladay, Roy Oswalt, Lee and Hamels mowed down the National League six years ago. If everything breaks right, Nola figures to be a piece of the Phillies' next rotation to go to the postseason.
He allowed five hits, two runs, two walks and struck out nine in six innings in a 3-1 loss to the Nationals at Citizens Bank Park. It might have been his final start of the season, although he could pitch in Sunday's season finale. If Monday was his finale, Nola finished 12-11 with a 3.54 ERA, currently the 10th-best mark in the National League.
"I felt like I stayed within myself and within my routine all year, pretty well," Nola said. "Going into next year, I can kind of just build on the things that need to be worked on."
Nola has struck out 184 batters in 168 innings and averaged 9.86 strikeouts per nine innings, the third-best mark in Phillies history. Only Curt Schilling fared better, averaging 11.29 strikeouts per nine in 1997 and 10.05 strikeouts in 1998.
"I don't think it's really that surprising," Phillies catcher Andrew Knapp said. "He's got command of three pitches. The fastball is good enough that people have to respect it, and then the curveball is obviously lights out. He can throw it in any count, and when you can do that you can really switch counts. So, [when] you get guys 1-2 instead of 2-1, it's huge."
Several factors played into Nola having the best season of his three-year career. His fastball averaged a career-high 92.4 mph. His curveball was better than ever, particularly late in the season. He got 159 swings-and-misses on the curveball, which ranked third in baseball behind Corey Kluber (230) and Zack Godley (176).
Nola also developed an effective changeup, which he threw more this season (15 percent of the time) than his previous two seasons (9.6 percent).
"It's been the cherry on top," Knapp said of the changeup. "It's a hard pitch to hit when you're a left-handed hitter, but when you're right-handed coming to that back foot, it's a really good pitch."
Nola downplayed his season: It isn't his style to brag. But clearly he looks like a big piece of the Phillies' future.
"It's nice," manager Pete Mackanin said. "When Nola pitches, we all expect to win."
Todd Zolecki has covered the Phillies since 2003, and for MLB.com since 2009. Follow him on Twitter and Facebook and listen to his podcast. This story was not subject to the approval of Major League Baseball or its clubs.